Jonathan Gold | L.A. restaurant review: Muddy Leek gets comfortable in Culver City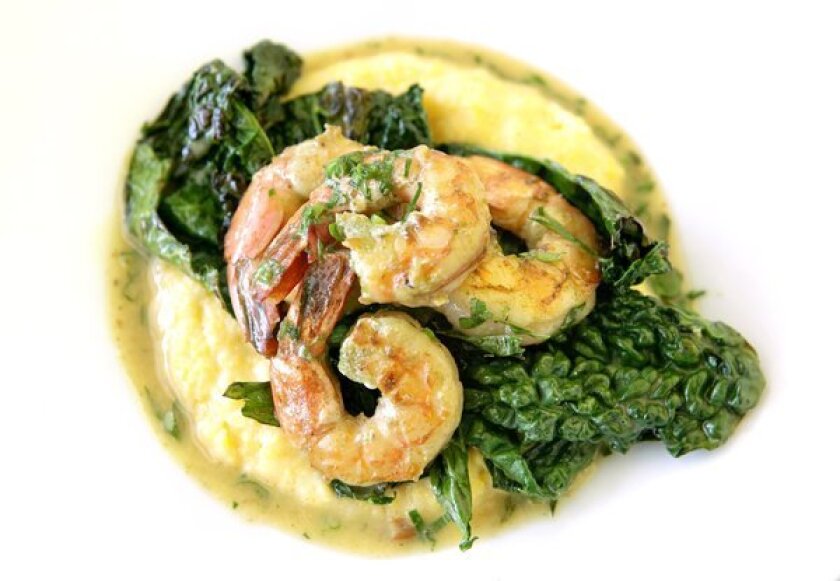 Los Angeles Times Restaurant Critic
Muddy Leek is in kind of an odd location, just a block or two away from the restaurants in Culver City's Helms complex yet seemingly well outside of the area. It's part of a building that briefly served as a design museum before it was converted into architects' offices, in an awkwardly proportioned space that runs through restaurant identities like Spinal Tap goes through drummers.
The neighborhood is rich enough in gelaterias and boutique art galleries that it is nearly impossible to find a parking space on Saturday nights, and the big windows face out onto a panorama that includes two liquor stores, the ice cream sandwich shop Coolhaus, and a shop that flashes slides of sleekly designed kitchens on its exterior as if they were movies at a drive-in.
A friend calls it the kind of neighborhood where young couples move precisely one year before they have their first baby, and Muddy Leek does have that feeling of organic vegetables, date-night domesticity and ease. You wouldn't be surprised to find the place holding down a corner in Park Slope or on San Francisco's Valencia Street, but you would be surprised if it managed to get through early spring without at least one green garlic dish on its menu. There were two the last time I stopped in: chicken breast with bacon and green garlic, and a lovely green-garlic flan.
Are the farmers listed on the menu? Of course — Weiser, Windrose, Scarborough and the other superstars of Southern California farmers markets. Are there organic, natural wines on the short, well-chosen list? Sure: Donkey & Goat and all their rustic friends. There are sautéed chanterelles with egg when they are in season and melted leeks with egg when they are not; venison corn dogs at happy hour; and a portion of seared grass-fed steak that would seem mingy at another restaurant but somehow seems Earth-friendly here.
Other restaurants in Culver City try to dazzle you with audacious cross-cultural menus, LEED certification and special evenings celebrating parts of the pig that even pigs would rather not think about. Muddy Leek started life as the underground dining club from Julie Retzlaff and her husband, chef Whitney Flood, who came to Los Angeles from the well-regarded Tocqueville near New York's Union Square. Flood has a reputation for cooking organ meats and game.
There are shrimp and grits sometimes, a version that owes less to New Orleans or the Lowcountry than it does to the direct, garden-spicy flavors of Southern California. Seared diver scallops are seasoned simply with pepper and coarse salt, served with braised baby fennel, and topped with a smidge of parsley and grapefruit. Chicken dumplings are pretty close to the ones that every fusion restaurant in California had on their menus in 1986, all ginger, garlic and mild chile. The flatbreads are puffy and crisp, a cross between pizza and Indian naan, and can be wonderful when you get them stuffed with braised vegetables and stretchy cheese. You can get a rhubarb-blueberry cobbler for dessert, and you may as well: biscuits and stewed fruit, nothing more.
Muddy Leek feels less like an edgy pop-up than like a comfortable place to drop in for a cocktail and a snack on a Tuesday night, to hang out in the patio with a bottle of Grenache and a cheese plate, or to wheel by for a merguez sandwich after a morning of antiques shopping. There may be the occasional tiny rabbit kidney garnishing a plate of rabbit hash, a little dish of rillettes made with the shredded remnants of duck confit, or a smear of chicken liver mousse on toast, but you are not here to be challenged. You are here because it is spring, you have a bit of room on your Visa card, and it is nice.
Muddy Leek
Because sometimes all you really need is a comfortable, stylish place that serves good food.
LOCATION
8631 Washington Blvd., Culver City, (310) 838-2281, muddyleek.com.
PRICES
Small plates $5-$13; entrees $21-$29; desserts $9-$10.
DETAILS
Open 11 a.m. to 2 p.m. and 5 to 10 p.m. Tues.-Sat.; happy hour 4 to 6 p.m. Tues.-Fri.; AE, MC, V Full Bar. Occasionally difficult street parking.
RECOMMENDED DISHES
Leek and egg; shrimp and grits; diver scallops with fennel.
---
Get our weekly Tasting Notes newsletter for reviews, news and more.
You may occasionally receive promotional content from the Los Angeles Times.