Review: Chi Spacca is all about the meat
Los Angeles Times Restaurant Critic
The first time you visit Chi Spacca, you are probably going to want the bistecca fiorentina, a sizzling cliff of meat that weighs in at a stunning 42 ounces, all salt and char and dripping red flesh, rising from the plate in a spectacle that seems almost geological. Is there a sauce, a potato or a decorative sprig of parsley? There is not — just the steak, which feeds four, willed into slices the size of poker decks, plus the bone and a small, salty puddle of olive oil and blood should you find yourself in need of a condiment. The experience of meat, abetted by small, sharp steak knives that resemble scalpels, does not generally get any purer than this.
Chi Spacca is the new meat-intensive restaurant room in Mozza's Italian-cuisine complex on Melrose, overseen by Nancy Silverton (and her partners Joe Bastianich and Mario Batali) and the particular obsession of its chef Chad Colby, who has been the young meat chef to watch in Los Angeles for years.
The standard disclaimer applies: Silverton is a close family friend of long standing, and she has co-written a book with my wife. I was unable to slip into the restaurant anonymously, although I did reserve under assumed names. So feel free to discount anything I have to say about the place.
Get our weekly Tasting Notes newsletter for reviews, news and more.
You may occasionally receive promotional content from the Los Angeles Times.
Perhaps you have already been in the Chi Spacca space, the storefront jammed between Osteria Mozza and the retail shop Mozza2Go, where Colby used to give seminars in pizza making and hog butchery when he wasn't cooking rare-breed whole hog dinners or feasts devoted to a single cow.
You may not be surprised to hear that the first draft of Colby's steak, served when Chi Spacca was basically a theme night of the Scuola di Pizza, was 80 ounces — a portion that was reduced because it was pointed out that $350 was probably more than anybody was willing to spend on a piece of meat, no matter how spectacular, and that none of the tables in the restaurant seated enough people to actually finish the thing. As it is, the 42-ounce, $175 steak is said to require 45 minutes to grill to a respectable rare.
Colby is a scholar of meat, and a tour of his open kitchen is likely to include a peek at the binder in which he has recorded the provenance of every pig, the pH of every prosciutto and salami that has traveled through his meat room over the last couple of years, and his operation is still the only local curing facility to be certified by the board of health. He runs what is by far the most ambitious salumi program in Los Angeles.
Pancetta-wrapped veal sweetbreads.
(Gary Friedman / Los Angeles Times)
Diners Jeffrey Paul, Cindy Guagenti, center, and Caroline Manzo consider a platter of tomahawk pork chops.
(Gary Friedman / Los Angeles Times)
The tomahawk pork chop is a monumental rib cross-section rubbed with fennel pollen and grilled slowly.
(Gary Friedman / Los Angeles Times)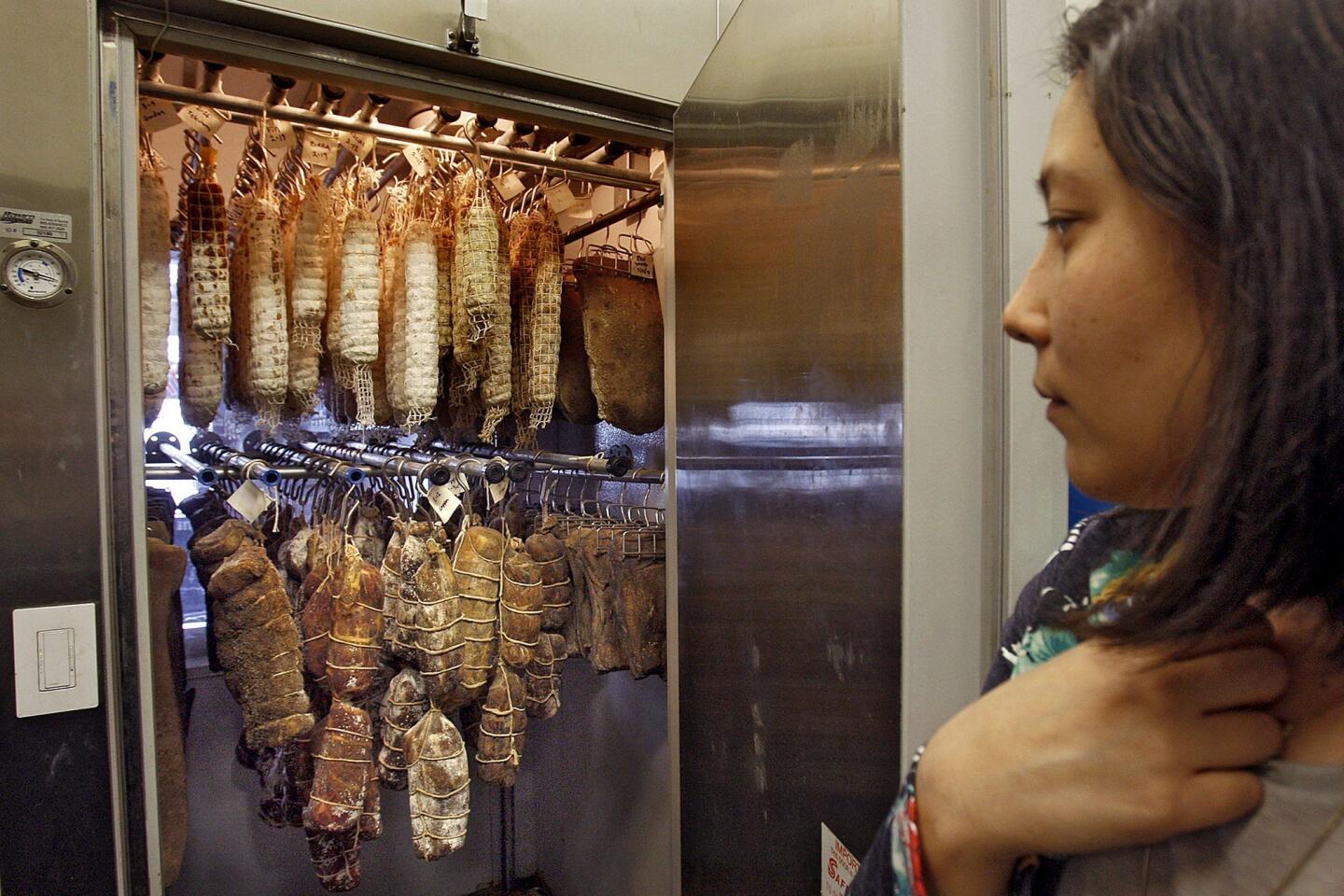 A selection of
salumi
is dry-cured on site at the space in Mozza's Italian-cuisine complex on Melrose Avenue.
(Gary Friedman / Los Angeles Times)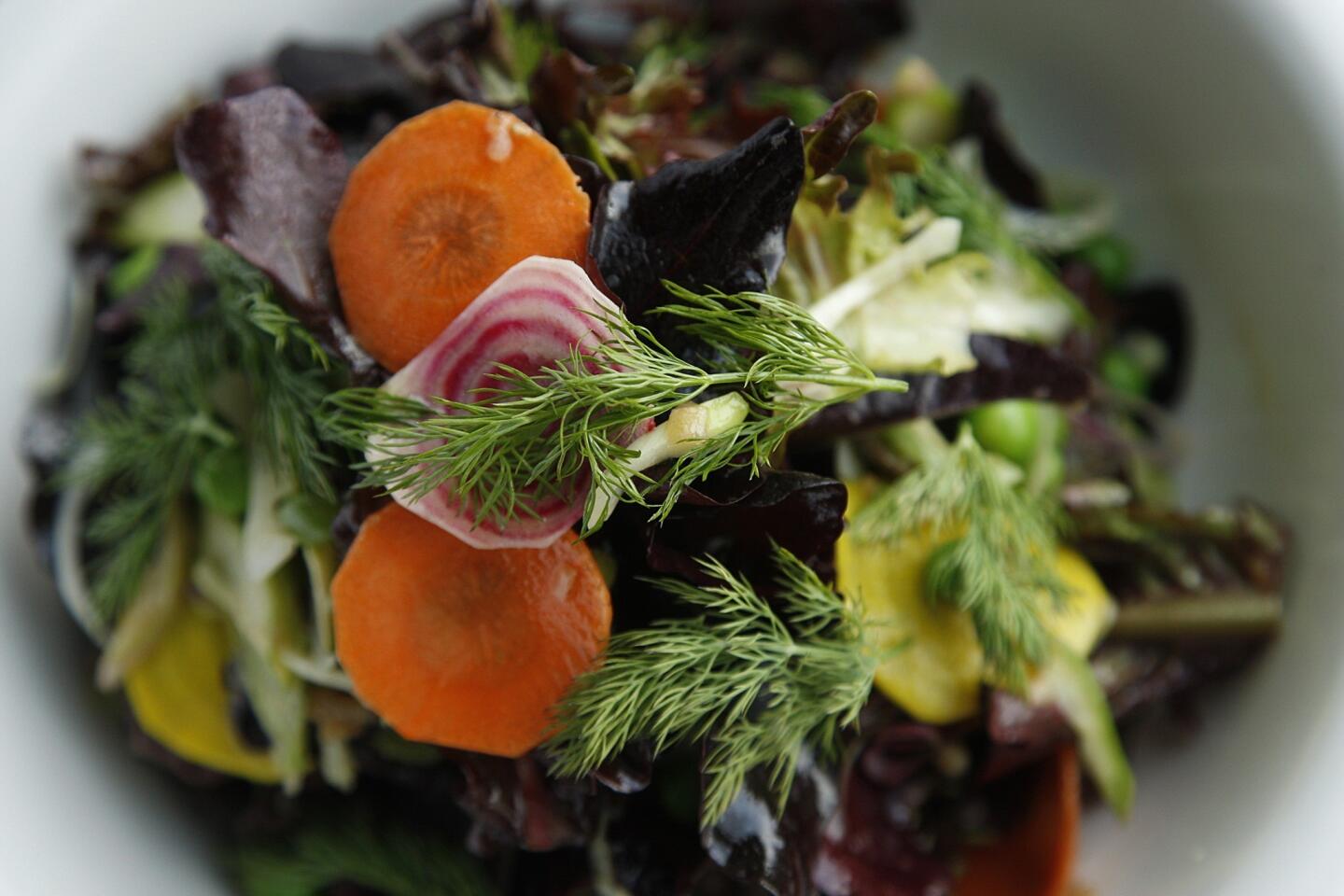 Yes, there are salads too at this palace of meat. The
insalata misticanza
blends English peas, beets, carrots, asparagus and spring onions.
(Gary Friedman / Los Angeles Times)
The small restaurant space has an open kitchen.
(Gary Friedman / Los Angeles Times)
Duck
alla porchetta
.
(Gary Friedman / Los Angeles Times)
Looking through a window from Melrose Avenue into the restaurant space. There are just two seatings a night, at 6 and 8:15 p.m., and the restaurant is closed on Sundays.
(Gary Friedman / Los Angeles Times)
Cavolo nero con uovo al forno
(kale with egg from the oven).
(Gary Friedman / Los Angeles Times)
The crusted beef and marrow pie arrives with a marrowbone perfectly placed for scooping.
(Gary Friedman / Los Angeles Times)
Behind the duck
alla porchetta
is a selection of some of the restaurant's wines. Diners can choose glasses from a short chalkboard list.
(Gary Friedman / Los Angeles Times)
So you probably want to start with the affettati misti here, a plank piled with Colby's cured meats, which may include crisp breadsticks wrapped with the cured pork belly called pancetta, dense salami flavored with fennel or Tellicherry pepper, a profoundly funky fermented salami made with goat meat, and a pork-loin terrine dotted with pistachios and wrapped in bacon.
If you insist on starting your meal with something that isn't meat, you can get some olives marinated with cubes of sheep cheese or a salad of mixed greens tossed with sliced apples, Piave cheese and tiny red walnuts. Colby is kind of a purist — you will find no pasta, risotto or composed vegetable plates to take your attention away from his animals. There is no formal wine program. You can choose glasses from a short chalkboard list that may include a crisp white Morgex from the Val d'Aosta that smells like bitter almond or a brooding Sagrantino de Montefalco that pairs even better with the steak than the usual cheerful Chianti.
Still, Chi Spacca isn't quite what you think it might be in all respects, and it is sometimes the quirks, not classically Italian, that make the restaurant lovable. The beef and marrow pie, a sturdy-crusted thing whose marrowbone juts from its mass like a smokestack from the Titanic, is loosely based on the Australian meat pie, and while the menu touts it as serving two, you will almost certainly take home enough of the leftover pastry and stew to feed you for the rest of the weekend.
One of the best things on the menu is the testa frittata, a flat omelet paved with curls of thinly sliced headcheese, but when you get the dish, chunks of prawns, hot chiles and vegetables bound together with a slurry of bright yellow egg, what it reminds you of may be less your honeymoon in Venice than your last trip to Koreatown. In method and texture, the frittata is pretty close to a crisp paejon, Korean egg pancake, made with Italian ingredients instead of Korean ones. The beef short ribs, cut laterally across the bones in the Korean L.A. style, have been treated with soy and sugar as well as with porcini mushrooms and come across as a jacked-up version of Thursday night Koreatown galbi.
If you insist on seafood, there are razor clams or Santa Barbara spot prawns passed briefly over the grill and served with a little lemon and parsley, as well as a truly delicious skewerful of cubed, marinated amberjack that would stand out at any robata-ya in town. The crisp pollo alla diavola, smothered in black pepper, may be closer to jerk chicken than to the Roman trattoria standard.
But you have come to Chi Spacca for the meat — if not for the steak, then for the spice-rubbed lamb shoulder chops, or the stuffed, braised veal breast, or for the bony, intense braised lamb neck that concentrates all the flavor of the animal into a few taut mouthfuls. There is a grilled "segreto," a lean fillet of pork prized from a section of the belly, much more commonly seen in fancy Spanish restaurants than in Italian ones, and a "tomahawk" pork chop, a monumental rib cross-section that actually dwarfs the fiorentina, rubbed with fennel pollen and grilled slowly until it becomes what great spareribs might be like if Alabama bordered on Umbria.
In the unlikely event you have room for dessert, you might try Chi Spacca's boozy tiramisu.
Chi Spacca
Chad Colby's ode to meat, beautiful meat.
Location: 6610 Melrose Ave., Los Angeles, (323) 297-1133, chispacca.com
Prices: Cured meat board, $24; salads, $14-$16; main courses, $16-$38; large-format meat, $74-$175; side dishes, $10-$12; desserts, $9-$10.
Details: 5:30-10 p.m. Mondays to Saturdays (seatings at 6 p.m. and 8:15 p.m.). Credit cards accepted. Wine. Valet parking on Highland Avenue.
Recommended dishes: Cured-meat board, testa frittata, "tomahawk" pork chop, baked shell beans.
Get our L.A. Goes Out newsletter, with the week's best events, to help you explore and experience our city.
You may occasionally receive promotional content from the Los Angeles Times.