Jonathan Gold | L.A. restaurant review: Scratch Bar is comic relief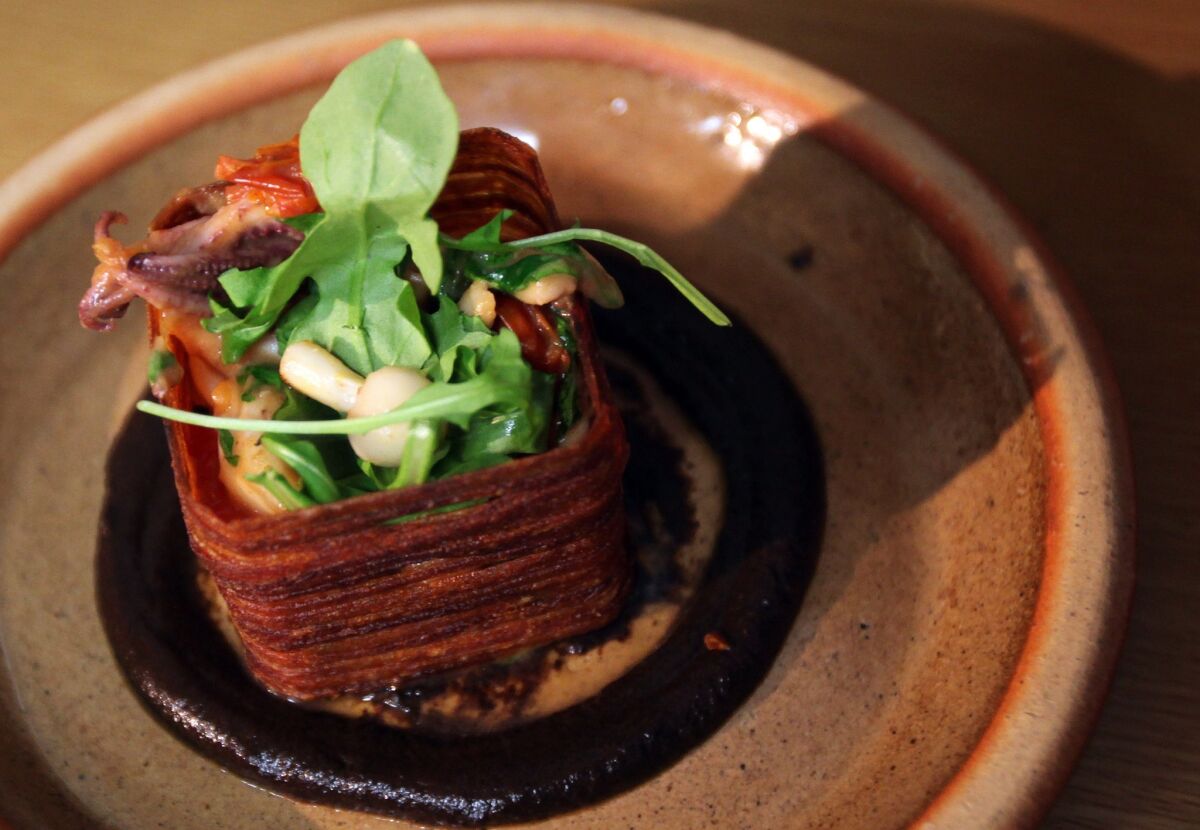 As much as gastronauts cherish their visits to the avant-garde Spanish restaurants Mugaritz, Berasategui and Arzak, many of them will confess that their last trips to San Sebastian may have been less about 14-course meals of high-modern cuisine than cider-fueled wanderings through the old town, where Txakoli flows and the succession of tapas bars is unmatched anywhere in Spain. And while these travelers can tell you in detail about the fuming tide pools of seafood they were served at Azurmendi or the edible river stones at Mugaritz, their fondest memories may be of the kitschy San Sebastian pintxos bar A Fuego Negro, which exists almost as a modernist joke on the excesses of modernism. At A Fuego Negro, you can snack on sous-vide pigeon breast with beet-juice "blood" and edible buckshot, ham coffee with sweetbread cookies, and pickled pig's ears with Oaxacan mole ice cream. Hyper-intellectual cuisine has its place, but parody can be more fun.
So in a Los Angeles restaurant scene dominated at the moment by extreme localism, modernist trickery and the marriage of European and Asian technique, Scratch Bar, a sleek, dim gastropub next to Matsuhisa on La Cienega's restaurant row, is a welcome bit of comic relief, the wiseguy telling jokes in the corner while the popular kids forage miner's lettuce and make buttermilk cheese with a centrifuge.
At Scratch Bar, chef Phillip Frankland Lee and his band roast half-cylinders of sourdough bread, scoop out grooves in the center and fill them with bone marrow — trompe l'oeil marrow bones, garnished with ruddy bits of beet-marinated vegetables. They bake whole smelt inside crackers, so that the little fish appear to be emerging from the flat surface like nudes in a Robert Graham sculpture, and set them upright in blood-red smears of beet and beef marrow.
They construct canapés of sweetbreads, tiny flatbread and maple vinegar, call them "Chicken" 'n' Waffle, and dare you to eat them in a single bite. You do, and the sensation is straight out of a Sunday morning at Roscoe's. They inject green olives with puréed Kalamatas, dip them in batter, deep-fry them and drizzle them with a little honey. If you have ever wondered what olives might taste like if they were stuffed with other olives instead of pimientos, this is your chance.
When you order Smoking Goat's Milk Cheese, the dry, crumbly fresh cheese comes to the table under a kind of upside-down glass terrine, where it has been resting next to a small pile of smoldering dried timothy grass. ("The same hay the goats eat," confides the waiter.) The top of the glass is smeared with puréed olives, which you are encouraged to spread on little rounds of toast. The ruddy pickled vegetables show up again. The waiter replaces the terrine over the sputtering haystack. You watch the vessel slowly fill up again with smoke. The cheese may be dryish, and the smoke makes it smell a bit as if it had been hanging out with the Marlboro Man, but the rugged flavors seem to work.
The signature presentation is probably Squid in a Box — the box is fashioned from fried potato, and the construction rests on a tar-black purée of charred eggplant, but it is indeed squid in a box. Vegetarians can have a Box Full of Vegetables instead.
Sometimes the restaurant's effects are elaborate, like the snack of skewered mussels suspended over a shot of sake, which in turn conceals a few grams of sea urchin paved with avocado mousse: Eat, sip, eat. Sometimes, as with the roasted corn rolled in toasted bread crumbs, the point is simple. The squishiness of long-braised pork belly rhymes nicely with the squishiness of a raw Kumamoto oyster. It's a nice bite. But the squishiness of long-braised pork belly does nothing for the briny creaminess of uni in an abstracted version of chirashi sushi. That experiment doesn't work. The corn-infused custard spiked with king crab meat doesn't really work either, at least until sweet corn comes back into its peak season, but you can see the reason behind it.
This is probably the place to point out that, while Scratch Bar is set up like a cocktail bar and, in fact, features cocktails designed by Dave Fernie of Pour Vous, the restaurant has only a wine and beer license, and those fancy drinks are made with sake, sherry or soju instead of booze. In practice, this works out. The Bangkok Dangerous, made with pineapple, two sakes and a dusting of cayenne, would not have been out of place at the Tiki Ti.
I'm not sure Lee is aiming toward a higher end at Scratch Bar, but in a way it doesn't matter. His food tastes pretty good, it is attractively presented and it makes you smile. I suspect the tiny portions and militant whimsy might enrage a certain kind of customer, but for the most part this, and the vanilla ice cream cones with house-made jimmies, may be enough.
Scratch Bar
Hyper-modern cuisine with a side of humor.
LOCATION
111 N. La Cienega Blvd., Beverly Hills, (310) 289-8010, scratchbarla.com
PRICES
Bites, $5; small plates, $5-$18; larger plates, $15-$21; desserts, $6-$9. Tasting menus, $45-$111.
DETAILS
Open 5 to 10 p.m. Mondays to Wednesdays; 5 to 11 p.m. Thursdays to Saturdays. Credit cards accepted. Beer and wine. Street parking or valet at Matsuhisa next door.
RECOMMENDED DISHES
Smoking Goat's Milk Cheese, "Chicken" 'n' Waffle, roasted bone marrow and sourdough, Squid in a Box, chocolate and cayenne candy bar.
Get our L.A. Goes Out newsletter, with the week's best events, to help you explore and experience our city.
You may occasionally receive promotional content from the Los Angeles Times.