Recipe: Carrot cake ice cream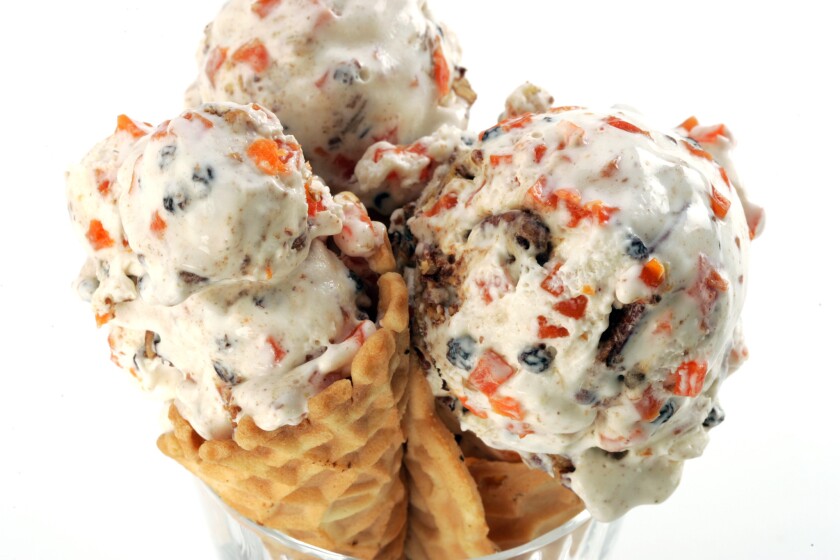 Carrot cake ice cream
Total time: 1 hour, plus chilling and freezing time
---
Our recipes, your kitchen: If you try this or any other recipe from the L.A. Times Test Kitchen, please share it with us: Click here to upload pictures of the finished dish.
---
Servings: Makes 1 quart
Spiced pecans
1 cup pecan halves
1 tablespoon butter, melted
1 teaspoon ground cinnamon
1/4 teaspoon ground cloves
2 tablespoons dark brown sugar
1/8 teaspoon salt
1. Heat the oven to 350 degrees. Toss the pecans with the butter.
2. In a small bowl, whisk together the cinnamon, cloves, brown sugar and salt. Pour the mixture over the pecans and toss to coat completely.
3. Spread the pecans on a baking sheet and cook for 12 minutes, gently stirring halfway during baking to candy the nuts. Remove the tray to a rack and cool the nuts completely. Once cool, coarsely chop the pecans. Set aside.
Currants
1/4 cup dried currants
2 tablespoons whiskey
1. In a small saucepan, heat the currants and whiskey until boiling. Simmer until the currants have absorbed almost all of the liquid. Remove from heat and cover the pan. Set aside to cool completely.
Candied carrots
2 cups finely diced carrots
2/3 cup sugar
2 tablespoons light corn syrup
2 cups water
1. In a medium saucepan, combine the carrots, sugar, corn syrup and water. Bring to a low boil and cook until the syrup is reduced to about 2 tablespoons and the carrots are translucent and candied, 20 to 30 minutes. Keep an eye on the carrots during the last few minutes so they do not burn. Drain the carrots and set aside to cool.
Ice cream base and assembly
1 (8-ounce) package cream cheese
1 1/2 cups sour cream (regular or low-fat)
2/3 cup sugar
1 teaspoon chopped lemon zest
Spiced pecans
Currants
Candied carrots
1. In the bowl of a stand mixer, or in a large bowl using a hand mixer, blend together the cream cheese, sour cream, sugar and lemon zest until smooth. Chill thoroughly.
2. Freeze the base in an ice cream maker. After churning, gently fold in the spiced pecans, soaked currants and candied carrot cubes. Freeze until firm.
Each one-half cup serving: 485 calories; 5 grams protein; 51 grams carbohydrates; 3 grams fiber; 30 grams fat; 14 grams saturated fat; 54 mg. cholesterol; 173 mg. sodium.
---
Get our weekly Tasting Notes newsletter for reviews, news and more.
You may occasionally receive promotional content from the Los Angeles Times.