In today's installment of things I never knew would happen but now can't stop thinking about, Nina West, the eleven-gendary drag queen and newly crowned Miss Congeniality from Season 11 of "RuPaul's Drag Race," debuted her own flavor of ice cream nationwide at Jeni's Splendid Ice Creams. The Ohio-based chain has four standalone stores in Los Angeles.
The flavor, appropriately called Dream Puff, is a salted vanilla custard mixed with pastry flakes and ribbons of strawberry sauce, inspired by Nina herself. "I've been friends with Jeni for years, and so when the time came, she walked me through the process … because I had no idea how to make ice cream!" joked West, the drag persona of Andrew Levitt.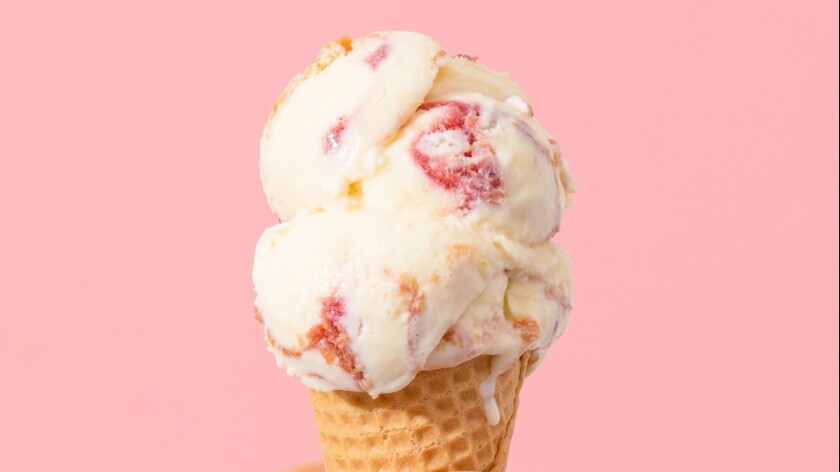 West has been famous as a drag performer in Columbus for almost two decades, but it was her turn as the humble but hilarious queen on "Drag Race" that cemented her celebrity status as the queen of Pride. She wore a Pride flag outfit that was lampooned by the judges at first but has since become one of her iconic lewks.
If you're out celebrating Pride this month, Jeni's locations — Calabasas, Venice, Larchmont or Los Feliz will all be serving Dream Puff. The limited-edition flavor will be available throughout June to celebrate Pride, and the profits from its sale, as well as her curated list of favorite flavors — Gooey Butter Cake, Sweet Cream Biscuits & Peach Jam, Blackout Chocolate Cake and the new dairy-free Cold-Brew with Coconut Cream — will go to her charity, the Nina West Foundation, which supports LGBTQ+ charities and causes.
---