Market Watch: Autumn Lady peaches arriving from the high desert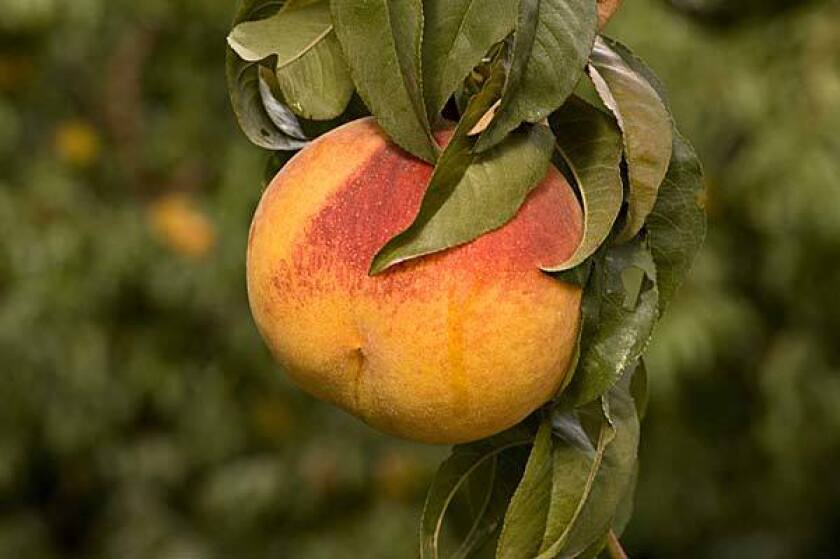 Reporting from Littlerock, Calif. — —
Among the Halloween treats available at farmers market this weekend, alongside pumpkins, apples, and persimmons, there's one, Autumn Lady peaches from Tenerelli Orchards, that might seem incongruous. Could these fruits really be fresh, or any good?
Actually the harvest started just Tuesday, and there's no trickery involved. They weren't held in cold storage until they became mealy, or flown in from Chile. It just so happens that the high desert area, a little over an hour northeast of Los Angeles, naturally produces the latest peaches in the Northern Hemisphere. Because of the elevation, close to 3,000 feet, the trees bloom several weeks later in the spring than in the Central Valley, the state's and nation's leading peach-growing area, and the intense summer heat also retards development. It can get bitterly cold in the depths of winter, but it almost never freezes hard enough in October and early November to spoil the crop, allowing ultra-late varieties to ripen successfully.
Several orchards in the high desert grow late varieties such as Fairtime and Last Chance that are harvested in October, but Autumn Lady is the only one that really ripens in November, sometimes as late as the middle of the month. In some years, John Tenerelli has deliberately delayed the harvest by applying plentiful nitrogen fertilizer to the trees, but this also detracted from fruit quality. This year he has reduced nitrogen and focused on flavor.
Bred by Grant Merrill, the discoverer of many other now-classic varieties such as O'Henry and Elegant Lady, Autumn Lady, introduced in 1979, is somewhat blockish in shape, and about half covered with red blush. It has firm nonmelting flesh, a good balance of sweetness and acidity, and surprisingly good flavor for a peach this late in the season.
The story of the Tenerelli family is almost as delicious as their fruit.
John's father, Peter, immigrated from Italy in 1932 and worked as a butcher in Los Angeles, served in New Guinea in World War II, and then opened up his own meat shop in Eagle Rock. He and his wife, Lorraine, lived in Silver Lake and had five children, of whom John, now 54, is the youngest.
In the 1950s, Peter bought 10 acres of land in Littlerock, a small community named after the local Little Rock Wash, in the Antelope Valley east of Palmdale. The family would go there on weekends with their cousins to hunt and fish, and Peter and his brother Frank planted a few acres of fruit trees and melons.
In time he came to love growing fruit. Around 1974, shortly before he retired as a butcher, Peter planted his first commercial orchard, 10 acres of yellow peaches. These included standard old-fashioned varieties like Fay Elberta and Rio Oso Gem, but he especially selected others, such as Fairtime and Autumn Gem, that matured very late, in late September and October. The peaches from other growing areas were finished or scarce by this time of year, and so the fruit brought high prices. The orchard was Peter's joy, and he took great pride in pruning the trees himself.
John, meanwhile, briefly attended East Los Angeles College, where he played on the football team. But he decided college was not for him and found a job in a cousin's liquor stores in the San Fernando Valley in the late 1970s. He later worked as an electrician on TV commercials and went to Kenya as the key grip on a schlocky horror movie, "In the Shadow of Kilimanjaro" (said to be based on actual events in which "90,000 starving baboons went on a murderous rampage, killing humans and animals alike").
Around 1980, Peter started selling at certified farmers markets, then a new phenomenon, and recruited John to help out, which by the end of the decade became his fulltime job. John met the woman who would become his wife, Tracie ("what attracted me to her was that she was from Wyoming, where there's lots of game and fish"), and they moved to Acton, southwest of Palmdale. By a decade ago, a few years before his death, Peter somewhat reluctantly ceded direction of the orchard to John.
At that time, the Tenerellis shipped roughly half of their crop through wholesale channels, but as other farmers planted late varieties and extended their storage, this became less lucrative, and today they sell almost exclusively at farmers markets, including Pasadena, Torrance, Alhambra, Hollywood, Beverly Hills, Burbank, Studio City, Long Beach and Newport Beach.
John, the only family member directly involved in cultivation, farms 55 acres on 12 parcels, mostly peaches, nectarines, plums and apples, interspersed among horse farms, other orchards and high desert scrub. Tracie sells at markets and keeps the books; John's sister, Andrea Doreen (named by her father, rather improbably, after the Italian cruise ship Andrea Doria, which sank in 1956), works at Barclays Bank during the week, and sells at markets on weekends; and their mother, Lorraine, 82, lives on the home ranch in Littlerock, in a house next to the farm's packing shed, with a modern line of sorting and washing equipment.
John combines cheerful boyishness with a gentle undercurrent of anxiety, perhaps precipitated by the many mishaps that can befall a farmer, like the cherry-sized hail that bombarded his area last week, but miraculously spared his remaining crops. "There's times where the crop comes out perfectly and I think, 'I love this business,'" he says. "But it drains on me, and by the end of the season I can just hardly wait until it's over."
---
Get our weekly Tasting Notes newsletter for reviews, news and more.
You may occasionally receive promotional content from the Los Angeles Times.