Review: Curtis Stone's Maude in Beverly Hills
Celebrity chef Curtis Stone is shown at Maude, his first restaurant, located in Beverly Hills.
(Ricardo DeAratanha / Los Angeles Times)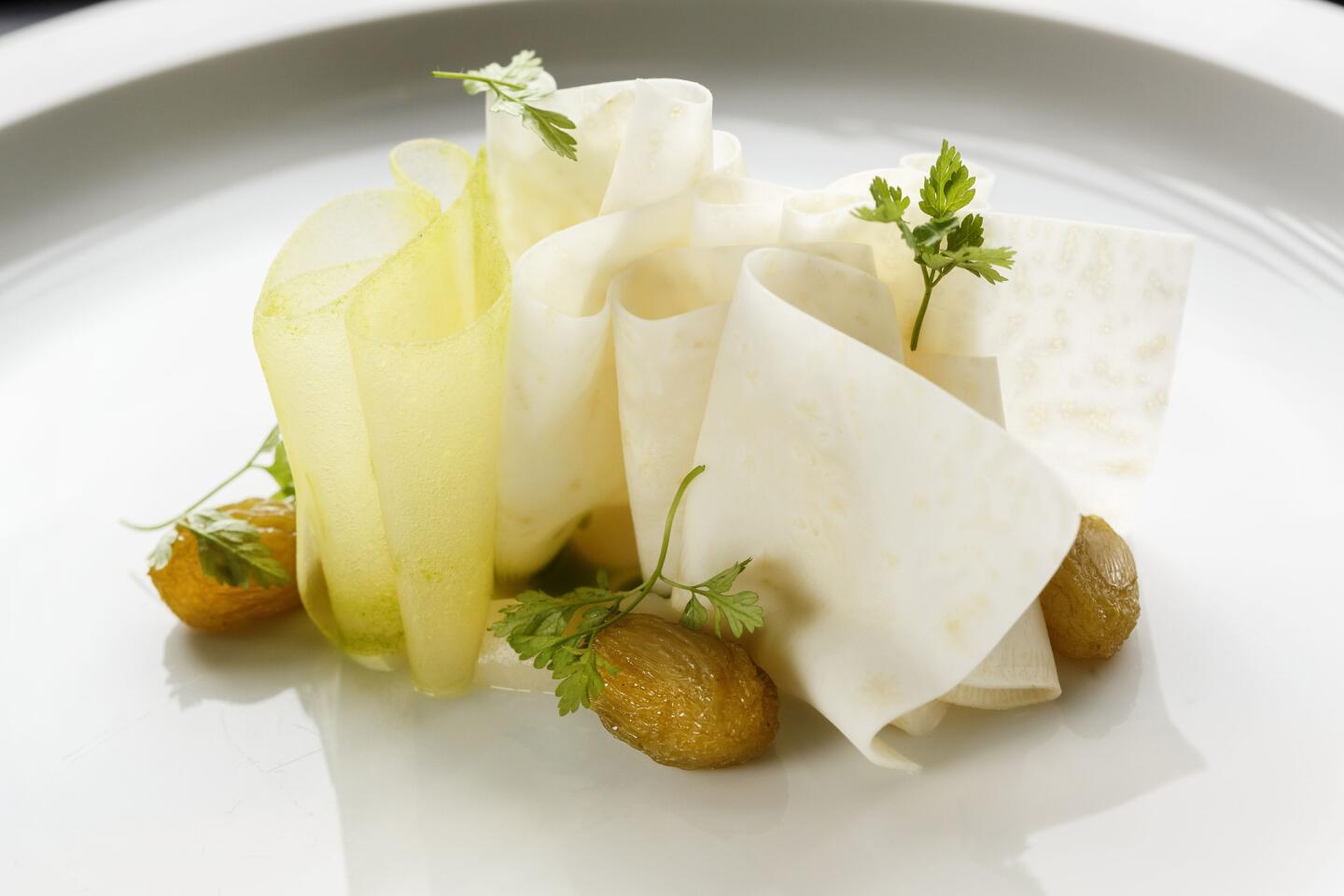 Celery root, chartreuse raisins and chervil at Maude.
(Ricardo DeAratanha / Los Angeles Times)
An architecturally arranged apple-centric dish at Maude features venison with flaxseed and mushroom.
(Ricardo DeAratanha / Los Angeles Times)
Each of the 10 courses at Maude is served with its own distinct flair. This month, apple is the tasting menu's focus. White truffles are up in November.
(Ricardo DeAratanha / Los Angeles Times)
Vintage mugs are used for serving tea and coffee at Maude.
(Ricardo DeAratanha / Los Angeles Times)
Sea bream, onion, smoked nage and green peppercorn at Maude.
(Ricardo DeAratanha / Los Angeles Times)
Diners settle in at the open kitchen counter at Maude.
(Ricardo DeAratanha / Los Angeles Times)
A mirrored wine rack at Maude in Beverly Hills.
(Ricardo DeAratanha / Los Angeles Times)
A wine bottle sits in an ice bucket at the entrance of Maude.
(Ricardo DeAratanha / Los Angeles Times)
Wine glasses at Maude.
(Ricardo DeAratanha / Los Angeles Times)
Maude features a selection of vintage plates.
(Ricardo DeAratanha / Los Angeles Times)
A picture of Maude restaurant's namesake is displayed on the open kitchen counter.
(Ricardo DeAratanha / Los Angeles Times)
Tea jars at Maude.
(Ricardo DeAratanha / Los Angeles Times)
Part of the decor at Maude.
(Ricardo DeAratanha / Los Angeles Times)
Los Angeles Times Restaurant Critic
Maude is a narrow shoe box of a restaurant hidden amid the chain steakhouses and salad parlors of South Beverly Drive. Its only sign is a discreet metal door handle in the shape of the letter M. Its small dining room, half finished with white subway tile, is a curious assemblage: sweet piles of crockery, glowing light fixtures hanging from pipes, antique platters in vitrines near the open kitchen and shocks of drying botanicals splayed like alchemists' supplies against a wall.
One course might be served on frilly floral plates, the next with a bone-handled hunting knife. A broth may be poured from an antique teapot or brewed tableside in a sputtering lab siphon. An innocent-looking plate of tagliatelle will turn out to be sprinkled with crumbles of blood sausage where you might expect Parmesan. If you are in a certain mood, Maude can start to feel like a cross between a grandmother's hutch and the basement from "Se7en" — sweet and terribly transgressive.

For the record:
4:36 p.m. Oct. 23, 2015An earlier version of this review incorrectly stated that Stone has cooked with Jamie Oliver. Stone has cooked with Marco Pierre White, among others.
Still, you probably aren't getting into Maude; you should know this up front. Because the restaurant is tiny, the food is nice and its chef, Curtis Stone, is the one food television star whom everybody genuinely likes. Plus, the restaurant's conceit, that each month features a 10-course tasting menu with a different star ingredient, ensures a lot of repeat business. Its regulars, eager to see what Stone might do with figs or almonds, consider monthly meals at Maude to be the culinary equivalent of season tickets to the L.A. Lakers or the ballet. As with Kobe Bryant's 81-point game, you were either there for the whipped rhubarb with fresh marigold blossoms and cucumber sorbet, or you weren't.
Some people I know have a kind of Maude juju, whether by cultivation of the woman who handles bookings or by mastery of the new online system. I would guess that I have tried to reserve about 50 times under various aliases over the last year and a half, but I have been able to make it in only through the kindness of friends and acquaintances — friends and acquaintances, I might add, who were only too happy to rib me about the wondrous asparagus, almond and tomato menus that I'd missed. That sea trout crudo with pea flowers and wasabi snow? I'll never really know.
You are unlikely to be served anything too far outside your comfort zone here, no wallaby-blood fritters or grilled rose petals with ants, but you will probably encounter things like duck breast with granola and smoked beets, whipped chicken livers with green garlic and French toast, and shriveled grapes soaked in chartreuse.
Stone has cooked with Marco Pierre White, among others, but Maude is his first restaurant. If you mention his name to a foodie in Melbourne, his hometown, she will not have tasted his food, but she may break out into a bit of the jingle from Coles Supermarkets, an Australian chain with which he is associated as a pitchman as firmly as Martha Stewart used to be with Kmart.
Everyone is served the same tasting menu, whose price seems to hover around $120 — less for parsnips, way more for truffles. If you have signed up for winter squash, it will be winter squash all the way: 10 small, prettily arranged courses ranging from candy bar-sized slabs of jellied squash purée wrapped in pumpkin-cured lardo, to duck pastrami with squash foam, to that pumpkin consommé finished at table in a coffee siphon. When avocado month rolled around, there was avocado ice cream, avocado soup, avocado with ham, avocado with caviar, and English cheddar with avocado mustard.
On the surface it might seem as if this approach has a touch of obsessive-compulsive disorder about it, and when you have hit the wrong month, you might agree. Avocados are wonderful, but by the time you got through the June dinner, you may have discovered less about the multitude of local varieties than about your own innate loathing for the queso fresco bounciness of cooked avocados, the hard-rubber bite of intentionally underripe avocados or the weird airiness of avocados served as a fluffy purée instead of as a rough, luscious mash. (An avocado ceviche at Union, using half a dozen varieties from farmers market star J.J.'s Lone Daughter Ranch, said more about the fruit on one plate than Stone did in 10 courses.) If you had attended last year's winter squash dinner, you would have learned what all vegetarians already know: You can hide squash in just about anything.
But when a featured ingredient leans into Stone's sensibilities, usually one whose freshness and acidity can act as bases on which to build more intricate flavors, you can understand the passion of Stone's devotees.
Stone, as you probably know, is one of those people, like Madeleine Stowe or Ryan Gosling, whose physical beauty can make it slightly uncomfortable to be around them, as if you suspect that a crinkly smile and a flash of green eyes would be enough to push you into something you know would be terribly unwise. Maude attracts an unusual number of well-dressed women with $200 blowouts, who are far too sophisticated to be done in by an arched eyebrow or a chinful of stubble but nonetheless peer anxiously into the open kitchen when he is on the line.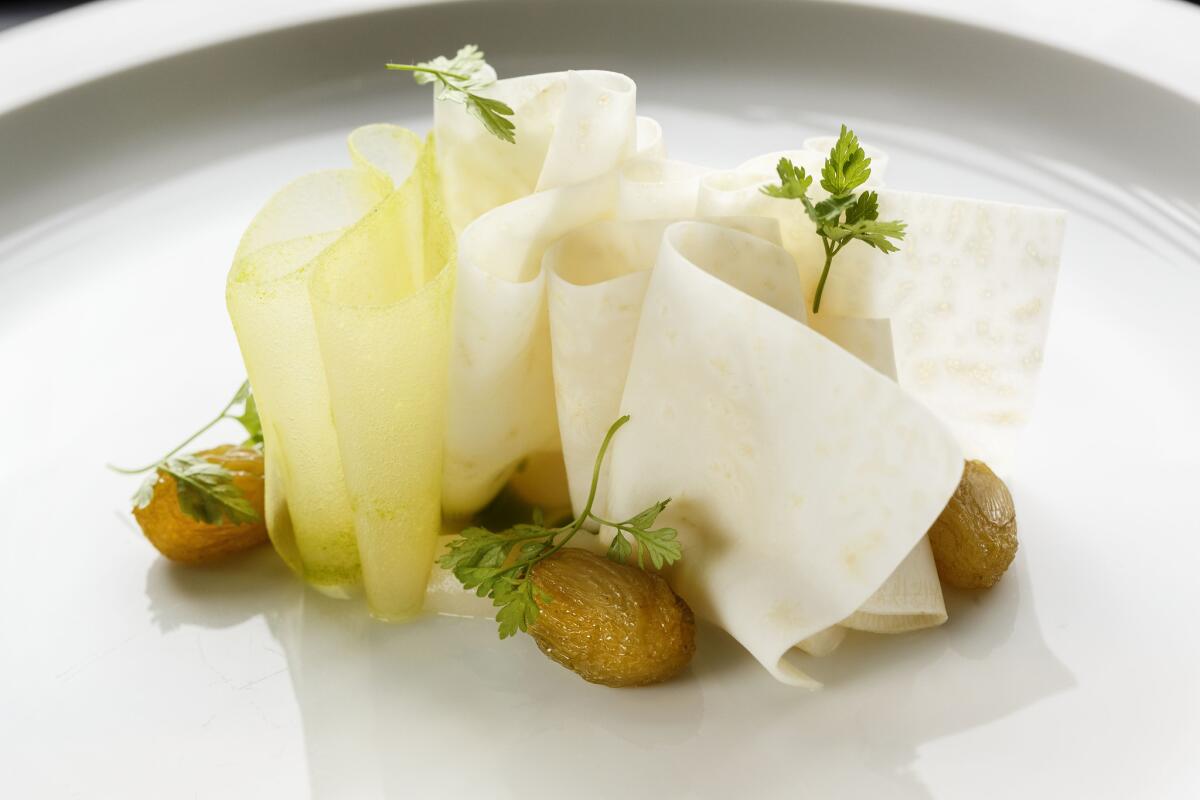 In the current apple menu (it goes over to white truffles next week), you will encounter chewy cylinders of salsify cooked down in apple vinegar until they resemble tart, chewy vegetable Slim Jims; crisp, transparent slices of dehydrated apple sandwiching a slice of fennel-scented pastry cream; a Frank Gehry tableau constructed from ribbons of apples and celeriac, a little celeriac purée and a licoricey dab of chervil oil; and a spicy, complex tartare of the Hawaiian fish opah chopped with kimchi and marinated chunks of apple. There was a funky broth made by boiling hard cheese poured over bits of apple and sunchoke; a small fillet of seared sea bream with pearl onion cups simmered in apple broth; and a tagliatelle with apple peel in the dough. I quite liked a deconstructed Reuben, a geometric composition of corned Wagyu beef cooked sous-vide, a dab of caraway mustard and a slice of apple fermented like sauerkraut — it looked like a Kazimir Malevich painting, but it tasted like a deli sandwich. An oozing puddle of Vermont cow cheese was served with a crunchy biscuit and a dab of apple butter. Well done.
Maude
Aussie chef Curtis Stone cooks for Beverly Hills.
Location: 212 S. Beverly Drive, Beverly Hills, (310) 859-3418, mauderestaurant.com
Prices: This year's monthly menus have ranged from parsnip, $90, to November's white truffle, $375.
Details: Dinner, 5:30 to 10 p.m. Tuesdays to Saturdays. Beer and wine. Nearby city lot parking. Credit cards accepted.
Recommended dishes: Tasting menus.
Get our L.A. Goes Out newsletter, with the week's best events, to help you explore and experience our city.
You may occasionally receive promotional content from the Los Angeles Times.