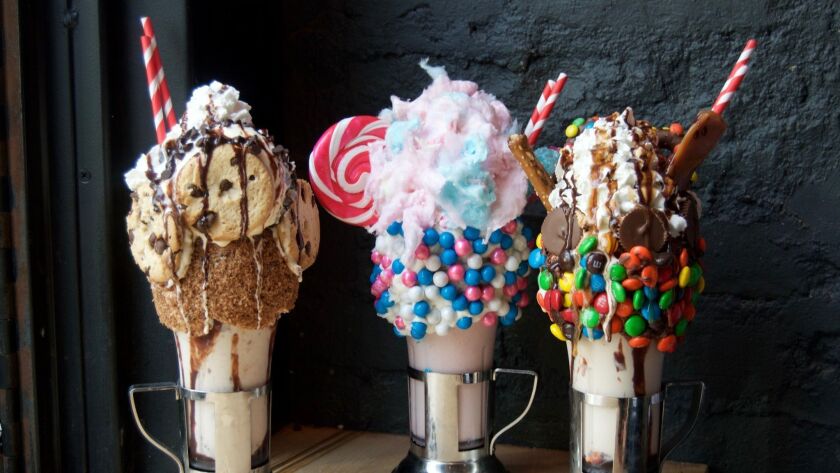 Alice's Restaurant
Alice opened Monday for breakfast and lunch at the 1 Hotel West Hollywood. The restaurant and market come from the h.Wood Group, owners of Delilah, Poppy and the recently reopened Bootsy Bellows. A menu of French and American classics features croque-madame, sandwiches with brisket from Slab BBQ and chicken paillard. Dinner service starts in early May.
8490 Sunset Blvd., West Hollywood, (424) 281-1870, alicewesthollywood.com
Five Leaves Lands in East Hollywood
Five Leaves is now open in East Hollywood. A popular brunch and cocktail spot in the New York City borough of Brooklyn since 2008, the restaurant is serving gravlax and Moroccan scrambles at breakfast, burgers and BLATs for lunch, and shepherd's pie and grilled barramundi during dinner.
4845 Fountain Ave., Los Angeles, (323) 426-9997, fiveleavesla.com
Pizza With a Brazilian Accent
Sampa's Pizza Cafe recently opened in Marina del Rey from Brazilian chef Marcus Roberto. Thin-crust pies include the São Paulo with corn, chicken and catupiry, and the Portugesa with ham, hard-boiled eggs and kalamata olives.
534 Washington Blvd., Marina del Rey, (805) 423-5578, sampaspizza.com
Le Grand Prize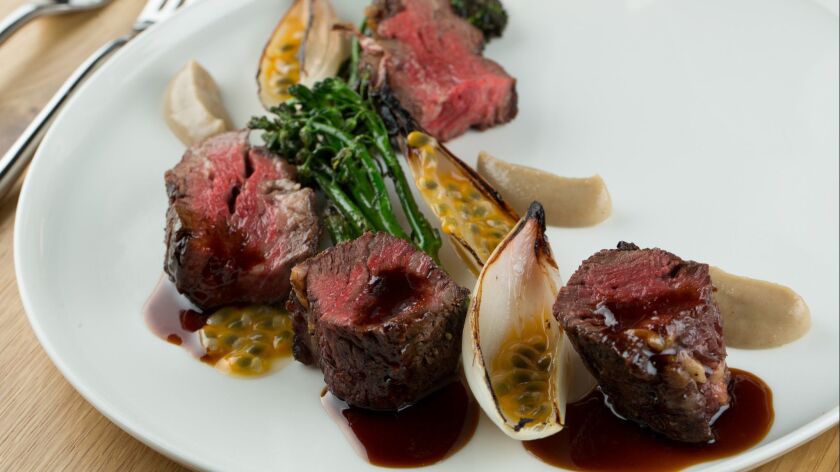 Le Grand is now open in downtown L.A. under a wall bearing 1,000 wine bottles. Brothers Alex and Chris Manos head up the kitchen, with a seafood-forward Mediterranean menu that includes Maine lobster bucatini, shrimp saganaki and yellowtail with ras el hanout and amaranth tabbouleh.
707 S. Grand Ave., Los Angeles, (323) 303-2535, legrand-restaurant.com
Fry Spell
Witch's Chicken is now open in the Koreatown Galleria for Korean fried chicken, sweet soy garlic wings and French fries. Dipping sauces include wasabi mayo and honey-lemon mustard.
3250 W. Olympic Blvd. Ste. No. 105, Los Angeles, (323) 733-9292
Kebab Sandwiches on Wheels
A Persian food truck named Kings is now serving Westwood. The focus is kebab sandwiches.
1563 Westwood Blvd., Los Angeles, (310) 430-0060, harazcatering.com
Wandering Ceviche in West Hollywood
Cevicheria Las Olas is now roaming West Hollywood. The Mexican-style ceviche truck makes shrimp-and-crab tostadas, grilled mahi-mahi and swordfish tacos, and tostadas topped with mango and pineapple.
instagram.com/cevicheria_lasolas for daily location
Korean Drinking Food
Chon Dak is now open in Gardena. The Korean pub has a bilingual menu with dishes such as fried chicken, smoked duck, spicy seafood udon and skewered meats.
15915 S. Western Ave., Los Angeles, (424) 528-2156, facebook.com/chondak
Porto Authority
Porto's Bakery and Cafe has a new location open in West Covina. This is the fifth and easternmost outpost of the popular Cuban pastry chain.
584 S. Sunset Ave., West Covina, (626) 214-3490, portosbakery.com
Shake, Shake, Shake
Black Tap Craft Burgers and Beer recently opened its first California location at Downtown Disney in Anaheim. The New York export is famous for over-the-top shakes, the kind that feature gumballs and entire Chipwiches plastered on their sides.
1540 Disneyland Drive, Anaheim, (657) 276-2498, blacktapnyc.com
Taco the Town
Trejo's Tacos is now open at the Original Farmers Market. This is the ninth outpost of actor Danny Trejo's rapidly growing restaurant empire, which includes taquerias, cantinas and a doughnut shop.
6333 W. 3rd St., Los Angeles, (323) 847-5074, trejostacos.com
Closings
Pearl's BBQ
Pearl's BBQ recently closed in downtown L.A., nearly a year and a half after opening. An Instagram post said "the partners have decided to split ways."
Woodley Proper
Cocktail bar Woodley Proper is closed in Encino after two years. The space will be turned into a new restaurant from chef-owner Phillip Frankland Lee, opening in early fall with former Trois Mec and Petit Crenn chef de cuisine Sam Nuckols as executive chef.
Empress Harbour
Empress Harbour, a long-standing Cantonese seafood restaurant known for its dim sum, is closed in Monterey Park.
Sepi's
After 50 years, sports bar Sepi's closed Tuesday in Westwood. In a statement on Facebook, owner Kifishia Kawachi said she hoped to find a new location for the UCLA-adjacent institution.
EXTRAS
Carnitas El Momo is now offering BYOB tortas in Boyle Heights. You bring the bolillo or roll and they'll do the rest.
2411 Fairmount St., Los Angeles, (323) 627-8540, instagram.com/carnitaselmomo
La Monarca Bakery recently launched Taco Tuesdays at each of its 12 locations. From 2 to 5 p.m., both drinks and tacos on housemade, Sonora-style flour tortillas are two-for-one, with options such as chicken mole and chipotle beef machaca.
Cal Mare will begin lunchtime service on May 1. Expect a cheeseburger with Calabrian chili oil, calamari with 'nduja and rigatoni all'amatriciana Mondays through Fridays.
8500 Beverly Blvd., Los Angeles, (424) 332-4595, michaelmina.net/restaurants/southern-california/calmare/
Hyperion Public Studio City will start smoking brisket, ribs, tomahawk steaks and other meats on its Ventura Boulevard patio, Saturdays and Wednesdays through summer, 5 to 10 p.m., beginning May 4.
12969 Ventura Blvd. Studio City, (818) 464-3750, hyperionpublic.com
---