Recipe: Apple and Calvados crepes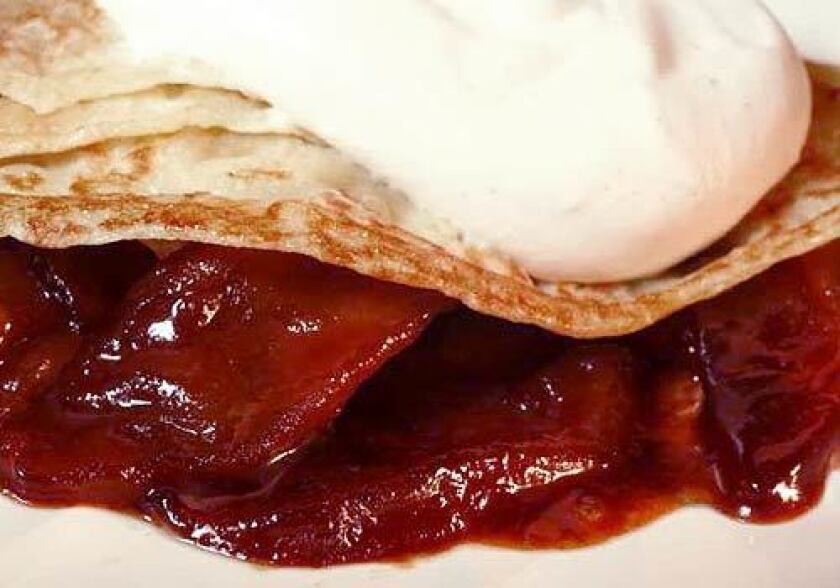 Total time: 25 minutes
Servings:
4
Note:
Calvados, French apple brandy, is available at many liquor stores and wine shops.
1/2 cup whipping cream
1/2 tablespoon powdered sugar
Pinch of cinnamon
4 tablespoons butter
3 Fuji apples, peeled, cored and sliced
1/3 cup sugar
Pinch of sea salt
1/3 cup Calvados
Juice of half a lemon
4 sweet crepes
1. Make the cinnamon Chantilly cream. In the bowl of a standing mixer fitted with a whisk, or with a hand-held mixer, beat the cream, sugar and cinnamon until soft peaks form. Refrigerate until you're ready to assemble the crepes. (You will have extra; reserve for another use.)
2. In a large sauté pan, melt the butter until it foams and subsides, then add the sliced apples, sugar and salt. Cook over medium heat until the apples caramelize and the sauce is thick, about 10 minutes.
3. Taking the pan off the flame, pour in the Calvados, and then return it to the heat; if it doesn't ignite in the pan, tip the liquid toward the front of the pan, being careful not to let it spill, and light it with a match. Let it flambé until the flames subside, about 10 seconds. Stir in the lemon juice.
4. Spoon one-fourth of the caramelized apples into the middle of a sweet crepe, then fold it into quarters and top with a dollop of cinnamon cream. Serve immediately.
Each serving with 1 tablespoon Chantilly cream: 365 calories; 3 grams protein; 41 grams carbohydrates; 3 grams fiber; 17 grams fat; 11 grams saturated fat; 81 mg. cholesterol; 105 mg. sodium.
---
Get our weekly Tasting Notes newsletter for reviews, news and more.
You may occasionally receive promotional content from the Los Angeles Times.