A Seder without matzo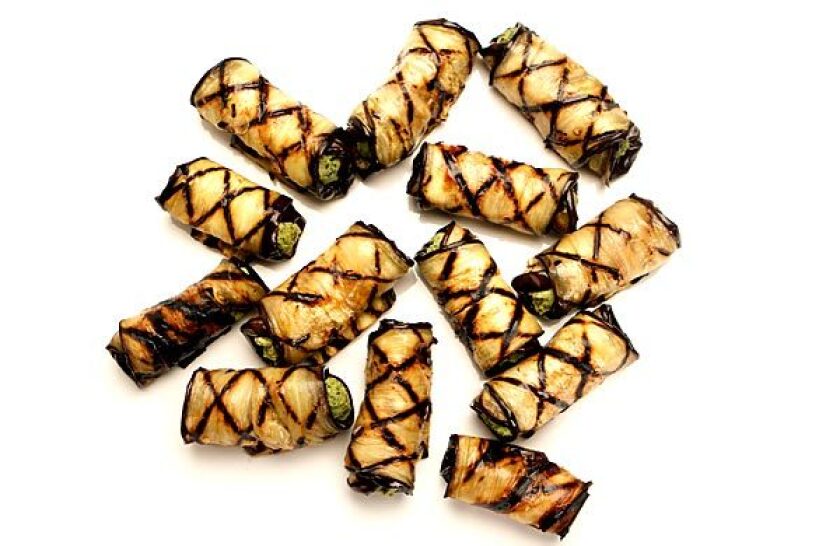 Reporting from Tel Aviv — —
I've always loved Passover, ever since I was a little girl. Long before I understood it as the Festival of Freedom that celebrates the ancient Israelites' exodus from slavery in Egypt, to me it was the holiday of difference. Indeed, it was — and still is — a time to join together for a ritual meal called a Seder, at which we ask ourselves: "Why is this night different from all other nights?"
One answer could be: because everything tastes like matzo. But that doesn't have to be true. You could get nutty instead.
Passover, which begins this year on the evening of April 18, entails much more than just a Seder. It is a week set apart from the remaining 51 weeks of the year, an occasion for changing over to special sets of dishes and silverware and deep cleaning the home to eradicate even the most minute traces of leavened products. It's a time of ceremony and family gathering. And in true Jewish tradition, it includes lots of food — a plethora of once-a-year dishes, many of them with more than a faint undertone of matzo.
That's because plain wheat matzo, the flat, unleavened, cardboard-like sheet (or round) that symbolizes the bread my ancestors baked so hastily as they prepared to flee from Egypt, is far more than ceremonial bread served during the Passover Seder. Crushed to farfel or ground to meal, it is a basic staple in the Passover kitchen, substituting for flour, bread crumbs and binders. No wonder almost everything we eat during Passover tastes like matzo.
There is, however, an alternative, one that's both millenniums old and at the same time newfangled: using nuts. All nuts are kosher for Passover, and they have been used throughout culinary history as flours, binders and thickeners. Best of all, nuts taste 100% better than matzo, have a heart-healthy reputation and are considerably kinder on the digestive system. Nuts can also be an excellent solution for those who are gluten-intolerant.
Recipes: Asparagus with hazelnuts and seasoned currants; walnut- and herb-stuffed eggplant rolls; roasted chicken thighs with spinach, basil, pistachio and avocado oil pesto; and chocolate pecan brownie fudge cake.
Take walnut- and herb-stuffed eggplant rolls, a traditional Passover dish with origins in Georgia (not the Deep South, but rather the Caucasus country on the Black Sea). They're great for a starter or snack. Walnuts are a time-honored theme in Georgian cuisine, and this recipe calls for grinding them together with herbs and spices into a savory paste.
Once you've mastered the rolls, you can use the same technique with other nuts such as macadamias, cashews or hazelnuts and different herbs, such as basil, tarragon or thyme. Use the paste to stuff fresh mushrooms, celery ribs or cherry tomatoes, or use it to thicken vegetable or chicken dishes, as they do in Asian cuisine.
For the roasted chicken thighs topped with spinach, basil, pistachio and avocado oil pesto, you just marinate boneless, skinless chicken thighs for several hours or overnight, and bake them for less than 30 minutes. Serve them with a tempting made-in-advance pistachio and herb pesto accented by avocado oil (extra-virgin olive oil may be substituted). Any leftover pesto is great with potato salad the next day.
Since asparagus is so plentiful at Passover time, it seems a natural for the table. Roast it brushed with a little hazelnut oil — that gives it far more character than steaming it. Paired with a topping made from hazelnuts and the tiny raisins called currants, it is nothing less than divine.
For dessert, try a chocolate pecan brownie fudge cake. Rather than a standard matzo flour-based recipe, use a combination of ground almonds, a little potato flour and chopped pecans to bind and absorb moisture. The result is a vanish-in-minutes cake without one iota of matzo flavor. One taste and you'll agree: This year we can all go nuts for Passover.
---
Get our weekly Tasting Notes newsletter for reviews, news and more.
You may occasionally receive promotional content from the Los Angeles Times.