Review: Chaak Kitchen is a culinary trip to Mexico's Yucatán Peninsula, via Tustin
Restaurant Critic
The charred habanero salsa at Chaak Kitchen, a Yucatecan restaurant in Tustin, is a fairly alarming thing to behold as far as condiments go — a thick, darkly mysterious sludge that resembles, more or less, a small vat of spent motor oil.
The salsa arrives at your table at the start of the meal, dispensed with a cautionary spiel: It's very good, a server tells you, but very spicy.
You swipe some on your tongue and it has the texture of fine volcanic silt. It's earthy, intensely smoky and less bitter than you expect, its burnt vegetable notes mellowed and rounded out by garlic, olive oil and the vaguely fruity undertones of the habanero itself.
Then comes the talked-about heat, a delayed slow burn that roils your palate in soft, successive waves. It's an enigmatic burn, and you'll end up smearing the inky stuff on everything: the corn empanadas glutted with molten hot Oaxacan cheese and epazote; on the sturdy Yucatecan black-bean-stuffed tortillas called panuchos; and maybe even the delicately flavored, wood-fired branzino marinated in sour orange draped elegantly over a slippery mat of banana leaves.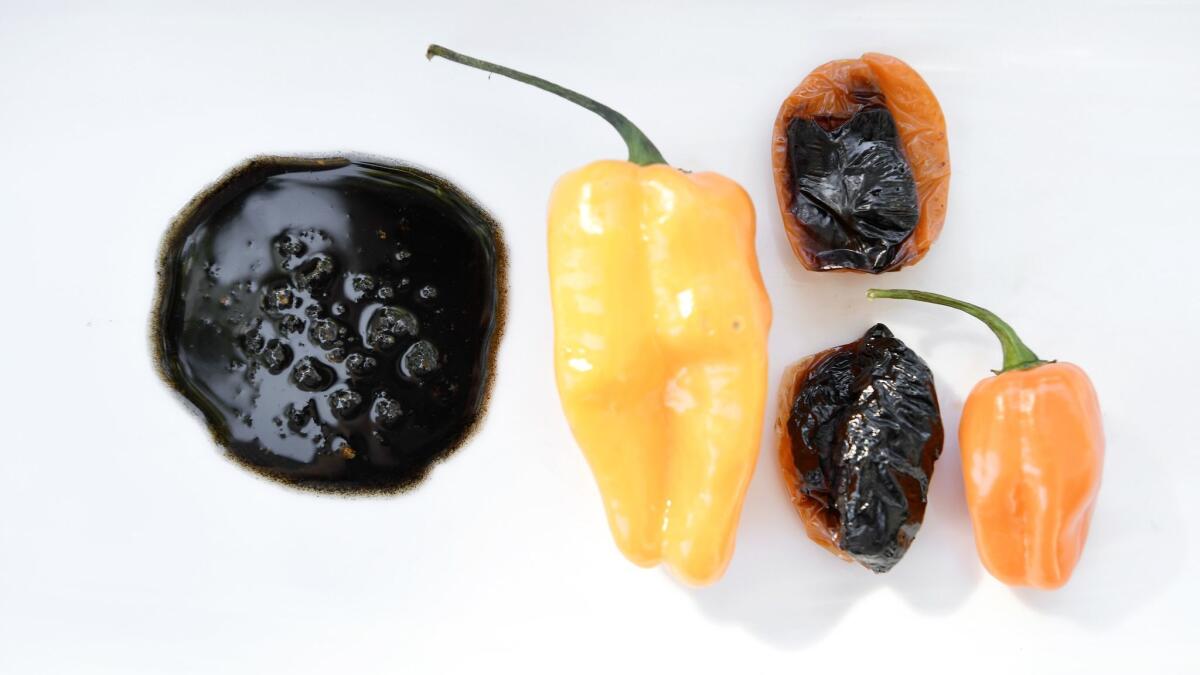 The charred salsa is an apt introduction to Chaak, a restaurant that celebrates smoke and spice, two pillars of Yucatecan cooking. Nearly everything about Chaak (the name is a reference to the Maya water god) is an homage to the Yucatán Peninsula, including the restaurant's swank, light-filled dining room. The space is tricked out with a custom retractable roof (the Maya were accomplished astronomers), tasteful wall displays of imported Yucatecan textiles, and unique design features that subtly invoke Mayan culture — note the steel rings that anchor the restaurant's hanging light fixtures, a nod to the Mesoamerican ball court at Chichen Itza. There's also a glittering L-shaped bar dispensing Mexican wines by the glass and mezcal cocktails made with tamarind paste and mole bitters. The general mood is what you might call nouveau suburban California: polite, informal, quietly affluent.
Chaak is the second restaurant from Gabbi Patrick, a prominent Orange County chef and restaurateur whose first effort, Gabbi's Mexican Kitchen in downtown Orange, has earned steady acclaim over the years for its haute renditions of classic Mexican regional dishes.
At Chaak, Patrick, whose family has roots in the Yucatán capital of Mérida, dives deeper into Yucatecan cooking, a culinary landscape where European, Caribbean and ancestral Mayan traditions and ingredients boldly intersect in ways you won't find elsewhere on Earth. Working closely with executive chef Vincent Espinoza, Patrick reveals herself to be an ambitious and astute interpreter of modern Yucatecan cuisine.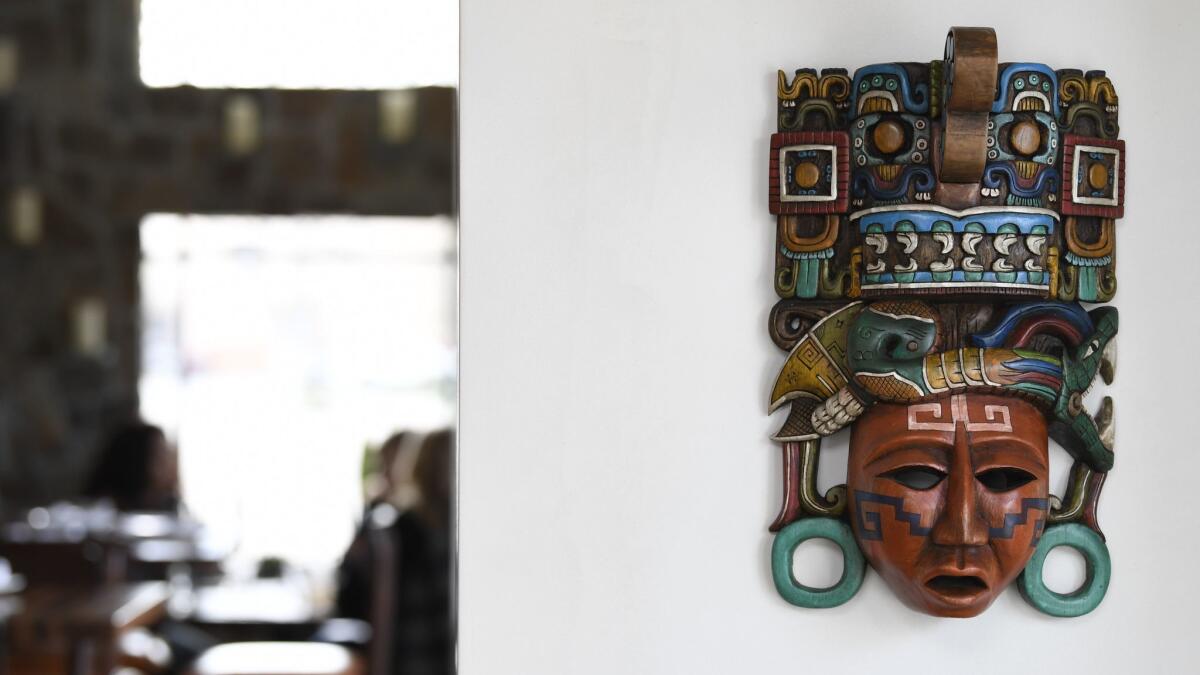 Start your meal with sikil p'ak, a traditional pumpkin seed dip that is more or less the Yucatecan analog to hummus: habanero peppers, tomatoes and toasted pumpkin seeds, pulverized into an exquisite pastiche of earthy, fruity, spicy notes. Eat it with slices of cucumbers and ribbons of blue corn totopos, or tortilla strips.
Patrick flirts with recados, the thick spice pastes at the heart of traditional Yucatecan cooking, prominent in dishes like cochinita pibil. Chaak's rendition is first-rate: Banana-leaf-wrapped pork, rubbed in a peppery, citrusy achiote paste is smoked for 11 hours over red oak, rendering it an intensely succulent and savory muddle of pork buoyed by bursts of sweetness. There is a lovely pavo en recado negro, braised turkey slicked in pungent blackened chile paste, served with a flourish of pickled red onions and the puffed corn tortillas called salbutes. The earthy recado negro makes a reappearance in a garlicky seafood dish of expertly grilled tiger prawn, plated over a Pollock-worthy splatter of drippy, inky blackened chile sauce.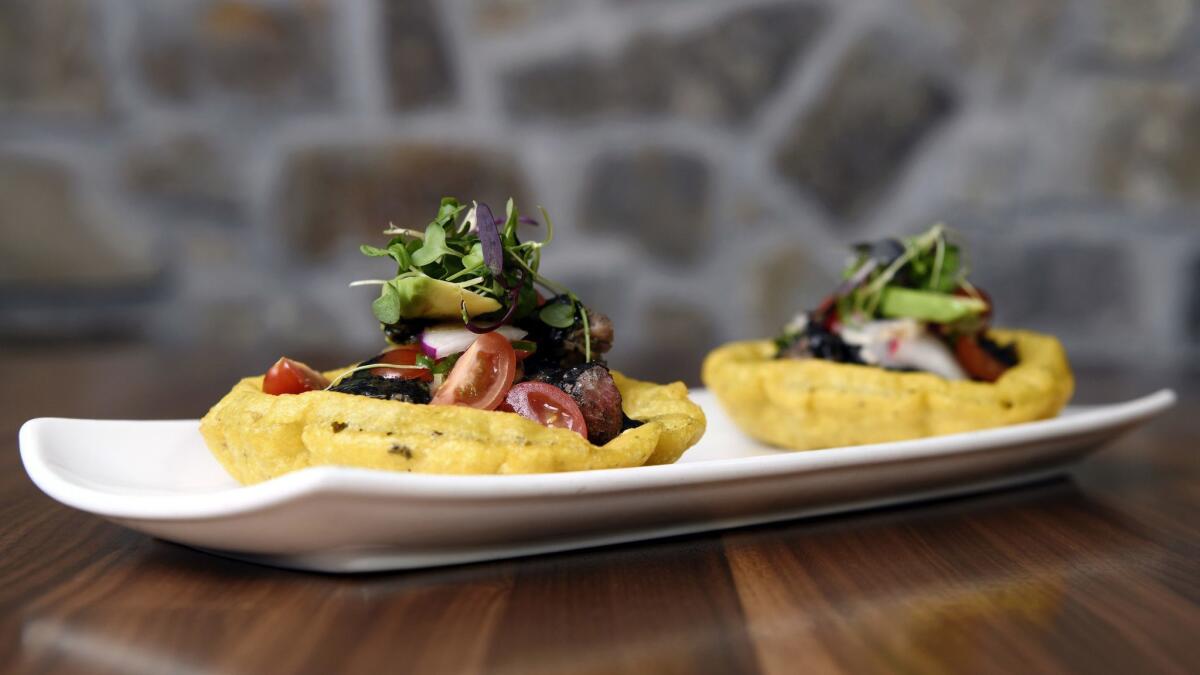 You'll want to travel deeply into the Chaak masa oeuvre, which includes thin, crisp blue corn huaraches overlaid with melted Oaxacan cheese, chorizo and ribbons of scallions; sturdy corn panuchos bulging with black bean paste and topped with slivers of slightly sweet cherry-wood-smoked chicken; and plump, cleanly fried empanadas whose smooth yellow corn shells are as tempting as the welter of hot cheese bubbling inside of them. There's also a wonderful rendition of Yucatán's famous tamal colado, corn masa strained into a pudding-like cake and smothered with a rich mushroom gravy.
Fresh ceviche is a pillar of Yucatecan cooking, and Chaak's version is magnificent: The seafood, a mix of octopus and striped bass, is cut into hunks that melt into the intensely citrusy leche de tigre marinade. A dish of campeche pulpo al guajillo is equally persuasive, the spicy grilled octopus served over a creamy swipe of chickpea purée with hunks of slightly sweet chayote squash.
Patrick doesn't always hew to tradition. A dish of carne cruda is a take on tartare that reveals the nuances of a modern California chef shaped by the culinary school crucible: the classic chopped raw meat dish is dusted in black charred pepper dust and garnished with sil gochu, the fine, orange-red chile strands used most often in Korean cooking. It's a fine dish, although probably not what you expect to find at a Yucatecan restaurant.
But Chaak is good even when it strays from tradition: a serious Yucatecan kitchen rooted in the ways of the old Mayan Riviera and thriving in Orange County, of all places.
Chaak Kitchen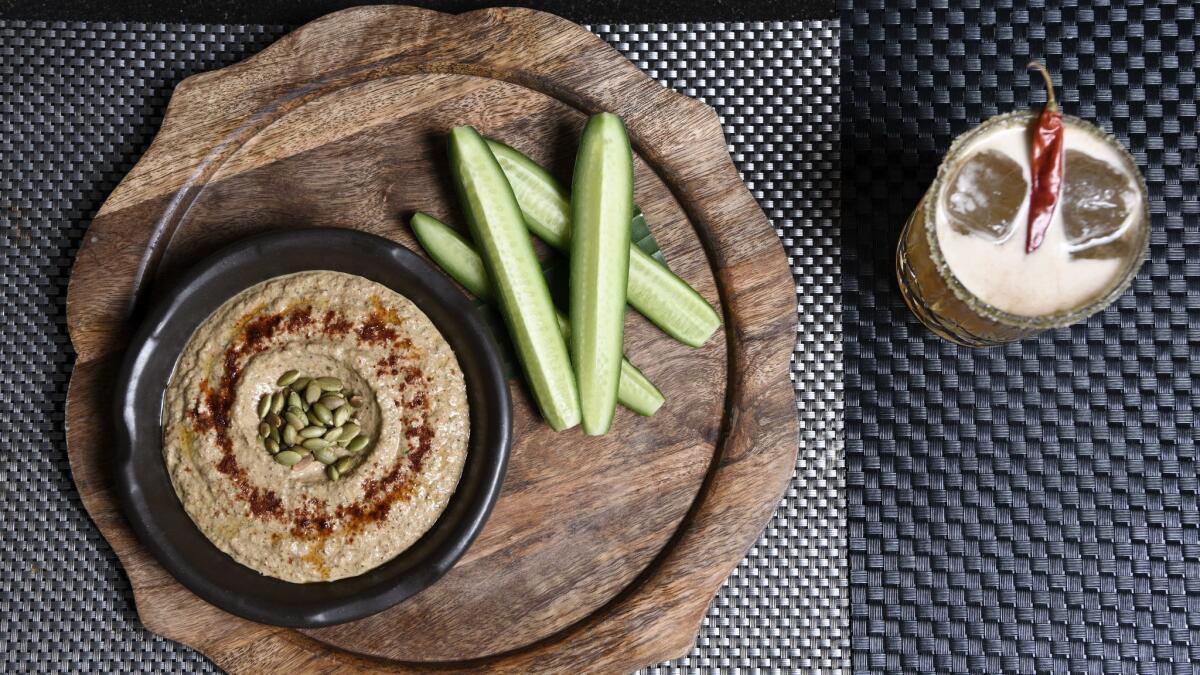 Chef and restaurateur Gabbi Patrick interprets Yucatecan cuisine in Old Town Tustin.
Location: 215 El Camino Real, Tustin, (657) 699-3019, chaakkitchen.com
Prices: Appetizers $8-$16; panuchos $16; salbutes $16; entrees $27-$95
Details: Credit cards accepted. Full bar. Street parking.
Recommended dishes: Skil p'ak; tamal colado; ceviche; salbutes; cochinita pibil.
Get our weekly Tasting Notes newsletter for reviews, news and more.
You may occasionally receive promotional content from the Los Angeles Times.