Review: Laotian-style barbecue seizes the spotlight at Kra Z Kai's in Corona
Restaurant Critic
Youthful and energetic, Musky Bilavarn ping-pongs around his small Laotian restaurant, Kra Z Kai's in Corona, like a dervish: There he is manning the gas grill in the kitchen, there he is taking a phone order at the counter, there he is refilling your iced tea before you even notice the cup is half-empty.
Much of his energy, it seems, is spent explaining Kra Z Kai's (pronounced Crazy Kai's, the "Kai" rhymes with eye) menu to new customers, who stumble into the restaurant's blandly sleek dining room with only a vague notion about Laotian cooking.
It's similar to Thai food, Bilavarn tells them with his implacable grin, only different.
Laotian restaurants are elusive in the United States, but a spot like Kraz Z Kai's is an even rarer bird: a suburban meat palace devoted exclusively to the aromatic, umami-intensive universe of Laotian-style barbecued meats.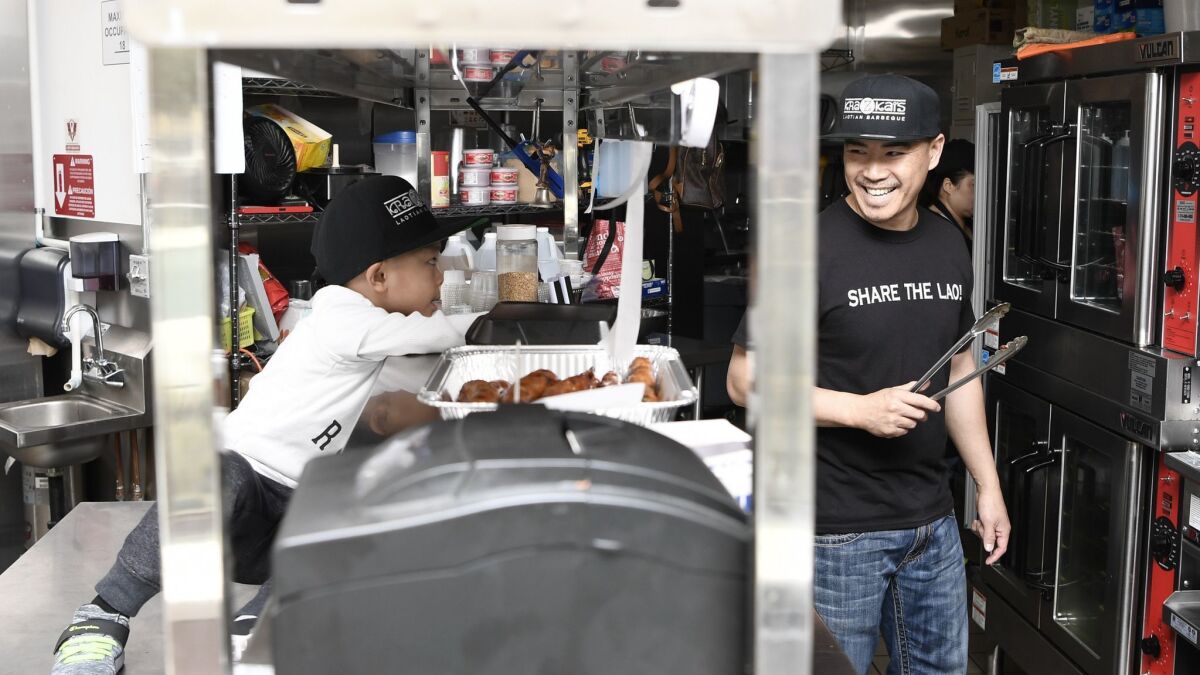 Kra Z Kai's is probably the only Laotian barbecue restaurant in Southern California, maybe even the country, Bilavarn tells me. California has the largest population of Laotian Americans of any state (around 60,000 as of the 2010 U.S. Census), with sizable communities in the Bay Area, Sacramento, Los Angeles, San Diego and the Inland Empire, many settling in the state as part of Laos' post-civil war diaspora of the late '70s. With few well-defined Laotian enclaves in California, though, Laotian cooking is still hard to find outside the family kitchen.
Bilavarn, who was born in Laos and grew up in Riverside, learned to cook from his mother, a veteran of Vietnamese and Thai restaurant kitchens. Like his mother, Bilavarn spent years in professional kitchens and was most recently managing a Papa John's before he opened Kra Z Kai's last summer in a shopping center just off Interstate 15. Bilavarn has devoted his first restaurant to Laotian grilled meats for personal reasons: He's passionate about barbecue and cooking it for an underserved Laotian community.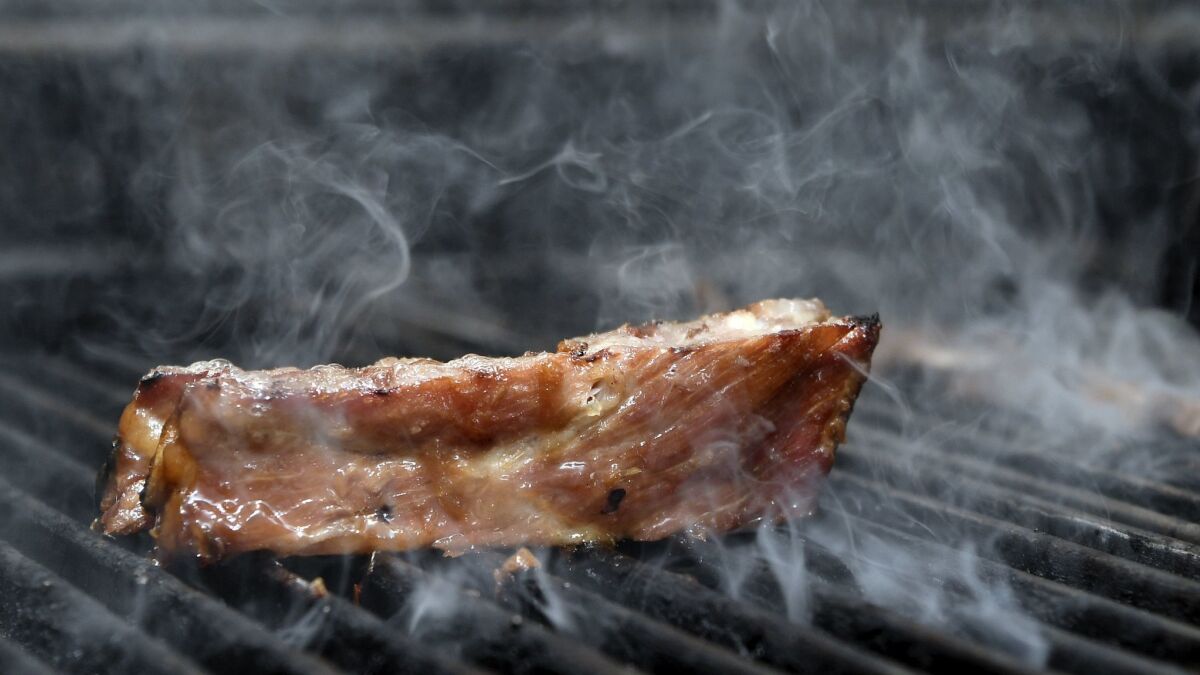 Because Laos is landlocked between Thailand, Cambodia, Vietnam, Myanmar and China's Yunnan province, its cuisine is unsurprisingly multicultural. It most frequently overlaps with Thailand's northeast Isan region, home to a majority ethnic Lao Isan population.
In the United States, such Lao culinary touchstones as sticky rice, papaya salad and laap (or larb), the meat salad widely regarded as the unofficial national dish of Laos, are commonly regarded as Thai specialties. Grilled meats are a common feature of Laotian cooking, especially the street food you'll find at bustling night markets of cities like Vientiane and Luang Prabang, where extravagant piles of chicken and pork line the grills.
Apart from the menu, the most distinguishing feature of Kra Z Kai's, tucked next to a barbershop at the edge of a strip mall, is the aroma of garlic, lemongrass and grilled beef that settles inside the dining room in a heady, fragrant haze.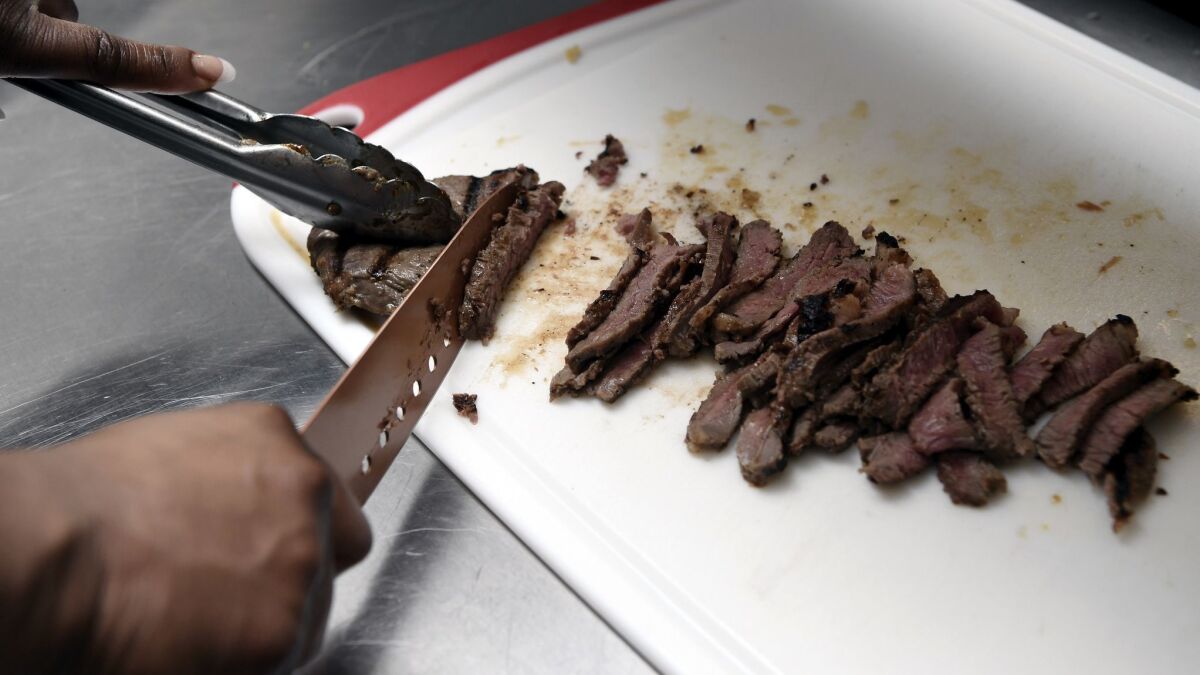 What you're smelling is the Laotian-style beef short ribs, thin-sliced flaps steeped for 48 hours in a garlic-infused oyster sauce marinade that are grilled to the perfect and precise point of caramelization. There is beef dip, quintessential Laotian party food, boneless slips of grilled meat served with an intensely herbal chili-cilantro lime sauce. A gentle swish in the sauce sets off a flavor catalyst: a whomp of garlic, a high-note jolt of citrus and the tender, smoky char of well-done beef. Scoop up a pinch of sticky rice with your fingers and roll it into a crude ball before dunking it in the sauce.
For Angelenos who venture into Riverside County only once a year for Coachella, the thing that might inspire a 40-something mile drive into Corona is the house-made sausage, a crusty-edged, brat-size link of coarsely ground pork, onions and leeks. You'll find variations on the pork sausage at many Laotian-Thai restaurants; Bilavarn's version is first-rate, its fattiness neatly punctuated by the bright, sour perfume of lemongrass.
Review: At Teddy's Red Tacos, Tijuana-style birria takes its place in the beef canon »
Glazed barbecue chicken wings, thickly lacquered in a sweet, shiny oyster sauce glaze, are as easy to snack on as popcorn. And speaking of snacking: Try the Laotian-style beef jerky — fried, grizzled meaty strips whose salty soy sauce notes deepen with every chew. Like everything else, the jerky pairs naturally with a clump of hot sticky rice, dispensed at Kra Z Kai's as freely as paper napkins and toothpicks. ("The Lao eat more sticky rice than any other people in the world!" the restaurant's menu boasts.) Sticky rice is the main vehicle for moving great quantities of grilled meat into your mouth: dense, plastic-wrapped snowballs of it come with the caramelized pork ribs, barbecued chicken thighs and marinated grilled beef.
Bilavarn also makes an intensely fragrant, crisp papaya salad. The stringy green shreds, laced with chopped cherry tomatoes and crunchy fresh longyard beans, are tossed with a light dressing of chiles, fish sauce and pungent shrimp paste — a brilliant, super-funky muddle of sweet, sour and spice.
The last time I drove the 91 Freeway into Corona, over the hills that are the color of toast in the summer that turn mossy-green with the winter rain, past the Richard Nixon Presidential Library and the big box stores of Anaheim Hills, a man standing outside Kra Z Kai's stopped my party on our way out. He was squinting at an oversize poster in the restaurant's window with the phrase "ເຊີນແຊບ" ("Enjoy!") printed in the undulating curves of standard Laotian script above a well-lighted portrait of glistening pork sausages. The man pointed to the restaurant: "What is this place?" he asked. "Is the food in there any good?"
It's Laotian-style barbecue, sir, and it's very good.
Kra Z Kai's BBQ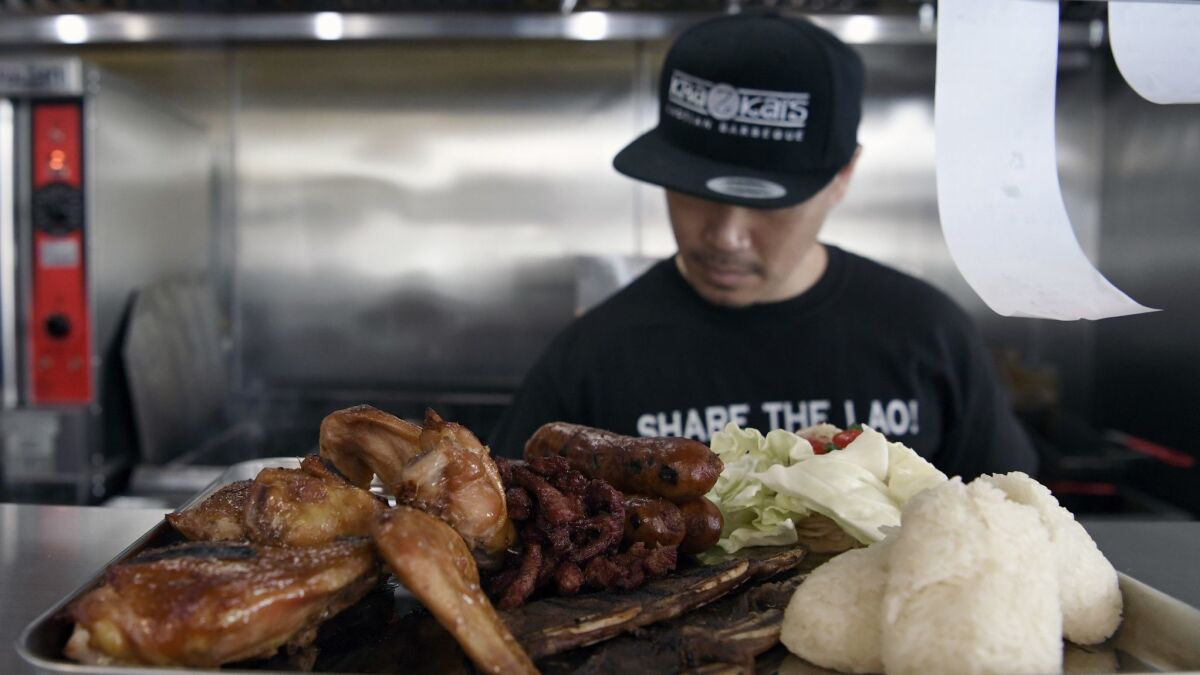 A small counter-service restaurant in the Inland Empire brings Laotian-style barbecue to Southern California.
LOCATION
1218 Magnolia Ave., #110, Corona, (951) 268-6968
PRICES
Laotian sausage $8.99; beef dip $11.99; beef short ribs $11.99; pork ribs $9.49; barbecue chicken $7.99-$8.99; Laotian papaya salad $7.99
DETAILS
Credit cards accepted. Lot parking. No alcohol.
RECOMMENDED DISHES
Laotian sausage; papaya salad; beef dip; barbecue chicken
Share some smoked salmon pizza with us
Are you also food-obsessed? Need help finding the next great Los Angeles restaurant? Please consider subscribing today to support stories like this one. Get full access to our signature journalism for just 99 cents for the first four weeks. Already a subscriber? Your support makes our work possible. Thank you.

---
Get our L.A. Goes Out newsletter, with the week's best events, to help you explore and experience our city.
You may occasionally receive promotional content from the Los Angeles Times.