Review: At Teddy's Red Tacos, Tijuana-style birria takes its place in the beef canon
Restaurant Critic
There was a time in Southern California when birria was what you ate after church baptisms or for hungover Sunday morning meals, a restorative dish of musky goat broth rooted in the chivo-intensive cooking of west-central Mexico. Goat was as central to the meal as hot corn tortillas and ice-cold beer. My Jalisciense cousins still call into question the merit of any birria that doesn't owe its existence to goat bones slowly cooked to smithereens.
I wonder what they would make of Teddy's Red Tacos.
Tijuana-style birria de res, the beefy norteño analog to Jalisco's famed spicy goat stew, is the specialty at Teddy's Red Tacos, a restaurant that made its name selling birria out of a truck parked on the defunct railroad tracks that run along Slauson Avenue in South L.A. The restaurant's consommé-stained, orange-on-red Deluxe plate has become an Instagram commodity, as captivating and instantly recognizable as an oversize Rothko. You will probably not confuse it for any other birria plate in the city.
Review: At Porridge + Puffs, rice is Minh Phan's canvas for sophisticated self-expression »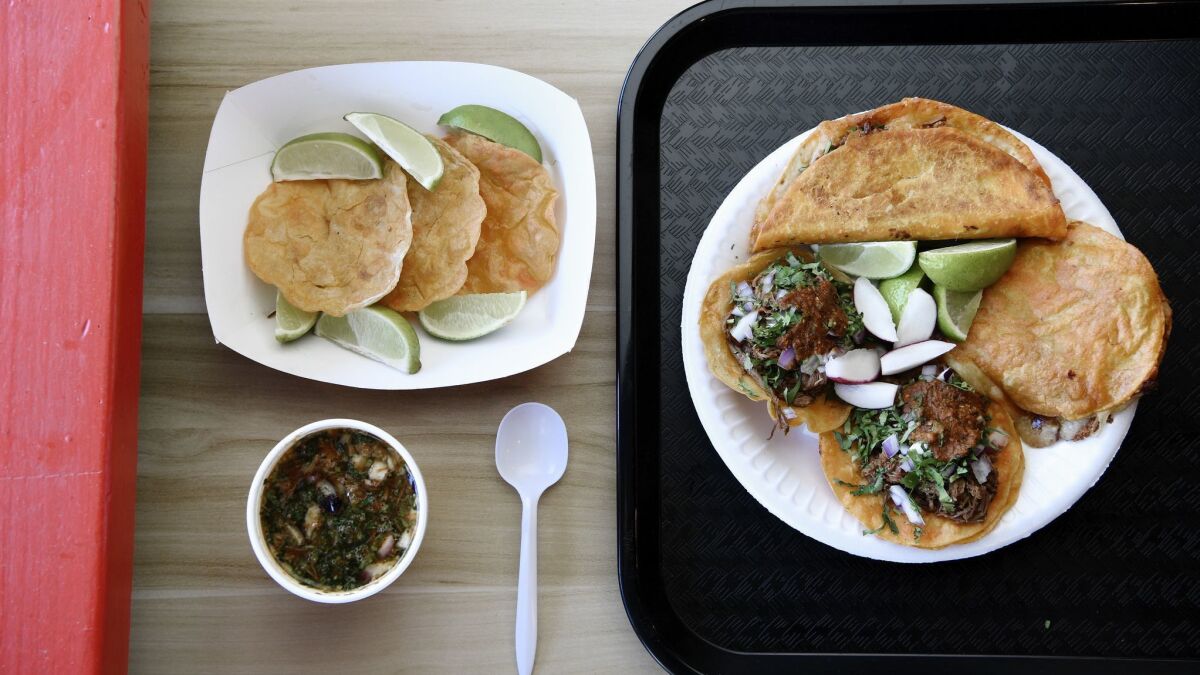 The Deluxe plate reads like a tribute to modern-day Tijuana-style street snacks. It includes a drippy, beefy birria taco; a brittle tostada overlaid with stewed beef and flurries of finely chopped cilantro and red onions; a griddle-crisped quesadilla oozing beef and melted Monterey Jack; and a mulita, beef and cheese cemented between two lightly griddled tortillas. A plastic foam cup of hot beef consommé is served on the side for sipping, along with a short stack of fresh tostadas.
And true to the restaurant's name, everything on the Deluxe plate is stained, dipped or otherwise splashed in the house consommé, a bubbling, slow-cooked welter of tomatoes, roasted chiles, dried herbs and chuck steak that turns everything it touches a bright radioactive red. Every tortilla that passes through the kitchen is dipped in the scarlet broth, tossed onto the hot grill until it stiffens and crisps, stuffed with juicy parcels of shredded beef, and then splashed dutifully with more consommé.
From the Teddy's Red Tacos food truck in South Los Angeles, Teddy Vasquez serves birria de res, a Tijuana-style variation of the popular Mexican goat stew. The signature red consommé that the beef is slowly stewed in also serves as a dip for tortill
The technique is common to many birrierias, but it's been especially instrumental in the making of Teddy's Red Tacos. It's not all for looks, though. The extra splash of consomme, and the quick-fry on the grill, sets a crisp yet succulent equilibrium. It's an addictive quality inherent to something like Teddy's quesadilla, a thing of subtly marvelous contradictions — it's sturdy and intensely crisp yet also a lush, sweltering fount of meat and broth. Unless you ask otherwise, everything is touched with a generous dollop of Teddy's kicky chile de arbol salsa; it's the salsa and not the red consommé-dipped tortillas that gives Teddy's food its smoldering heat.
Teddy Vasquez, the restaurant's genial owner, says he prepares a super-secret custom sazón seasoning on his own every day, divvying up the spice mix among the three locations that now make up his small but swelling taco empire. He has made small adjustments designed to help Teddy's stand out from the fast-growing contingent of beef birria purveyors across the city: He eschews the paper cones used by most Tijuana-style birria joints, for one, and swaps out white onions in favor of the sweeter purple.
Review: At Blackship in West Hollywood, an uneven take on Japanese-Italian cooking »
More than anything, though, Vasquez has emerged as a compelling figure, and it's difficult to divorce the man from the restaurant. Part taquero, part social media brand ambassador and part inspirational speaker, Vasquez relishes in telling his restaurant's origins; how he was penniless and freshly heartbroken when a friend invited him to come to Tijuana to learn how to make birria. He unfurls a personal tale that rides from low to high with the punchiness of a TED Talk.
The ascent of Teddy's Red Tacos — paved with flagons of beef caldo, unswerving determination and loads of marketing acuity — has led to catering for supermodel-L.A taco guru Chrissy Teigen and, more recently, a splashy Super Bowl ad. Vasquez is transparent about the boldness of his ambitions. He's opened two bricks-and-mortar restaurants in six months, and he can envision a future when his birria is sold out of big box stores. If you can sell Pizza Hut at Target, he wonders, why not birria?
Teddy's Red Tacos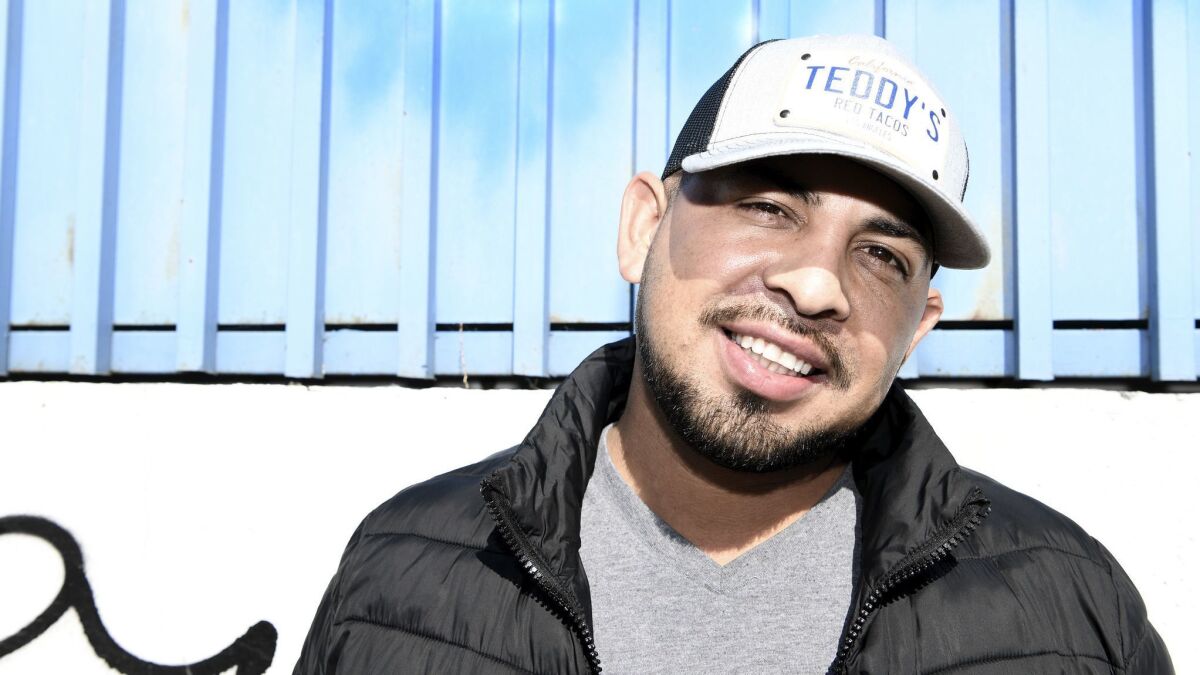 Teddy Vasquez is growing a Los Angeles birria empire with a concise menu of Tijuana-style birra de res dishes.
LOCATIONS
731 Slauson Ave., Los Angeles (food truck); 9532 Whittier Blvd., Pico Rivera; 46 Windward Ave., Venice
PRICES
Deluxe plate $10-$13.99 (varies by location); tacos $1.99; mulitas $2.99; quesadillas $3.99; birria cup $1.99-$13.99 (varies by size)
DETAILS
Cash only (food truck location). Credit cards accepted (bricks-and-mortar locations). Street parking. No alcohol.
RECOMMENDED DISHES
Deluxe plate, birria de res tacos, quesadillas, mulitas
patricia.escarcega@latimes.com
Twitter: @piescarcega
Get our L.A. Goes Out newsletter, with the week's best events, to help you explore and experience our city.
You may occasionally receive promotional content from the Los Angeles Times.