From ephemeral to established: L.A.'s favorite roaming restaurants put down roots
In the waning days of the Guerrilla Tacos food truck, chef-owner Wes Avila took to Instagram to make an announcement.
"We are closed today due to a broken water pump. We will be back to normal service tomorrow," he informed the truck's 35,000 followers on July 17. Avila then added the hashtag #foodtruckproblems.
The next day, however, a follow-up post revealed more bad news: "Due to more mechanical issues we are not open today."
By the end of the month, Guerrilla was officially done with its big blue graffitied truck, which for five years had traversed the city selling roasted sweet potato tacos, yellowfin and uni tostadas, and prosciutto tortas. In its place was a new big blue graffitied Guerrilla Tacos restaurant in the Arts District downtown.
Food trucks and pop-ups occupy a vaunted perch in Los Angeles; they are an integral part of the city's freewheeling dining scene. For chefs, they signify a certain freedom: from leases and landlords, from set hours, from overbearing investors wanting their say in what dishes to put on the menu and how much to charge for them.
The reality is a bit less glamorous. In just the last four months, many of L.A.'s most beloved fleeting establishments have given up their trucks or pop-ups to put down restaurant roots: among them Porridge + Puffs, Banh Oui, Burgers Never Say Die and Trudy's Underground Barbecue.
In 2016, Armen Piskoulian and Casey Felton launched Banh Oui, selling modern Vietnamese sandwiches, as a pop-up. For two years, they moved from location to location: at the Smorgasburg weekend food market, in the parking lot of an auto repair shop in Silver Lake and on the rooftop of the Standard hotel downtown. They said it was a low-risk testing ground for their concept and a way to learn how to make the business profitable before sinking bigger money into a permanent location.
"It was good exposure, but it was all to get us here," Felton said recently from behind the counter at Banh Oui's new storefront in Hollywood. "We were able to open this place with just the money we made from pop-ups."
That isn't every pop-up operator's experience.
"Pop-ups are so expensive," said Minh Phan, chef-owner of Porridge + Puffs, which popped up intermittently for years before finally settling down in Historic Filipinotown in August. From a sheer money-making perspective, she said, "they're so stupid."
Phan said it was difficult to maintain employees, because her porridge events were held sporadically; food waste also became a problem without a permanent restaurant to store unused ingredients.
"I did it for fun, because it kept me sharp" when she wasn't working in a restaurant full-time, and because the gatherings enabled her to interact directly with loyal fans who followed her around town.
Freedom from having to pay commercial rent does not alleviate other financial pressures, however — pop-up restaurants are still on the hook for worker's comp, insurance and nearly all the other costs that come with running a restaurant.
"If you want it to be a business, you need to scale — you have to hit the next step of having a brick and mortar," said Lawrence Longo, an investor in the upcoming restaurant iteration of Burgers Never Say Die, which began as a pop-up specializing in smashburger-style double cheeseburgers. It's set to open as a restaurant in Silver Lake by the end of the year.
The prospect of a restaurant never entered Burt Bakman's mind when he began hosting barbecue pop-ups in friends' backyards. After all, he was (and still is) a real estate agent who simply fell in love with Texas barbecue, bought a smoker and learned how to cook brisket using a technique that he likes to say is readily available on YouTube.
But word quickly got out that Bakman possessed a Midas touch with meat, and his occasional pop-up — known as Trudy's Underground Barbecue — was no longer an underground secret. Soon, restaurant investors began approaching him; in a few weeks, his first restaurant, Slab, will open on West 3rd Street.
"I couldn't make any more meat than I already was doing," Bakman said. "There were people I was upsetting because I wasn't able to get them through. So at some point, we realized the restaurant would have to happen."
The challenges of having a restaurant on wheels never let up for Avila.
"I had probably about seven flat tires, broken axle twice, overheating of the engine and overheating of the generator," he recalled, estimating that an issue would arise twice a week. "Broken propane lines, so there was no propane going into the grills. They didn't fill ice the night before, so we had no ice and no water. In Culver City, one of the next-door neighbors would double park his Range Rover, so we couldn't park."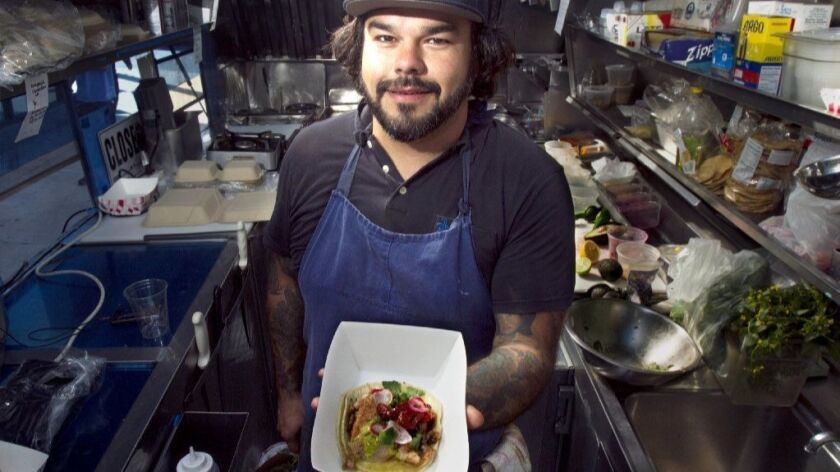 The problem-prone vehicle was just a "stepping stone," he said.
With a restaurant, Avila was able to secure a liquor license, put in a full bar and a wood-fire grill, expand his menu and have extra storage room in the back — there's a whole pig hanging that he'll use to make ham, bacon and chorizo. His small staff of five truck employees has grown to 42.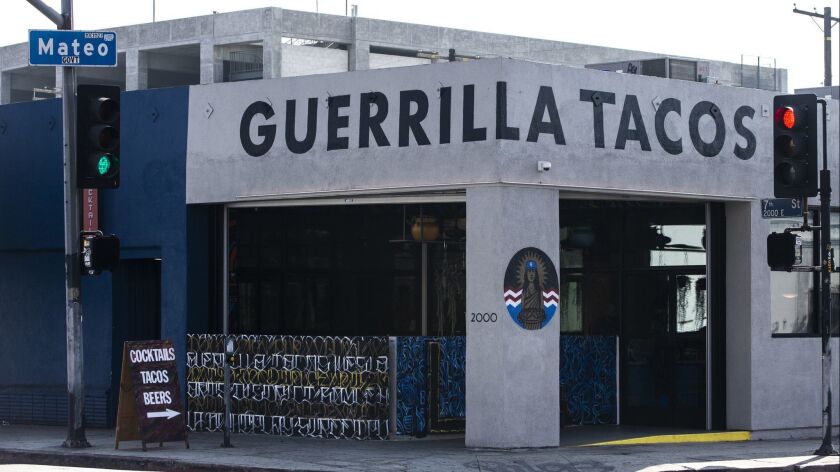 "We're doing things we couldn't possibly do in the truck," he said. "Not one thing about that truck do I miss."
Of course, even with a restaurant, there will be new challenges to contend with. At Banh Oui, a vacant space in the same strip mall is rumored to be turning into a sports bar with bottle service, which Felton and Piskoulian worry could hurt the mom-and-pop vibe they've cultivated.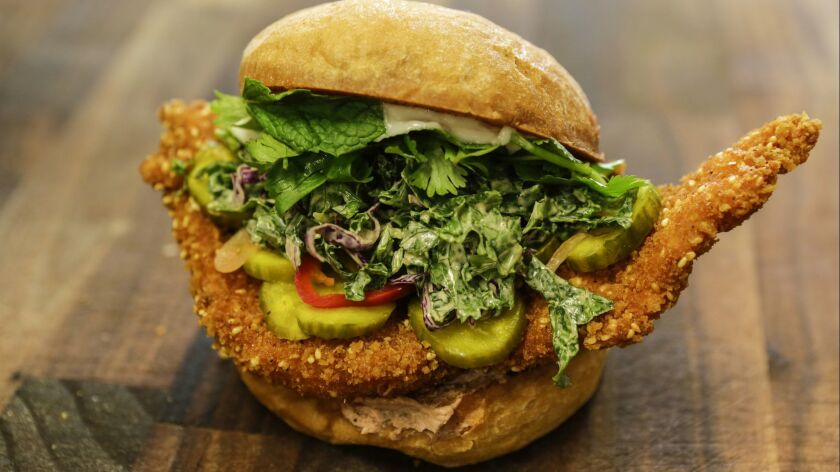 And over at Guerrilla Tacos a few weeks ago, Avila was once again forced to deliver some bad news to customers.
"!!!!TECHNICAL DIFFICULTIES!!!!" read an Instagram post that announced the taco shop would open later than scheduled that day; a gas hose was leaking. "We are having a minor issue in the restaurant."
"There's always something," he said. "You have problems wherever."
Twitter: @byandreachang
Instagram: @byandreachang
---
Get our weekly Tasting Notes newsletter for reviews, news and more.
You may occasionally receive promotional content from the Los Angeles Times.