Langer's Deli property up for sale; Norm Langer says, 'I'm not going anywhere'
The home of Langer's Deli, the Los Angeles pastrami institution that has occupied the southeast corner of Alvarado and 7th streets since 1947, is up for sale.
The property at 704 S. Alvarado Street in Westlake has been on the market for five days; the price is listed as negotiable. "All letters of intent and expressions of interest" are due no later than 5 p.m. Pacific time Sept. 28, the property listing said.
An advertisement for the sale of the building called it a "development opportunity," implying changes might be coming for Langer's.
But Chief Executive Norm Langer said the beloved old-school deli, with its No. 19 pastrami sandwich and matzo ball soup, was "not going anywhere."
"I'm not troubled by it," he said of the sale. "I don't own the property and never have, so I am a tenant and have been for the last umpteenth years. And I'm not planning on going anywhere whether it's sold or not. That's as hard in cement as I can put it."
When asked whether he would consider buying the property, Langer said "no comment."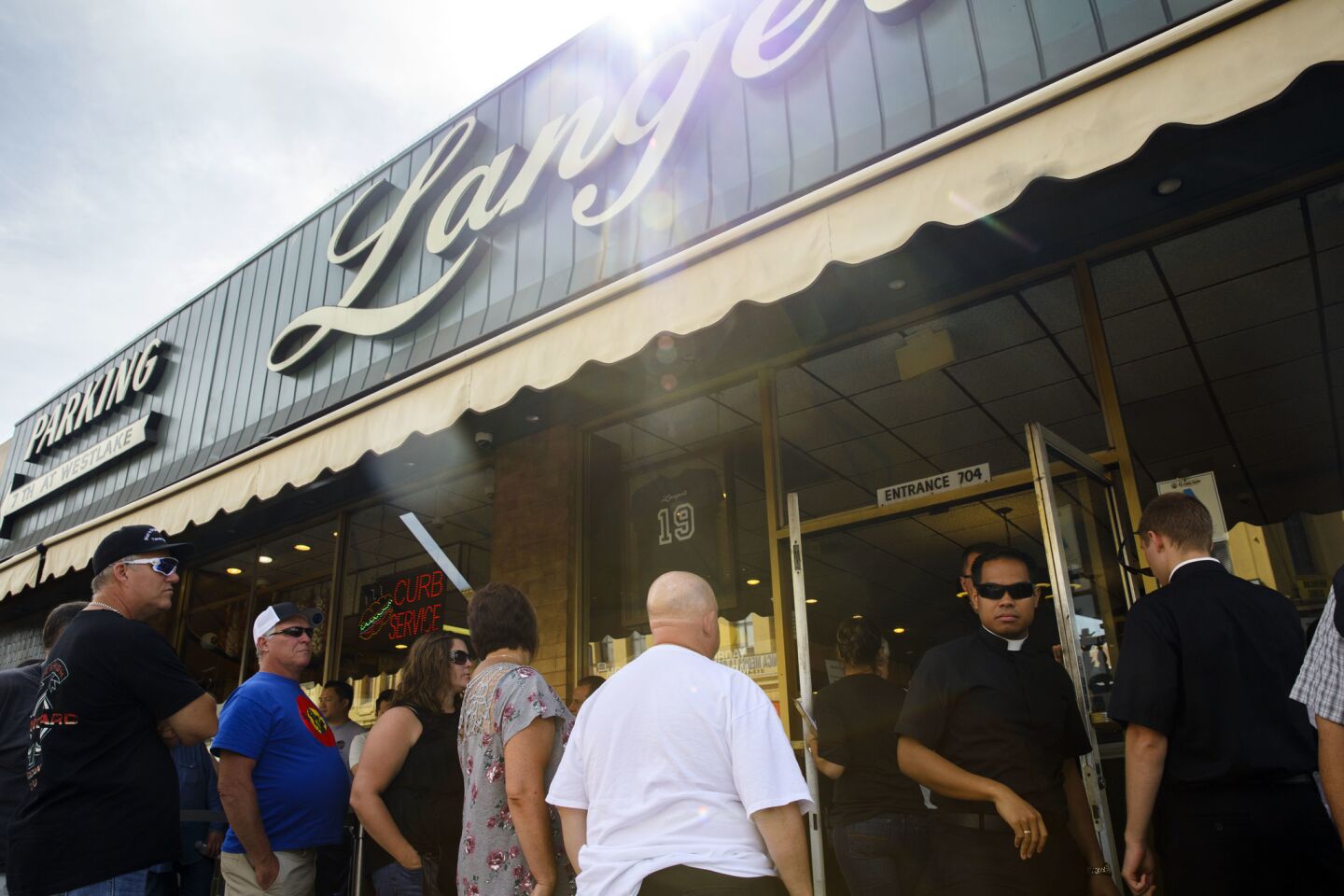 People wait in line at Langer's Deli in 2016.
(Patrick T. Fallon / For The Times)
The No. 44 Reuben at Langer's Deli.
(Kirk McKoy / Los Angeles Times)
Langer's
(Kirk McKoy / Los Angeles Times )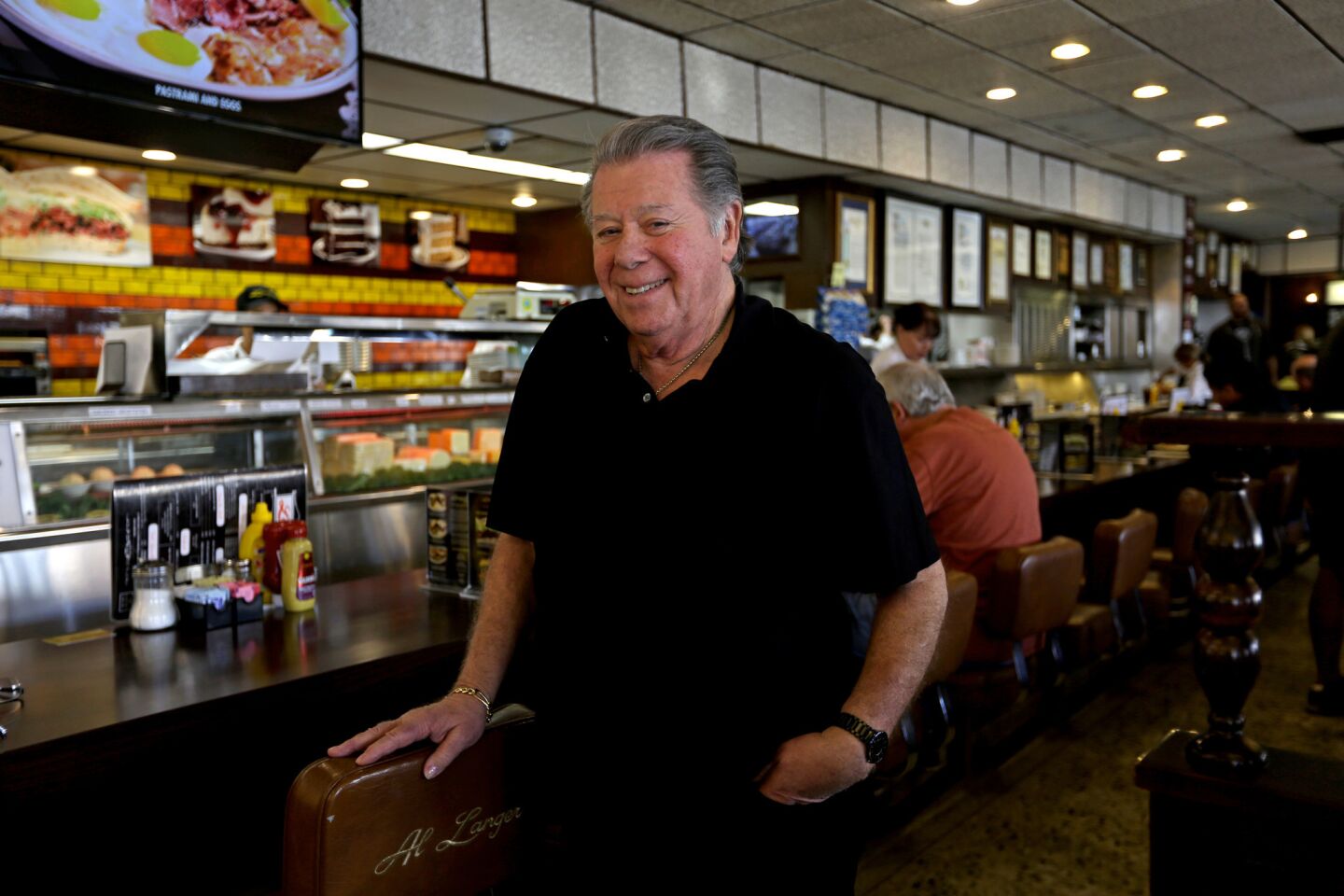 Norm Langer, president of Langer's Delicatessen-Restaurant near MacArthur Park.
(Katie Falkenberg / Los Angeles Times)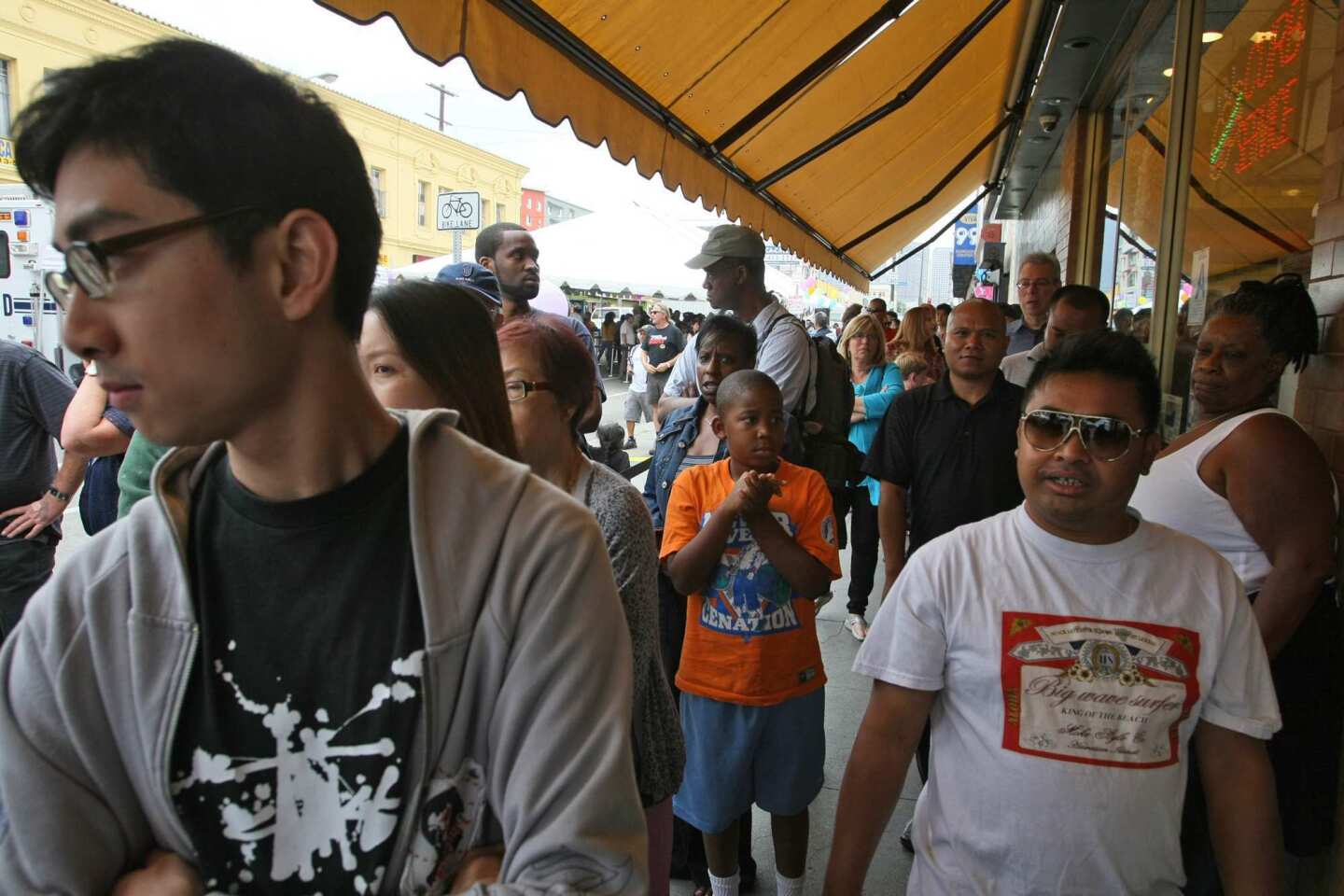 Customers wait outside Langer's Deli in Los Angeles. The landmark restaurant at 7th and Alvarado streets near MacArthur Park is giving away free No. 19s -- its most popular sandwich -- through Saturday.
(Gary Friedman / Los Angeles Times)
Norm Langer, right, owner of his namesake deli, greets Cardell Turner (in white shirt). Turner's grandfather, Alfonso Thompson, started working for Al Langer (Norm's father) in 1947 and continued at the landmark eatery for 36 years, moving his way up from dishwasher to master chef.
(Gary Friedman / Los Angeles Times)
Pastrami is sliced to make some of the No. 19 sandwich, the diner's most popular: pastrami on rye, with coleslaw, Swiss cheese, Russian-style dressing and mustard.
(Gary Friedman / Los Angeles Times)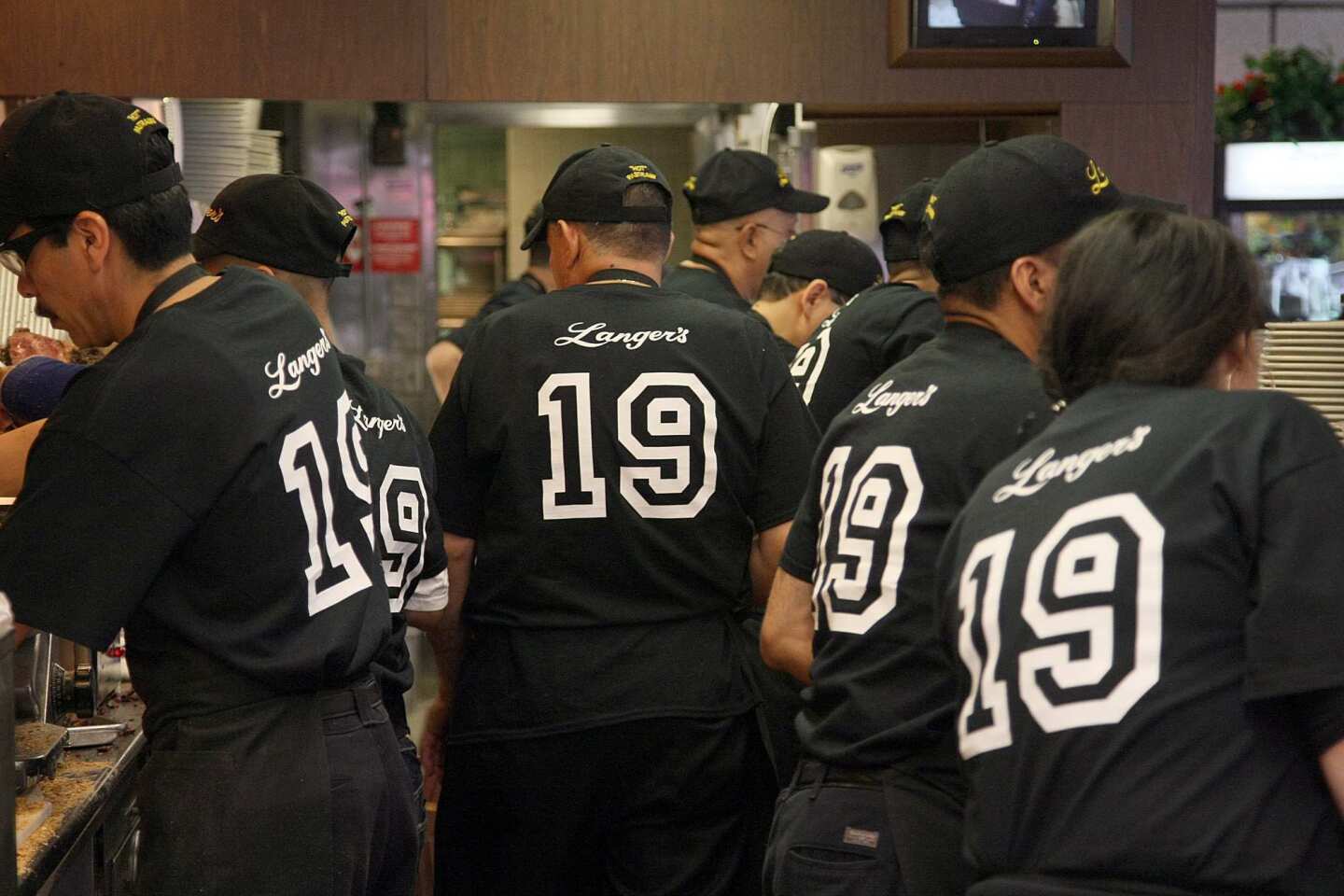 Employees wear the number 19 (for the popular pastrami sandwich) at Langer's Deli. Owner Norm Langer says the restaurant has enough pastrami for about 8,000 of the sandwiches.
(Gary Friedman / Los Angeles Times)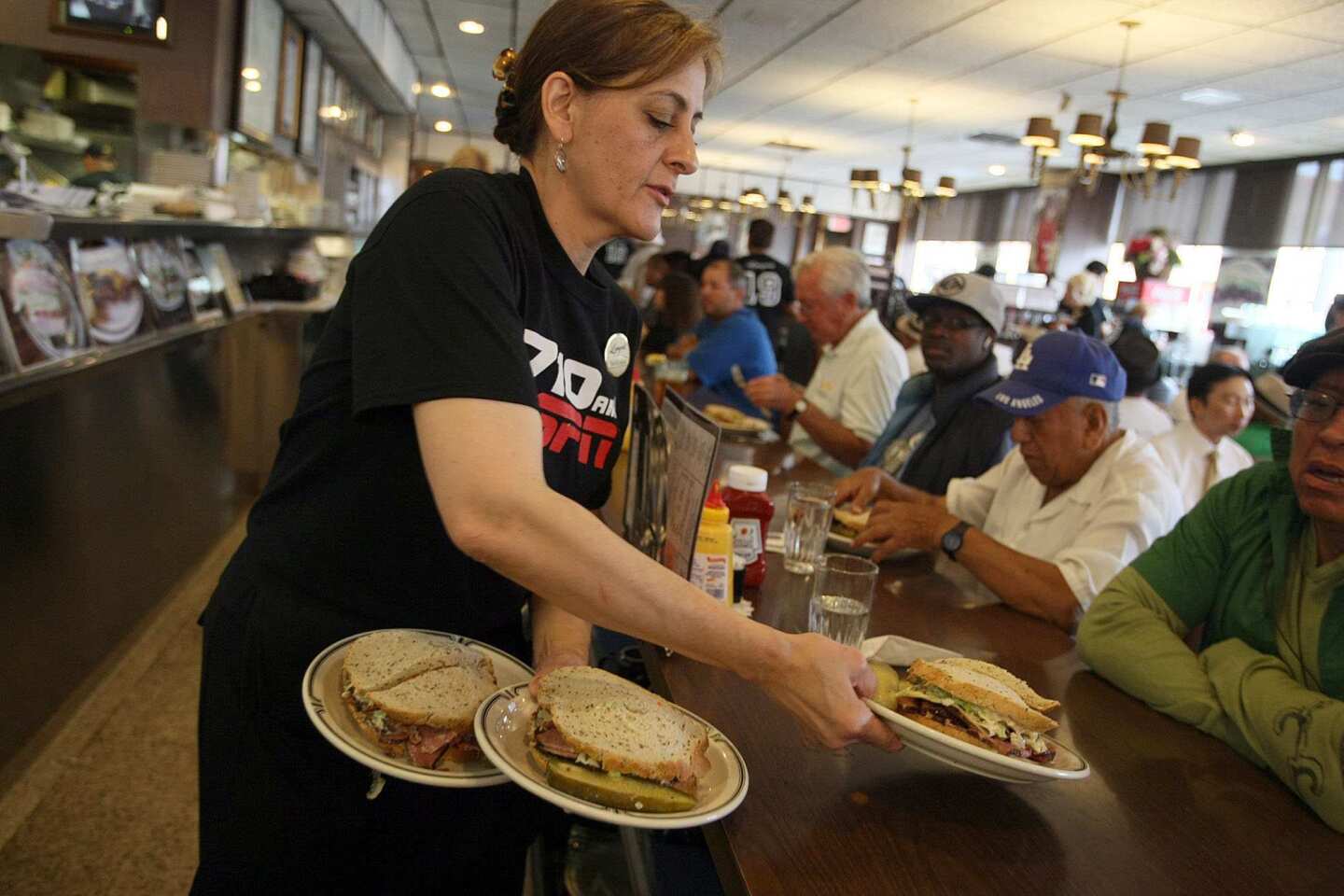 Barbara Galipeau serves No. 19s to customers at Langer's Deli. Owner Norm Langer credits the Red Line subway with saving the restaurant from closure in the early 1990s, when customers viewed the area as rife with drug dealing and aggressive panhandlers.
(Gary Friedman / Los Angeles Times)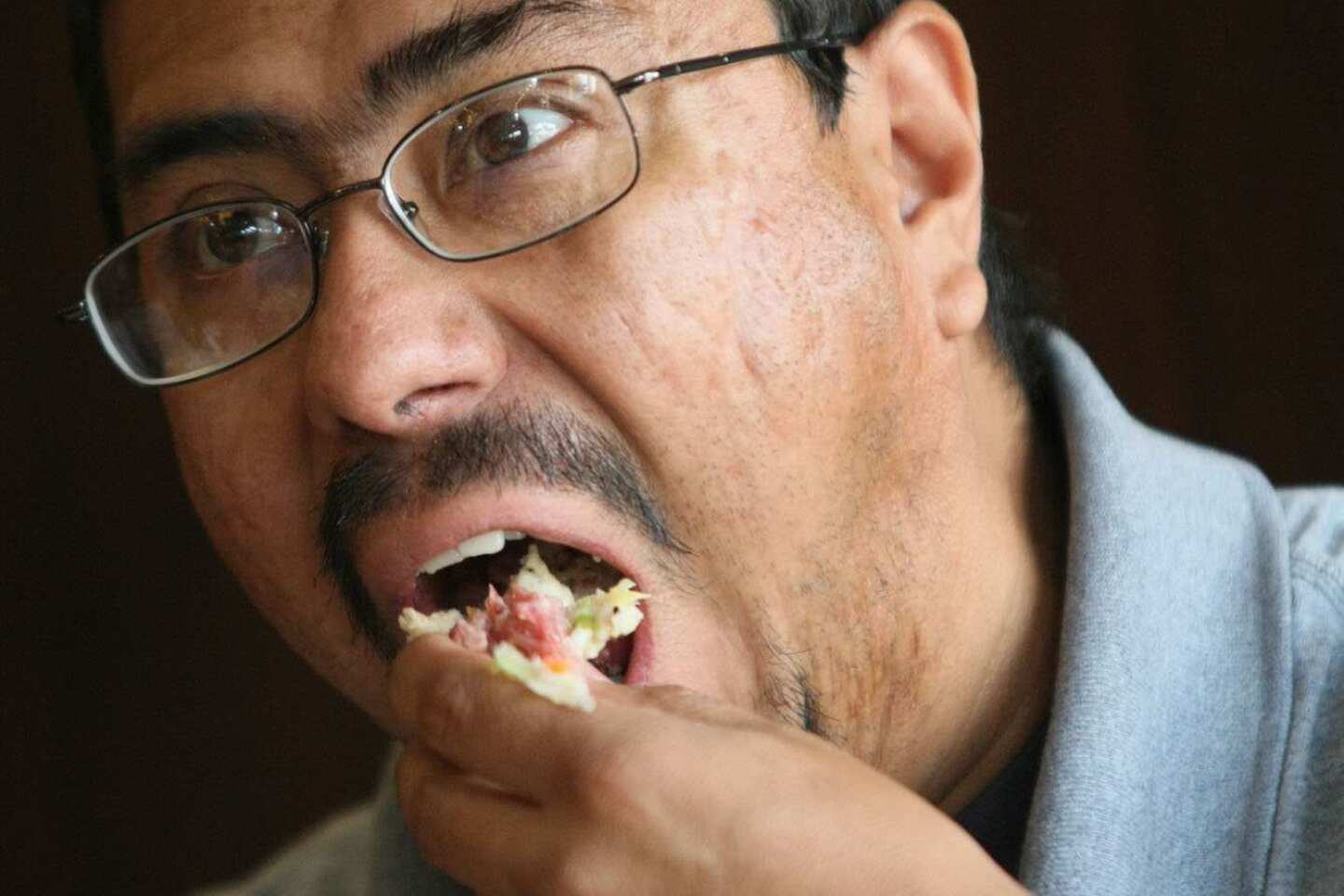 Jose Grimaldo of Riverside devours a pastrami sandwich at Langer's Deli. Thirteen waiters and waitresses served the crowd, aided by eight busboys, nine hostesses and 10 kitchen workers.
(Gary Friedman / Los Angeles Times)
The real estate broker is listed as John Alle, whose family has owned the parcel of land on which Langer's sits for more than six decades. The entire parcel, which includes two other buildings and total retail space of approximately 15,500 square feet, is for sale.
The two men said their families had been friends for decades, with Alle adding that they "always have been on the same team."
"Together our two families have seen Langer's and the MacArthur Park and Westlake areas pull through during good and bad economic times," he said. "We have worked together as a landlord and tenant partnership."
Alle said a family trust was considering offers because the buildings — which he noted are not designated as historic landmarks — will require upgrades and other significant investments in the coming years.
He'd like to see the parcel sold to a person or group that could improve the buildings. He said an experienced developer might want to see the site turned into a mixed-use development, possibly with housing on the upper floors and retail and other services on the ground floor.
The trust will evaluate purchase offers but might ultimately decide to keep the property, Alle said. He declined to comment on how long Langer's has left on its lease; he said the property had already received a lot of interest, with prospective buyers all intent on keeping Langer's there.
Although Alle said he expected Langer's to continue in the same location "for some years," he raised another possibility: The Langer family trust, he said, owns the Langer's parking lot at the northeast corner of 7th Street and South Westlake Avenue as well as a building on the southwest corner; the deli could potentially move to one of those locations, which are both a block away from its current home.
Norm Langer's father, Albert, founded the business and expanded it from a 12-seat deli. Langer's has won critical acclaim, including a James Beard Foundation award in 2001, and today has about 40 employees.
Twitter: @byandreachang
Instagram: @byandreachang
---
UPDATES:
2:35 p.m. This article has been updated with comments from real estate broker John Alle.
This article was originally published at 11:25 a.m.
Get our L.A. Goes Out newsletter, with the week's best events, to help you explore and experience our city.
You may occasionally receive promotional content from the Los Angeles Times.