Roy Choi wanted to start a revolution with Locol. Two years later, the fast-food chain closes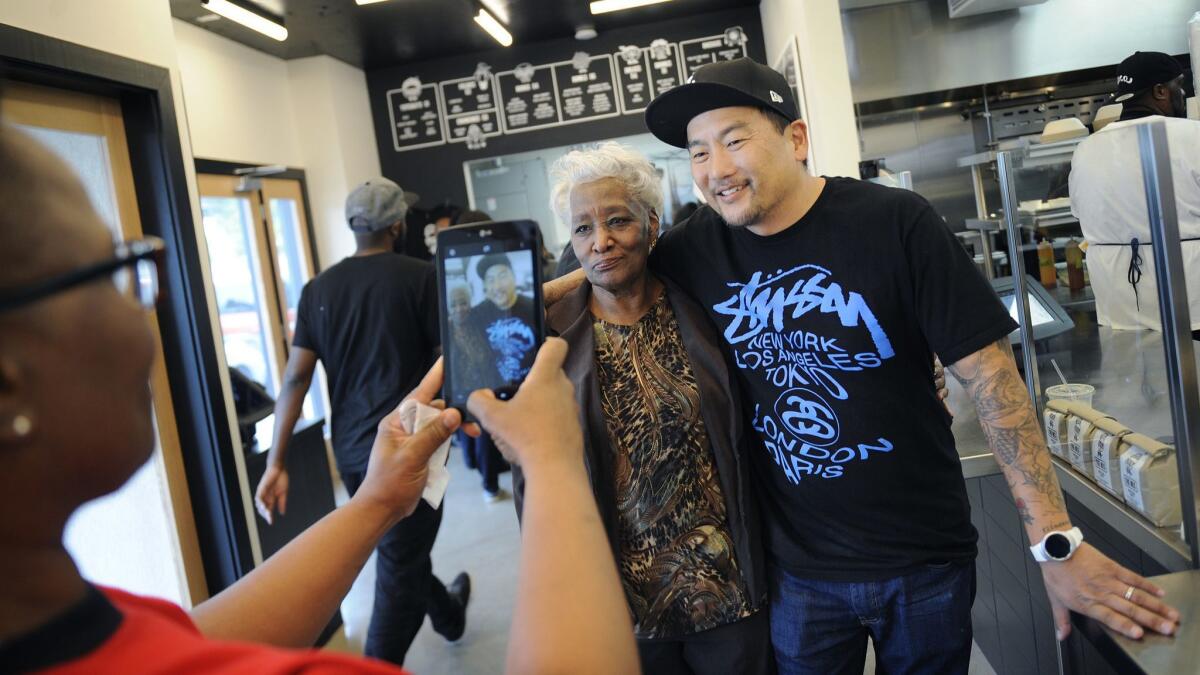 Locol opened as a grand restaurant experiment: Could a pair of celebrity chefs — one best known for launching the insanely popular Kogi truck, the other a Michelin-starred fine-dining restaurateur — create a successful fast-food chain aimed at serving neglected neighborhoods, with food that was affordable and more healthful?
The first location, on East 103rd Street in Watts, opened to much fanfare. Camera crews and food writers descended upon what had long been an ignored corner of the city and customers waited in a line that stretched down the block for chili, burgers and tacos called "foldies." Co-founders Roy Choi and Daniel Patterson called it a revolution and vowed to open "a million" locations across the country.
Two and a half years later, Locol as a restaurant entity is no more. Choi and Patterson shut the remaining two locations this week — the flagship Watts restaurant on Thursday and a Locol stall at a Whole Foods in San Jose a few days ago; two other outposts, both in Oakland, had previously been shuttered. Instead, the company is moving to full-time catering.
"We are not closing! The mission is as strong as ever," Locol said in Instagram and Facebook posts. "We are just leaving retail store ops for now (facility will remain open as a catering event space) to find the most profitable path for growth for our communities and the company."
Stephen DeBerry, Locol's lead investor, said the restaurants were unprofitable and were hampered by too few customers willing to drive across town for fast food.
"This is a business, and it's a start-up more specifically, so this is not 'Locol is dead' — this is a transition to focus on what works," he said. "The retail piece has not worked, that's true for sure."
Catering, which the company introduced several months ago, will enable Locol to bring its food to sizable audiences at conferences and other large-scale events.
"The economics are way better and we can go to the customers rather than asking them individually to go to us," DeBerry said.
Locol was created to tackle a pervasive problem in many low-income neighborhoods in America: food deserts, or urban areas lacking convenient and quality food and dining options at reasonable prices.
Supermarkets were traditionally thought of as the solution, but Choi and Patterson saw an opportunity in upending fast food. It was a way, they reasoned, to keep the fast-casual business model that residents in Watts were comfortable with, but offer something that tasted better and was better for you.
They decided to not sell soda and offered healthful fare such as salads, roasted veggie bowls and veggie burgers, and attempted to appeal to the neighborhood's residents with items including "red beanzz and rice," waffles and wings, and shrimp and grits. They hired workers who lived in the community, many who had never worked in restaurants before, and promised to pay them fair wages.
The chefs "aim to do nothing less than revolutionize the system of fast food in America," The Times' late restaurant critic Jonathan Gold wrote in a front-page story shortly after Locol opened: "The prospect of a baron of multicultural deliciousness like Choi joining forces with the Michelin-starred modernism of Patterson is intriguing in foodie terms alone."
There were soon Locol locations in the Bay Area and a food truck. But the restaurants seemed to struggle over time, never managing to amass the kinds of crowds that mobbed Choi's famed Kogi trucks.
Although there would be a rush during lunchtime, business was otherwise slow, Watts branch manager Gwendolyn Etta said midafternoon Thursday, two hours before the location closed for good. There were three customers in the restaurant.
Watts resident Gerardo Del Rio, 62, ate at Locol once or twice a week, always ordering a burrito. He was sad to hear of the eatery's closing.
"I'll miss eating here and the people," Del Rio, who is retired, said. "And prices are good compared to restaurants."
Ultimately, Locol as a fast-food chain was a concept that people — residents, the restaurant community and food journalists — genuinely wanted to succeed, but many seemed to support it more in theory than in practice.
In an industry with notoriously slim margins, that wasn't enough. Menu items crept up in price and many — including the salads and roasted veggie bowl — were dropped from the flagship location. The "cheeseburg" started out at $4 but became $5; aguas frescas used to be $1 but were raised to $2.
"Somebody's trying to do the right thing for all the right reasons and it doesn't work out as planned. It's a cautionary tale," said Jonathan Fielding, a professor at the Fielding School of Public Health at UCLA and former director of the Los Angeles County Department of Public Health.
"But it doesn't mean that you can't make a difference by putting this kind of a restaurant in lower-income areas. What it means is we have to continue to experiment."
Locol was by no means expensive, but a bowl of chili for $7 or a chicken sandwich combo for $8 was a higher price point than comparable items at the usual fast-food chains. And in Watts, it might have been a tough sell with Burger King, Popeyes and Jack in the Box all within a mile on the same street.
"It's very tough to compete against the fast-food advertisers who are omnipresent," Fielding said. "And they're telling kids, 'If you want your parents to be good to you, they'll take you to Burger King or McDonald's or wherever.'"
There were also criticisms about Locol's food itself.
In a zero-star review last year by the New York Times, restaurant critic Pete Wells visited Locol's Uptown Oakland location and deemed what he ate there subpar.
"Mr. Patterson and Mr. Choi have to figure out the menu," Wells wrote. "I understand why they want to take on fast food, but in the neighborhoods they hope to reach it's one of the few kinds of food available. Why offer less satisfying versions of what's already there, when they could be selling great versions of something new?"
Choi recently said of that review: "They humiliated us."
Shortly after Wells' review ran, Gold weighed in, saying "Locol is less a replacement for a fast-food restaurant than a better version of it."
But even he allowed that the food might have needed some work.
"Wells is a fine writer and an unimpeachable critic. If he said the grain-enriched hamburger patty was dry, the patty was dry," Gold wrote. Still, when it came time to pick his first restaurant of the year recipient three months later, he chose Locol.
Brenda Burns, 59, works as a supervision aide at Florence Griffith Joyner Elementary School across the street from Locol and said it was a popular option for teachers at lunchtime.
The Gardena resident said she only stopped in once to order a burger — made with a mix of beef, grain and tofu to help cut down the price — and fried chicken wings.
"It was so-so," Burns said of the burger (she liked the wings). "It didn't taste right."
Making inroads into the region's lower-income neighborhoods has become a priority for some forward-thinking restaurant owners, who credited Choi and Patterson for shedding light on underserved areas.
The Sweetgreen chain of fast-casual salad restaurants recently partnered with a Hyde Park minimart owner to help revamp her business, including bringing in fresh produce and replacing junk food with healthier snacks.
Nicolas Jammet, co-founder of the Culver City-based Sweetgreen, said he'd gone to Locol in Watts several times and applauded Choi and Patterson for creating the fast-food chain.
"Just because it's closing doesn't mean it didn't work," Jammet said. "It brought the conversation so much more forward than it was before."
Choi and Patterson did not respond to calls for comment Thursday.
On Instagram Wednesday, Choi posted a photo of himself and his daughter, Kaelyn, sitting by the water in Lake Tahoe along with the message, "Clearing my head with my daughter in what's been a roller coaster year of emotions, heartache, tenacity, and growth."
He went on to say that he hoped to write what he was going through in a book "if I can find the words, to be a resource for all you out there as you go through it too, whether in business or life itself."
Twitter: @byandreachang
---
UPDATES:
6:15 p.m. This article was updated with additional details and interviews.
This article was originally published at 9:50 a.m.
Get our L.A. Goes Out newsletter, with the week's best events, to help you explore and experience our city.
You may occasionally receive promotional content from the Los Angeles Times.