The Review: Obikà Mozzarella Bar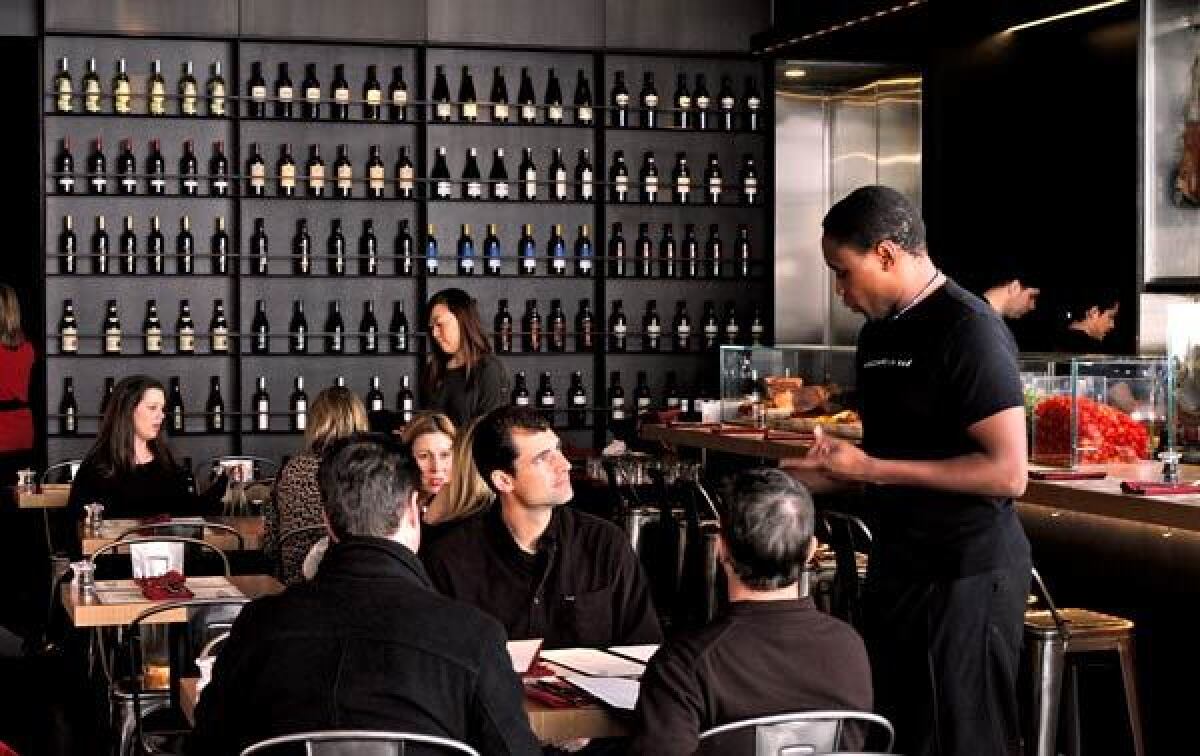 I distinctly remember an Italian friend raving to me a few years ago about the new mozzarella bar Obikà she'd just come across in Milan where you could get bufala mozzarella still dripping with milk, fresh from Campania to the south. Now, you have to understand that in Italy, food is always regional. And although, yes, you can buy mozzarella in practically any little deli in Italy, it usually isn't super fresh and mostly it's fior di latte, mozzarella made from cow's milk rather than the much more prized buffalo, which has its own delimited production area just like a wine.
Not only was there mozzarella, my friend said, but there was burrata straight from Puglia.
I put Obikà on my list for the next trip to Italy but never got there. Obikà, meanwhile, has grown to more than a dozen locations in five countries. Two of the latest are right here — at the Westfield Century City shopping mall and at the Beverly Center in Los Angeles. Guess the founders figured a shopping mall is the closest thing in Los Angeles to a piazza. They're probably not wrong, actually, though I hate to think that's true.
Where Obikà shines is in offering a kind of fast food, Italian-style, that fresh bufala, along with excellent salumi, organic salads and a handful of well-prepared pasta dishes. The Italian wine list isn't bad either, and they make a good espresso. And all in a shopping mall. Not bad.
It's true that Nancy Silverton's mozzarella bar at Mozza was partly inspired by Obikà, but Silverton takes the idea far beyond anything the original is doing. Her menu is inventive and original, pairing familiar and unusual ingredients with the cheese to highlight its taste and texture. Obikà is more straightforward, designed for city folk who want a quick bite of something familiar.
And that would be mostly mozzarella and salumi, and I love both. I consider the time I was served an entire bowlful of fresh, milky bocconcini (bite-sized mozzarella) in Naples one of the supreme food experiences of my life. That experience can't be replicated in L.A. — we can't get cheese that fresh — but Obikà does a good job of serving up some of the freshest mozzarella around.
Obikà has the sleek contemporary looks of a caffè in any big Italian city — except where the brioche and pastries would usually be displayed at the bar, balls of bufala mozzarella bob in their milky liquid. Bufala, smoked mozzarella and burrata and lovely fresh ricotta are flown in from Italy three times a week. By the time you order, the cheeses are, on average, 48 hours old. That's fresh for us, though it would not necessarily seem so to Neapolitans or to residents of the Campania region.
But even at 48 hours old, the fresh, unadulterated cheese is pretty delicious — and very far from the typical rubbery mozzarella that's been sitting around for days. I like that you can order a baseball-sized ball of cheese and enjoy it with a plate of fine salumi of your choice. Or you can spring for the mozzarella dégustazione for two, a platter with a ball each of bufala and smoked mozzarella, plus some creamy fresh burrata. It's rare in this country to get to eat your fill of these luscious cheeses.
Taste the bufala against paper-thin prosciutto di San Daniele from Friuli in Italy's north. The ham is cut so precisely it practically melts on the tongue. Bufala has a distinctive full-bodied flavor that you won't find in mozzarella made with cow's milk, which technically should go by the name fior di latte. Because of its firmer texture, the smoked version works best with peppery Felino salame, whereas the creamy burrata pairs best with gentle pistachio-studded mortadella or culatello (the prized heart of the ham).
This part of Obikà's menu is basically an Italian picnic eaten at a table. For Italophiles, that's enough to zero in on the place as a destination, especially if you need to do some errands at the mall.
If the menu offered only cheese and salumi, Obikà would still be a welcome newcomer to L.A. But the mozzarella bar also has delicious salads generously served in glass bowls. I loved the one with bresaola (air-dried beef), orange segments, perky arugula and raw fennel, as well as one with baby lettuces garnished with cured tuna in olive oil, caper berries and olives. The salads are assembled with care and each vinaigrette is distinctive.
The big surprise is the pasta. Although there are only a handful of dishes, most are better than those at many full-scale Italian restaurants. They taste very Italian, not oversauced or overembellished. Supple handmade ravioli are stuffed with spinach and fresh ricotta. Others are made with the coveted Gragnano brand durum wheat pasta used by many top Italian chefs. Gragnano's schiaffoni is a large, tube-shaped noodle tossed in a lovely loose tomato sauce perfumed with basil and topped with dabs of melting mozzarella. Trofie, a pasta shape from Liguria with pointed ends, makes another terrific pasta dish, each noodle lightly cloaked in a fragrant pesto.
On the other hand, the antipasti selection could be more varied. While I like the fritti of fried vegetables and the mozzarella rolled in fine breadcrumbs and fried, ready to dip in a fiery tomato sauce, it can be too much of a good thing. Try the caponata, a sort of Sicilian eggplant relish, instead. The Calabrian sausage spread fired with pepperoncini is something of an acquired taste. And I didn't acquire it, at least not here. And open-face sandwiches try too hard to be enticing with too many ingredients.
Still, there are times, particularly during the holiday season, when a well-made espresso and a dreamy ricotta mousse dotted with pine nuts and drizzled with honey make a lovely afternoon or lunchtime interlude. It's not Milan, but it's close enough.
Obikà Mozzarella Bar
Rating: one-and-a-half stars
Location: Westfield Century City Shopping Center, 10250 Santa Monica Blvd., No. 206, Los Angeles; (310) 556-2452; https://www.obikala.com. Also in Beverly Center, Los Angeles.
Price: Antipasti, $7 to $12; salads, $8 to $16; pane cunzato (open-faced sandwiches), $14 to $15; main courses, $14 to $18; mozzarella tasting for two, $27; for four, $58; salumi selection, $9 to $18. Corkage, $15.
Details: 11 a.m. to 10 p.m. Sunday to Thursday; 11 a.m. to midnight Friday and Saturday. Aperitivo, 4:40 to 6:30 p.m. daily.
Rating is based on food, service and ambience, with price taken into account in relation to quality. ****: Outstanding on every level. ***: Excellent. **: Very good. *: Good. No star: Poor to satisfactory.
---
Get our L.A. Goes Out newsletter, with the week's best events, to help you explore and experience our city.
You may occasionally receive promotional content from the Los Angeles Times.