The Review: Marche L.A. in Sherman Oaks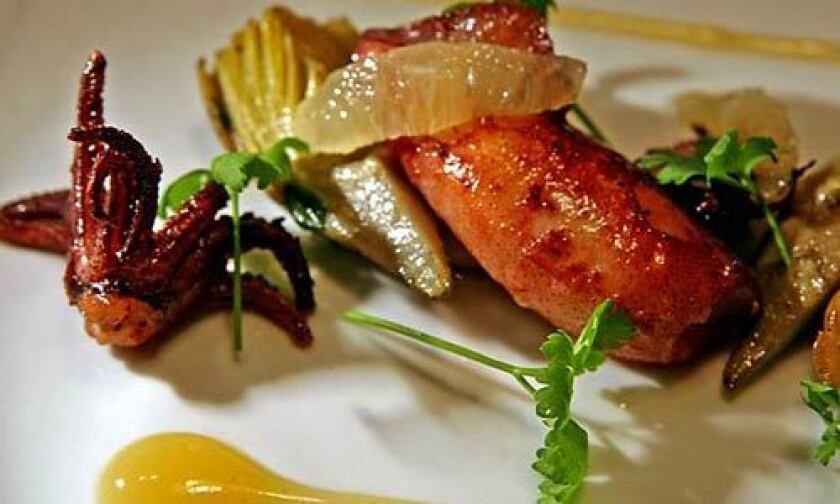 Restaurant Critic
It's back to the Boulevard for Gary Menes, who first made a splash when he was cooking Moroccan-accented dishes at the then-newly opened Firefly on Ventura Boulevard in Studio City. Last year he landed as chef de cuisine at Octavio Becerra's Palate Food + Wine in Glendale, where he did some of the best cooking in his career. And now he's joined up with André Guerrero as chef and partner at Marché L.A. on Ventura Boulevard in Sherman Oaks.
The space, in fact, was formerly Guerrero's Max Restaurant. (Guerrero is plenty busy these days with his slow "fast food" concept the Oinkster in Eagle Rock and with BoHo in Hollywood.)
Since Max already had a bistro decor, no big redo was required. To my eye, the place looks exactly the same. What's changed is the format and the food, which is now very much in the style of Palate. If you're going to be influenced by something, you might as well pick something good. Besides, who's to say exactly how much input Menes had into the menu there? However it came about, the result at Marché is delicious eating.
Marché feels like a cozy neighborhood boîte (complete with full bar at the back). Couples are seated at high-backed leather banquettes, larger tables in an alcove at the back. Mirrors are alternated with framed blackboards on the walls. If you like your restaurants with soul, this one has it.
My idea of a fine evening would be to come early and spend a half hour or so browsing the vinyl and CD stacks at Freakbeat Records a couple of blocks down the street. Then, purchases bagged, head to Marché L.A. for supper, knowing that almost everything you're going to eat will be fresh and good.
Oh, I know, small plates are getting to be a cliché. Handed yet another menu of pretty prices and petite portions, you can be excused for thinking that you've seen it all before. Maybe you have, but that doesn't make these particular dishes any less appealing.
Many good choices
Slip in any night for a plate of salumi, usually a satiny prosciutto and some boldly seasoned salami with grilled bread. Oh, and make sure to get a bowl of shiny green Castelvetrano olives while you're at it. Maybe one of the house-cured pickles too, such as watermelon rind, pickled stone fruit or the vinegary lemon cukes with wisps of dill served like miniature sculptures lined up on an elegant white porcelain plate.
The delicately smoked potted shrimp or trout is perfect with a glass of white wine from the fine list. And of course, there's also rillettes, the dish that's vying with pork belly for the must-have dish on menus around town. Marché's come in either duck or pork varieties, depending on the night, both equally good. I remember dreaming about getting proper rillettes in L.A., but never finding it. Now I can order it all over the place. You won't want to eat an entire crock of it yourself: Dole it out judiciously. This is very rich stuff, made to dress up a thick slice of country bread.
Speaking of bread, the kitchen goes to the trouble of making its own and you can very much taste the difference. The crusty slices are yeasty and wonderful. Don't pass up the flour-dusted potato rolls either. Menes is giving bread the respect it deserves.
The food at Marché is in some respects better and certainly much more accessible, price-wise, than Max's, which was more of a special-occasion restaurant. Yet the neighborhood hasn't entirely caught on. Maria's Italian Kitchen next door is packed, while Marché, which has similar prices and better food, albeit in smaller portions, not so much.
The table next to me one night raves about the food at Marché, thrilled to find such a restaurant on Ventura Boulevard and vowing to form an eating club to explore the rest of the restaurants up and down the street. Should I intervene and tell them they've already found the best around?
The one-page menu changes frequently. Even so, the waiter may have a couple of specials to announce. Highlights of recent meals have included seared sliced scallops served with apples and cauliflower, a delightful combination, really. And super-fresh langoustine, split and broiled, and drizzled with beurre noisette (brown butter).
For the salad eaters, Menes is turning out graceful compositions, such as lettuce with Asian pears, blue cheese and pecans, or arugula with melon, speck, hazelnuts and pecorino, which is just what you'd expect at a restaurant like this. Beautifully executed, even if not very original.
There's plenty for more substantial appetites as well. A diminutive swatch of snowy halibut arrives surrounded by Manila clams and fennel with the fresh green taste of extra-virgin olive oil. Tender local calamari gets a Mediterranean treatment with fresh artichoke quarters, peppers put up in oil and briny green olives. It's one of my favorite dishes here.
Piedmontese beef seems to be a regular on the menu, and it's a fantastic piece of meat, small, cut very thick, served with some braised oxtail in a sweet little porcelain casserole on the side. When you ask for it medium-rare, it comes exactly that way.
Changing the menu so frequently means a few missteps. Gnocchi are heavy and gummy. Lamb one night is overcooked and almost mealy, and pork belly is inexplicably dull.
Paul Wasserman of the Wine Hotel in L.A. put his formidable skills to work in creating the exceptionally appealing wine list. He's had some fun here with the categories -- "fruity, a little extra padding to plush," "restrained, from idyllic to demure" and "bullies." He also has noted whether wines are practicing or certified organic or biodynamic. Prices are very good, and the wines unusually captivating.
The closers
Desserts are from Max's longtime pastry chef Jan Purdy. I love that you can order a little bite if you don't fancy an entire dessert, some honey-spiced almonds, a small plate of either crisp or soft and chewy cookies (none of which made my heart beat faster, but at least the option is there).
The regular desserts go beyond the usual repertoire. Who would think you'd find such a light, contemporary version of New York cheesecake right here on the boulevard? It's small by cheesecake standards, with a buttery cornmeal crust, and served with splash of cherry port reduction and a lovely sweet corn ice cream.
Quince freak that I am, of course, I had to order the quince and almond crostata. The golden diced fruit is piled high on the crust, escorted by olive oil ice cream. Another knockout: heirloom apple Charlotte.
Good move, Mr. Guerrero, to bring in Menes as chef and give him a stake in Marché L.A.'s success. He's grown up since he started at Firefly, and now folks in the San Fernando Valley, if they take the trouble to seek out this new restaurant, will discover some wonderfully soulful cooking on the boulevard.
---
Get our weekly Tasting Notes newsletter for reviews, news and more.
You may occasionally receive promotional content from the Los Angeles Times.