L.A.'s global sandwich offerings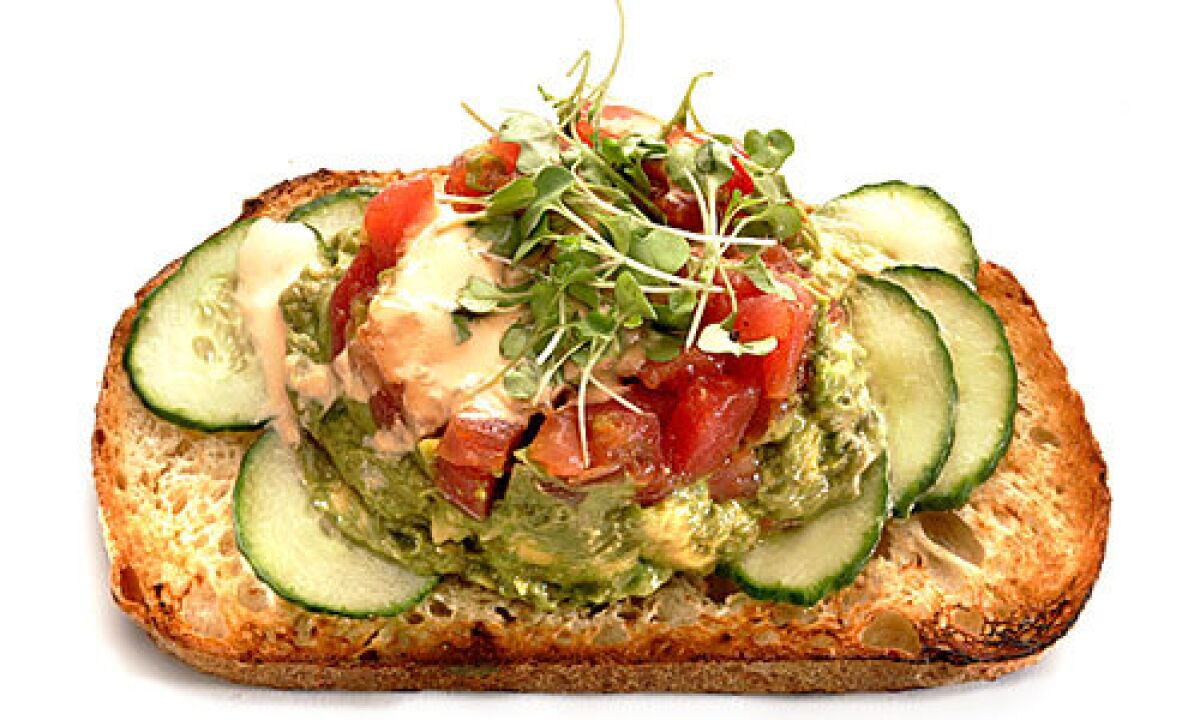 As soon as you place your order at Pita Pockets in Northridge, a cook slaps a soft round of dough onto the wall of a blazing tandoor-like oven. After a few moments, a bubbly disk of laffa, catacombed with air pockets and rich with yeasty char, is ready to be filled. Next a counterman slathers the chewy flatbread with lemony hummus, then loads it with grilled vegetables or juicy marinated kebabs.
The hefty hand-held feast -- just one culture's take on the sandwich -- doesn't quite fit the dictionary's narrow definition: "food between slices of bread," but in L.A.'s sandwich universe this stuffed laffa has lots of delicious company.
Take pav bhaji, the Mumbai street vendor's answer to burgers. The rich vegetable curry, mounded onto slider-style buns, draws droves of homesick expats to Little India's snack shops. Mexico's mighty pambazo, a chile-sauce-drenched roll heaped with chorizo and potato filling, then drizzled with crema, is finding its way onto more and more menus. And gua bao, a steamed round of flatbread folded over great slabs of juicy roasted pork -- the Chinese equivalent of a towering pastrami on rye -- was rarely found outside Taiwanese dives and Chinese bakeries until its recent appearance at Take a Bao in Century City, where the fillings run to spicy Thai peanut chicken and pomegranate glazed steak.
Age-old tradition
L.A. sandwiches span the millenniums from wraps made with saj, a primitive Lebanese flatbread baked on a dome-shaped cast iron grill like the one at Café du Liban in Tarzana, to hip-ified cross-cultural experiments by the latest Kogi-inspired mobile vendors.
It's not only about trying something new. Sandwiches from the hands of dedicated purveyors are treated like revered works of art.
The Croatian pljeskavica, at Pavich's Brick Oven Pizzeria in San Pedro, is one such example. Owner Zdenko Pavic slides hand-size rounds of dough into the oven to bake somun, unmistakably a descendant of pita. The spongy bread drinks up savory juices from the cevapcici filling, a sausage-like beef and onion patty that's baked inside.
Being in California, Pavic endows his pljeskavica with burger-like qualities by adding roasted bell pepper, lettuce, tomato, pickled onion and dollops of a homemade garlic sauce that's potent enough to keep a crowd of vampires at bay.
To most Americans a pita sandwich means shawarma, falafel or maybe doner kebab. But two very differently constructed sandwiches -- both filled with raw ingredients and heated panini style -- still fly under the mainstream radar.
Arayes, the Middle Eastern cousin of pljeskavica and standard fare in many family-run Armenian and Lebanese restaurants, reaches perfection at Koko's restaurant near Van Nuys. Listed as Arayes-Maria on the menu, its fresh herb-laden chopped lamb and beef filling is sprinkled with toasted pine nuts before the arayes is grilled over an open flame. The pita crisps as the juicy meat and bread meld. Slivers of raw white onion, minced parsley and a lemon wedge served alongside brighten the richness.
At Bibi's Warmstone Café the oven burns all day, turning out the shop's baked goods and its Israeli specialty, tostees. These are based on pita-like Jerusalem bagels or on their slightly sweeter cousins, sesame-encrusted pitas, both typically sold from pushcarts beside Jerusalem's ancient city walls. Bibi's counterman slashes open the bread, stuffs in feta, olives and the house sauce or puts in mozzarella sluiced with marinara, then slips it into the oven until the molten filling nearly oozes through the pita's pores.
Asian food rarely brings to mind sandwiches, but roujiamo, a sloppy Joe-style pork sandwich from Xi'an, is a delicious reminder that large-scale wheat milling made its way along the Silk Road from the Near East, a technique that put all sorts of breads on northern China's menu. The typical street food version of the sandwich is a feather-light bun filled with juicy, fatty rotisserie pork and drizzled with a kicky chile sauce.
A more refined roujiamo surfaced at Three Family Village in Rowland Heights, listed on the menu with 40 other northern-style "pastries." Its crisp-topped baked bun is dense and layered. Rich carnitas-like roasted pork cubes piled inside are topped with tangy pickled leafy greens.
Neatly lined up in the take-out departments of Japanese markets are the inevitable Japanese paeans to the sandwich: the spaghetti sando, the croquet sando and occasionally chow mein in a French-style bun. The Japanese have clearly done their own thing with bread since the days it was used only for school children's lunches after the Second World War.
For those with a love of Japanese flavors there's the miso-marinated Jidori chicken baguette at the maid-themed Royal/T Café in Culver City. Salty, yeasty miso never dominates the delicate meat, and a subtle tingle of heat from the red radish sprout garnish brings the sandwich flavors into perfect focus. Sushi lovers may be drawn in by the spicy tuna tartare, rimmed with avocado and wasabi on a raft of sourdough.
Cultural fusion
The world's sandwich menu changed radically when colonialism united disparate ingredients from old and new countries. The milieu that inspired the now-familiar Cubano and the French-Vietnamese banh mi also spawned pav bhaji, the curry-laden buns beloved in Indian communities around the world. Fashioned after breads introduced by Portuguese merchants, the buns became the base for a quick lunch for textile millworkers. As with American burgers and hot dogs, pav bhaji's garnishes are an essential element. People spike up the flavor with chopped onion, tomato, fresh jalapeno slices and lemon juice according to taste.
Many Indian vegetarian restaurants and snack shops (Annapurna in Culver City and Tirupathi Bhimas in Artesia) sell pav bhaji, but Standard Sweets & Snacks in Artesia's Little India also adds the spicier pav vada to its small sandwich lineup. This tongue-scalding potato-bean patty, laced with fresh herbs on pav rolls and smeared with spicy chutney, puts chile lovers into a reverie.
One of Central America's greatest colonial mergings, the native wild turkey seasoned with local chiles and served on a European-style torpedo roll, is pan con pavo, El Salvador's national sandwich. Each day at the cheery Jaraguá near L.A.'s Koreatown, the kitchen braises two whole birds in tenderizing broth. Great swaths of the meat pulled off the bone are piled nearly as high as a Mayan pyramid onto buns doused with pan juices. The addition of a creamy cabbage slaw and a final fillip of spicy homemade curtido -- pickled cabbage -- creates the ideal balance of richness and zing.
At Got Kosher? Provisions in West L.A., the snappy smoked andouille sandwich travels deep into uncharted flavor territory. Layered over two lean links, seasoned with no less than three pepper varieties, is a tart-sweet caponata of minced eggplant and sweet peppers sparked with capers, vinegar and plump golden raisins. Tunisian-born proprietor Alain Cohen says his sausage sandwiches recall the French-Tunisian tastes he grew up with in Belleville, the North African/Jewish quarter of Paris. The shop's many choices include a splendid Tunisian merguez sandwich. Perfumed with cinnamon and redolent of fennel, it comes anointed with a peppery harissa sauce. The substantial sandwich buns -- house-baked rolls with a shiny pretzel glaze -- are Cohen's offbeat update of French petit pain. Go figure.
In Mexico, French bread endures as an indelible symbol of European influence on the country's food. The French-style-rolls known as bolillos elsewhere go by pan frances in the Yucatán. As if to reinforce that connection, visionary Yucatecan chef Gilberto Cetina, at the Mercado La Paloma branch of his Chichen Itza restaurant, sends out his grilled pork poc chuc (and other sandwiches) on true French baguettes, preferring their firmer texture to sop up the sour-orange-and-garlic-instilled meat juice. The blend of char and tang (and a splash of fiery habanero salsa if you like) puts this sandwich over the top.
Tortas reach an evolved form at the misnamed Ya Ya's Burgers No. 2, a comfortable converted stand in Huntington Park. Ya Ya's sells 70 variations of the D.F.-style torta, an idea that might seem as gimmicky as the all-you-can-eat Korean barbecue. But each torta at this place is as precisely constructed as anything from a four-star kitchen. Choosing the best is impossible, but the Dagwoodesque Tepic-K, also known as the chile relleno torta, sheds light on the kitchen's baroque style. Atop a grilled roll loaded with avocado slices, a translucent smear of beans and crema, sits a beautifully roasted chile stuffed with melty Oaxaca cheese on a hefty slice of roast pork leg.
At Cook's Tortas in Monterey Park, the house-baked ciabatta-style sandwich rolls have a downright fancy pedigree. The owner's brother-in-law developed the restaurant's sourdough starter after a stint as head baker at Bouchon in Napa Valley's Yountville.
Cook's daily specials travel beyond the expected lengua and carne asada to include green mole, Spanish salt cod with sweet peppers and roast pork with Cuban garlic sauce. There's not a dud in the bunch, but the must-try masterpiece is the Veracruz-influenced pambaso. The roll, dipped in an intense chile sauce, holds a small mountain of potato cubes fried with dry-cured chorizo, revved up with chipotles and jalapenos and saturated with Mexican crema.
It would not be hyperbole to label Cook's sandwiches, or for that matter any of the Mexican sandwiches here, gourmet.
A more recent gustatory marriage, the carne asadabanh mi, at Zon Baguettes French-Vietnamese sandwich shop and bakery in Tustin, is owner Kim Ta's creation. Sizzling shards of tender marinated beef are stacked into a French-style torpedo roll so fresh from the shop's ovens it may still be warm. The meat's juices merge with the house-made mayonnaise and the soft crumb of the bread's interior to create a rich, saucy base for the beef and tart-hot pico de gallo garnish.
It may be a watershed for California sandwiches as it unites in the most delicious way imaginable the light Vietnamese-style crispy French bread with the northern Mexican ranchero meats introduced by Europeans. Look how far the sandwich has come.
---
Get our L.A. Goes Out newsletter, with the week's best events, to help you explore and experience our city.
You may occasionally receive promotional content from the Los Angeles Times.