Culinary SOS: Black bean hummus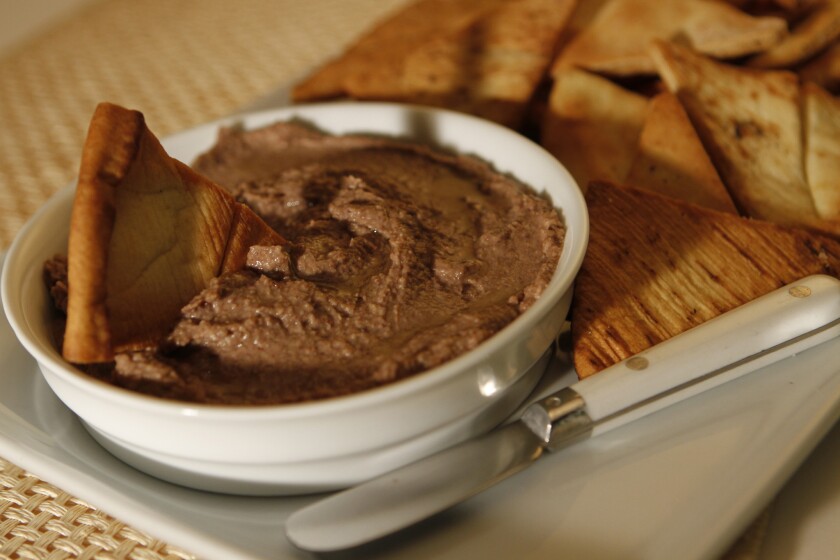 Dear Culinary SOS: A group of us went to enjoy the draft beers on tap at Mediterraneo Restaurant & Bar in Hermosa Beach earlier this month and were transfixed by the wonderful spicy black bean hummus. If you can get the recipe … spice-loving vegetarians would love it.
Michael Dewart
Torrance
---
Get baking: Have a favorite holiday cookie recipe? We want it. Join us for the first L.A. Times holiday cookie bake-off.
---
Dear Michael: Mediterraneo was happy to share its recipe with us. The twists on this hummus include black beans and cayenne, which add depth to this rich and spicy dip.
Black bean hummus
Total time: 20 minutes
Servings: 12 to 16
Note: Adapted from Mediterraneo in Hermosa Beach
1 (15 ounce) can garbanzo beans, drained
2 (15 ounce) cans black beans, drained
2 tablespoons extra-virgin olive oil, more to taste
1/4 cup chopped garlic, more to taste
3 tablespoons tahini paste
1 lemon, juiced, more to taste
1 1/2 cups water, more or less as needed
1 1/2 teaspoons cayenne pepper, more or less to taste
2 1/2 teaspoons cumin, more to taste
2 1/4 teaspoons salt, more to taste
1 1/2 teaspoons pepper, more to taste
In a food processor or blender, combine the garbanzo beans, black beans, olive oil, garlic, tahini paste and lemon juice. With the motor running, drizzle in the water until the beans are blended and a smooth consistency is achieved. Add the cayenne pepper, cumin, salt and pepper, then blend again. Taste and adjust seasonings and flavorings if desired. This makes 4 cups hummus; the hummus will keep, covered and refrigerated, for 5 days.
Each of 16 servings: 96 calories; 4 grams protein; 13 grams carbohydrates; 3 grams fiber; 4 grams fat; 1 gram saturated fat; 0 cholesterol; 0 sugar; 520 mg. sodium.
SOS REQUESTS: Send Culinary SOS requests to noelle.carter@latimes.com or Culinary SOS, Food section, Los Angeles Times, 202 W. 1st St., Los Angeles, CA 90012. Please include your name, phone number and city of residence.
---
Get our weekly Tasting Notes newsletter for reviews, news and more.
You may occasionally receive promotional content from the Los Angeles Times.