Culinary SOS: Traxx crab cakes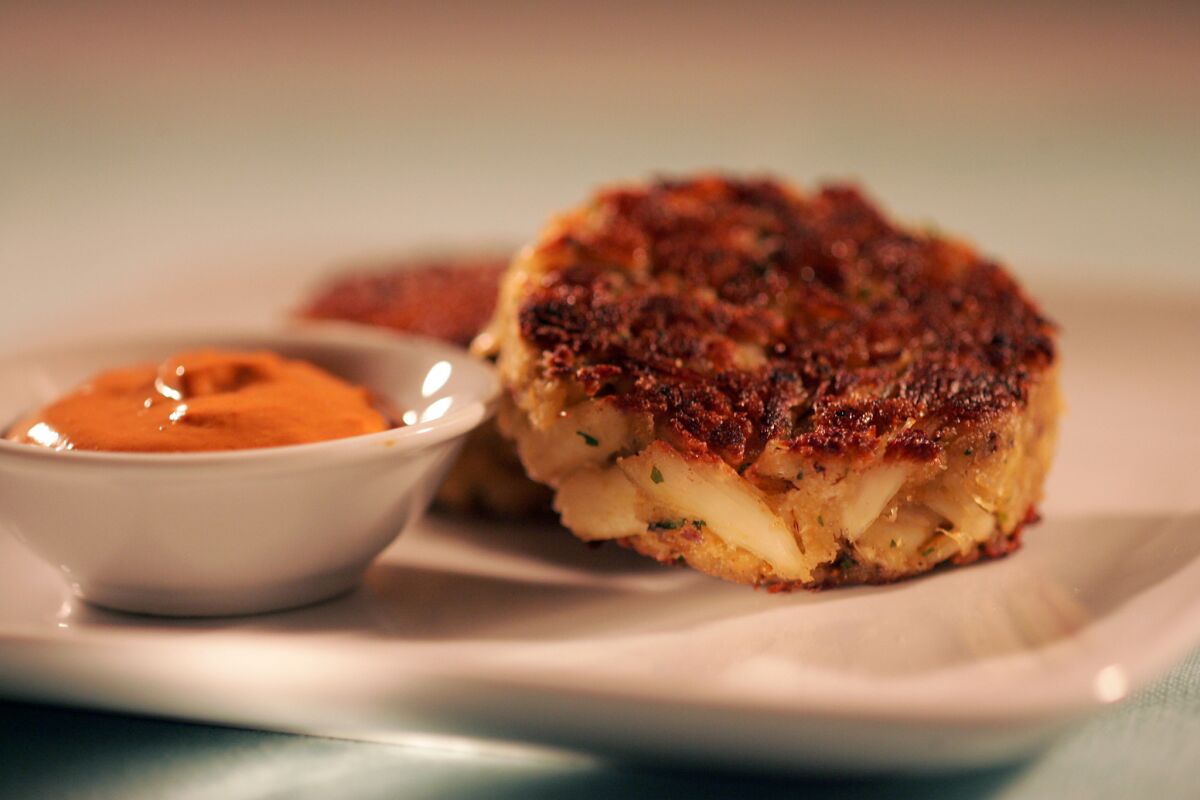 Los Angeles Times Staff Writer
Dear SOS: I hope you can obtain the recipe for the great crab cakes I had at Traxx in Union Station. Hope they're not too difficult to make.
Ruth Mayle
Northridge
Dear Ruth: These light, crisp crab cakes are big on flavor and size. Large chunks of crabmeat are gently folded into a colorful mix of diced red onion, parsley, cilantro and minced sourdough with more than a hint of spice thrown in for added kick.
Traxx crab cakesTotal time: 30 minutes Servings: 5 Note: Adapted from Traxx restaurant in L.A. The restaurant serves these with a chipotle mayonnaise. 2 eggs 1 tablespoon seeded and minced jalapeño 1/4 cup minced red onion 1 1/2 cups minced sourdough bread (about 2 slices) 2 tablespoons mayonnaise 2 teaspoons Old Bay Seasoning 1 teaspoon minced cilantro 2 teaspoons minced parsley 1/2 teaspoon whole grain Dijon mustard 1/2 cup panko bread crumbs 1 pound jumbo lump crab meat, picked and cleaned Butter and olive oil for frying 1. In a large bowl, beat the eggs, then add the jalapeño, red onion, sourdough bread, mayonnaise, Old Bay, cilantro, parsley, mustard and panko. Gently fold in the crab until combined. 2. Form the mixture into 10 crab cakes. Heat a medium sauté pan over medium-high heat. Melt a half-tablespoon each butter and olive oil in the pan, then fry the crab cakes, two at a time, until golden on each side, 2 to 3 minutes per side. Place the crab cakes on a parchment-lined baking sheet and continue to fry the remaining cakes, adding additional butter and oil as necessary. 4. When all the cakes are fried, place the sheet pan in the oven and bake the cakes at 350 degrees until set in the center and slightly firm to the touch, about 8 minutes. Serve immediately. Each serving: 268 calories; 20 grams protein; 10 grams carbohydrates; 0 fiber; 15 grams fat; 4 grams saturated fat; 172 mg. cholesterol; 460 mg. sodium.
---
Get our L.A. Goes Out newsletter, with the week's best events, to help you explore and experience our city.
You may occasionally receive promotional content from the Los Angeles Times.