Everything you need to know about the food at Star Wars: Galaxy's Edge at Disneyland
Food Columnist
Visiting a theme park makes you conscious of at least a couple of things: amazement as to how so many strollers can fit into one place, at one time, and the astronomical cost of everything, especially the food. But theme parks are making a more concerted effort in recent years to provide better quality in their menu items, as well as options beyond corn dogs, French fries and turkey legs.
Star Wars: Galaxy's Edge, a new area that opened at Disneyland Park on May 31, is located on the fictional far-off planetary outpost of Batuu and features a Millennium Falcon ride as well as a handful of restaurants and food kiosks. Given that the "Star Wars" movie franchise is one that's … not exactly known for its food, the park makes an earnest attempt to create fun dishes that reflect, in the words of the Disneyland News website, "a 'farm-to-table' feel typically found in more rural communities." In other words, they're trying. Some of the attempts succeed better than others.
Below is a list of (nearly) everything you can eat at Star Wars: Galaxy's Edge.
Check out all of our Star Wars: Galaxy's Edge coverage »
DOCKING BAY 7 FOOD AND CARGO
The prosaic name "Docking Bay 7" lends an understatedness to the planet's flagship restaurant. While the metal serving trays and heavy, spork-like utensils may suggest a county lockup, some of the food items acquit themselves well. This is the restaurant that tries the hardest.
Smoked kaadu ribs
Unlike McDonald's McRib, these pork ribs do, in fact, have bones, but seemingly without rhyme or reason: Some of my rib segments had them, others mysteriously did not. The barbecue sauce they're lacquered in is sweet but not quite cloying. The blueberry corn muffin that surprisingly accompanies the ribs is good.
Fried Endorian tip-yip
This brick of chicken — sorry, tip-yip — had the most institutional quality of any of the food at Docking Bay 7. The tip-yip's fried coating peels right off and the meat is dense and bland. The good news is that the green gravy is pretty tasty, something between a standard brown meat gravy and a salsa verde.
Roasted Endorian tip-yip salad
See my above notes on the tip-yip. I found the chicken a little too compressed and rubbery.
Yobshrimp noodle salad
This dish, with fish sauce, cilantro and vermicelli rice noodles, is trying very hard to be a passable Vietnamese noodle salad. It's not quite there — the textures are a bit off — but I honestly appreciated the effort. (N.B.: Yobshrimp are just normal Earth shrimp.)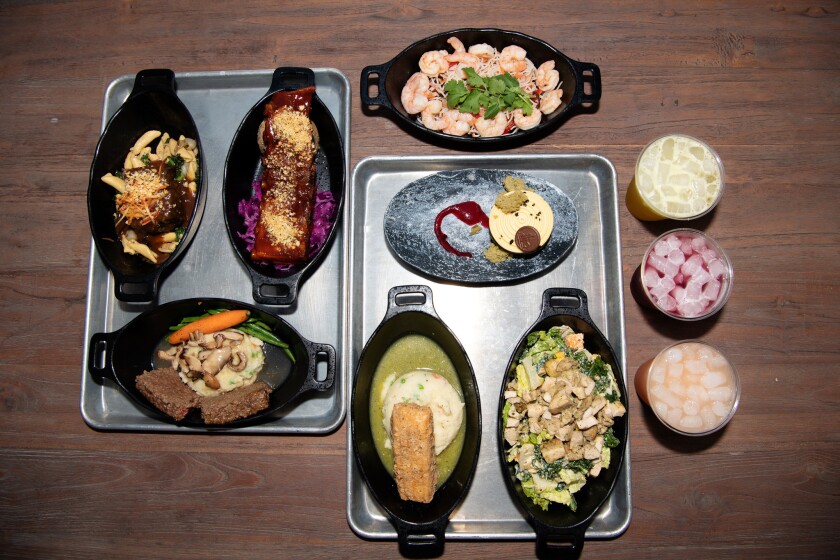 Felucian garden spread
This dish is for the vegetarians in the house, and is essentially an herb-rich hummus with some plant-based meatballs. Or maybe they're spaceballs. Who really knows?
Ithorian garden loaf
I can think of more appetizing names than "garden loaf," but again: It's important to temper expectations at a theme park. This vegetarian meatloaf, where the inside of the loaf is redder ("bloodier") than the outside, comes with some mashed potatoes and a nice selection of roasted vegetables.
Braised Shaak roast
This is the best thing at the restaurant (and, at $18.99, the most expensive). It's a well-seasoned piece of brisket served with cavatelli and a rich, mushroomy sauce.
Oi-Oi puff and Batuu-bon
These are the desserts and honestly, they're not that bad. The Batuu-bon is a combination of respectably moist chocolate cake and coffee custard, formed into a billard-ball-sized orb. The Oi-Oi puff is a puzzlingly chartreuse-colored cake (a color I associate with old soup, and not really one I want to see in a dessert) filled with a tasty raspberry cream.
RONTO ROASTERS
Ronto Roasters is a kiosk that specializes in meat and meat wraps. At the entrance, a droid is slowly roasting Flintstones-sized hunks of meat on an old podracer engine.
Ronto wrap
This is the signature item, a pork sausage wrapped in another piece of pork, and then covered in slaw and stuffed into a pita. Honestly, this is better forcemeat than anything you'll find at Dodger Stadium. The sausage is sufficiently snappy, and the cool slaw provides some temperature and texture contrast.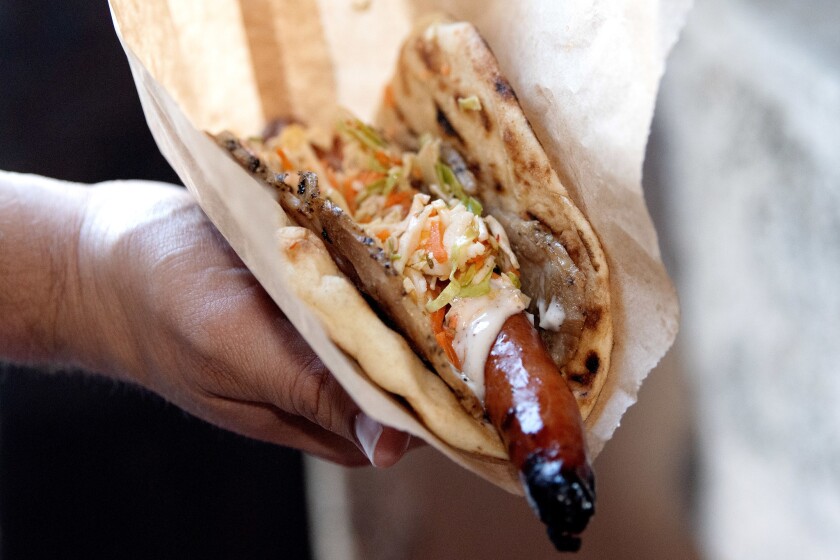 Nuna turkey jerky
There are two versions of this jerky: sweet and spicy. Neither is very good. The spicy version had what I can only describe as an unappetizing white patina. Both were very dry and brittle and relatively flavorless.
OGA'S CANTINA
This is the first place in Disneyland Park where you can buy alcohol (outside a private club), and the layout of the semicircular bar with large, spacious booths along the perimeter is well conceived. A droid from the old Star Tours ride serves as the DJ and overlooks the space, moving around in a ShowBiz Pizza animatronic style. I didn't try all the drinks, but I tried a few, along with some bar snacks (Batuu bits):
Fuzzy tauntaun
This is the most interesting, as it comes with something called "Buzzz Foam" that plays a trick on your tastebuds in the style of Sichuan peppercorns, i.e. it creates the ma in ma la. The foam creates a tingly, slightly numbing sensation that simultaneously deadens and heightens flavors. Cold things suddenly feel very cold. Sweet things taste exceedingly sweet. Imagine that someone sat on your tongue until it fell asleep, and then plied you with peach vodka and peach Schnapps. It's pretty fun.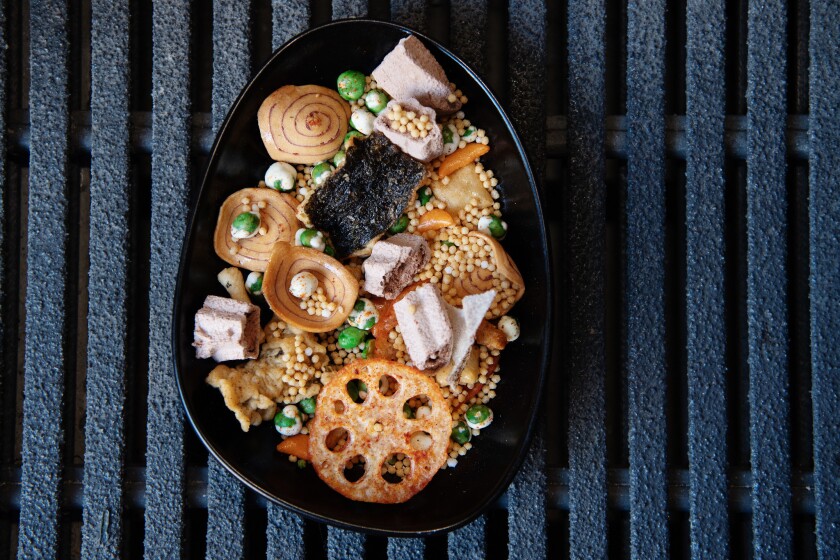 Jedi mind trick
This one has blue Curaçao liqueur, which gives it that Caribbean-cruise-blue color. Other than that, it's a decent if slightly sweet cocktail that contains grapefruit vodka and grapefruit bitters.
Bespin fizz
I would have been upset if drinks in this bar didn't contain dry ice. Fortunately, this one does. It's a puckery, tannic drink with rum and pomegranate and white cranberry juices.
Jabba juice
The one nonalcoholic drink I sampled, this is basically just fruit juice with, at the bottom, "wart eggs" (blueberry-flavored popping pearls) that are harvested from a creature kept in a fish tank-like container above the bar. If that's what you're into, I'm not going to judge.
KAT SAKA'S KETTLE
Not much to say about this place: It serves kettle corn. The purple- and red-tinged kernels have a sweet, fruity flavor. A bag costs 6.49 "credits," which apparently have a 1:1 exchange rate with the U.S. dollar. Upon completing your purchase, you receive a "bill of sale," which very closely resembles the receipts we get in this country. After your purchase, the Batuuan shopkeeper may say something like "'Til the spire," the meaning of which approaches our "Bye" or "See ya."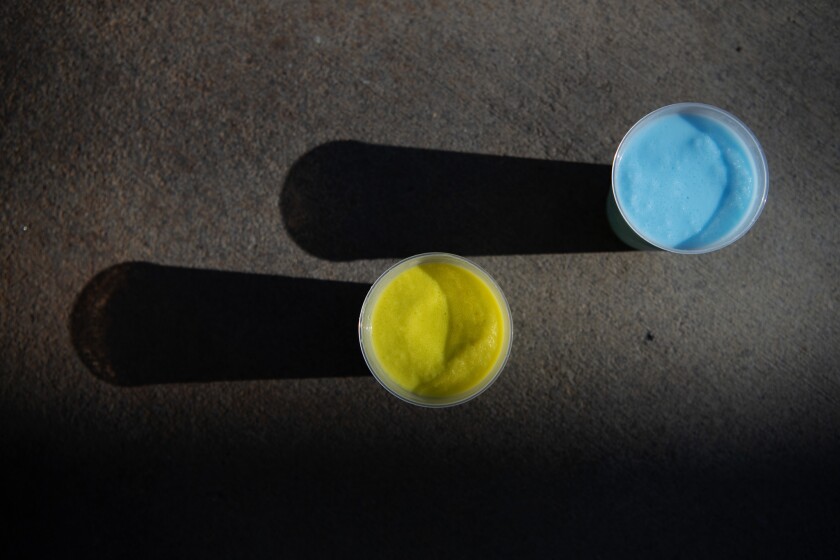 MILK STAND
This is the signature drink of the land, and the one food item that's gotten the most play online and in social media. There are two versions, blue and green. They're not really milk, at least not in any sense I can tell, but rather a kind of slimy, fruity slushy. Like okra or moloukiya, the milks have a slick, mucus-like character that coats your mouth.
The blue version reminded me of something like a piña colada, tasting of coconut and pineapple. The green version, which is closer to yellow than green, has a little bit more of a citrus flavor, and tastes like the bottom of a bowl of Trix cereal. I was not able to finish either.
---
Get our weekly Tasting Notes newsletter for reviews, news and more.
You may occasionally receive promotional content from the Los Angeles Times.