Summer wine cocktails make a splash beyond sangria
For years, wine cocktails have gotten a bad rap. Hear the term, and you might vaguely remember college days filled with wine spritzers and bottled wine coolers, the alcohol cut with sparkling water or teeth-jarring sweeteners, with flavorings both natural and otherwise, the beverages a color palette ranging from soft pastels to vibrant neons. Or maybe you think of sangria, at times a syrupy-sweet wine infused with any of a number of herbs and spices, a daily dose of chopped fresh fruit taking up otherwise valuable real estate in each glass.
"There's so much more to wine cocktails," says Darwin Pornel, lead bartender at Faith & Flower in downtown Los Angeles, than most people immediately think. For Pornel, incorporating wine in cocktails is all about balance and finding the right harmony in the glass. "When adding wine, you're looking for flavors that work together. It's not just about topping something with Champagne.
"I wanted to do something different," he says.
Different for Pornel and his bartenders came in the form of a rye whiskey cocktail — not exactly a typical pairing with wine. The Parade Route, made with Rittenhouse rye whiskey shaken with lemon juice, simple syrup and bitters, then finished with sparkling rosé wine, was a way for him to draw drinkers outside their comfort zone.
"It's amazing, because such a wide demographic orders it. You have the rye drinkers, but also the rosé drinkers," he notes. "Rittenhouse is very aggressive — it's got a lot of spice. And the rosé is nice on its own, but it's really nice paired with the rye. It's a perfect drink for summer."
At the Cannibal in Culver City, head bartender Dan McClary features a drink called Rhum With a View. Served in a Champagne coupe, the drink — inspired by the bartender's trips to the island of Martinique — features two types of rum sourced from a single type of sugar cane, along with fresh guava puree, the drink rounded out with sparkling wine. "The addition of dry sparkling wine simply lifts up the guava a bit, and brightens the cocktail," McClary notes.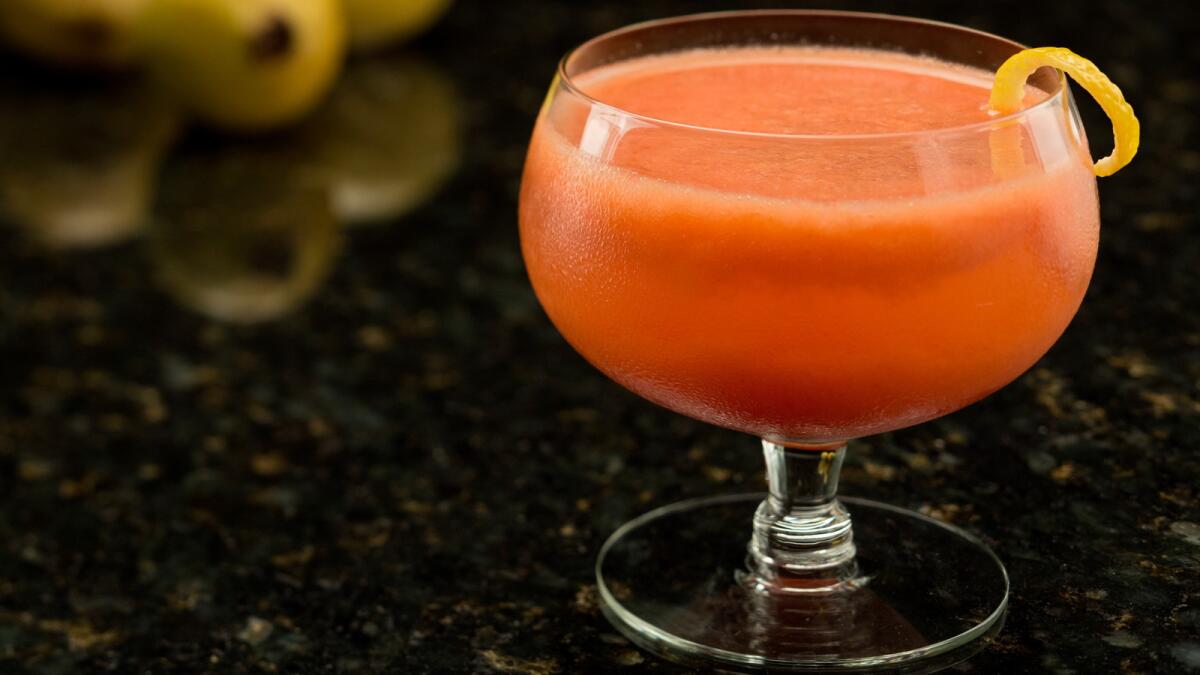 For the wine component of the drink, the Cannibal's wine director, Karina Turtzo, decided to use Elbling, a sparkling wine from the upper Mosel, an extension of the Paris basin. "It's somewhat neutral," Turtzo says, "but the Kimmeridgian soil imparts a specific minerality, resulting in a current of citrus flavors and a salinity that blends with the guava and kicks this cocktail up quite a bit."
At Paper or Plastik in West Los Angeles, wine and beer curator Phillip "Mikey" Mikell knows how much, in both wine and food, centers around pleasing different palates. "One customer I've always had a hard time pleasing is the non-wine drinker. My father is a non-wine drinker."
See the most-read stories in Life & Style this hour >>
Mikell, who once lived along the coast of northern Spain, recently visited with his father. As they toured Spain and then Portugal, Mikell tried to get his father to enjoy the local wines — but to no avail. That is, until they ended up at Oporto's Sandeman Cellars. There, Mikell's father fell in love with the sangria, which a server finally admitted was a simple mixture of ruby port, Sprite and a little orange juice.
Once back in L.A. aiming to re-create the drink, Mikell tried various ratios of the soda, wine and juice, finding nothing that approximated the taste in Oporto. Until he finally tried adding ginger beer.
For Mikell, the ginger beer made all the difference, as it is less sweet than lemon-lime-flavored sodas and provides a higher dynamic in flavor profile. "Unlike Spanish-style sangrias that are made in large quantities and must cure in a vat, this Port wine sangria is made fresh to order by the glass or pitcher. It lacks the harsh tannins present when introducing fruit." Regarding ABV, "since we start with a 20% wine, the result is an 8% cocktail that hides its booze well."
When he's not serving the drink at the restaurant, Mikell will make a pitcher to bring to a party or gathering. Simple to make and transport, "it's the perfect summertime cocktail."
Twitter: @noellecarter
Get our weekly Tasting Notes newsletter for reviews, news and more.
You may occasionally receive promotional content from the Los Angeles Times.