What we're into: Chicano egg-breakfast bliss at La Carreta in East L.A.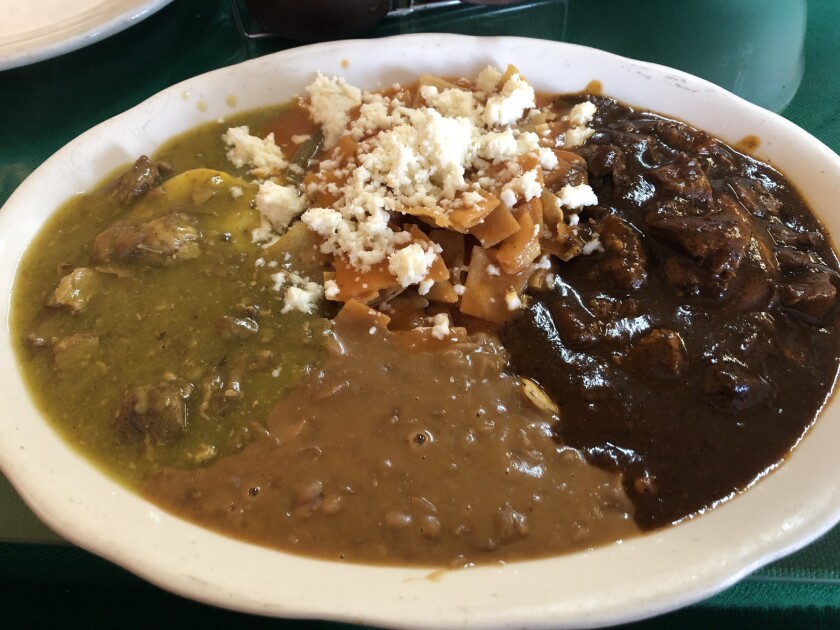 Food lovers have long haunted La Azteca Tortilleria in East Los Angeles for their flaky flour tortillas and oozing chile relleno burritos. It's a righteous choice, but nearly everyone misses the gem next door: La Carreta, a small diner open for breakfast and lunch that's been around since 1955 yet consistently functions as Guadalajara's Atlas soccer club to La Azteca's Chivas.
Indeed, most people mistake this Carreta for the same-named (but not related) taqueria south of downtown with the tacos de tripas that Jonathan Gold once described as "the taco to have when you're only having one." The Eastlos Carreta instead is a local hangout, one patronized mostly by Mexican American locals. That means that while the customers are brown, English is the lingua franca and the television flashes CNN instead of Univisión.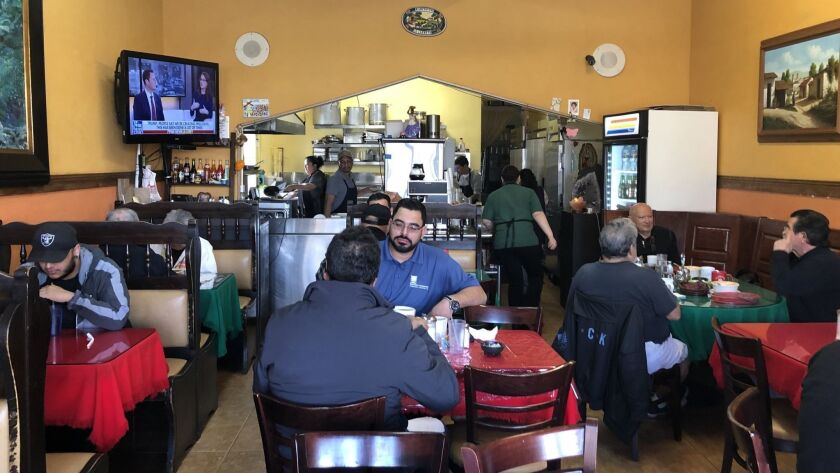 Though they have a regular menu of enchiladas, burritos and a fine beef-tongue plate, La Carreta focuses on the glories of the Chicano egg breakfast. The most famous dish from this strata of Cal-Mex cuisine is huevos rancheros, and they're saucy and runny here — and just one of 14 ways to enjoy their huevos.
You can get them your way accompanied by ham, chorizo, bacon, luscious carne asada or chewy machaca. Huevos a la Mexicana are scrambled with smoky salsa; the mysteriously named Huevos Flameados — meaning flambéed — are tossed with cheese to create a sort of omelet.
But La Carreta's best egg breakfast is the huevos divorciados (divorced eggs), which most Mexican restaurants usually serve by splitting the plate with equal parts red and green salsa. La Carreta amps up the Chicano factor by instead smothering their eggs with chile verde and chile colorado.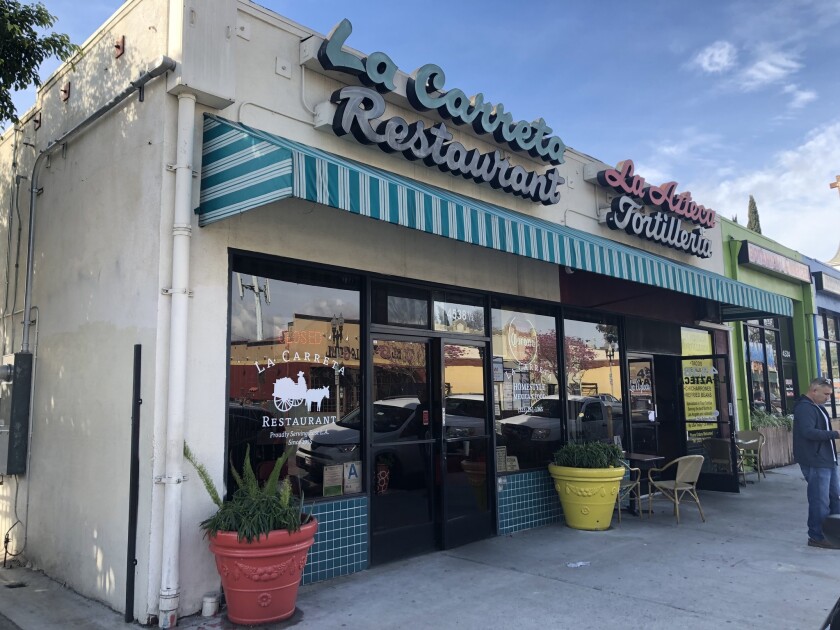 These are stalwarts of Cal-Mex cuisine, slow-cooked pork or beef stews drowned in a salsa that's more gravy than spicy. Chile verde and colorado were found on some of the earliest Mexican restaurant menus in Southern California, but they're now slowly disappearing from restaurants as immigrants bring their own culinary traditions.
But La Carreta huevos divorciados reminds you why chile verde y colorado have lasted so long. The green is perky and relishy; the red, deep-toned and thick. A barrier of chilaquiles and runny pinto beans separates the two — and, like all walls, it inevitably falls.
La Carreta, 4538 1/2 E. Cesar E. Chavez Ave., Los Angeles, (323) 261-1365
Twitter: @GustavoArellano
---
Get our new Cooking newsletter.
You may occasionally receive promotional content from the Los Angeles Times.