A chef's years-long obsession with XO sauce
Chef Sang Yoon
(Mariah Tauger / For the Times )
Chef Sang Yoon uses 15 ingredients to create his interpretation of Hong Kong's famous XO sauce.
(Mariah Tauger / For The Times )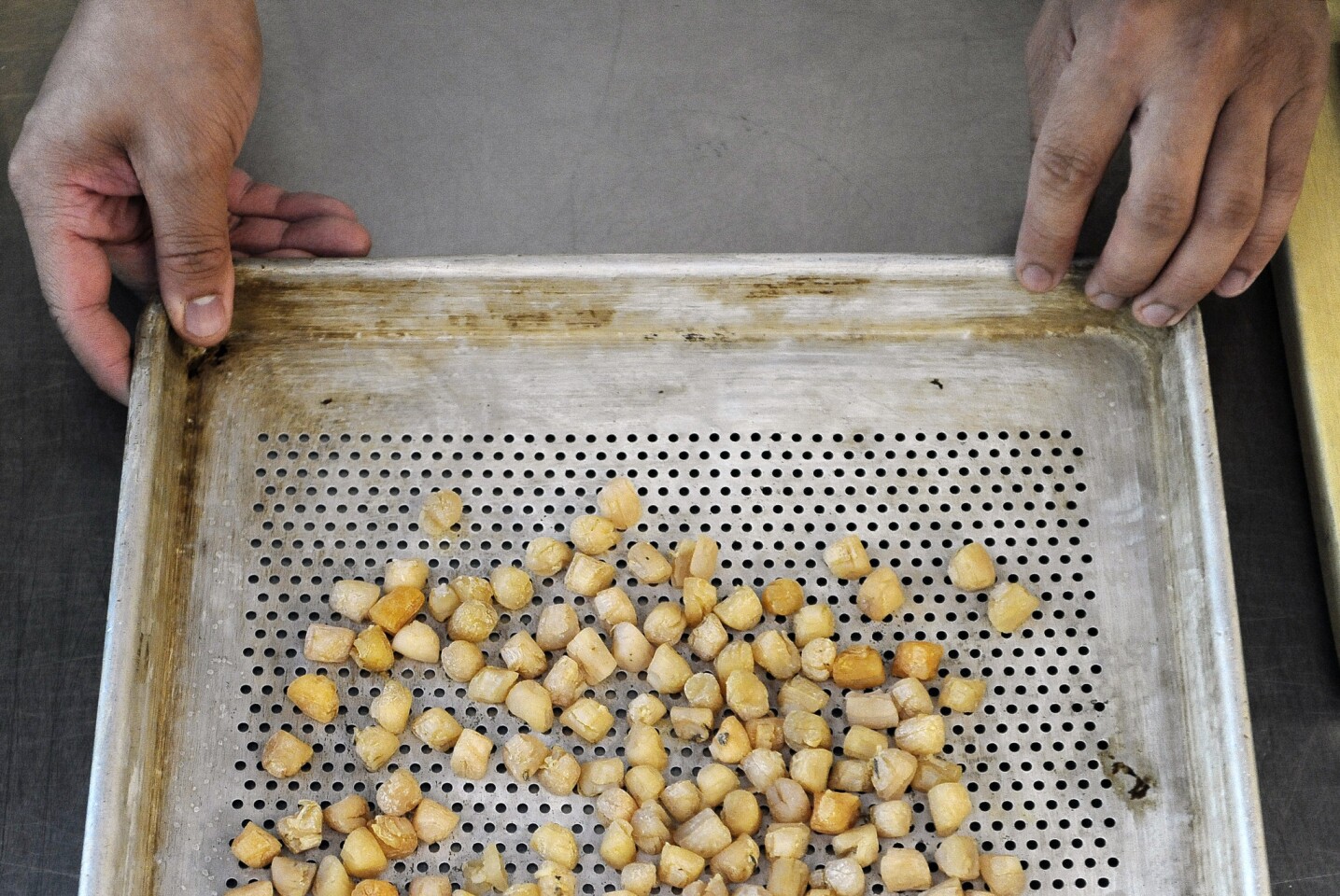 Dried scallops are just one of 15 ingredients that chef Sang Yoon uses to create his current version of XO sauce.
(Mariah Tauger / For The Times)
Shallots, Japanese dried chiles and garlic are among the ingredients that chef Sang Yoon currently uses to create his Hong Kong XO sauce, though he keeps experimenting.
(Mariah Tauger / For The Times)
Ginger is now in chef Sang Yoon's XO sauce recipe; Virginia ham, Muscovado sugar, palm sugar, prosciutto and ghee have all been tried.
(Mariah Tauger / For The Times)
Ingredients lined up as chef Sang Yoon makes XO sauce.
(Mariah Tauger / For The Times)
Chef Sang Yoon's current iteration of 15 ingredients for the Hong Kong XO sauce.
(Mariah Tauger / For The Times )
Lukshon sous chef Matt Yuen blends some of the 15 ingredients called for in chef Sang Yoon's XO sauce.
(Mariah Tauger / For The Times)
Chef Sang Yoon demonstrates the process to prepare XO sauce.
(Mariah Tauger / For The Times)
Chefs are by nature obsessive. It's a personality trait that tends to fit them, like their chef's whites, that knife collection, maybe some latent pyromania. You could argue that chef Sang Yoon has been better than most at channeling his kitchen fixations. He built his first restaurant, Father's Office, out of a network of them (the hamburger, craft beers, no ketchup). His second restaurant, Lukshon, allowed him to obsess about noodles, often repeating the same dish (dan dan mien, ramen) over and over, shifting one component, then another, sometimes for months, as if he were searching for some kind of Platonic ideal in his test kitchen.
For the last few years — yes, that's right: years — Yoon has been obsessed with XO sauce. It's a fitting fixation, really, for a guy who's spent his career evading genres. XO sauce, somewhat like Yoon himself, is a modern construct. Invented at a Hong Kong hotel in the 1980s, XO is a mash-up of odd, expensive ingredients (dried scallops, Chinese ham), named for a bottle of Cognac that isn't even part of the recipe. The XO stands for Extra Old, or at least the name does, which is kind of ironic for a dish that debuted about the same time as Whitney Houston's first album.
XO, for the uninitiated, presents as the kind of ad hoc condiment you might accidentally make yourself, alone with your refrigerator after too many drinks. It's a coarse mixture of dried seafood, ham, chiles, garlic, ginger, soy sauce and oil — a crazy, funky combination of salt and spice. It is neither refined nor subtle. It is, instead, the sort of thing that, once you've discovered it, you want to put on everything.
"It's naturally occurring umami," Yoon says of XO. "Natural since the '80s."
If you're the kind of person who reads Saveur, you'll probably remember one of Yoon's early iterations of XO sauce. In 2010, the food magazine documented what was an obsession even then. At the time, Yoon's recipe called for 13 ingredients, including dried mackerel, dried octopus and dou ban jiang, a kind of fermented bean paste, in addition to the rest of it.
Some six years later, the chef laid out a sheet pan containing the ingredients in his current recipe, which he estimates is his seventh iteration since the one in Saveur. Since then, he's been conducting experiments in that test kitchen, 1,200 square feet of gadgetry (blast freezer, liquid nitrogen, vacuum steamer) in the Helms Bakery complex in Los Angeles that Yoon describes as "bigger than my first restaurant."
There is about the same number of ingredients now, even after a trip to Hong Kong last year that was, by Yoon's account, pretty much just XO R&D. "I brought home 20 jars; my backpack was full of glass. I kept thinking, 'Nobody trip me.'"
Yoon's trip to Hong Kong, backpack and all, was a pilgrimage. There he visited Spring Moon, the restaurant in the Peninsula Hotel where XO sauce was, by almost all accounts, invented, as well as the Michelin-starred Lung King Heen at the Four Seasons Hotel, Tin Lung Heen at the Ritz-Carlton and Yan Toh Heen at the Intercontinental hotel, also Michelin-starred and Yoon's favorite, and an artisanal sauce-maker. Stop by stop, Yoon came away with jars of the stuff, as well as recipes for it — although he does not, despite his repeated attempts, get any Yunnan hams, a traditional component of the recipe, which cannot be imported to the U.S.
Back in Yoon's L.A. test kitchen, the chef cooks his latest version — he figures it's his third since the Hong Kong trip. In the current iteration, the mackerel and octopus and bean paste are absent, and he's added chicken bouillon powder (Knorr's? "Sure.") traced to one of the Hong Kong versions.
"It's not an exact science. It'll change again."
What else Yoon has experimented with: Virginia ham, Muscovado sugar, palm sugar, prosciutto, ghee. He once used scraps of Jamón ibérico, a Spanish ham pricey enough to suit the XO name. "It looked like a ball of tarred heroin," says Yoon, who did not repeat the experiment.
"I've actually tried putting XO Cognac into it. No bueno."
Lemongrass? Yes. "I thought it added levity to the dish." One element that Yoon has not tried putting into his sauce is bacon, an ingredient he considers to have peaked in 2007 or 2008. "I don't always find the addition of bacon beneficial; it does not apply to everything."
His most recent innovation is not an ingredient but a method — lately Yoon has been cooking his XO in a pressure cooker. It's faster than using the traditional wok, Yoon points out, noting that using a pressure cooker also eliminates the need for a steamer (the dried seafood is customarily steamed before being fried).
"I still believe that most people who order XO sauce have no idea what it is," says Yoon. Because of this, he likes to put the stuff on "something friendly," like a simple bowl of greens. This is itself a kind of contrapasso, as Yoon first discovered XO sauce because it made him, finally, eat his vegetables.
"I jokingly refer to it as Hugs and Kisses Sauce," he says, spooning some of the latest batch over a bowl of charred Chinese broccoli. "It's a stupid reference."
The name of the stuff is as much a bait-and-switch as is the notion of authenticity for a sauce that was invented during the Reagan administration. "Is it authentic?" asked Yoon rhetorically, surveying sheet pan, wok, bowl of greens.
"This is me at Santa Monica High, driving a 1985 VW GTI listening to the Thompson Twins." Because authenticity in food, music and politics is a moving target.
About 1 1/2 hours. Makes about 2 1/2 cups
1 1/3 cups (170 grams) dried scallops
1/2 cup (50 grams) dried shrimp
1/4 cup diced (37.5 grams) Chinese cured ham, cut in 1/4-inch dice
4 to 5 (2.5 grams) Japanese dried chiles
About 2 tablespoons (15 grams) chicken bouillon powder
2 generous tablespoons (15 grams) minced lemongrass, from a roughly 6-inch by 1/2-inch piece of stalk
1/4 cup plus 1 tablespoon (60 grams) sesame oil
1/2 cup plus 2/3 cup (225 grams) peanut oil, divided
About 2 tablespoons (25 grams) minced garlic, from 5 to 6 cloves
6 tablespoons (55 grams) minced shallots, from 2 to 3 shallots
2 tablespoons plus 2 teaspoons (40 grams) sugar
2 teaspoons (15 grams) Chinese sweet soy sauce
1 teaspoon (2 grams) ground white pepper
Scant 2 tablespoons (25 grams) chile oil
1. In a steamer set over a pot of boiling water, steam the dried scallops and shrimp until softened and the scallops break apart easily, about 20 minutes.
2. Combine the reconstituted scallops, shrimp and ham in a food processor and blend until nicely shredded.
3. Add the dried chiles, bouillon powder, lemongrass, sesame oil and 1/2 cup (100 grams) peanut oil to the food processor and blend to combine.
4. In a wok, add the remaining peanut oil along with the food processor mixture and heat over low heat. Stir in the garlic, shallots, sugar and sweet soy sauce and cook, stirring occasionally, until the contents slowly begin to caramelize, 20 to 25 minutes.
5. Stir in the white pepper and chile oil and continue to slowly caramelize (it will bubble slowly) until the color is deepened and beginning to brown to a mahogany color. Remove from heat, transfer the sauce to a heatproof, non-reactive container, and set aside to cool. Once cooled, refrigerate overnight before using.
Each of 20 (2 tablespoon) servings
Calories 194
Protein 8 grams
Carbohydrates 4 grams
Fiber 0
Fat 16 grams
Saturated fat 3 grams
Cholesterol 13 mg
Sugar 2 grams
Sodium 429 mg
Note: Adapted from a recipe by chef Sang Yoon.
---
Get our weekly Tasting Notes newsletter for reviews, news and more.
You may occasionally receive promotional content from the Los Angeles Times.