Hanukkah recipe: Fresh beet latkes with cumin and coriander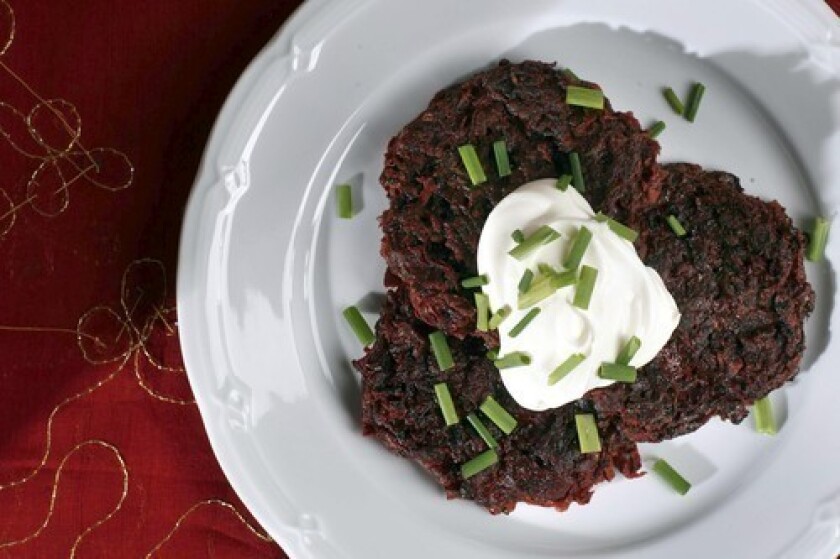 Who says latkes have to be made from potatoes? Israeli cookbook author Phyllis Glazer makes these with grated raw beets and gives them a Middle Eastern twist by spicing them generously with coriander and cumin. Serve them with tangy sour cream or rich yogurt and snipped chives.
Fresh beet latkes is one of the favorite holiday recipes we've collected in our "Los Angeles Times Holiday Handbook." The book shares more than 110 seasonal recipes to help you celebrate Thanksgiving, Hanukkah, Christmas and New Year's. We've also updated last year's "Los Angeles Times Holiday Cookies," so it now includes 65 recipes from a wide range of sources, including world-famous pastry chefs and home cooks.
Each book is $4.99. They are available at the Los Angeles Times bookstore for Kindle, Nook and iBooks.
ALSO:
Mac 'n' cheese recipes galore!
Go behind the scenes at the L.A. Times Test Kitchen
You can find Noelle Carter on Facebook, Google+, Twitter and Pinterest. Email Noelle at noelle.carter@latimes.com.
Fresh beet latkes with cumin and coriander
Total time: 45 minutes
Servings: 6 (about 12 latkes)
Note: Serve the latkes with sour cream or rich yogurt and snipped chives for garnish.
3 pounds beets
1 1/2 teaspoons ground cumin
1 1/2 teaspoons ground coriander seed
1/2 cup chopped Italian parsley or cilantro
2 teaspoons salt
1/4 teaspoon freshly ground black pepper
1 teaspoon baking powder
4 eggs, lightly beaten
1/2 cup flour
1/2 to 3/4 cup olive oil, for frying
1. Rinse, trim and peel beets, and then shred them on the coarse side of a grater to yield about 8 cups. Place the beets in a strainer or colander set over a bowl, and let stand 10 minutes to drain. Press the beets with a towel to remove any excess moisture, then place in a medium bowl.
2. Stir the cumin, coriander, parsley (or cilantro), salt, black pepper and baking powder into the beets, using a wooden spoon. Stir in the eggs, then the flour, and mix well to combine.
3. In a large frying pan, heat 5 to 6 tablespoons oil over medium heat until hot. For each latke, drop one-third cup of the beet mixture into the pan, flattening slightly with a spoon. Fry 4 to 5 latkes at a time, about 4 to 5 minutes on each side until deep red throughout and just lightly browned on the outside. Transfer the latkes to a paper towel-lined plate to drain. Repeat until all of the latkes are cooked, adding additional oil as necessary for frying. Serve warm.
Each of 6 servings: 318 calories; 8 grams protein; 24 grams carbohydrates; 6 grams fiber; 22 grams fat; 4 grams saturated fat; 142 mg. cholesterol; 1,026 mg. sodium.
---
Get our weekly Tasting Notes newsletter for reviews, news and more.
You may occasionally receive promotional content from the Los Angeles Times.