Jeremy Fox launches Old Soul at Square One Dining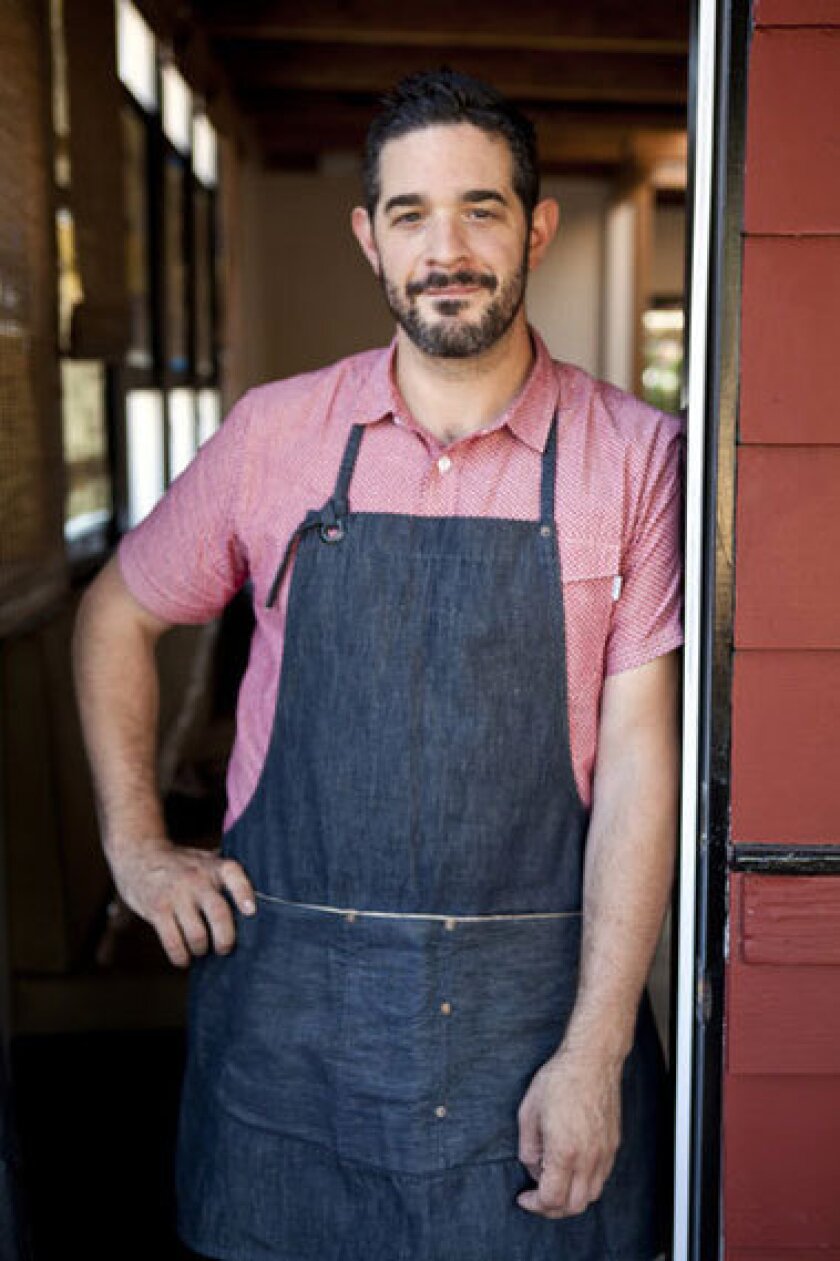 Jeremy Fox has entered the kitchen. Or he will. The acclaimed but peripatetic chef is debuting a Thursday-to-Sunday dinner series, called Old Soul, next week at Square One Dining in Hollywood.
Old Soul will run Dec. 6-9 and Dec. 13-16, then is expected to continue next year after the holidays. The four-course menu is $50 per person, with dishes such as duck consommé with pumpkin, farro and gribenes (chicken skin); black roux gumbo with rock shrimp and hominy; charred radicchio with goat cheese, saba, trumpet "bacon" and pine nut; chipped beef tongue with hash browns and truffle fondue; roasted whole persimmon with whipped ricotta, almond and rosemary; heartbreads with Texas toast, apple, gherkins and radish; and black fig flognarde with rosemary, chile and creme fraiche.
Earlier this month Fox stepped down as chef of the not-even-open-yet Venice restaurant Barnyard. Because of Fox's announced involvement, anticipation for Barnyard had been high, and his would-be dining audience was left to wonder what Fox's next move would be.
"The end goal is finally to have a restaurant," says Fox, who left Ubuntu -- the Michelin-starred modern-vegetarian restaurant in Napa -- nearly three years ago, "but until that happens I don't want to stop cooking. Barnyard was months of planning; there's a menu and management and line staff" who accompanied Fox when he and the owners of Barnyard split.
Old Soul is the first dinner series put together by This Is Not a Pop-Up (www.thisisnotapopup.com), a "culinary incubator" from Helena Brown and Helen Springut, who also were on the Barnyard team.
"People showed a lot of dedication and stuck by me," and this is an opportunity "to show what we've worked on for months – or, for me, years," says Fox, who took a two-year break from cooking "to figure out whether it was what I wanted to continue to do."
After moving to L.A. in 2011 for "a change of scenery," he says, he consulted when he needed to pay the bills, helping to open Freddy Smalls and revamping the menu at Paper or Plastik.
"I started at 18 and just worked, worked and worked.... Now I want to get back to doing the one thing I love.
"A lot of people have told me I'm an old soul, and it kind of stuck. I think it represents someone who's informed by their journey whether it's the good things or bad things, happiness, setbacks.... These things make me smarter, in tune and in the end a better person."
ALSO:
Waterproof bandages for kitchen
Dinner tonight! Lentils with pancetta recipe
---
Get our weekly Tasting Notes newsletter for reviews, news and more from critics Bill Addison and Patricia Escárcega.
You may occasionally receive promotional content from the Los Angeles Times.