Review: The just-right cooking at Bestia
The restaurant is on the eastern edge of downtown in a former warehouse district.
(Katie Falkenberg / Los Angeles Times)
The pizza
alla 'nduja
, with house-made spicy
'nduja
, San Marzano tomatoes, mozzarella and wild arugula. The pizzas are fired in a wood-burning oven.
(Katie Falkenberg / Los Angeles Times)
Fusilli Lunghi al Sugo di Capra
pasta dish.
(Katie Falkenberg / Los Angeles Times)
The
salumi
plate offers a chef's selection of house-cured meats, served with pickles,
mostarda
and grilled bread.
(Katie Falkenberg / Los Angeles Times)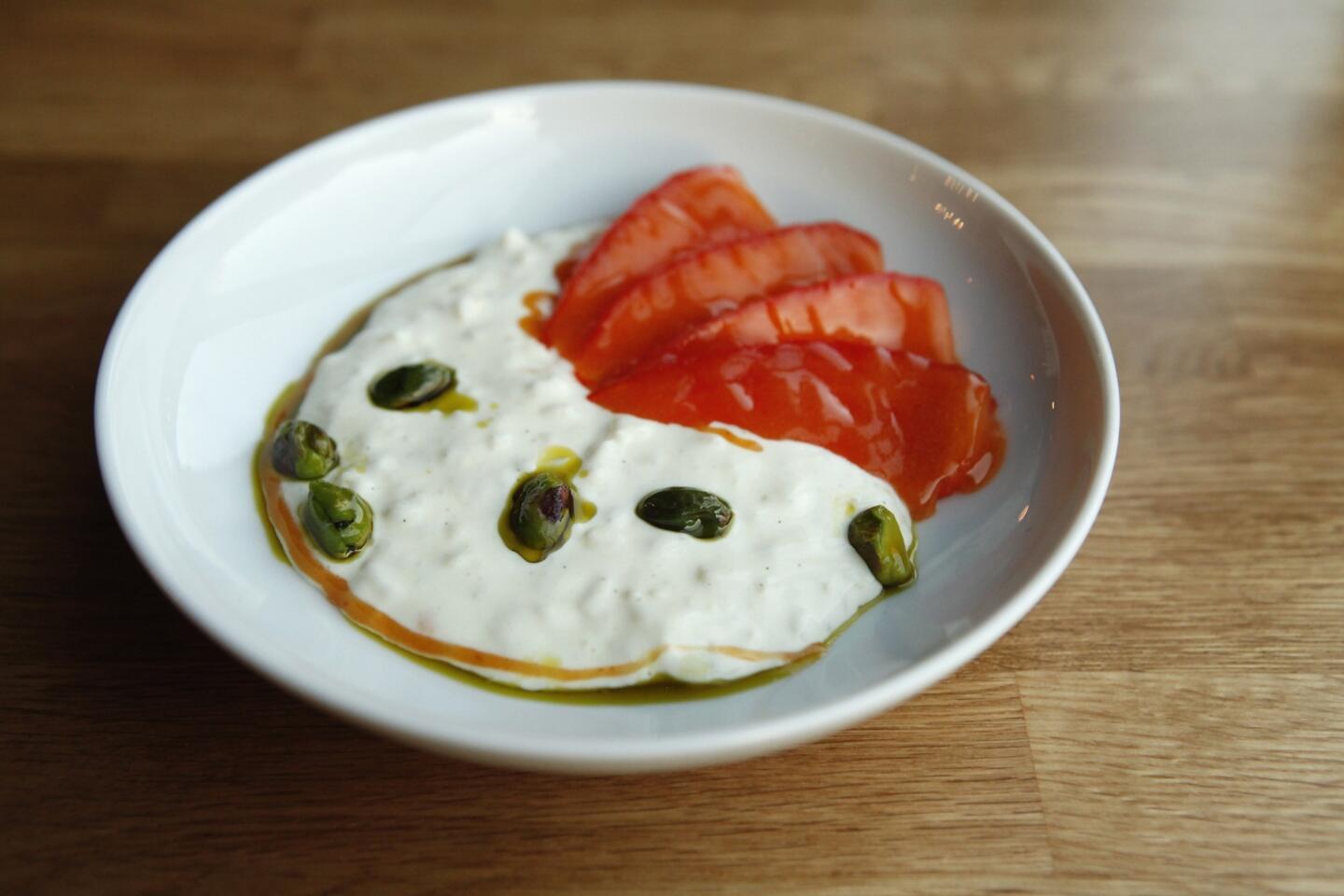 Mascarpone rice pudding with Hachiya persimmons, orange blossom pistachios and persimmon caramel.
(Katie Falkenberg / Los Angeles Times)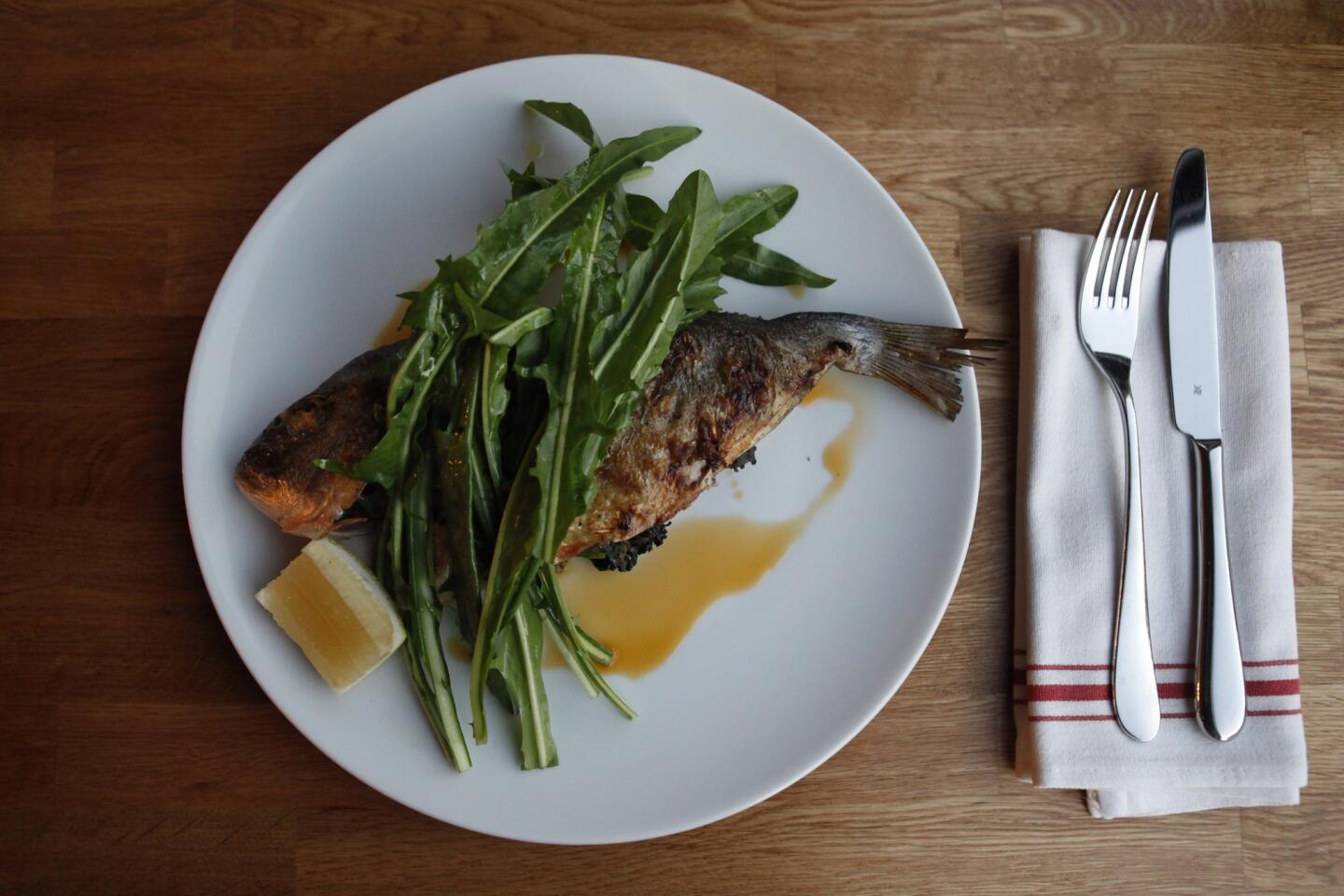 Grilled whole
orata
with rapini ripassati.
(Katie Falkenberg / Los Angeles Times)
The interior of Bestia is stripped down with exposed ceilings and rough brick.
(Katie Falkenberg / Los Angeles Times)
The
agnolotti alla Vaccinara
is cacao-flavored pasta parcels with braised ox tail,
burro fuso, grana padano
, pine nuts and currants.
(Katie Falkenberg / Los Angeles Times)
The
cassoeula
is a Milanese dish with braised pork and veal ribs, house-made pork sausage, winter greens and cabbage.
(Katie Falkenberg / Los Angeles Times)
Diners Jim Song and Jacqueline Chiu go over menu items with one of the waiters at Bestia.
(Katie Falkenberg / Los Angeles Times)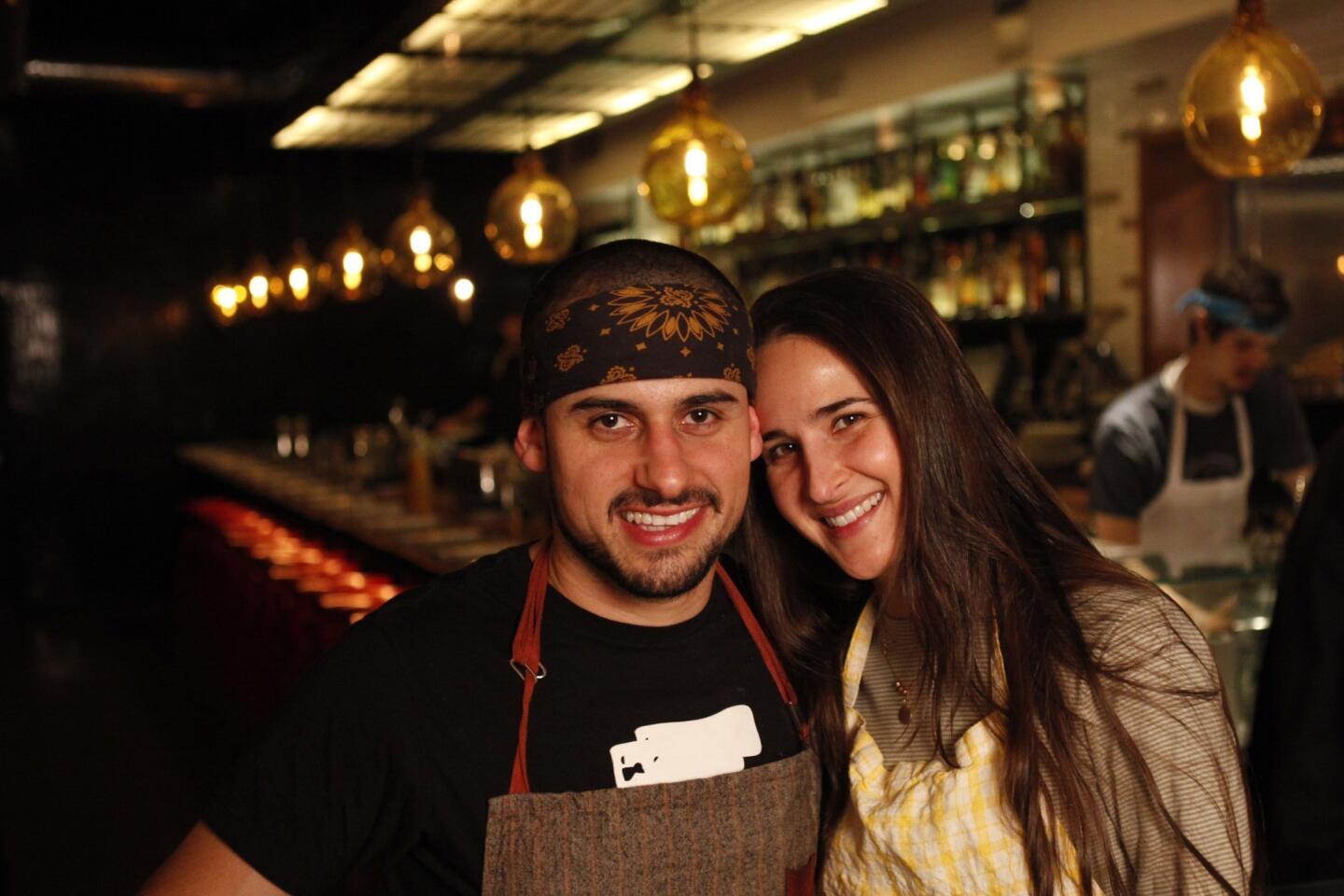 Husband-and-wife team Ori Menashe and Genevieve Gergis are chef and pastry chef, respectively, at Bestia.
(Katie Falkenberg / Los Angeles Times)
The Valrhona fair trade bittersweet chocolate
budino
tart is made with salted caramel, a cacao crust, olive oil and sea salt.
(Katie Falkenberg / Los Angeles Times)
Los Angeles Times Restaurant Critic
If you want to understand Bestia, you should probably take a look at the cassoeula, a version of a traditional cabbage stew popular in Milan.
At Alfredo de Gran San Bernardo, the Milanese businessmen's restaurant where I first tried the dish, cassoeula was delicious but austere, a sort of cabbagey pot-au-feu whose highlight was a slippery scrap of boiled pig's forehead. At Bestia, chef Ori Menashe's cassoeula is no less austere: pork ribs, veal ribs and sausage presented in a crock of strong broth; meat simmered almost to gelatin, greens cooked to the point where they tear at the touch of a fork. It is a fine stew, plain but profound, ascetic but rich. It is exactly what you want to have with a bottle of tannic young Barbera on a chilly January night.
But the importance of Bestia's cassoeula may lie less in what it does contain than in what it does not. There are no flakes of sea salt, no slivers of lemon rind, no dusting of toasted bread crumbs. The broth has not been infused with rosemary, blasted with tomato or reduced to a near glaze. No line cook has run the crock under a salamander to crisp the meat, no wood smoke is apparent and the textural contrast among the different cuts is almost zero.
Get our weekly Tasting Notes newsletter for reviews, news and more.
You may occasionally receive promotional content from the Los Angeles Times.
What we're tasting, then, is a new, anti-California cuisine, Italian cooking that willfully turns its back on the lessons taught by Wolfgang Puck, Mark Peel and Celestino Drago, among others, food whose flavors are neither amplified nor perfected but are simply presented as themselves. You may think the cassoeula — or the simply grilled orata, Italian sea bass, stuffed with boiled broccoli rabe; or the chunky cavatelli pasta tossed with chopped black truffles, sausage and cheese — are rather bland. I think they may be among the most purely Italian dishes I have ever tasted in Los Angeles. The sentiments do not necessarily contradict one another.
Bestia is an Italian restaurant in a neighborhood of converted warehouses east of downtown, close to the train yards by the river, on a dead-end block that used to be famous for its concentration of artists. From the street, Bestia still looks like a warehouse whose faded sign, painted on corrugated metal, just happened to be left over from its industrial days. When you make your way through the courtyard into the dining room, it is a more conventional restaurant space, all bare rafters, stripped brick and dim Edison bulbs; a huge open kitchen; and a din like a roomful of roaring lawn mowers. Even in its earliest weeks, Bestia was a tough reservation, and the bar is shoulder to shoulder.
Menashe spent nearly a decade in the trenches of Los Angeles Italian restaurants, a big chunk of that time as Gino Angelini's chef at Osteria Angelini. He's not quite an Italian guy — he was born in Los Angeles and raised in Israel — but he could play one on TV.
I'm generally not a fan of the idea of vast kitchen empires — historically, the best places have been chef-owned — but there does seem to be a lot of cross-pollination between Bestia and other restaurants owned by Bill Chait, and most of it seems to be good.
Julian Cox designed the cocktails — try his bitter-sour Crusta — as he did at Rivera and Short Order. There is a massive, wood-burning oven, made by the same guy who installed the one at Sotto, and the same steep learning curve in getting the thick-rimmed pizzas to come out without suffering wet spots in the depth of the dough and Dalmatian spots of char around the edges. (The toppings, like salami with chile-dressed Brussels sprout leaves are fine; look for the pizzas themselves to be much better in three or four months.) Ricardo Zarate of Picca spent a long time looking for a source of fresh beef hearts for his Peruvian-style anticuchos, and you have to assume the expertise came in handy when Menashe was developing pine-nut-laced chopped beef heart, which, far from being dank and organ-y, is one of the best steak tartares you will ever taste.
The wine program is run by Maxwell Leer, who was the sommelier at Bazaar (not a Chait restaurant), and although you won't be able to pronounce many of his wines — my tongue collapsed in defeat when I tried to order Dingac, a pleasantly funky wine from the Dalmatian Coast — you will probably be happy with the oddball natural wines on his list, including something called Cotar from Slovenia, which has exactly the acidity of Greek yogurt but goes remarkably well with Menashe's meaty food.
You will gravitate toward charcuterie when you spot the big, glassed-in refrigerator filled with hanging house-cured meats, ready to be sliced and served on a board with a super tart green mostarda. You might be served almost anything really: mortadella with pistachios, salame with fennel and orange zest; spicy soppressata; a too-mild version of the Southern Italian pigskin paste called ciccoli; or a wild boar salame that is altogether too wild. The roasted mussels are served in a scarlet broth thickened with Menashe's 'nduja, a fiery, spreadable salame popular in Calabria.
The pastas, which tend to be handmade, rustic and cooked just short of al dente, may be tossed with house-cured guanciale (for carbonara) or spicy Calabrese sausage and garlic. There is also a slightly clunky spaghetti with squid ink and bottarga — similar dishes at Osteria Drago and Superba are perhaps more suave — and the most popular pasta is probably the agnolotti, cocoa-saturated pasta parcels stuffed with braised oxtail and served with currants and pine nuts. Not bad, if you can handle the idea of chocolate pasta. Still, the most developed flavors here come through the meat-curing room, flavors developed by natural fermentation rather than imposed by an herb-wielding chef. That bowl of cavatelli with truffles and sausage may sound like something you'd find in an elegant Milanese dining room but taste of wild Umbria, of rural dining rooms where truffles are as common as onions.
The pastry chef here is Genevieve Gergis, Menashe's wife, and her signature dessert is an intensely chocolate-y version of Mozza's famous budino, finished with olive oil, sea salt and caramel in the locally approved manner. Yet her heart, one suspects, lies in her saffron-tinged rice pudding, layered with dead-ripe persimmons and made with fragrant Arborio rice three shades chewier than anything I've ever experienced.
That's what happens at Bestia. It's a place where the cooks know where to stop.
Bestia
Ori Menashe cooks food that is purely Italian, without ornamentation or needless complication.
Location: 2121 E. 7th Place, Los Angeles, (213) 514-5724, bestiala.com.
Prices: Snacks, $6-$8; antipasti, $9-$16; pizza, $15-$25; pasta, $16-$25; main courses, $23-$29; desserts, $9-$12.
Details: Open 6-11 p.m. Tuesdays to Thursdays and Sundays, 6 p.m. to midnight Fridays and Saturdays. Credit cards accepted. Full bar. Valet parking.
Get our L.A. Goes Out newsletter, with the week's best events, to help you explore and experience our city.
You may occasionally receive promotional content from the Los Angeles Times.