Review: Rustic Canyon reaches new height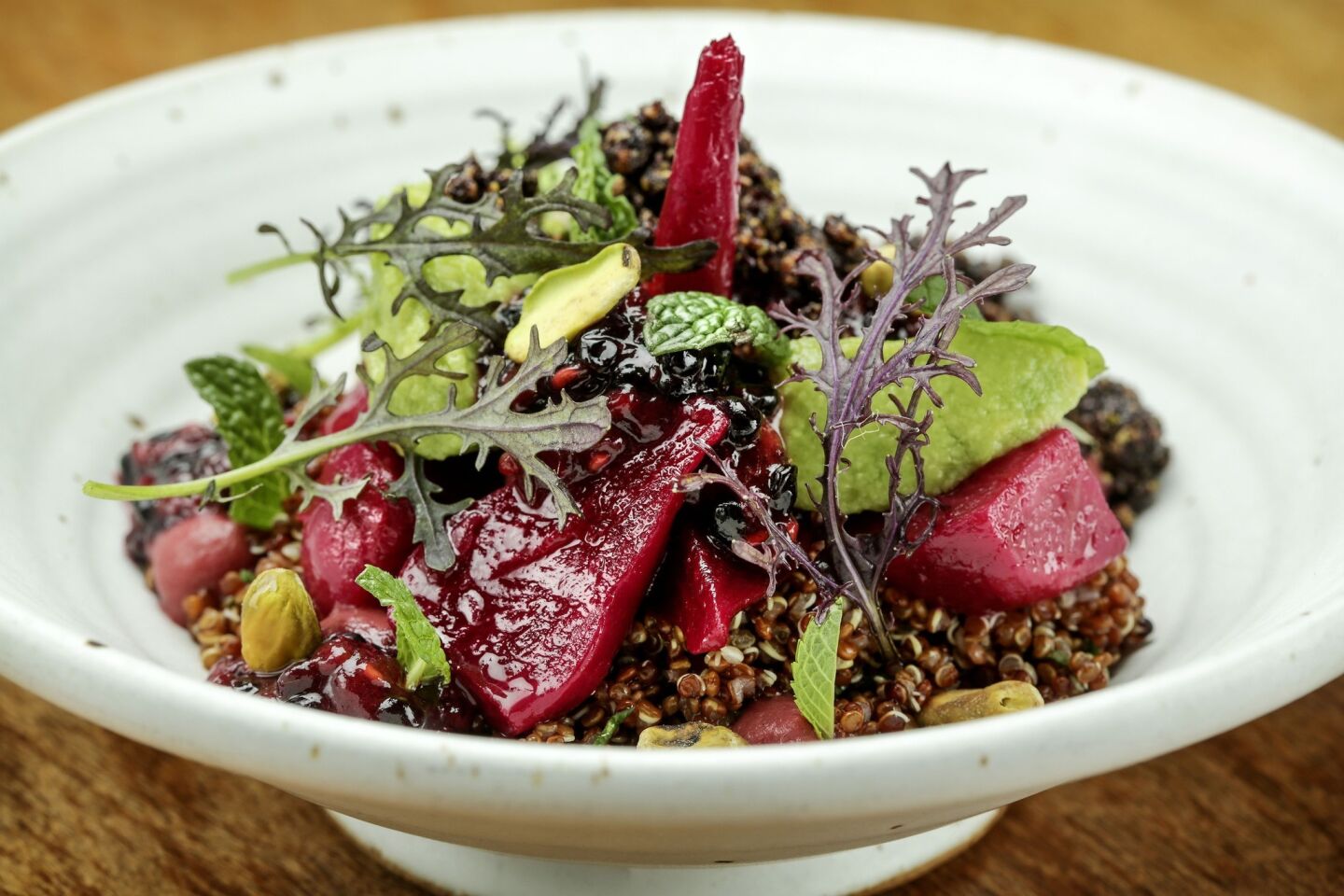 Roasted beets and purple quinoa in a rustic pottery bowl, topped with herbs, crisply roasted pistachios, chunks of buttery Reed avocado and slightly unripe mashed berries. Rustic Canyon's menu reaches higher under chef Jeremy Fox.
(Ricardo DeAratanha / Los Angeles Times)
Seared scallops, served with white yam puree, nasturtium, vadouvan and pine nut-raisin relish.
(Ricardo DeAratanha / Los Angeles Times)
Clam and mussel pozole verde, served with rancho gordo hominy, scallion, radish and tortilla.
(Ricardo DeAratanha / Los Angeles Times)
Baby radishes served with parsnip hummus.
(Ricardo DeAratanha / Los Angeles Times)
Shortbread cookie vanilla crème fraiche tart, with oatmeal cookie crust, candied kumquat and Bill's Bees honey.
(Ricardo DeAratanha / Los Angeles Times)
Rustic Canyon's chef, Jeremy Fox, has turned the wine bar and restaurant on Wilshire Boulevard into the place of the moment.
(Ricardo DeAratanha / Los Angeles Times)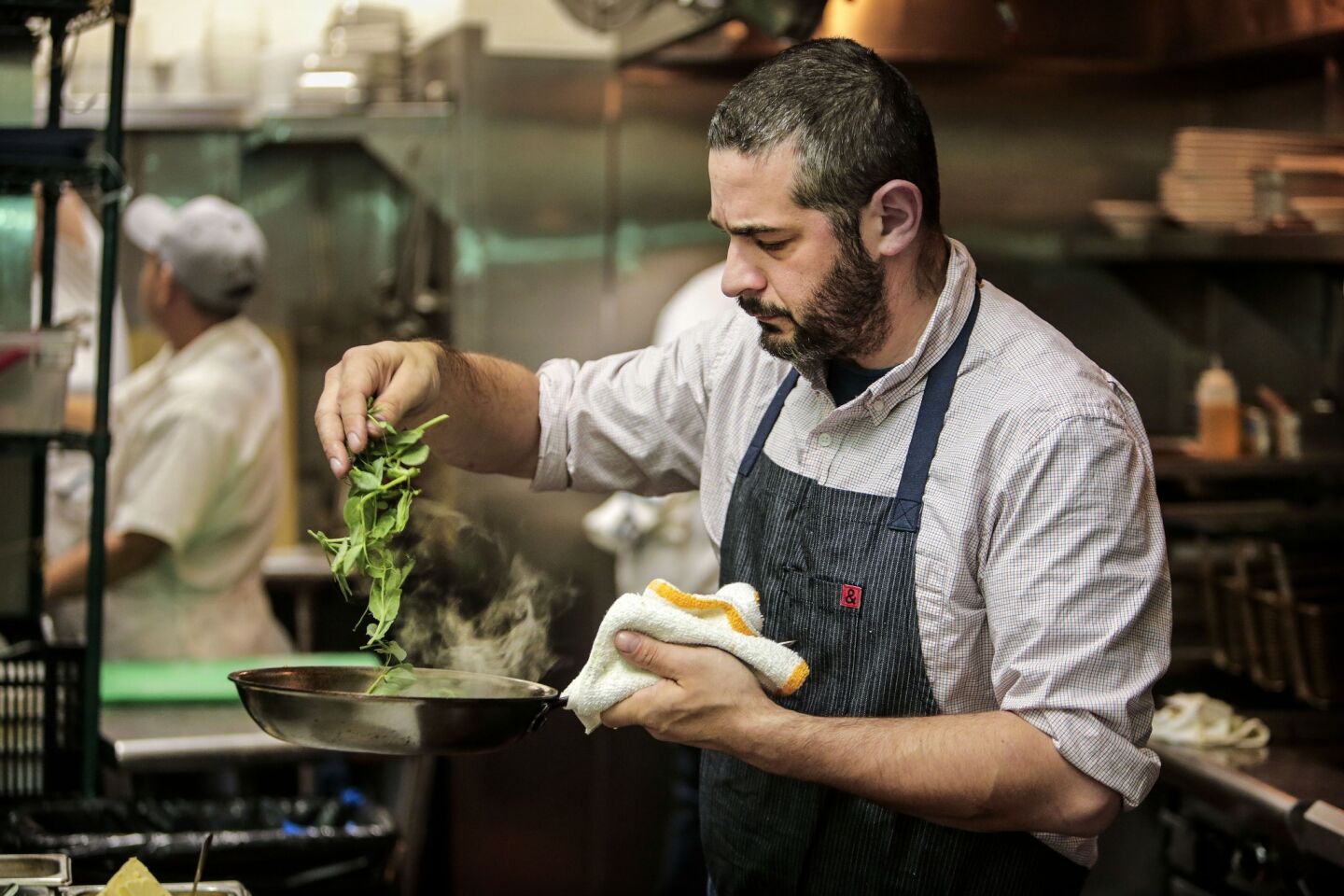 Fox prepares McGrath Family Farm's broccoli di cicco. Before coming to Rustic Canyon, Fox was attached to restaurants including Ubuntu in Napa Valley and Barnyard in Venice.
(Ricardo DeAratanha / Los Angeles Times)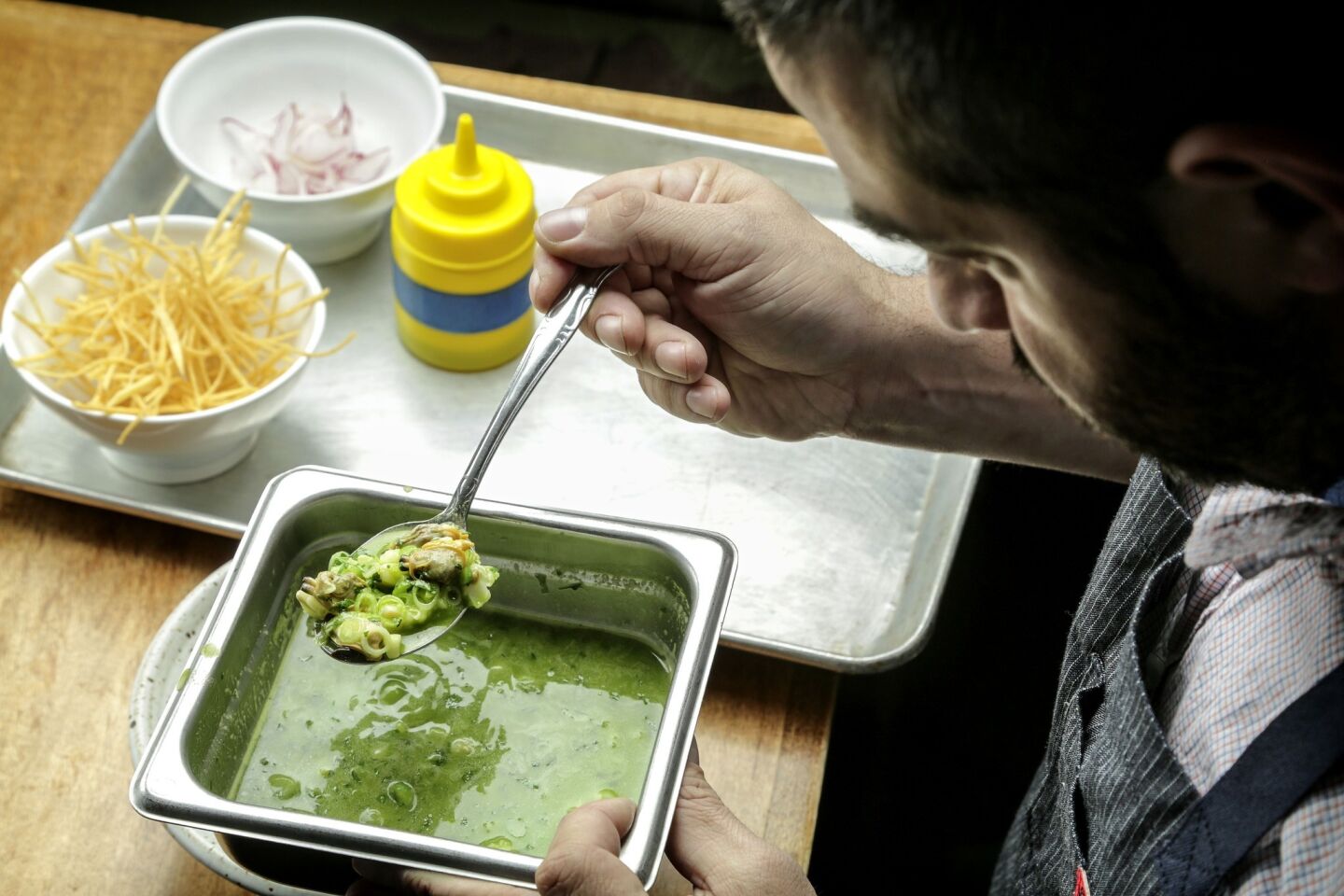 Fox plates his clam and mussel pozole verde dish.
(Ricardo DeAratanha / Los Angeles Times)
Rustic Canyon's improved wine list makes the wine bar even better.
(Ricardo DeAratanha / Los Angeles Times)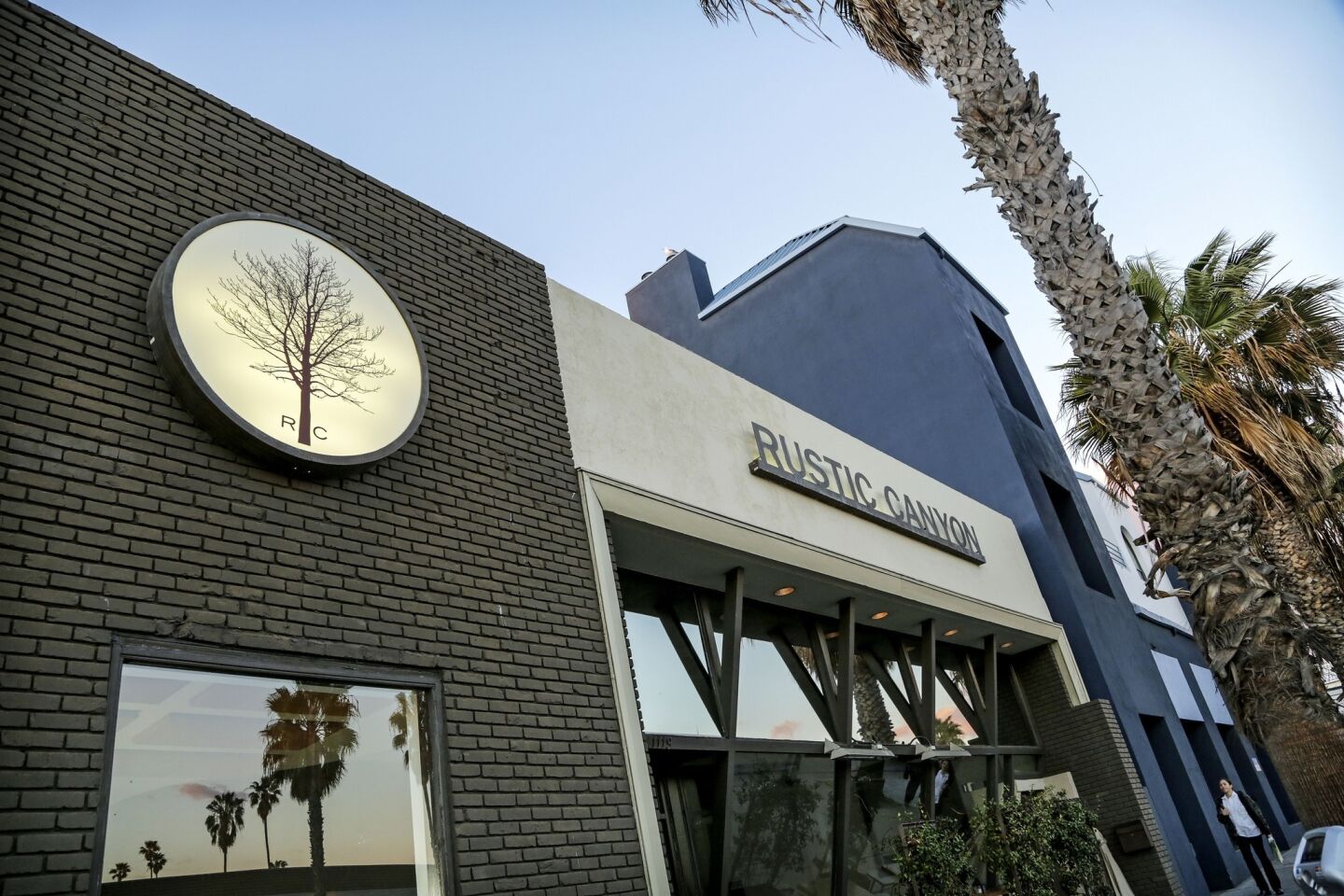 Rustic Canyon's façade along Wilshire Boulevard in Santa Monica, can be seen from sister restaurant Huckleberry across the street.
(Ricardo DeAratanha / Los Angeles Times)
Have you ever tried the beets and berries at Rustic Canyon? Because the dish is kind of mind-blowing when you think about it, a mess of roasted beets and purple quinoa in a rustic pottery bowl. There are herbs scattered over the top, and a few crisply roasted pistachios, and a few chunks of buttery, ripe Reed avocado, along with a seedy smear of slightly unripe mashed berries that seems to be there more for its fragrance and acidity than for any particular flavor.
There may be a hint of dairy, and I seem to remember a version of this dish with creamed horseradish, but it could probably pass as one of those vegan feel-good bowls at a place like Real Food Daily or Café Gratitude — at least until you realize that you have powered your way to the bottom without half realizing it, and that the berries are doing unspeakably wonderful things to the avocado and that this may be the first bowl of quinoa you have eaten with pleasure since the last time you went to Peru. If there is a restaurant dish more specifically reflective of the Westside at the moment, a dish equally acceptable to the paleos, the gluten-free guys and the garden-variety gourmands, I'm not sure what it might be.
Get our weekly Tasting Notes newsletter for reviews, news and more.
You may occasionally receive promotional content from the Los Angeles Times.
If you are even remotely interested in the restaurant world, you probably know the odd trajectory of Jeremy Fox, a former Manresa chef who transformed Ubuntu, attached to a yoga studio in Napa, Calif., into the most important vegetarian restaurant in the United States, with a Michelin star and a worshipful review from the New York Times.
Fox abruptly left Ubuntu, started the highly regarded Plum in Oakland for Daniel Patterson and ended up in Los Angeles, where he helped shape the local gastropub movement during a brief gig at Freddy Smalls — he was an early mover in the roasted Brussels sprout thing. For a while he seemed attached to half the new restaurant spaces in town, notably the Venice dining room that ended up as Barnyard. And then last year he popped up as the chef at the wine bar Rustic Canyon, which had been well regarded enough during its years under chef Evan Funke (its pastry chef Zoe Nathan was possibly the most interesting voice in Los Angeles desserts since the rise of Nancy Silverton and Sherry Yard), but was never really thought of as a force in local cuisine.
Rustic Canyon was even more successful than it had been; prime-time reservations became difficult to snag. I dropped by a couple of times toward the beginning of Fox's tenure and was impressed by his green pozole, which underlined the funk of boiled hominy with a thin, electric jolt of citrus and puréed chile, but the restaurant never seemed quite vital. I had liked Ubuntu quite a lot, meatlessness notwithstanding, but Fox's early menus at Rustic Canyon still had the smack of the yoga mat about them. His seed-to-stalk love of pulses, chewy grains, rowdy Provencal herbs and ultra-seasonal vegetables was a little too close to the Rustic Canyon formula of wine-friendly cooking connected as if by umbilical cord to the Santa Monica farmers market. And on some evenings, it seemed as if half the room was eating the thick Niman Ranch hamburgers, which were good enough but not far beyond the gastropub mean.
A year later, the burger is off the menu, the wine list seems equally strong in California Pinot Noir and oddball biodynamic bottles from the Loire, and the restaurant is a wine bar and somehow the restaurant of the moment; the perfect dining room in which to greet the early spring.
Fox hasn't completely changed his stripes: Snacks include the famous Ubuntu bowl of almonds roasted with sugar, lavender and sea salt; a small dish of Castelvetrano olives seasoned with fennel and orange zest; and a plate of the tiniest Jaime Farms radishes, served complete with their tender, spicy leaves.
But those radishes — they might be served with an earthy "hummus" made from parsnips, but they may also come with a little crock of lardo beaten to the consistency of whipped cream. There are crisp little patties of fried pig's feet with a mild, yuzu-scented aioli; bruschetta of mashed chicken livers with pickled onions; and jars of porky rillettes served with a dab of puréed prunes. You probably shouldn't confuse Rustic Canyon with a health food restaurant.
And while you will find the occasional underachiever on Fox's menu — the roast chicken is pretty much roast chicken, and one evening the griddled Monterey squid had an almost clay-like consistency — you are more likely to find happiness here: pungent Raclette cheese half-melted onto toast, topped with a fried egg and half-submerged in an oniony chicken broth; meltingly gelatinous headcheese with a bread salad; or pleasantly clunky squid-ink spaghetti, seemingly from the playbook of former Rustic Canyon (and current Bucato) chef Evan Funke, smothered in a blizzard of salt cod, cream and grated cheese in defiance of every law of Italian cooking.
Even the kale salad is delicious, thoroughly massaged into submission and tossed with dates and Parmesan. If Fox can make raw kale taste good, imagine what he can do to that green pozole spiked with fresh mussels and clams.
Rustic Canyon
Jeremy Fox has settled in and transformed a wine bar into the perfect restaurant of the moment.
Location: 1119 Wilshire Blvd., Santa Monica, (310) 393-7050, rusticcanyonwinebar.com
Prices: Snacks, $5-$8; small plates, $13-$15; big plates, $28-$33; desserts $10-$12
Details: Open 5:30 to 10:30 p.m. Sundays to Thursdays, 5:30 to 11 p.m. Fridays and Saturdays. Credit cards accepted. Full bar. Valet parking.
Recommended dishes: Marinated olives, beets and berries, clam and mussel green pozole, Weiser peewee potatoes with chicken gravy, chocolate walnut cake.
Get our L.A. Goes Out newsletter, with the week's best events, to help you explore and experience our city.
You may occasionally receive promotional content from the Los Angeles Times.