From the famed multicolored moles of Oaxaca to mole poblano made with an L.A. twist, Los Angeles has a robust mole scene.
Here are 10 Mexican restaurants putting their stamp on Mexico's most revered and complex dish.
Sabores Oaxaqueños
Dominga Velasco Rodriguez makes popular Oaxacan moles from scratch, including a broodingly spicy mole rojo made with chile ancho and chile morita. The mole verde is refreshingly aromatic and briny, and the mole oaxaqueño is an elegant amalgamation of spice, smoke and sweetness. You can try three different moles at one time by ordering a plate of the Oaxacan enchiladas. The expansive menu also includes coastal delicacies like iguana tamales. In the summer, the restaurant offers salsa de chicatanas, a spicy salsa made from Oaxaca's famous flying ants.
3337 ½ W. 8th St., Los Angeles, (213) 427-3508, missaboresoaxaquenos.com
Madre! Oaxacan Restaurant
This sleek restaurant has rightly earned a reputation as one of the city's premier destinations for mezcal aficionados. Accompany your mezcales with the pecado de mole, a generous sampler platter of three moles served over chicken or pork. Try it with the distinctly aromatic mole verde with hoja santa and epazote; the exceptionally creamy and bright estofado; and the mole negro, which balances dramatically sweet, smoky and savory notes admirably.
1261 Cabrillo Ave., Torrance, (310) 974-8005; also at 10426 National Blvd., Los Angeles, (310) 559-4732, madrerestaurants.com
Guelaguetza
This is the restaurant where a generation of Angelenos sampled the breadth of Oaxacan moles for the first time. The essential order is the festival de moles, a sampler furnished with shredded chicken paired with four moles: the smoke-tinged coloradito; the fiery rojo; the bold and briny estofado; and the exquisitely smoky and bitter black mole oaxaqueño. Try the mole-stuffed empanada or the tamal oaxaqueño filled with chicken and mole negro.
3014 W. Olympic Blvd., Los Angeles, (213) 427-0608,ilovemole.com
Bricia Lopez of Guelaguetza talks about writing her book "Oaxaca: Home Cooking From the Heart of Mexico."
Mole de los Reyes
Tucked into an unassuming industrial lane in Bell, this tiny Mexican restaurant regularly inspires long lines on the weekends. The kitchen produces some of the city's most unusual mole varieties, including a deeply flavored mole de café, a jammy strawberry mole and a surprisingly good tequila-flavored mole redolent with sharp, bracing notes that are distinctly agave. If you love the earthy corn smut fungus called huitlacoche, order the soft, velvety mole de los reyes.
6242 Maywood Ave., Bell, (323) 588-5536
Los Angeles has a robust Mexican mole-making scene. Critic Patricia Escárcega considers the breadth of the city's mole culture.
Las Molenderas
The twentysomething-ingredient mole poblano at this Huntington Park restaurant is a russet-hued beauty. It is so utterly silky smooth that you can nearly make out your reflection on its satiny surface. The mole bastes a succulent chicken leg and thigh, but it's the mole poblano you'll think about on the ride home.
2635 Gage Ave., Huntington Park, (323) 583-1933, las-molenderas-restaurant.business.site
This fig mole recipe from chef Christy Lujan of Cacao Mexicatessen in Eagle Rock is easy to execute if you understand mole's components and follow her tips.
CaCao Mexicatessen
There are two excellent moles on offer at Eagle Rock's popular Mexican cafe on Colorado Boulevard: a tangy, refreshing verde made with tomatillo and nuts, and the dark, slightly sweet Mission fig mole made with dried and fresh figs. Order the mole sampler to try both. Don't forget the mole fries — the thick-cut, crispy potatoes slathered in sweet-smoky mole sauce are a fitting vehicle for chef Christy Lujan's elegant sauce.
1576 Colorado Blvd., Los Angeles, (323) 478-2791,cacaodeli.com
Making mole from scratch is traditionally a large-batch, multiday project — something most of us don't have time to regularly tackle. That's where premade pastes come into play.
Gish Bac
Goat and lamb barbacoa draw crowds on the weekends at this Oaxacan stalwart. The mole cognoscenti come for Gish Bac's singular mole negro, a dazzling amalgamation of toasted nuts, warming spices and Oaxacan chiles. The flavors seesaw eloquently between mellow sweetness and mildly bitter notes. The total effect is more haunting than the tear-in-the-throat notes of an old Mexican torch ballad.
4163 W. Washington Blvd., Los Angeles, (323) 737-5050,gishbac.com
La Casita Mexicana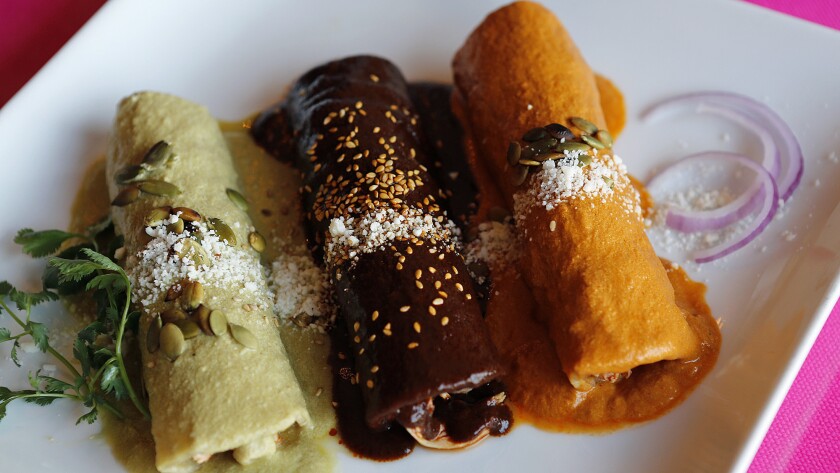 There are only three moles on the menu at Jaime Martin del Campo and Ramiro Arvizu's restaurant in Bell, but they are consistently superlative. The red pipián is sumptuously creamy, while the verde is vivid with the minty notes of fresh epazote. If you have room for only one, opt for the dark, sesame seed-speckled mole poblano; with 40-some , a 40- fortysomething-ingredients, it unspools elegantly with hints of sweeteners and piquant heat.
4030 E. Gage Ave., Bell, (323) 773-1898,casitamex.com
Moles La Tia
For mole devotees, the tricolor plate is a must. The trio of cheese-stuffed corn enchiladas (chicken is an option) are generously striped with three moles: the pale green, herb-laced pipián verde, a mild, creamy pipián rojo and the velo de novia (bride's veil), a white mole made with a sweet-nutty blend of white chocolate, white wine, almonds and pine nuts. Another must: the mole chilaquiles, a mountain of thick tortilla chips doused in the kitchen's indelibly smooth pipián rojo. (Please note that Moles La Tia is temporarily closed. It is scheduled to reopen in late January.)
4619 E. Cesar E. Chavez Ave., Los Angeles, (323) 263-7842
La Diosa de los Moles
Rocío Camacho cooks all the elaborately spiced mother sauces you expect from one of the city's top mole makers: a complex, ink-black mole oaxaqueño, a spicy, fruity manchamanteles (tablecloth-staining) mole suffused with dried fruits and various chiles, and two creamy pipián moles. The tres enchiladas plate is the ideal medium for exploring the menu. I recommend trying the buttery, pastel-green pistachio mole; the mole oaxaqueño, a velvet-black sauce underscored by notes of smoke and fruit; and the chocolatey, dark red mole poblano.
8335 Rosecrans Ave., Paramount, (562) 740-8710, paramountmexicanfood.com
Critic Patricia Escárcega reviews chef Rocío Camacho's mole-centric Mexican restaurant in Paramount, la Diosa de los Moles.
---