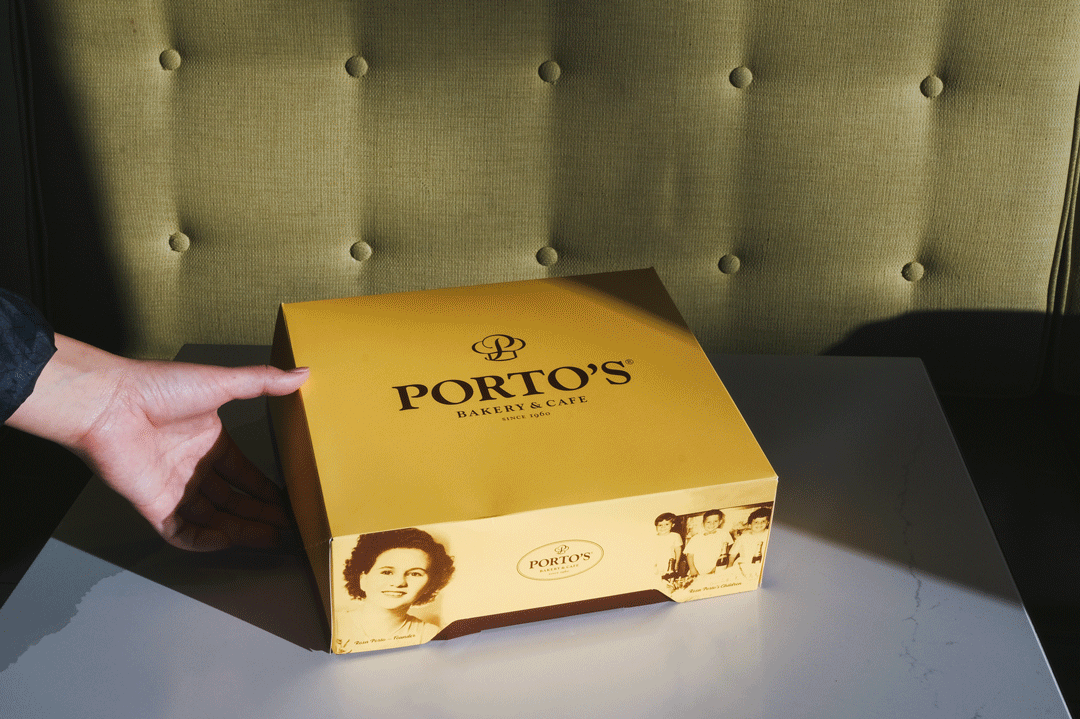 If you've lived here for any amount of time, you know there's a very particular giveaway that you're taking a flight departing a Los Angeles-area airport: passengers toting the recognizable yellow boxes and bags from Porto's Bakery & Cafe through airport terminals and onto planes. The scent of the cakes, breads, pastries and papas rellenas, or potato balls, cuts through the antiseptic, recycled air of the airplane cabin and can make the drudgery of travel slightly more bearable. And the items, brought to relatives or loved ones in other places, are more than just food — they're a memento and a calling card. They say, "We remember you and we miss you. Here's a taste of home."
If that sounds a little dramatic, it speaks to the power of Porto's, with six perpetually busy locations in the L.A. area and a seventh on the way. The Cuban bakery, started in a small space in a Silver Lake strip mall in 1976 as a continuation of founder Rosa Porto's underground cakes business in Cuba following the Cuban Revolution, may have begun as a way to connect immigrants with the flavors of their homeland. But over the decades, it's morphed into something more. Porto's has become its own language, to the extent that its baked and hot foods no longer just represent Cuba — they've come to represent Los Angeles.
Order the San Gabriel Valley newcomer's lu rou fan, glazed pork belly served with rice and a collage of condiments — just one of Luyixian's braised specialties.
I was fortunate to conduct one of Rosa Porto's final interviews before she died in 2019 at age 89. She told me about her hometown of Manzanillo; her love of ajiaco, a rustic soup popular in Cuba; and inspiration gleaned from years living with an aunt who loved baking and her grandmother's recipes. Following her death, I wrote an effusive appreciation of Rosa Porto and the business she created. But I was curious recently about how Porto's has sustained its menu, now slightly pared down three years into COVID, without its matriarch.
I tried roughly 50 items on Porto's menu at three different locations — not everything, but a substantial chunk of the menu, and certainly enough to offer a contemporaneous and critical lens on the current state of quality and consistency at one of Southern California's most loved bakery chains.
The sandwiches seem as good a place as any to start: You will never go wrong with a cubano or medianoche. Did you know that all humans are 99.9% genetically identical to each other despite varying outward appearances? Think of cubano and medianoche sandwiches in the same vein: They look different but have the same DNA. Lately, I've been leaning Team Medianoche: slices of soft, egg-washed, sweet bread pressed firmly around pork, slices of roasted ham, nutty melted Swiss cheese, mustard and pickle chips. This is an S-tier sandwich, on its way to Cooperstown on the first ballot.
Critic Bill Addison gives us 10 Palm Springs restaurants where he's happy to stand in line or jostle for a last-minute reservation.
Other sandwiches, including a marginally spicy chicken milanesa, with a flat, crunchy fried cutlet and melted mozzarella, are also good, if not quite at the same level. A torta with chopped bits of well-done steak tastes like a good carne asada taco that wandered onto a French roll. But a chicken torta, overwhelmed by guacamole that spills out of the sides on first bite (I'm not sure I've ever complained before about getting too much guacamole on anything) doesn't really move the needle.
Roasted pork and ropa vieja come in both sandwich and entrée form. I would recommend the latter, as you get a side of rice and black beans as well as a few tender, gently caramelized maduros, or fried plantains. The black beans are one of the best things at Porto's. They're developed, mature, tasting of onion, bell pepper and a hint of tomato. Is there a little citrus in there too? You'll be forgiven for thinking this dish is a Jules Verne novel — there are depths to these beans.
The ropa vieja ("old clothes" in Spanish) does have the texture of a comforting, thread-worn sweater or pair of pants. Maybe that's not the most appetizing analogy for a food item, but don't let it dissuade you — the shredded beef in a rich tomato-y stew is punctuated with the occasional tannic, briny-sweet hit of green olive, creating a balance of sweetness, acid and umami.
Salads are a mixed bag at Porto's — the cilantro Caesar is greatly assisted by the addition of pepitas, roasted pumpkin seeds (the small green ones, not the big, flat white ones you might associate with jack-o'-lanterns) that provide crunch and great texture. The rustic chopped salad, between the inclusion of candied bacon and a slightly saccharine mustard vinaigrette, ends up being overwhelmed by sweetness.
You'll spend at least a portion of your time at the bakery case on a Porto's visit, and for good reason: Most of the stuff is very good. The picadillo-spiced potato balls need no introduction. But have you tried the chicken croquettes? They're nuggets of garlicky, creamy shredded chicken and might be my new favorite deep-fried savory treat.
If for some reason you've never been to Porto's, here's a rough breakdown of how it works — I'll use the flagship store in Glendale as an example: You walk in and see two lines, a cafe line and a bakery line. Contrary to what you might think, you can order any item from any line, so just pick the shorter line. You approach the counter, where there's a squadron of people to help you, most of whom look barely old enough to rent a car but are amazingly helpful. Place your order. You'll get your bakery items right there. If you're ordering prepared food to eat in, they'll bring your food and drinks to you. For to-go, you'll need to pick up your food from one window and drinks from a separate drinks area. If it sounds a little confusing, I promise you'll get the hang of it quickly.
With some of the viennoiserie and other baked goods, I find myself in the position of having to walk back some of the praise I ladled on in my 2019 appreciation. A standard butter croissant was a bit flatter than I remembered. That, a ham and cheese croissant and a chocolate twist pastry were more flaccid than flaky.
But the refugiados (guava and cheese pastries) and cheese rolls, with their tangy, creamy fillings, remain excellent, as does a spinach feta empanada. Other empanadas and meat pies are decent but unremarkable, and the tamales are topped by those at some Latin American bakeries around town. (Have you checked out our tamale list?) Cranberry orange scones are average, but the churro croissant, a newer menu item, is an inspired idea and deserves to be considered on the same level of brilliance of pastry Frankensteins as the Cronut.
My biggest surprise during recent Porto's trips has been in the breakfast department. I never leaned on Porto's much as an early-morning option, but I can now pronounce it to be one of my favorites in the city, especially given the increasing dearth of daytime eateries since the pandemic struck.
An egg, cheese and chorizo sandwich on a crusty white Cuban roll, with a fluffy-egged omelet dotted with spiced meat, is exactly what you want in a breakfast sandwich. Porto's version of a breakfast burrito is pleasantly hearty, a tortilla-cloaked omelet stuffed with chunks of seasoned, shredded pork, black beans and guacamole. A punchy, persuasive salsa verde goes perfectly with the wrap and allows it to thread the needle and avoid the trap of being too heavy. Torrejas, or Cuban French toast, are over-the-top rich, fat slabs of eggy, fried toast. The guava syrup accompaniment offers a lighter touch than your standard maple syrup, but every bite feels luxuriant, like the chip crumbs from the bottom of the bag.
Porto's desserts are as famous, if not more, than anything else on its menu. You generally fare better with the cream-focused cakes and desserts, like the flaky Napoleon or tres leches cake, which feels like plunging into a kiddie pool of sweet milk and sopping wet sponge. Tangy mango and guava mousses, electric jolts of mouth-puckering tang and sweetness, also are worthy of a splurge. Carrot and Parisian chocolate cakes and a mixed berry muffin offer somewhat less to write home about.
The rest is just details — but isn't that where the devil resides? Fresh juices never taste old or like they've been sitting around. A mamey shake is as good as any I've had, tasting like a cold and creamy, honey-sweetened yam. A blended dulce de leche coffee shake is better than any Frappuccino you'll ever drink. (I should know; I literally tried all of them.) Lastly, but perhaps most important: There's almost always a wait at Porto's, but I've never had bad service. And I've found that employees are helpful and more than willing to put something right if there's been a mistake.
It's the reason Porto's has continued to thrive, well into its fifth decade of existence — an extraordinary feat for any restaurant. And it ensures that you'll keep seeing people trotting those boxes and bags through airports across the nation. Lock eyes, acknowledge them and share a knowing glance.
Porto's Bakery & Cafe
Six locations, with the flagship at 315 N. Brand Blvd., Glendale, (818) 956-5996

Prices: Most bakery items $1-$5, sandwiches and entrees $7-$11, whole cakes $10-$30

Details: 6:30 a.m. to 8 p.m. daily

Recommended dishes: Potato ball, guava and cheese strudel, medianoche sandwich, ropa vieja, breakfast items, mamey shake, tres leches cake.
Get our L.A. Goes Out newsletter, with the week's best events, to help you explore and experience our city.
You may occasionally receive promotional content from the Los Angeles Times.