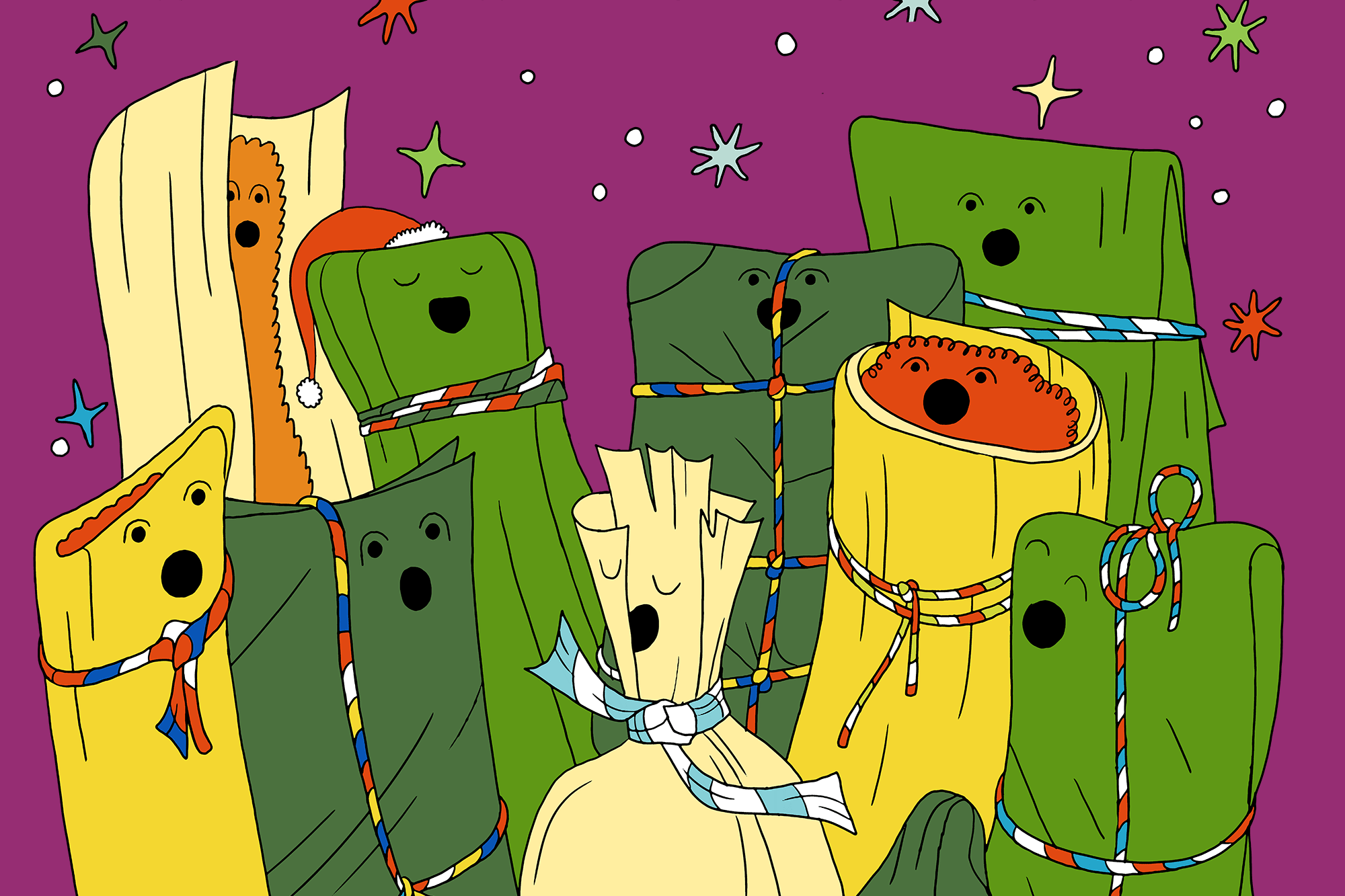 Tamales are not only from Mexico. Here are the world's best in Los Angeles
Tamales are gifts you can open again and again. Wait — those are books. Tamales are gifts you can open once, because once they're unwrapped they're going directly into our stomachs.
Our 2021 tamales list was such a success, we're bringing it back. This year, we're highlighting our love for all the tamales, the beloved Mesoamerican creation found throughout Latin America — not just from Mexico but also from Guatemala, El Salvador, Colombia and Cuba, just to name a few places. And we're even extending the strict definition of tamal to include Chinese sticky rice packets wrapped in lotus or bamboo leaves, instead of the corn husks or banana leaves one might usually expect.
Tamales are delicious year-round but are particularly popular during the holiday and New Year's seasons, often accompanied by a steaming mug of atole, champurrado or other hot beverage. So whether you're enjoying a tamal cubano, Guatemalan chuchito or Chinese zongzi, tuck in and get ready to eat: We're heading into the most wonderful time of the year.
Cena Vegan
Lincoln Heights
Mexican Cuisine
Each year, just before Thanksgiving, one of L.A.'s top vegan Mexican food operations begins selling tamales à la carte and by the dozen — and each year, it sells thousands of them. Cena Vegan, with a takeout location in Lincoln Heights, a weekly pop-up at Smorgasburg on Sundays and appearances at Whittier Brewing Co., offers two varieties of tamales through the end of December, both pulled from recipes by co-founder Carmen Santillan's mother and grandmother. For Santillan's mom, it was always required that the masa's corn be freshly ground, and for Santillan it's become a necessity at Cena Vegan too. "These recipes are so important to us: That was my inheritance, those recipes, that methodology, that kind of respect and love for food," she said. The bright chile verde "chicken" version stews tofu strands with a chile verde made from poblano, jalapeño and Anaheim peppers. Santillan's mother's favorite was always the rojo, which she filled with beef, but at Cena, they use a soy-protein take on chile colorado to replicate the meat, simmering it in a deeply flavorful chile sauce, then add carrots, potatoes, and small green olives in a Northern Mexico, Mexicali style.
Chichén Itzá
Historic South-Central
Mexican
The Cetina family's counter in Mercado La Paloma has been a longtime beacon for some of the most focused and accomplished Yucatecan cooking in Los Angeles. Its three tamale variations are a window into the kitchen's regional specificity. Vaporcitos are perhaps the most famous Yucatecan style — thin, smooth rectangles, steamed in banana leaves, filled with chicken, pork or vegetables. Any of them pair well with the silky tomato salsa you pour over top. Tamal horneado, a baked variation, emerges from the oven with a brittle shell; crack it with a fork to reveal a still-soft interior with achiote-stained chicken, hard-boiled eggs and epazote-scented tomato. Tamal colado, the most unusual of the trio (and my favorite), achieves its texture using exceptionally fine masa. The effect is akin to a savory pudding threaded with chicken. Call ahead to order any of these tamales in bulk for the holidays.

Comal
East San Gabriel
Mexican Cuisine
For most of his life Andy Zambrano wasn't allowed to make tamales — that was seen as a woman's role in his family. He was relegated to other duties around the holidays until the Kitchen Mouse and Yang's Kitchen alum began to make a name for himself as a chef. Now running popular vegan pop-up Comal, Zambrano's been given access to the family tamale production line and has developed his own take: a hybrid of familial-inspired Mexican fillings, with a Guatemalan masa technique influenced by his uncle's heritage. "A tamal is just a tamal," he says. "It shouldn't have any boundaries." Instead of chicken or pork, Zambrano's rojo versions are filled with smoked young jackfruit in guajillo sauce, while the verde riffs on a classic rajas flavor profile with poblanos, onion and potatoes covered in a green salsa made of roasted tomatillos, onions, garlic and his house-made "Mexican za'atar" spice blend. For the velvety outer layer, he opts for finer-ground tortilla masa and wraps it in banana leaves, in the Guatemalan style; the preparation often calls for broth to loosen the grain, and while Zambrano has experimented using his own vegetable broth, this year he's wetting his masa with water, olive oil, plant-based butter and a few drops of potent oregano oil to flavor the casing. Each variety is fully vegan and can be ordered by the half-dozen for $25; orders will open on Dec. 20 for pickup in Monterey Park, with the address revealed after payment.
El Nuevo Mundo Market
The market and bakery has been serving Cuban and Puerto Rican food in Bell since 1978. It's set up like a small cafeteria at the front of the store, with overflowing trays of lechon asado with tiles of shiny skin, ropa vieja and rabo encendido. And it's one of the few places around town making a tamal cubano. The tamal is wrapped in a corn husk, with a loose filling, like a semi-congealed corn puree, with chunks of fresh corn and small bits of seasoned shredded pork. If you, like Tariq the "corn kid," love the flavor of fresh, sweet corn, this is the tamale for you.
Guatemalteca Bakery and Restaurant
If you haven't tried the Central American chuchito, you're in for a treat. Chuchitos are a Guatemalan specialty, with cakey masa wrapped in corn husks, typically flavored with tomato and containing some type of meat. The chuchito variation you'll find at Guatemalteca Bakery and Restaurant, a market and Guatemaltessen on Beverly Boulevard, features chicken and balances the moist, near-crumbly masa with a nicely saucy chicken. It's almost like eating a hearty stew. Shop for some groceries, then grab a plate.
IFT Bakery
San Gabriel Valley
Chinese
$
IFT Bakery prepares a variety of zongzi including vegetarian versions with peanut and mushroom. Known as Chinese tamales, these sticky rice dumplings are typically wrapped in bamboo leaves. The egg yolk, chestnut, mushroom and pork version is always a favorite. You can find the zongzi in the freezer in the back, in large bags full of neatly wrapped parcels. The one I reach for during the holidays is the Shanghai-style, by far the sweetest and most luxurious of the bunch. The rice is a deep brown color, sweet and sticky like melted marshmallows. It's filled with hunks of pork that have the distinct, concentrated flavor of lap yuk, or Chinese cured pork belly. You dig around for the pork, shred the pieces and mash them into the rice for the perfect bite.
La Esperanza Bakery & Restaurant
Harbor Gateway
Guatemalan
Salvadoran
Alongside pan dulce and elaborate layer cakes, Guatemalan and Salvadoran bakery La Esperanza sells tamales Guatemaltecos fresh and hot from their steamers. La Esperanza makes both Guatemalan and Mexican tamales; its Guatemalan tamal is distinguished by its size (large and pillowy), rice flour dough and banana-leaf wrapper, filled with a mild stew of chicken or pork. At its Torrance next-door restaurant, weekends are for big breakfasts of tostadas, yuca fries with curtido and more tamales, downed with mugs of café de olla. It's where you'll find the chuchito, a small Guatemalan corn tamal served unwrapped from its corn husk, covered in a light tomato sauce, sprinkled with cotija cheese and topped with a single slice of red onion, which is clutch. Tiny tamales de chipilín are golf balls of corn dough mixed with the earthy Central American herb and bundled and steamed in corn husks (three to an order). Bonus: The bakery is open Christmas Eve and Christmas Day but call to confirm hours and order Guatemalan or Mexican tamales in advance.
La Fonda Antioqueña
I doubt you'll find a larger tamal on this guide than the one served at La Fonda Antioqueña; it's a variation on the enormous tamales vallunos (a common nickname short for vallecaucano), typical of the style prepared in Valle del Cauca in southwestern Colombia. Picture a block of achiote-stained masa the size of an extra-large breakfast burrito, stuffed with chicken, beef, pork rib meat, carrots and peas and wrapped in swaths of banana leaves. As if this bruiser isn't filling enough on its own, the tamal is served with rice, avocado and an arepa on the side. A solo diner could arguably make two meals out of it. Plan for a substantial daytime meal: The restaurant's hours are 10 a.m. to 7 p.m.
La Original Panaderia El Salvador
The tamales you'll find in El Salvador are primarily those of the wrapped-in-banana-leaf variety. The tamales pisques are probably the best-known Salvadoran contribution, wherein the masa is mixed with refried beans, giving a dense and earthy heartiness to the dish. The ones at La Original Panaderia El Salvador are moist, almost slippery and quite substantial, about the size and volume of a soda can. There are other varieties there too: Try the chipilín con queso.
Long's Family Pastry
My grandma Tina always has a variety of zongzi on offer for the holidays. I used to love unwrapping the tamales to reveal the sticky rice inside, studded with peanuts, pork or my favorite, lap cheong. Each one was like a special present, wrapped and steamed by my grandma, just for me.

The Chinese tamale at Long's Family Pastry is like the Avengers of zongzi, combining all the fillings I grew up eating at my grandmother's house in one. Your first bite may offer a chunk of tender pork belly. In another you'll find baby shrimp and slivers of lap cheong. There are soft-boiled peanuts throughout and salted egg yolk for an extra bit of umami. The restaurant also serves zongzi filled with sweet ground chicken, sticky rice and a nose-tingling hit of white pepper.
Me Gusta Gourmet Tamales
A San Fernando Valley institution and consistent prize winner at regional tamale festivals, Me Gusta sets up weekly stalls at farmers markets across Central and Southern California. The flagship stand in Pacoima doubles as the retail outlet for the 10,000-square-foot tamale factory behind it. These husk-wrapped bundles, each creamy-dense and generously filled, are good-for-the-soul sustenance any time of the year. During the busy holiday season, ordering tends to involve a quick conversation about which flavors are available hot to be enjoyed right away, and which are being sold cold to steam later. Depend on chicken in tomatillo salsa, pork in red or green sauce or rajas con queso for a car picnic, packaged with three salsas of varying heat. Specials might include chicharrones bathed in red chile and strawberry in addition to the usual sweet pineapple variation. If you're planning ahead, Me Gusta's website recently introduced online ordering for shipping.

Mi Ranchito Veracruz
Beneath the wall-size menu listing dishes like cochinita pibil, chile relleno and costillas en salsa verde, note the smaller handwritten sign below it spelling "tamales" in all caps. Per the restaurant's name, owners Pedro Barrientos, Roberto Gamboa and Marcos Ramirez have made Veracruz-style tamales wrapped in banana leaves a mainstay since opening the restaurant in 2016. Fillings can vary but four have been foundational recently: chicken with a bright tomatillo sauce; chicken in complexly sweet mole negro; pork in dusky red chile sauce; and a jalapeño-and-cheese version kindled by a splash of spicy red salsa. Unpackage the tamales, formed in precise rectangles, from their slick wrappers and the steam rises in an herbaceous gust. The texture of the masa is almost custardy. Show up in person, or call the restaurant, to order them; there is an online menu but the tamales are never listed there.
Tamales Elena
The closing of Tamales Elena y Antojitos in Bell Gardens this summer was a true loss for Los Angeles; it was the only restaurant in the city illuminating the specific Afro-Mexican cooking of Costa Chica, a hilly stretch along the southern coast of the state of Guerrero. The good news: The tamale business that Maria Elena Lorenzo and her family have operated for decades, first as a cart and then as a food truck, continues to thrive in Watts. For the holidays, Tamales Elena will make for pre-order both tamales in corn hunks and — the true specialty — Guerrero-style tamales made of thin layers of masa steamed in banana leaves. Fillings like pork in red salsa or chicken in green salsa create an overall texture that teeters between soft and crumbly. If by chance the menu includes the family's spectacular pozole verde as a special, take some home with you.

Venezuelan Chamo Cuisine
The arepas at Chamo are so fat that they are spheres — split corn cakes filled entirely with fluffy mounds of shredded cheese or black beans and fried plantains or chicken salad with avocado. They're the common currency of Venezuelan cuisine in Los Angeles, and Chamo doesn't skimp. But the hallacas, folded in plantain leaves and crisscrossed with kitchen string, are no less substantial or delicious. Traditionally served at Christmastime, they're about the size of a thick checkbook (remember checks?) and made with a thin layer of delicate corn dough that barely encases a stew of tender chunks of beef and chicken, and sometimes pork, with raisins, green olives, sliced onions, red peppers and juicy capers — a combo of Mediterranean, Arab and Indigenous ingredients that dates to 16th century colonization. The smooth-textured dough becomes almost glossy when cooked, made with broth and colored with achiote so that the hallacas are distinctively yellow. At Chamo, they're served with two creamy sauces — one mixed with chiles and the other with herbs. Order hallacas early in the day, because they often sell out before dinner; don't learn this the hard way.
Get our weekly Tasting Notes newsletter for reviews, news and more.
You may occasionally receive promotional content from the Los Angeles Times.