Balm from the East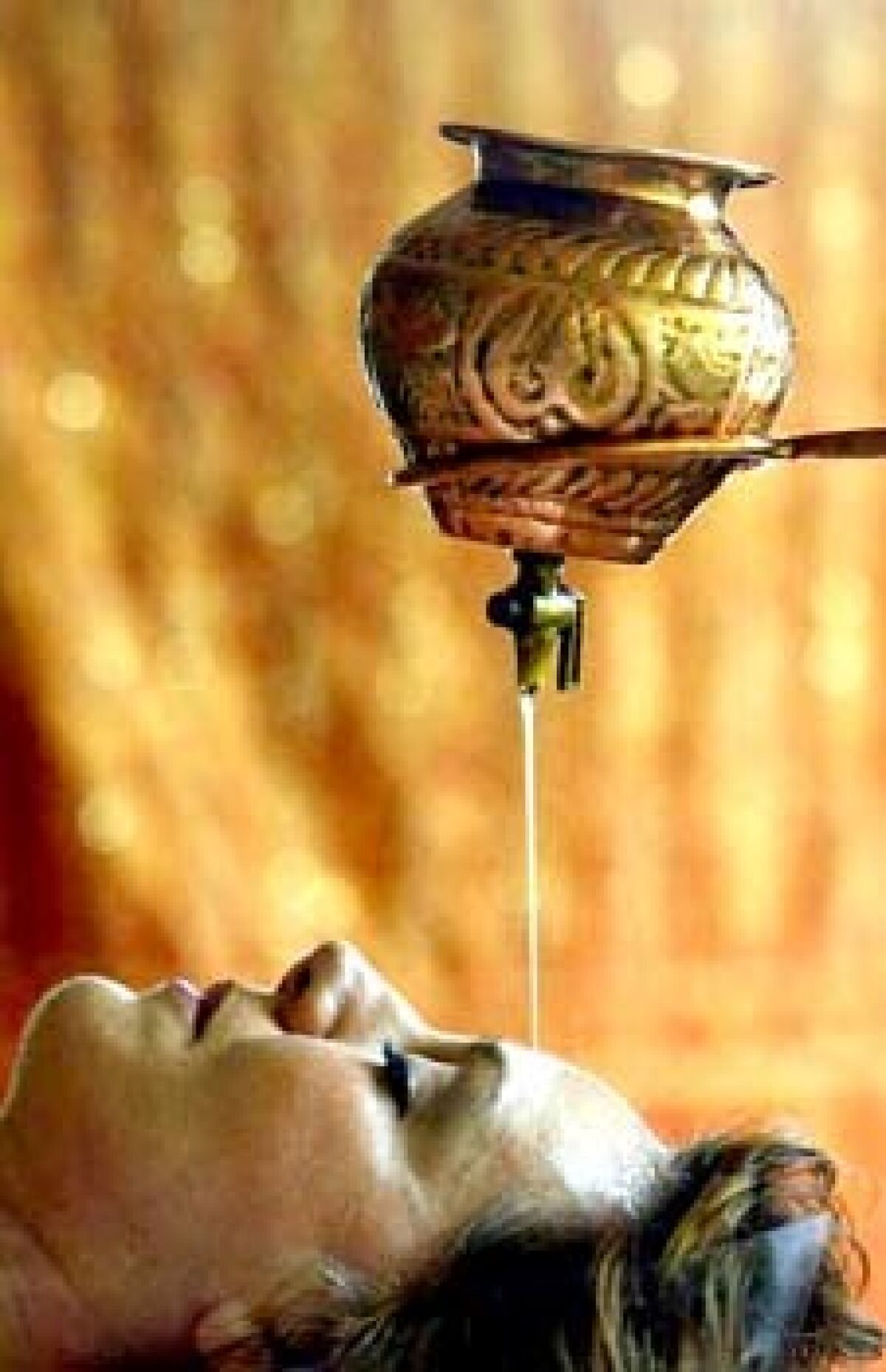 Special to The Times
Jon Mejia experienced heart palpitations after a particularly stressful period running his Santa Monica consulting firm. His doctor diagnosed an abnormal heart rhythm and sent him to a specialist at a prestigious Los Angeles medical center.
An echocardiogram detected no cause for the extra heartbeats. Although his doctor told him that beta blocker drugs could control the symptoms, Mejia, 49, didn't want to take them because of concerns about side effects.
---
FOR THE RECORD
Ayurveda — An article in Monday's Health section incorrectly defined a BAMS as a bachelor's in alternative medicine. It is a bachelor's degree in ayurvedic medicine and surgery.
---
So Mejia turned instead to Martha Soffer and John Holmstrom, practitioners of the ancient Indian medical system ayurveda. After some dietary changes and three days of massage and purification treatments called panchakarma at Surya Spa, an ayurvedic center in Pacific Palisades, "the heart palpitations are almost gone," he says.

"I can't pretend to tell you I know how it works, but if I were to compare where I was when I walked in to where I am now, it's at least 80% relief," Mejia says. "I'm more myself."

Mejia is one of a growing number of Americans taking an interest in ayurveda, a 5,000-year-old holistic system of health that in Sanskrit means "knowledge of life." It uses combinations of herbs, purgatives, rubbing oils and other elements to treat diseases.

Maharishi Mahesh Yogi, a proponent of transcendental meditation, brought ayurveda to the United States three decades ago, and Dr. Deepak Chopra exposed it to the masses in his bestseller "Perfect Health" (Harmony Books, 1991). Now, the California Assn. of Ayurvedic Medicine, a professional group based in Foster City, Calif., is sponsoring its first Ayurveda Awareness Day on Feb. 13.

Chinese medicine, which is more established in the U.S., was influenced by ayurveda, and similarities include the extensive use of natural herbs. Research into ayurveda is in its infancy in this country, but as interest grows, so does funding. The National Institute of Health's National Center for Complementary and Alternative Medicine allocated $3.5 million in grants last year to study its safety and efficacy.

"It's 100 times more popular than it was 10 years ago," says Scott Gerson, a New York physician with a medical degree from the U.S. and a doctorate in ayurveda from India.

*

Yoga's sister science

Ayurveda treatments are becoming popular in spas, medical clinics and wellness centers. And like Mejia, many people are finding their way to ayurvedic medicine through the practice of yoga. Ayurveda is considered yoga's sister science, and workshops are frequently taught in yoga studios throughout Southern California.

"Yoga is the doorway," says Mas Vidal, owner of Dancing Shiva, a Los Angeles Veda yoga studio that added an ayurveda healing center last year. "Ayurveda is what all the great yogis practiced. Ayurveda was taught as a way of life."

Ayurveda holds that health and well-being of the body, mind and spirit is our natural state, experienced through proper diet, herbs, meditation, yoga, breathing exercises called pranayama and other daily routines. Ayurveda is used to prevent disease and boost the immune system so the body can heal itself from illness.

Ayurveda teaches that each person is made up of a combination of five elements: space, air, fire, water and earth, says Dr. Vasant Lad, a prominent Indian-trained physician who is chairman of the Ayurvedic Institute in Albuquerque. These elements combine to create three predominant doshas, or governing principles of the body: vata, pitta and kapha. Each person's constitution is one of these doshas, or a combination of them.

According to ayurvedic practice, vata people tend to be thin; they have cold hands and feet, dry skin and they are more likely to suffer from anxiety, insomnia, arthritis and constipation. Pitta types are "hot," with medium builds and oily skin; they have strong appetites, controlling natures, sharp intellects and quick reactions. They get inflammatory diseases, rashes and ulcers. Kapha types are frequently overweight. They move slowly, love salty and sweet foods, have thick hair and big eyes and are prone to colds, congestion and diabetes, Lad says.

Each of these groups has different dietary and lifestyle needs, which also vary by season. Disease in ayurveda is an imbalance in one's natural doshas, caused by improper diet and digestion, negative emotions and stress, which lead to a buildup of toxins in the body called ama.

Ayurvedic practitioners believe that this needs to be corrected through lifestyle changes, as well as panchakarma treatments, including a special diet, laxatives, herbal oil massages, sweat treatments, herbal enemas, nasal therapies and shirodhara, the pouring of oil onto the forehead for roughly 30 minutes. These treatments are typically performed in certain seasons and continue for three to 10 days.

In India, practices such as vomiting and bloodletting also are used for specific illnesses, but these are rarely done in the U.S. Some practitioners also incorporate sound, color and aromatherapy.

"All tools are at the disposal of ayurveda, but we recognize the tool is not the cure," says Marc Halpern, founder of the California College of Ayurveda in Grass Valley, Calif. "Western medicine controls the symptom. Ayurveda looks at the root causes in terms of lifestyle and consciousness."

Suppressed during British rule in India, ayurveda was preserved by practitioner families and is now taught in Indian medical schools, which require five years of training and clinical experience. The Indian government sponsors numerous scientific studies on ayurveda and its collection of medicinal herbs.

While ayurveda is often used in India by people too poor to receive Western medicine, panchakarma treatments in the U.S. cost $1,500 to $3,500 a week and are mainly the province of the wealthy, devoted or desperate. Holmstrom says he has treated some Hollywood celebrities, including Liv Tyler, Ben Affleck and Matt Damon. Chopra treats people at his Chopra Center at the La Costa Resort and Spa in Carlsbad.

*

Changing attitudes

But ayurveda also is attracting people with chronic health problems who have become frustrated with Western medical techniques that haven't helped them, and those with alcohol and drug problems who want to detox quickly. One Los Angeles lawyer with chronic pain and sleeplessness from damaged spinal disks used ayurveda to kick a growing reliance on sleeping pills and says panchakarma was not about getting pampered.

"By the fifth day, you are enema-ed out…. ," said the lawyer, who asked that her name not be used. "It's not a fun procedure. If you're interested in going to a spa and getting a facial, this is not for you."

Still, the treatments worked so well that she asked her doctor to write a prescription for panchakarma so insurance would cover it. She says his response was something like: "I'm not going to sully my name by prescribing something so weird."

Although ayurveda is still relatively new in Southern California, such attitudes are gradually changing as ayurveda is subjected to the rigors of Western science. It's difficult to conduct double-blind, placebo-controlled trials, the gold standard of scientific research, because ayurveda is a holistic system that treats individuals differently with multiple methods. Some studies have isolated specific components of ayurveda, which advocates of ayurveda say misses the point.

But last fall, the National Center for Complementary and Alternative Medicine awarded a two-year, $283,000 grant to establish an Ayurvedic Center of Collaborative Research to study ayurveda as it is practiced in India. Overseen by researcher Leanna Standish at Bastyr University in Kenmore, Wash., scientists from Johns Hopkins University and UCLA will work with doctors in India to conduct controlled clinical trials on ayurvedic treatments for rheumatoid arthritis. Eventually, they hope to study treatments for hepatitis C, osteoarthritis and diabetes.

"I do not believe there have been any well-done studies of the whole practice of ayurveda…. " overseen by independent U.S. researchers, Standish says. "It really does deserve very careful evaluation."

Although the numbers are still small, more Western doctors are getting trained. Dr. Vandana Soni, an anesthesiologist, realized after years of practicing Western medicine that it only "touches the surface of pain." She now combines Indian and Western medicine at her clinic, and some local medical doctors now refer patients to her for conditions such as irritable bowel syndrome, chronic fatigue and menopausal symptoms.

"If ayurveda were perfect, [Western] allopathic medicine would never have come along," she says. "If allopathic medicine were perfect, the world of alternative medicine wouldn't have come into place."

When you visit an ayurvedic clinic for the first time, prepare to spend a couple of hours. "Ayurveda is very time-intensive," says Dr. Nancy Lonsdorf, medical director at the Raj Ayurveda Health Center in Iowa. "I never see more than 12 patients a day. Most doctors see 50."

At her clinic, Soni asks patients to fill out a 15-page questionnaire detailing everything from the time they wake up to the characteristics of bowel movements. After a pulse-taking and tongue examination, she determines a patient's dosha and prescribes some herbs, spices and self-massage as part of a basic work-up.

Soni recommends patients retain their primary Western doctors, and she won't treat people taking Chinese herbs because of possible side effects.

*

Standards lacking

This is one of the problems with ayurveda in the U.S., where people often ingest a complex stew of drugs and Eastern herbs, whose interactions are poorly understood. Although acupuncturists and doctors of Oriental medicine must be certified and licensed in California and many other states, there are no standards for training or for practicing ayurveda. Because a system for licensing is probably still years away, "it's buyer beware," Holmstrom says.

Gerson advises people to look for a bachelor's degree in alternative medicine, a doctorate or a medical degree in ayurveda from India. He also founded the National Institute of Ayurvedic Medicine, which verifies practitioner credentials. Because the programs teaching ayurveda in the U.S. require just 300 to 500 hours of training, most practitioners here are unqualified to practice in India. Gerson says U.S. schools offer "a really poor level of training in ayurveda."

Although it's hard to imagine someone being harmed by oil massages, Gerson says ayurvedic treatments performed by the unqualified can have "serious consequences," including headaches, bowel dysfunction, irregular respiration, fatigue and psychological problems. Enemas are "invasive" and when performed improperly can cause colon spasms. "The biggest harm that can be done is the withholding of proper treatment," says Wynn Werner, the administrator of the Ayurvedic Institute.

Gerson cites the case of a well-known ayurvedic doctor who treated a woman in her mid-40s complaining of fatigue and muscle aches. "He took her pulse, looked in her eyes and diagnosed a vata imbalance," Gerson said. Prescribing some herbs, dietary changes and yoga, he sent the woman away. A few months later, the family informed him she was diagnosed with leukemia. "Because the ayurvedic doctor did not integrate a blood test," he says, "this was missed." But as long as people are prudent, most ayurvedic lifestyle changes have stress-reducing benefits and little chance of harming one's health, Halpern says.

*

(BEGIN TEXT OF INFOBOX)

What's your dosha type?

Ayurveda sets forth three types of physical, mental and emotional characteristics that are said to be present in everyone. Below are some of the common characteristics of each type. Though all people are said to have qualities of each dosha type, one is usually predominant, according to ayurvedic practice.

Vata

Cold bodies.

Quick minds, creative.

Dry, wrinkled skin.

Walk and talk fast.

Poor planners.

Nervous, anxious.

Susceptible to diseases such as emphysema, pneumonia, arthritis.

Pitta

Warm bodies.

Sharp intellect.

Strong appetite.

Oily skin.

React quickly, easily agitated.

Susceptible to fever, inflammatory diseases.

Kapha

Strong, good stamina.

Sweet, loving disposition.

Calm, tolerant, forgiving.

Dislike exercise.

Susceptible to flu, sinus congestion.

Oily, smooth skin.

To determine your dosha type, go to the National Institute of Ayurvedic Medicine, https://www.niam.com .

Source: The Ayurvedic Institute, Albuquerque

**

Ayurveda centers

For ayurveda consultations, treatments and information:

Surya Spa

(310) 459-7715info@suryaspa.com

Dancing Shiva

(323) 934-8332

Medical Ayurveda Rejuvenation Center

(949) 644-4566https://www.medicalayurveda.com

The Raj

(800) 248-9050https://www.theraj.com

The Ayurvedic Institute

(505) 291-9698https://www.ayurveda.com

California College of Ayurveda

(530) 274-9100https://www.ayurvedacollege.com

The Chopra Center

(888) 424-6772

www.chopra.com
---