"I would say that the last 20 to 30 years have been the happiest. Before, I was so involved with my kids and other commitments, I hardly had time to catch my breath to see if I was happy. I think it's about having more time. I love art and architecture. I didn't have time to include some of the things I love to do when I was driving car pools and going to Little League games all the time."
—
Bea McArthur
, 78; lives in Laguna Woods, retired from a career in decorative arts; mother of five children and grandmother to seven; divorced; active in community associations and with church.
(Karen Tapia-Andersen, Los Angeles Times)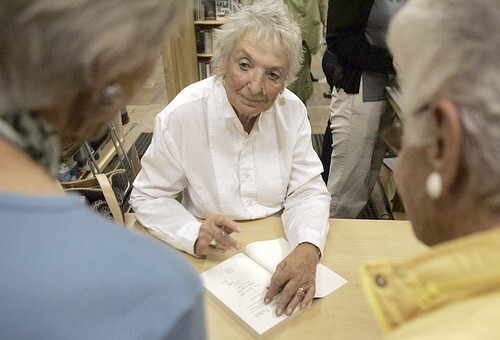 "It's very freeing to be at this point in life. You don't trivialize things. If the dishwasher breaks, so what? It's not a big event. You can be more grateful. I'm so unafraid now. And I'm so unlonely because of Jerry. Every night we go to bed and say, 'Thank God we got through another day.' It's gratitude. That's what it is — gratitude."
—
Rita Lowenthal
, 80; lives in Santa Monica with second husband, Jerome Cushman, who is 93 and has dementia; retired from a career in social work; mother to two children, one of whom died of a drug overdose at 39; recently wrote "One-Way Ticket," a book about coping with her son's heroin addiction and death.
(Lawrence K. Ho, Los Angeles Times)
"I've taken the time — since I've had the time in retirement — to learn how important it is to be of service to others. When I worked it was drive to L.A., come home and rest up on the weekends. There was no time to be active in the community. As a result of becoming active in the community, I have met a lot of people and they became like an extended family to me."
—
Edward Thurman
, 73; lives in Duarte; worked in administrative jobs at IBM for most of his career, followed by 10 years as a counselor in an alcohol and drug treatment center; retired; married 25 years; father to four and grandfather to 10; active in Altadena community.
(Bob Chamberlin, Los Angeles Times)
"I worry about getting older and getting sick and dying. I do still worry a great deal about the state of the world and the state of the country. But you have to have some belief in humanity. You need to focus on something positive. Sitting in my yard - I have a beautiful yard - with the sun shining and my dog here and having financial health and doing interesting work, life is good. That is true. I try to shift at any moment into mind-emptying peacefulness and letting go."
Thomas Greening
, 76; lives in Sherman Oaks and has a private psychology and psychotherapy practice in Westwood; widowed; father to three children and grandfather to two; active in the peace movement.
(Gary Friedman, Los Angeles Times)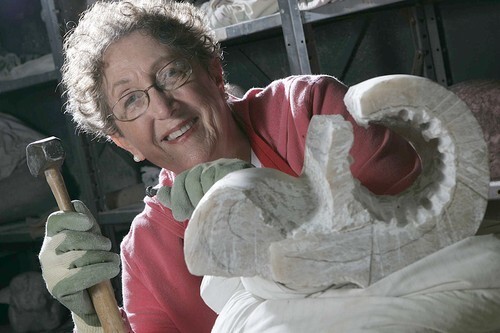 "I've lived a very blessed life. It turned out infinitely better than I could have ever expected. Except for a tricky period in my mid-30s, I have been a happy person. Now is no different. My mother died at 65. I had this feeling that might be my limit too. I felt when I turned 65 there was something else I needed to do. I developed a passion for making art."
—
Esther Shapiro
, 75; lives in Los Angeles; retired from a career in social work but works part-time at Zimmer Children's Museum; married for 53 years; mother to two and grandmother to three; hobbies are sculpting and stone carving.
(Ken Hively, Los Angeles Times)