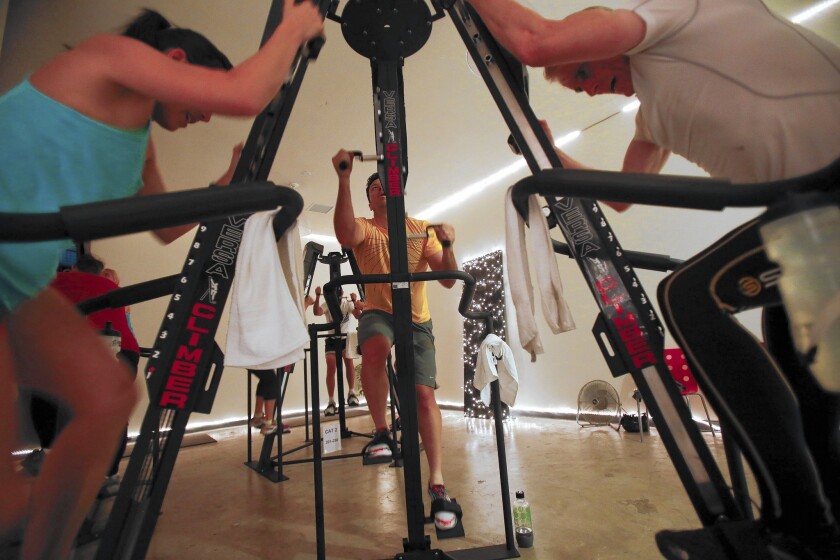 The VersaClimber is the most ignored piece of fitness equipment in the gym, but it shouldn't be, says Jacques Devore, owner of the year-old Sirens & Titans gym in the Westwood neighborhood of L.A. The simple-looking 7-foot-tall rail with hand- and foot-pegs that move up and down in a ladder-climbing motion, a machine invented in 1981, invariably is empty because people are afraid of this brutal all-body aerobic workout. That's why VersaClimber devotee Devore put 15 of them in a room and began offering possibly the world's first group V-Climber workout. "The vertical orientation with hands overhead rockets your heart rate like nothing else," he says. "In 30 minutes of 45-, 30- and 15-second intervals, you get an aerobic workout that blows away everything else." I sat in on a full class one Tuesday as he cranked up the music and started barking out instructions.
Sirens & Titans, 2311 Westwood Blvd., L.A.; sirensandtitansfitness.com
Aura: Mix of men, women, beginners and hard-core runners and triathletes. The music was pulsing techno, intermittently broken up by the instructor's commands.
Effort: Tough from beginning to end. With technique not an issue (you just move your arms and legs up and down), you focus on going all-out on the short intervals, each of which is followed by a brief recovery. (The workout is a total of 17 minutes of activity and 13 minutes of rest; believe me, you need that rest.) Driven by the inherent competition — your V-Climber is set up on a tripod with two others, and several times you go to the board to write down the total feet climbed from your digital monitor — I pushed to the point of near-collapse. When it was over, everyone was energized and ecstatic. One woman told me the class helped her lose 70 pounds; the hard-core athletes said the all-body intensity not only improved their cycling and running but also allowed them to train less.
Style: Devore is part coach and part mad scientist, ordering various lengths of intervals at certain intensities. The latter half of the session switches from competition to teamwork, as tripod partners aim for cumulative group totals. It ends on a rousing high note as the whole class pulls together for a group goal.
---