Sky Yoga: Try warrior pose 1,000 feet above Los Angeles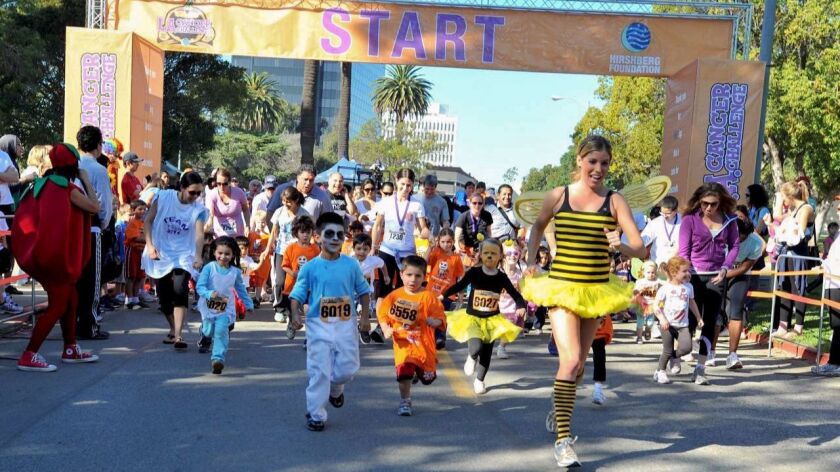 From San Diego to Ventura, downtown Los Angeles to Westwood, here are some noteworthy fitness events to get you moving:
It might be a bit of a drive to get there, but the intense workout on the other side will be worth it. With three different courses, the Life Time Tri San Diego on Oct. 15 is designed for all levels and takes place at South Shores Park on Mission Bay, site of the first modern triathlon in 1974.
Entrants can sign up for Super Sprint, which is a .24-mile swim, 6.35-mile bike ride and 1.65-mile run, or Sprint, which is about twice that distance. Haven't been training for a triathlon? You can enter a Mixed Relay, which allows four competitors to finish the Super Sprint. The event was previously known as Esprit de She, and was for women only; it is now open to everyone. After, local dining spot Konito's Cafe will provide breakfast burritos, and from Second Chance Beer Co. come well-deserved frosted libations.
Info: Event takes place Oct. 15. Registration starts at $85 until Oct. 14. trisandiego.com
Sky-high yoga
There's beachfront yoga, yoga in blazing temperatures, yoga on the dance floor. But ever tried warrior pose at 1,000 feet above Los Angeles?
OUE Skyspace, at the top of the US Bank Tower, has reprised its limited Sunset Yoga in the Sky series, led by an instructor from the neighboring Evoke Yoga. The hour-long class gives participants a 360-degree view over the city while headphones block out any sound except the instructor's voice and soothing background music to calm any incipient acrophobia.
Info: 6 to 7:30 p.m. Oct. 16 and Nov. 6. Classes typically held on the first and third Mondays of each month. $35 per person, which includes a post-class ride on the heart-stopping Skyslide. oue-skyspace.com
Costume up, and run for Halloween
Put on a costume, lace up those running shoes and hit the pre-Halloween Los Angeles Cancer Challenge's walk/run in Westwood. Now in its 20th year, the event this year will include a family-friendly wellness expo and live entertainment. The event is organized by the Hirshberg Foundation for Pancreatic Cancer Research; pancreatic cancer has the highest mortality rate among major cancers.
Some 3,000 participants are expected to gather at UCLA in Westwood for the event; they will also be able to enjoy a Fit Family Expo and a Halloween parade for the kids. This will also be the first year there will be a 15K run, in addition to the traditional 5K and 10K.
Info: 7 a.m. Oct. 29 on the UCLA campus' Wilson Plaza, 120 Westwood Plaza.
Embracing 'Natural Movement'
The simple act of moving is given a closer look during a two-day weekend in Ventura in early November.
The Eat Move Live 52 event focuses on "natural movement": Proponents encourage the rest of us to rethink how we move in the name of fitness, and encourages people to spend time barefoot or with minimal footwear, to be in nature more, and to take movement breaks during the day.
The weekend is led by Galina Denzel and Breena Maggio, who are restorative exercise and master movement teachers and builds on the work of natural movement specialist Katy Bowman and her book, "Move Your DNA: Restore Your Health Through Natural Movement." The book is required reading before attending.
Please consider subscribing today to support stories like this one. Already a subscriber? Your support makes our work possible. Thank you. Get full access to our signature journalism for just 99 cents for the first four weeks.
---