Q&A: Jillian Michaels wants to jump-start your fitness (and swears it will be fun!)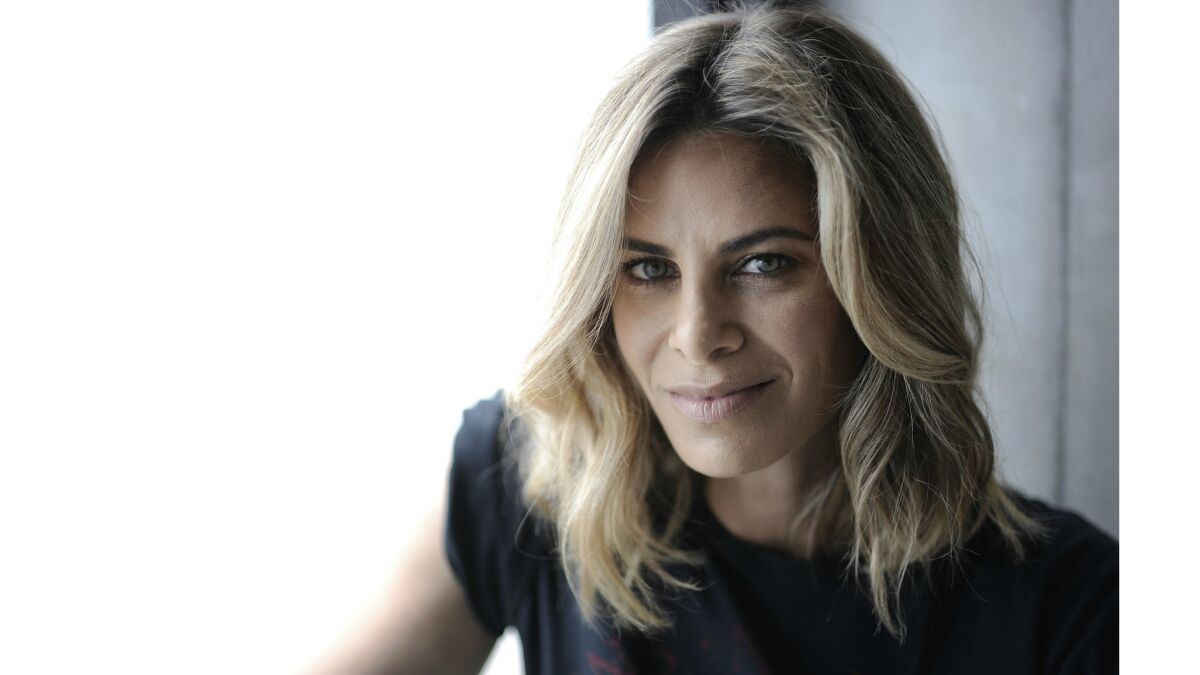 There are really only two ways to react to an invitation to workout with fitness guru Jillian Michaels:
Bring it!
And...
Gulp.
Michaels promises beginners will be welcome on Saturday, July 8, when she hosts a 45-minute workout followed by a "meet and greet" at the Shrine Auditorium & Expo Hall near downtown L.A. to benefit Stand Up to Cancer.
"It's nothing to be scared of," insisted Michaels (who built a reputation for herself as "TV's toughest trainer" on "The Biggest Loser"). "Everything I do has modifications and progressions," she says. If you're a beginner, you'll do a pushup on your knees. More advanced? A "clapping" pushing for you.
"We've all lost people to cancer" or know someone who has been affected by it, she said, adding that cancer and heart disease are chief causes of death in this country. One way to combat that, she said, is prioritizing your health and happiness. "I'll do whatever it takes to incentivize people to do that," she said.
For some of us, the workout could be a much needed jump start. (It's summer. We forgot to lose that winter weight ...
Actually, the life coach kindly corrected us, we didn't "forget" to lose weight. We forgot to motivate ourselves.
Here's her 4-step plan for doing that — or anything else you put your mind to.
Step. 1: "You have to decide what the work is for, what is 'worth it.' You have to have that 'Why' to tolerate the 'How.' It's not enough to just say, 'I want to be healthy' or 'I want to lose weight.' People speak in generalities about health and money and love, but what they have to do is define those things in their lives."
Examples?
"It's saying 'I want to wear a two piece instead of a one piece.' It's living long enough to walk your daughter down the aisle, or living to see your great-grandchildren. Maybe it's having sex with the lights on. It doesn't matter what it is, it doesn't matter if it's superficial or profound, but you need to figure out what you want and why you want it."
Step 2: "Form an emotional connection to it." Meditate on that goal. Focus on it. Anchor it in your core. "That's when work has a purpose, when it has a passion behind it," she said. "Work without a purpose is punishing."
Step 3: "Then you have to get informed, so that the actions you do take yield powerful results." In the case of fitness, that means educating yourself about the basics of nutrition and fitness.
Step 4: Have fun! "Make sure you enjoy it! I always say, 'The best workout is the one that you're going to do.' I can go on all day about HIIT workouts, and metabolic circuits, but if you hate it, you're not going to do it."
Michaels says there's a workout for everyone, even people who think they hate all exercise.
"Maybe it's hiking, Pilates, or yoga … do you like salsa dancing? ... Golfing? There's got to be an activity that you love, or that you like, or that you can at least commit to. You have to find it."
And it doesn't need to be painful.
"What I am looking for is activity. A golf game is an activity. Bowling is an activity. It's not fitness, but it has you on your feet and moving, and that's where you start, by making sure you are moving and as active as you can be."
If you are the fitness tracker type, it might interest you to know that Michaels swears by her Apple watch. And yes, we asked: How many steps does she get a day? Sometimes she hits the magic 10,000 steps, but sometimes she doesn't.
"Some days I get in five miles" — which is in the 10K-step range — "some days I only get in one. That's just life. On the days where I'm busy, I really watch my diet."
Michaels' busy lifestyle has her dividing attention between her online platforms and investing in health and fitness businesses (Thrive Market, Lucky Jack Coffee, Giggles 'N Hugs, a restaurant-plus-gym for parents and children). There's her app, which she describes as "quite literally having me as your personal trainer in your pocket, it's as customizable as fitness training can get," and her newest endeavor, FitFusion.com.
Think of it as a Netflix, or YouTube vertical, focused on "follow along" fitness content. "We've got the biggest names in fitness in there," she said, including Tara Stiles, Leslie Sansone and the Tone It Up Girls.
Her latest obsession, though, has us on the edge of our seats: These days, Michaels, 43, is all about anti-aging.
But we're not talking about the cosmetic surgery variety.
"I am working on an anti-aging book. How come some people seem to defy age, and some people give in to it. Why does J Lo" — who is pushing 48 — "look like she's 20? Why? What is she doing?" Why are there 90-year-olds who run marathons and 20-year-olds that can't run up a hill? "I want to take a deep dive into longevity."
If all goes well, it's a title that could hit shelves in 2018. Hurry up, Jillian. We want to know the answer to that J Lo question too.
Train L.A. with Jillian Michaels
When: 10:30 a.m., July 8
Where: Shrine Auditorium & Expo Hall, 665 W. Jefferson Blvd., Los Angeles.
Cost: Tickets start at $87.
Info: ShrineAuditorium.com/events
Health@latimes.com
---
---