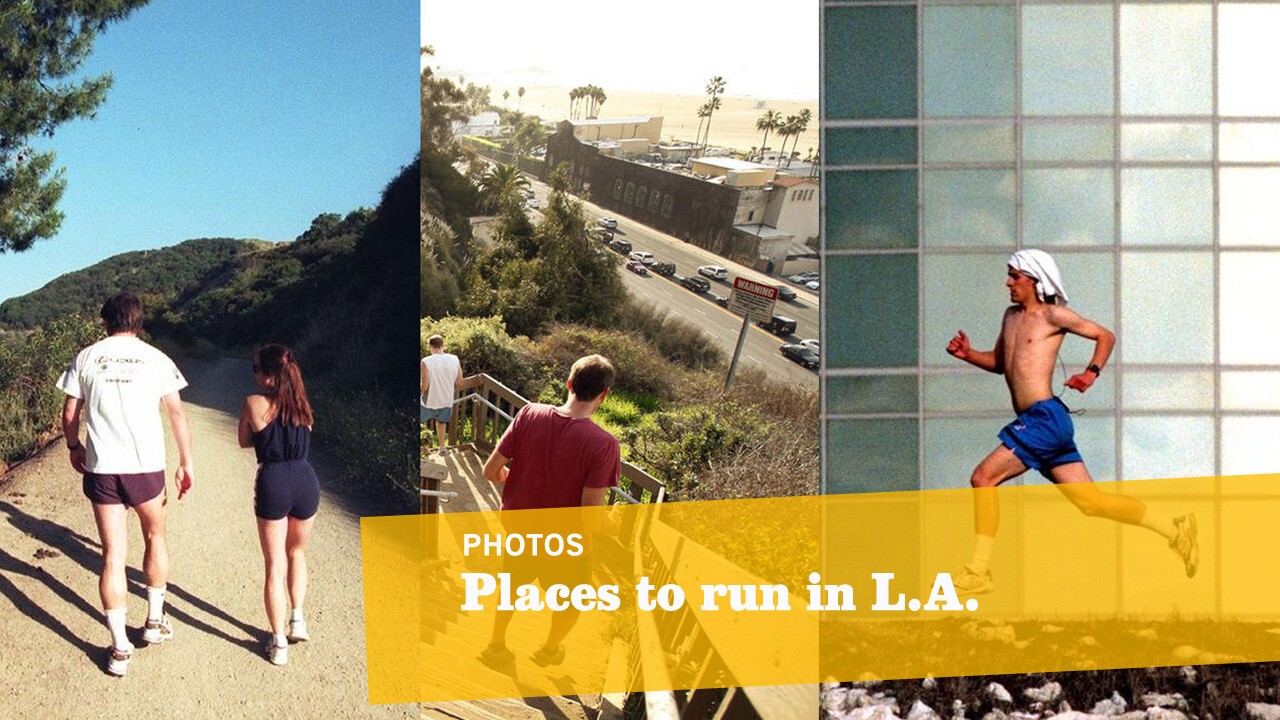 27 Images
Beaches and mountains and parks, oh, my! 13 great places to run in L.A.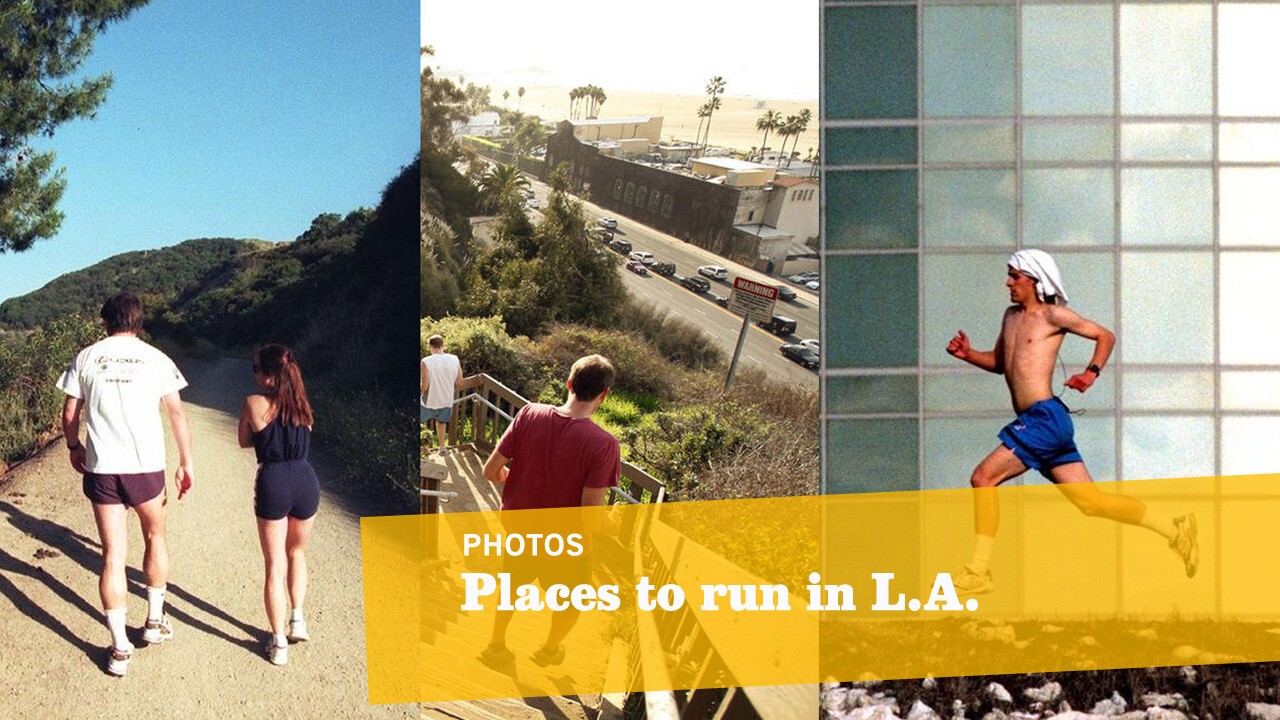 la-he-la-running-pic
There's no need for an expensive gym membership. With an average of 266 days of sunshine a year, L.A.'s spectacular weather nearly begs you to ditch the treadmill for the beach, hiking trail or park. And many are right in our backyards -- or at least only a short drive away.
We've collected 13 of our favorite places to run in L.A., from scenic ocean-side paths in Santa Monica and Venice to more rigorous inclines in Griffith Park and Rustic Canyon.
-- Kelsey Ramos, Los Angeles Times
(From left: Reed Saxon / Associated Press; Los Angeles Times; Allen J. Schaben / Los Angeles Times)
San Vicente Boulevard
The wide grassy median of San Vicente Boulevard is a popular haven for runners from nearby Westwood, Brentwood and Santa Monica -- and for good reason. It's wide enough for about 20 runners to run side-by-side on its luscious grass, shaded by coral trees and with spectacular views.
(Ken Hively / Los Angeles Times)
Santa Monica's Palisades Park
People-watchers and social butterflies, rejoice! Tourists, beach bums and hard-core runners alike traipse along Palisades Park's dirt and sand paths for a look at Santa Monica's ocean vistas and to wind down later at the Santa Monica Pier or the Third Street Promenade. The path runs along Ocean Avenue. The park also has grassy areas, public restrooms and winding sidewalks. A run from the Ocean Avenue end of the San Vicente Boulevard median to the Santa Monica Pier is about a three-mile loop. This run burns about 335 calories for a 150-pound person.
(Al Seib / Los Angeles Times)
Griffith Park
Griffith Park boasts areas for picnics and recreation, and it also has a wild side: thousands of acres of chaparral-covered wilderness. Fifty-three miles of fire roads, bridle paths and dirt trails within Griffith Park allow runners of all experience levels to find a terrain of their liking. And all that mileage allows long-distancers to escape endless loops. Start at the pony rides and run to the Hollywood sign and back for 10 miles total. This run burns about 1,145 calories for a 150-pound person.
(Lawrence K. Ho / Los Angeles Times)
Sepulveda Basin
The Sepulveda Basin's network of trails, bike paths and grassy fields runs through the interior of Woodley Park and around the perimeter of the basin itself, which is conveniently located near both the 405 and 101 freeways. Enter near Woodley Avenue and Burbank Boulevard.
(Brian Vander Brug / Los Angeles Times)
Malibu Creek State Park
The trails in the craggy mountains of Calabasas include flat, shady loops and rigorous, rocky ascents climbing to more than 1,000 feet. Many of them can be connected for longer runs. See maps and trail guides at the link below.
(Shepler, Lori / Los Angeles Times)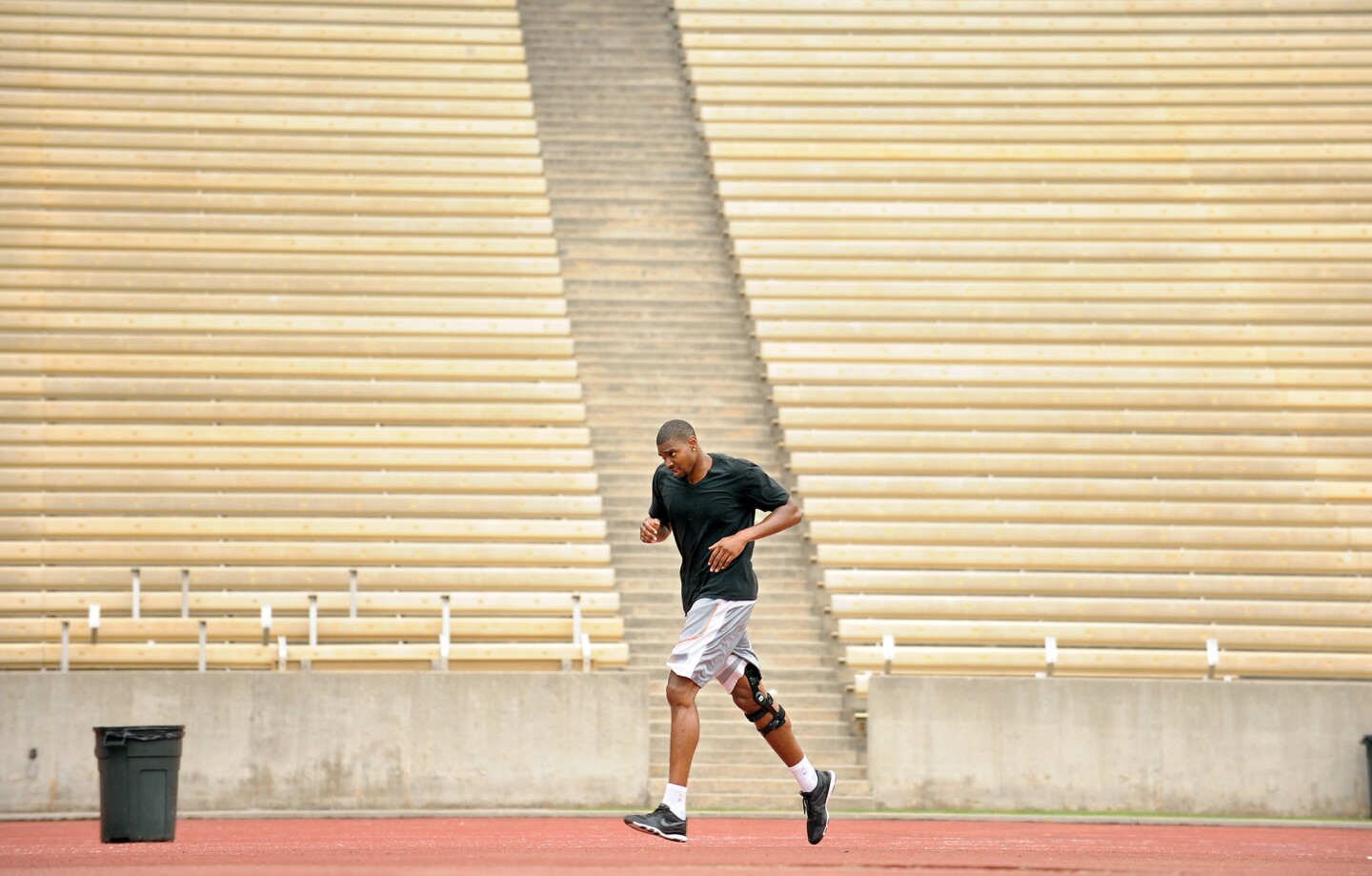 UCLA Drake Track Stadium
If you prefer synthetic terrain or balk at the idea of trekking in mud after L.A.'s few days of annual rain, take a turn at UCLA's nine-lane 400-meter track. The track, named after student-athlete alum, track coach and trainer Elvin C. "Ducky" Drake, is surfaced with all-weather Tartan -- no mud in sight.
(Wally Skalij / Los Angeles Times)
Hermosa Valley Greenbelt
The popular greenery-lined 3.7-mile trail between Manhattan Beach and Hermosa Beach goes by different names -- Veteran's Parkway, Hermosa Valley Greenbelt -- but one thing is certain: It's great for running.
(BOB CHAMBERLIN / Los Angeles Times)
Westridge Trail, Sullivan Canyon
At the top of Sullivan Canyon is the Westridge Trail -- marked on most maps as the West Mandeville Fire Road. The trailhead for a 3.6-mile ascent begins where the residential neighborhood ends, at the very top of Westridge Road; it ends unofficially at the observation tower at Mulholland Drive. The path offers stunning views of the canyon and the Pacific, though you probably shouldn't run it at night (the path is unlit). And watch out for mountain bikers.
(RM¥Rick Meyer / Los Angeles Times)
California Coastal Trail: Dockweiler State Beach
While L.A. County Department of Beaches and Harbors recommends that non-cyclists keep off the trail for safety reasons, you can run alongside the bicycle path on this Santa Monica Bay beach, which spans 22 mostly oceanfront miles from Manhattan Beach to Pacific Palisades.
(Francine Orr / Los Angeles Times)
Runyon Canyon Park
Located in the Hollywood Hills west of the Hollywood Bowl, Runyon Canyon Park is best-known for two things: its high celebrity-sighting potential and its dog-heaven qualities (the city park has an unrivaled 90 acres of off-leash area with drinking bowls and poop bags to boot). It's also a popular running destination, with fire roads and trails leading to ocean, city and mountain views.
(Brian van der Brug / Los Angeles Times)
Rose Bowl, Arroyo Seco
If the roads around the Rose Bowl don't interest you, stretch yourself north or south for paths that are more serene and nature-filled. Gain some elevation running north from the Rose Bowl past the Brookside golf course toward the Jet Propulsion Laboratory, or further still into the lush wilderness of the Altadena Crest Trail. The top of the Angeles Crest offers panoramas of Pasadena. Going south on the dirt Arroyo Seco trail (watch your step -- this trail is shared with equestrians) takes you toward South Pasadena and Highland Park, past woodsy areas, the Arroyo Seco channel and glamorous homes in the surrounding hills.
(Gary Friedman / Los Angeles Times)
Los Angeles State Historic Park
Adjacent to Chinatown in downtown L.A., the green and manicured historic park stands as a welcome 32-acre breath of fresh air and greenery in an area normally bustling with city workers and tourists. Even with the sound of the Gold Line rushing by, runners gravitate to the park's trails and perimeter walkway, and its lush, grassy spaces are popular for events, ceremonies and soccer practices. It closes daily at sunset.
(Mel Melcon / Los Angeles Times)
California Coastal Trail: Santa Monica Beach to Venice Beach
Runners will never get bored along the Santa Monica and Venice portion of the coastal bike path, which lures inline skaters, cyclists, skateboarders and nearby Muscle Beach sculptors. For safety, non-cyclists shouldn't use the bike path, but Santa Monica does offer a pedestrian path. Or you could always trek down closer to the water and grab an extra-strength workout running in the sand. This portion of the path is about six miles, from Pacific Palisades' Temescal Canyon Road down to Washington Boulevard in Venice. A one-way run burns about 689 calories for a 150-pound person.
(Jonathan Alcorn)