My Turn: Touched by another human's touch
The late University of British Columbia scientist Anne Adams started to paint only after the onset of a type of brain degeneration called frontotemporal dementia, or FTD. Such damage, to the front and sides of the brain, tends to interfere with sources of personality, behavior and language. As her speech disappeared, her artistic creativity flourished. She became fascinated with French composer Maurice Ravel, who had suffered from the same disease. And she produced a painting called "Unraveling Boléro," which attempted to translate the elements of Ravel's music into visual form.
Read the full story here.
(UCSF Memory and Aging Center)
Debbie Ayles is an artist in Colchester, England. Some of her art is inspired by the migraines she experiences. Through art like this, researchers are learning more about the symptoms that plague migraine patients. Ayles says these paintings "are both caused by -- and the cause of -- migraine." This painting and the one that follows are both acrylic on canvas.
(© Debbie Ayles)
"I stopped doing these bright multicolored paintings a couple of years ago, as they appeared to really be causing migraines -- and then they started selling," Ayles said. She has recently gone back to creating multicolored paintings but uses pastels that are less likely to give her a migraine.
(© Debbie Ayles)
Artist Katherine Sherwood was just 44 when a hemorrhage in her brain's left hemisphere paralyzed the right side of her body, making it extremely difficult for the UC Berkeley professor to speak. It forever changed her artwork.
(Dave Getzschman / For The Times)
This is an artwork that was created before Sherwood's stroke.
(Sixth Street Studio, San Francisco)
Before the stroke in 1997, Sherwood's mixed-media paintings featured strange and cryptic images: medieval seals, transvestites, bingo cards. Above is a work painted before Sherwood's stroke.
(Sixth Street Studio, San Francisco)
Reviewers called her work cerebral and deliberate. Creativity, Sherwood says, was an intellectual and often angst-filled struggle before her stroke. Above is a piece done before Sherwood's stroke.
(Sixth Street Studio, San Francisco)
After the stroke, Sherwood could no longer paint on a canvas mounted vertically, so now she puts her canvases on a horizontal surface and moves around them in a chair with wheels. Pictured here is a piece done after the stroke.
(Sixth Street Studio, San Francisco)
Sherwood learned how to work with her left hand; it had less fine motor control but was more free and natural in its movements. 'Belly' is a work she created after the stroke.
(Craig Nagasawa)
For Sherwood, the brain damage and resulting shift in her art led to awards, museum shows and a whole new level of critical acclaim. For scientists, experiences like hers are helping shine light on the workings of the brain. Above is a work Sherwood created after her stroke.
(Sixth Street Studio, San Francisco)
Malte Urbschat is a German professional artist. In this piece, he has represented – among other migraine aura symptoms – phosphenes (sensing light when there isn't any light actually entering the eye) and scotomas (flickering light in the field of vision that obscures vision in that area). For more about migraine symptoms –and to view more migraine art -- go to
www.migraine-aura.org
.
(Malte Urbschat)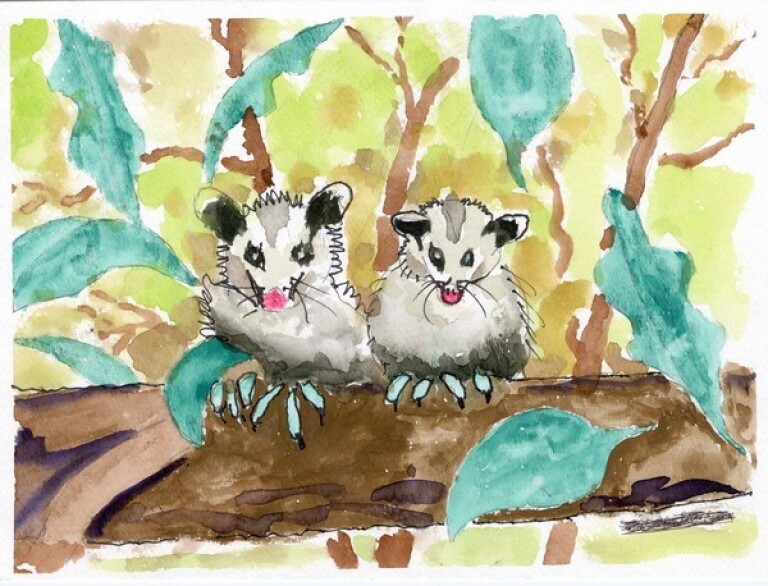 Lester Potts had never picked up a paintbrush before his Alzheimer's diagnosis, in 2001 at the age of 72. He had worked in a rural Alabama sawmill through the Great Depression, had served in the Korean War and grew into an even-keeled and dependable civic leader. But when his brain disorder struck, Potts lost the ability to take care of himself, and he sank into depression.
(Daniel C. Potts)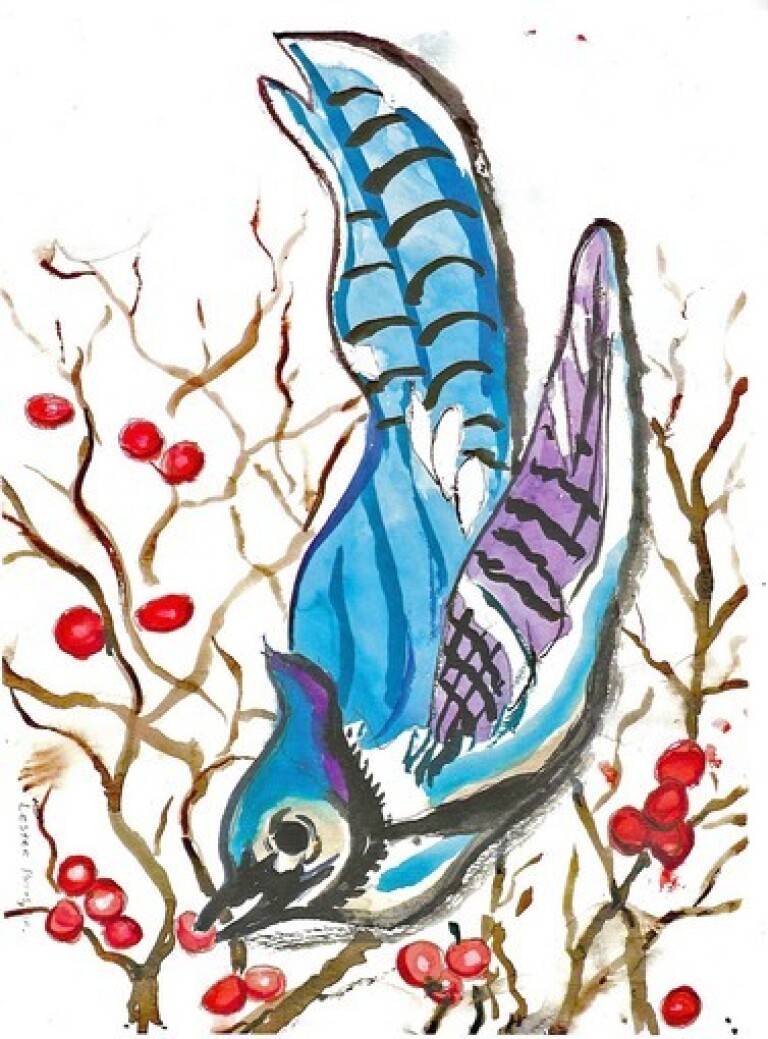 Painting with watercolors as part of a therapy program buoyed him, says his son, Daniel C. Potts.
(Daniel C. Potts)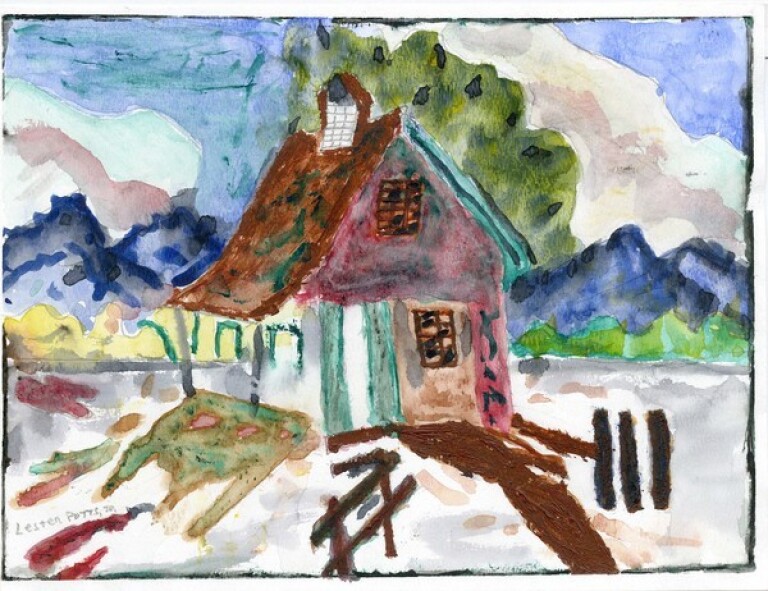 As Lester's disease progressed, his paintings evolved too.
(Daniel C. Potts)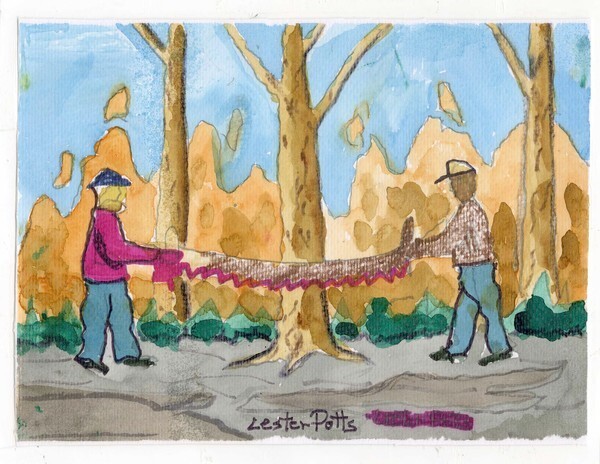 And even though he lost the ability to talk or write before his death in 2007, his artwork continued to feature themes from his youth, offering comfort to his family and a fascinating look into the brain of someone with a degenerative and still-mysterious disease.
(Daniel C. Potts)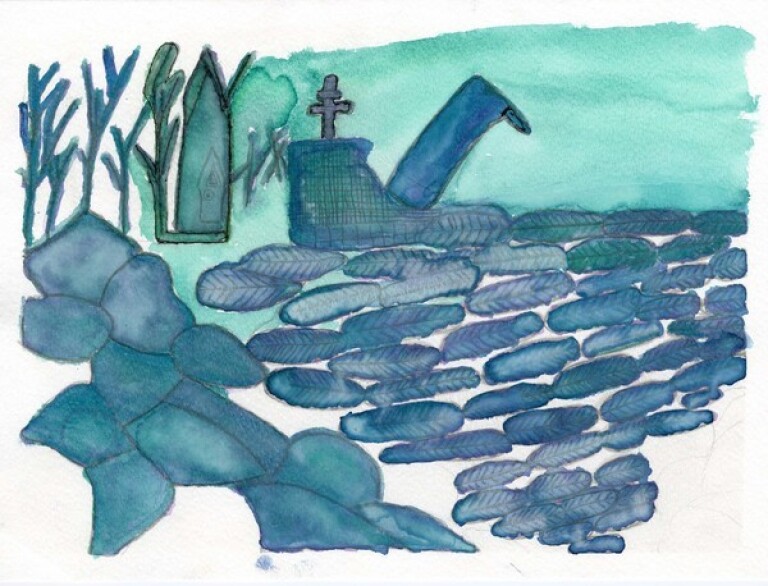 Potts' son, Daniel C. Potts, says, "This is the painting we are most excited about of Dad's. It was painted when he had late-stage Alzheimer's and when he couldn't really put a sentence together."
From the images in the painting -- the saw, hat and boot -- the family feels it's clear this was an abstract representation of Lester Potts' father.
"Those images capture that man. We saw it and said, " 'Oh, my God, it's an abstract representation of his dad.' Yet if you asked him, he couldn't tell you."
(Daniel C. Potts)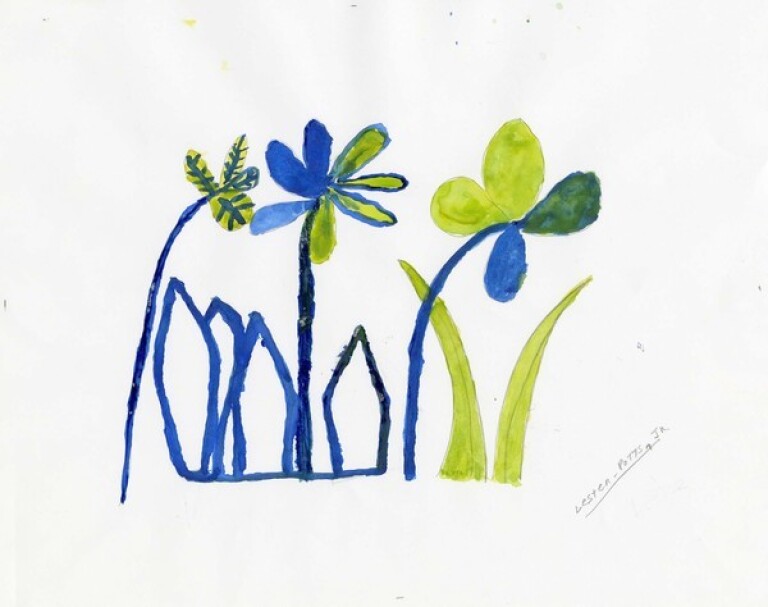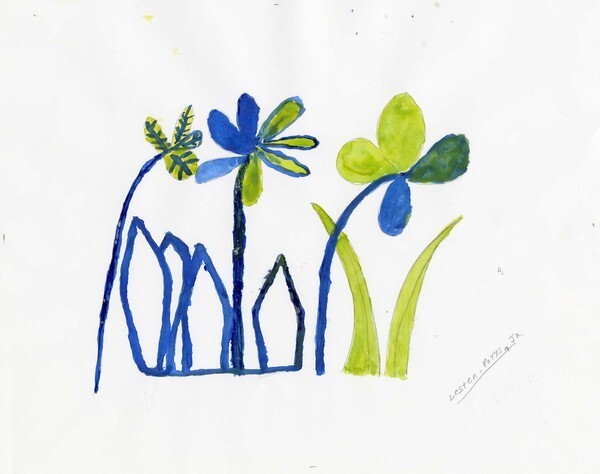 Daniel Potts says his father's paintings have an important message: "It's saying that folks with late-stage cognitive impairment can have cognition enough to create and express something meaningful even if they can't tell us about that."
(Daniel C. Potts)
By studying works of art like Potts' that emerge from different types of dementia, scientists have begun to map the brain regions that interact to either inspire or inhibit the creation of art.
(Daniel C. Potts)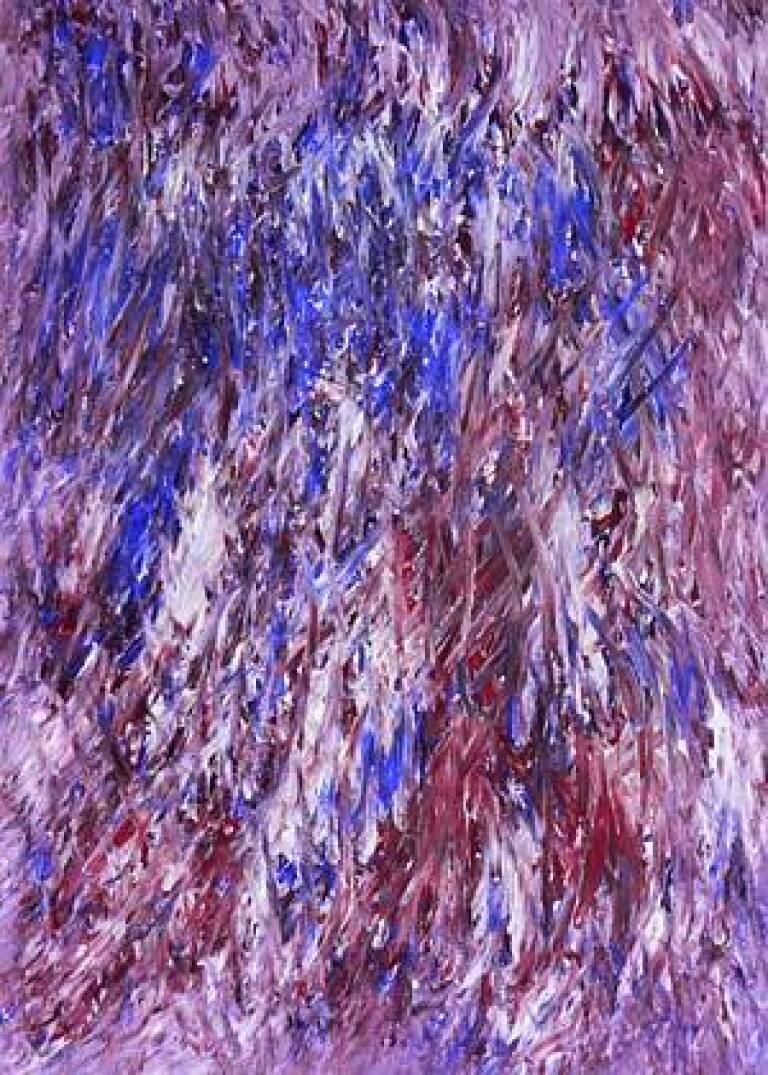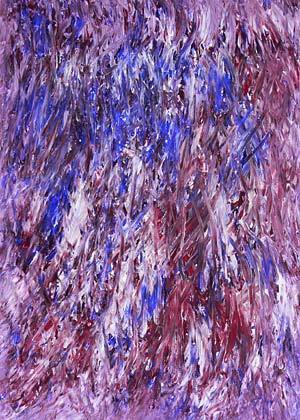 Glebe's painting expresses the pain of a migraine. Alwa Glebe is a singer, songwriter and painter.
(Alwa Glebe)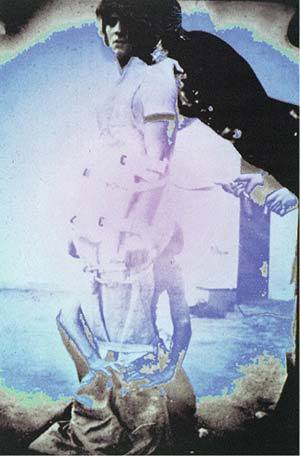 Hall is a professor at Mass College of Art and Design in Boston. She is an artist and has epilepsy. The performance "Transcending" is inspired by a rapid series of petit mal seizures.
(Jennifer Hall)
Both of these images are from an interactive robotic performance called "Transcending" (c. 1990). The process includes computer-controlled shadow puppets, projections and live performers.
(Jennifer Hall)
The late Victor Wightman developed frontotemporal dementia and ALS (amyotrophic lateral sclerosis, or Lou Gehrig's disease) in midlife and became a prolific painter.
(UC San Francisco Memory and Aging Center)
Dane Bottino, who has autism, started drawing prolifically at the age of 2, about the same time he began to lose language. Scientists think that deficits in certain parts of his brain may have allowed other parts to flower, fueling his creative flow.
Full story: After brain damage, the creative juices flow for some
(UC San Francisco Memory and Aging Center)
I was deeply shaken to learn I had hypopharyngeal cancer. As a physician, I had access to my hospital's laboratory results, so I took a shortcut: Rather than wait for my surgeon to call me, I looked for my name in my hospital's pathology laboratory log book.
After my name, the log book stated in no uncertain terms: "mildly differentiated squamous cell carcinoma."
I could not believe my eyes. Was this possible? Could it be a mistake? In spite of the hopeful questions that permeated my mind, I knew it was not a mistake: Right here, in front of me, in black and white — my own death sentence. Still, to be convinced that the diagnosis was real, I had to view the biopsy specimens under the microscope myself — and there it was.
In that very instant, my whole world changed. I had always had a sense of invulnerability. Now I was left with uncertainty about my prognosis and future.
I was in a state of desperation and disbelief when I left the pathology laboratory and walked into my internist's office to break the news to him. He slowly got out of his chair without uttering a word and gave me a big, supportive hug.
It felt so good to know that he deeply cared for me beyond our professional relationship. His embrace moved me — made me feel that I was surrounded by those who truly appreciated my pain and distress, and who shared my personal tragedy. It meant much more at that moment than a thousand words of support or elaborate explanations.
It was the power of a caring, human touch. I knew that I was not alone in my future struggles, that he would be beside me all the way.
I had never been hugged by a medical caregiver. Nor had I given a hug to a patient: I always believed in maintaining a professional distance between them and me. Yet at that moment, I learned there may be situations in medical practice where the power of a hug eclipses everything else one can offer.
In the realm of modern medicine, where machines and tests often substitute for close patient-physician contact, this fundamental art is often forgotten. Even a simple pat on the shoulder or a warm handshake conveys genuine care and concern. In fact, there is scientific evidence that human touch can generate oxytocin and endorphins, which ameliorate pain and create a feeling of well-being.
Unfortunately, I had to undergo a total laryngectomy to have my cancer removed. The period after my surgery was very physically and emotionally trying, as I battled numerous medical problems and also struggled to regain my ability to speak. What eased those difficult months was the knowledge that my otolaryngologist's door was always open to me and that he would act immediately to assist me in any way he could. His dedication, emotional support, sincere care and friendliness helped me overcome many of the difficulties and problems I encountered. They were indispensable on my road to recovery.
I sometimes went to his office several times a week — often just to talk with him and tell him how I was doing. I always felt welcomed. He greeted me with a big smile and hugged me every time I left. This simple act created a bond of intimacy between us and made me feel that I had a friend.
My personal experiences changed my attitude toward my own patients. I am less concerned now about maintaining a professional distance or avoiding a caring touch or hug when appropriate. I have learned that such gestures can significantly deepen the healing relationship between patient and physician.
As a laryngectomee, I have found that speaking is often difficult and challenging. So I am fortunate to have discovered that the "power of a hug" can convey so much more than the spoken word.
Brook is a pediatric infectious disease physician at Georgetown University in Washington, D.C. He is the author of the 2010 book "My Voice: A Physician's Personal Experience With Throat Cancer." More at dribrook.blogspot.com; contact Brook at ib6@georgetown.edu.
My Turn is a forum for readers to recount an experience related to health or fitness. Submissions should be 500 words or fewer, are subject to editing and condensation and become property of The Times. Email health@latimes.com. Read more at latimes.com/myturn.
---