Russell Brand on how he pulled his life together after heroin addiction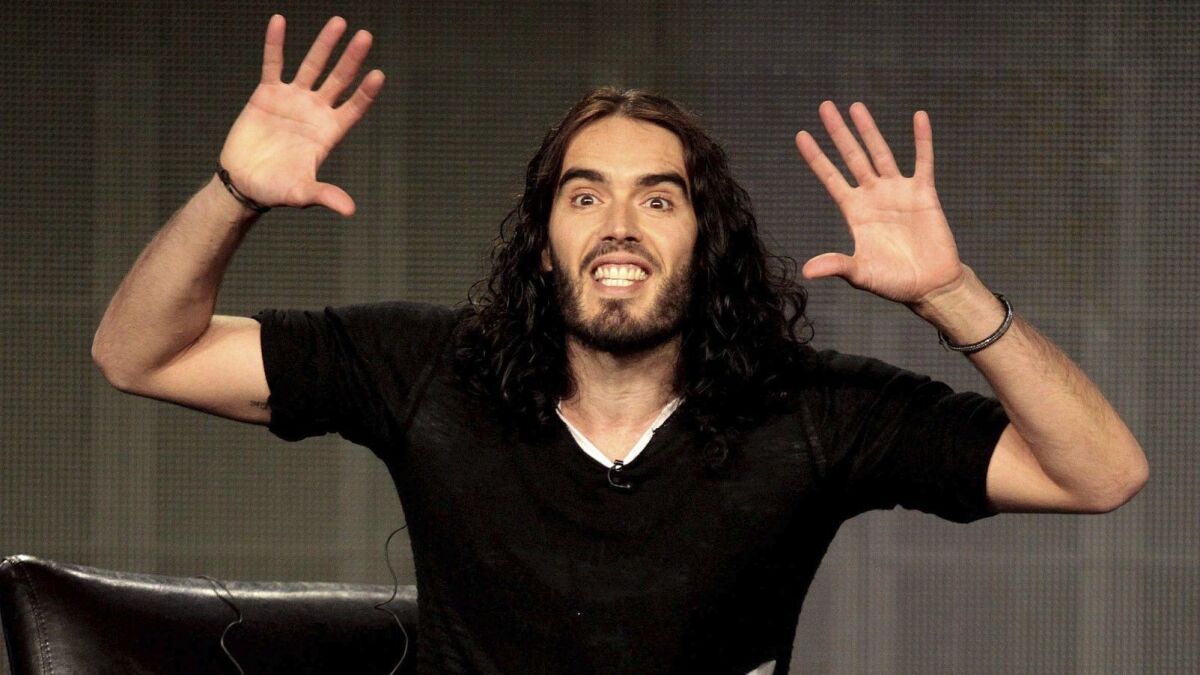 Nowadays, it seems that everyone's a self-made expert and addicted to something — drugs, alcohol, gambling, sex, food, tech, social media, you name it. So it's no surprise that actor, stand-up comedian, author, political activist and ex-heroin addict Russell Brand has added another hat to his closet full of them: addiction rehab advisor.
The loquacious Englishman, 43, best known in the U.S for his 2010 movie "Get Him to the Greek," a brief marriage to singer Katy Perry and a rollicking Cockney flamboyance with the language, will be the keynote speaker at Wellspring, a three-day wellness festival in Palm Springs Oct. 26-28. The event will feature more than 200 classes on yoga, meditation and holistic medicine (wanderlust.com).
Below, he discusses his own recovery from addiction, his fitness activities and his 2017 book, "Recovery: Freedom From Our Addictions," a tribute to the traditional Alcoholics Anonymous-based 12-step program that helped his recovery.
How did you go from kooky comedian to pop-culture guru of an unfunny topic like addiction recovery?
I hit rock bottom in 2003 with an addiction to heroin, which had cost me a job at MTV, a radio show, friends and girlfriends. I'd been doing drugs since age 19 and was a heroin addict for four years. Luckily, my (then-) manager and friend Chip Sommers stepped in, telling me I'd wind up either in a prison, lunatic asylum or graveyard. So I went to a 12-step program.
The classic 12-step AA program was created in the 1930s. Your book basically rewrites the steps in blunt street language with liberal use of f-bombs and seems to remove religious references. Why?
This book is not "new" — it's just my interpretation of the 12-step method, which itself was derived from ancient self-help ideology. I wrote it the way I did because the classic program seemed a little bit exclusive, religious and pious, with a Christian-y feel that could be off-putting to some. After all, lots of Muslims and Jews and Hindus have addictions too.
Yet, that said, while not religious myself, in the book I agree with the need for an undefined higher power. Is that power God, science, our home group, the music of Mozart, the Sistine Chapel ceiling, the people that have loved me? All these allude to some power that is greater than me.
You emphasize meditation. Did you get that Step 11 of the original program, which mentions it?
I have been aware of mediation for a long time before I did it. Drug use and interest in the counterculture have been wedded together from the days of the Beatles and the Beat poets, so meditation was a familiar idea. Now I do 20 minutes of Transcendental Meditation twice a day. It gives you a beautiful serenity. A selfless connection. A relaxed sense of oneness. It's a cornerstone of recovery because it changes consciousness. It's a shower for the brain. It teaches you that you are not your thoughts, not your feelings; you can simply witness them. It gives you a quiet space, a place of relief where peace and serenity are not contingent on the behavior of others.
Happily, I think my musings on meditation are having an impact. Every day now, some of my wife's friends and other people I meet are telling me that they are meditating now due to reading the book. I just finished a film, and a guy who was driving me around said, "You know, I meditate now because of you." It's kind of surprising.
I've heard people have used an "addiction" to running to help beat an addiction to drugs. Where do traditional fitness activities fit for you and and recovering addicts?
For me, daily exercise is important. I'll go running, do Brazilian jiu-jitsu and also some quite aggressive forms of yoga. You have to design your own program, what's right for your body and your mind. For me meditation is not nearly enough. I need exercise too. And community.
Does community mean a support group like AA?
Yes. Inevitably, when reason wanes, when the spiritual experience wanes, being part of a community lets you remind one another. Addicts yearn for some sense of connection that makes them feel more healed, more whole, more happy. Sharing your story with another addict, as I did in my recovery, proved vital. Nothing I said to this other person was too boring or terrible or trivial to him. He related to me — and the disconnectedness that I had always felt lifted. And so did the need to take drugs.
READ ON!
Yes, you can eat your way to beautiful skin
10 high-tech gadgets to help you get to sleep
How 'Scandal's' Katie Lowes hid her psoriasis