When snowboarding and skiing get old, there's snow biking
"We've reached the point of no return," Ken Long said, motioning to a snowy trail on the right that plunged down the mountainside. "If we do this, we commit. It'll add an hour."
I looked at my watch. I looked at the snow packed so high it almost covered the trail sign. I glanced at the shimmering blue of Lake Tahoe in the distance, listened to the soundless echo of the forest, and sucked down a deep gulp of pristine mountain air.
Then I grasped the handlebar of the machine that got me out here, a freakish 50-pound two-wheeled contraption with big, soft 4-inch-wide monster-truck tires that float over snow: A "fat" bike.
"Yeah, let's do it," I said. It wasn't even 1 p.m. No problem getting back to Squaw Valley by 5:30 for a moonlight snowshoe hike, the second act of this day's "I'm bored to death with skiing" escape.
Long beamed a big, toothy smile. As the co-owner of Truckee-based Tahoe Mountain Guides, he normally guides families and corporate groups on short, slow summertime mountain-bike outings about two hours long. To get some winter business, he just added fat bikes, a brand-new category. When I told him I'd done hundreds of all-day mountain-bike rides around the world, he seemed to take that as a challenge.
He was going to leave me with an adventure I would not forget.
Truth is, though, I'd already had one. The mere act of riding a bike on a snowy trail in the mountains is a spectacular, sensory-overload thrill.
We'd shoved off at 11:30 a.m. on historic Sawtooth Ridge, riding a hard-packed snowmobile trail known as the "Fiberboard Freeway," one of hundreds of Gold Rush-era logging roads cut through the Sierra that once turned Truckee into the epicenter of a lumber empire. Now, as far as the eye could see, the replanted firs and cedars of the old clear-cut hillsides were flocked in dazzling white.
After 45 minutes, it was as quiet as a painting. The only sounds were the deep wheezing of my high-altitude breathing and the bubble-wrap-like crackle of snow sputtering under the tires.
"Look, there's Lake Tahoe," said Long after we climbed 600 feet to an overlook, his tour's typical turnaround point. The stunning view was ours alone — one of the reasons why he'd moved up here with his family 26 years ago from Orange County. Falling in love with the trails, he secured U.S. Forest Service permits to lead tours.
Pedaling fast, we reached the aforementioned trail juncture where Long made his fateful suggestion to extend the trip. I say "fateful" for a reason, as two unprepared guys heading deep into the backwoods alone is a bad movie waiting to happen. Like clockwork, after four more miles and 1,000 feet of steep descent, we turned a corner to discover that the snowmobile tracks stopped. Vanished. We couldn't ride without them. Apparently, our trailblazing snowmobiler had turned back.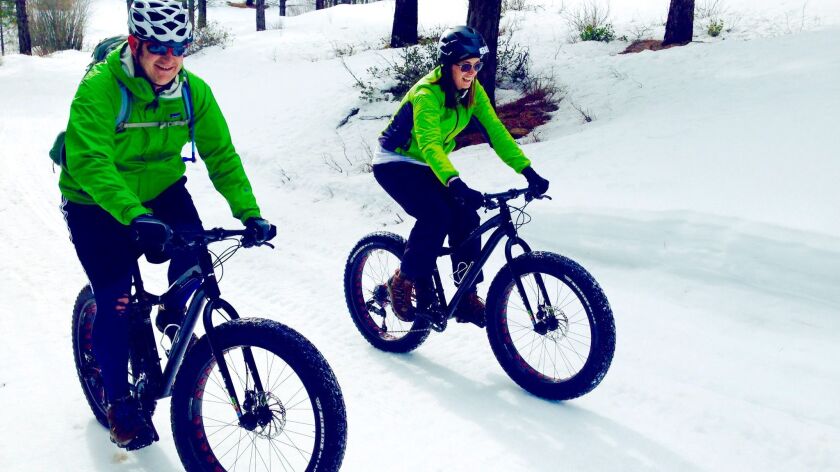 Too far now to backtrack, we had no choice, Long said: The fat tires weren't fat enough to ride it. We had to continue descending to flat ground and the highway through fresh, untracked snow for eight miles — on foot.
Normally, I love walking. But not when each step plunges knee-deep into two feet of mush … while pushing a monster 50-pound bike … seeing fresh bobcat tracks (they come out at night) … and feeling my toes starting to go numb as the sun disappeared.
In the end, our planned two-hour, eight-mile ride became a seven-hour, 18-mile slog and I missed my moonlight snowshoeing. But all was well. We didn't run into Leonardo DiCaprio's grizzly from "The Revenant." We weren't ever in danger. We simply kept on plodding.
Back at the sports shop around 7 p.m., we cracked a couple of beers and toasted to snow biking. In a world of predictable canned excitement — of zip-lining in Costa Rica, speedboat hang-gliding in Hawaii and riding a gondola up a mountain and skiing down it 20 times here — it gave us something I wanted, Ken needed, and everyone raves about whenever they experience it: A real adventure.
And you know what? I think he knew about those snowmobile tracks.
If you need more adventure in your next mountain getaway, check these options near North Lake Tahoe-area resorts:
Snow biking
Two-hour guided snow bike tours up local trails. $98, includes bike. TahoeMountainGuides.com
Full-moon snowshoeing
Snowshoe hikes by the light of the moon. Next dates: March 11, March 12 and April 10. $65, including snowshoes, poles, hot drinks and trail snacks. TahoeAdventureCompany
Off the beaten path
All-day guided tour of off-limits terrain for small groups at the Squaw Valley Alpine Meadows resort. Package includes priority lift line access and North Face ski jacket. $799 for groups of 4. squawalpine.com
READ ON!
The two signs your music is 'aging' your hearing
Relieve your tension headache after a dumb day at work
Caring for cuts, burns and scrapes: The rules have changed
4 L.A.-area running clubs that are way more than just running clubs
---