When it comes to ticking off the things that can do damage to the environment, surfboards may not be one of the first offenders that come to mind. But the traditional method of building a surfboard is rife with volatile organic compounds and waste.
Most boards on the market begin with a "blank," historically made from cheap yet highly toxic polyurethane foam. The shaping process of that blank, either by hand or machine, releases a significant amount of waste in the form of foam chunks and dust. And after draping sheets of fiberglass across that blank, the entire thing is drenched in viscous, acrid polyester resin blended with acetone.
"It is fair to say that the surfboard manufacturing process can be considered rather toxic," said Sean Smith, executive director of the Surf Industry Manufacturers Association, a nonprofit trade group. "Many of the materials used and processes involved in board building are not environmentally friendly. The good news, however, is that the surf industry … is made up of die-hard surfers who really do care about the environment. Because of that, the board building community is actively seeking and pursuing new materials and processes to protect the environment."
One such board company is Firewire, which, since shaping its first boards in 2006, has been one of the sport's few makers of mass-produced surfboards to prioritize sustainability. The company's efforts begin with the board's construction, which uses an infinitely less toxic makeup of expanded polystyrene foam and bio-resin epoxies. At the company's Thailand factory, epoxy is not lavishly slathered on; instead, it is carefully mixed, measured and applied. Foam waste emitted by the shaping process is gathered, recycled and repurposed into an array of other products, from garden pavers to high-value building materials.
Firewire's sustainability practices go beyond the manufacture of surfboards. According to Sustainable Surf, a California-based 501(c)(3) whose Ecoboard Project audits and certifies the sustainability of surfboard manufacturers, Firewire has a "strong emphasis on limiting their impact on the environment and also giving back to the global surf community." In 2018, Firewire donated 5% of net profits to various causes, including Surfrider Foundation, Surfaid and Parley for the Oceans. Firewire also has a carbon offset initiative, which aims to make the company carbon-neutral by 2020.
Leading Firewire's sustainability efforts is cofounder and CEO Mark Price, a South African native whose stint as a pro surfer landed him on the global rankings in the 1980s. After executive positions with Rip Curl USA and Reef, he gathered a group of friends to launch Firewire in 2006, when a goal of making surfboard construction more environmentally sound was still perceived as outré and niche. Price believes surfboard manufacturing still has some catching up to do with environmental practices.
"We're building less toxic surfboards; they're not toxin-free," Price told a gathering of students at Loyola Marymount University in 2017. "So I don't want to get on a pedestal here and say we've got it all figured out and we're doing everything right. But we are doing certainly a lot more than most people in our industry, and hopefully through that we're coercing them and encouraging them to make similar changes."
Until now, despite all the investment in environmental efforts and sustainability initiatives, Firewire's output has largely focused on shortboards. While the company has offered a limited longboard program since 2008, it has never been the largest segment of its business. Longboard sales for Firewire represent 8 percent of total units sold globally, whereas shortboard sales are "relatively mature," according to Price, and continue to grow in the "high single digits" year over year.
In March, however, Firewire made waves in the surf industry when it acquired Carve Sports, a surfboard manufacturer that specializes in longboard production. Carve's stable of brands includes CJ Nelson Designs, Skindog Surfboards and Harley Ingleby Series by Tolhurst Surfboards, all of which specialize in longboards.
"They were small and hadn't achieved scales, and they got to the inflection point: 'Do we make all of the investment that Firewire has already made or do we leverage all the investments they've already made?' " said Price. "[Carve] approached us and there were tremendous synergies between the companies. They also use EPS foam; they also have a high technical construction method to build their boards. So there was a technical synergy between our brand story and theirs."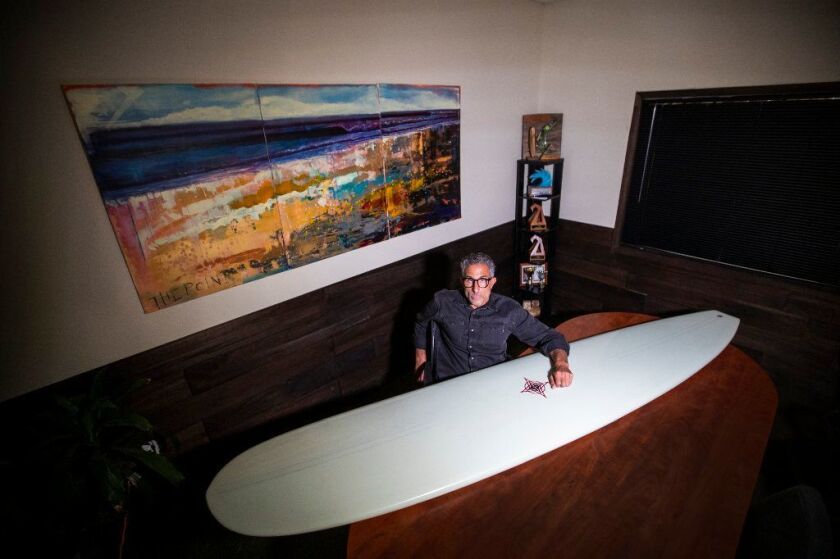 And with the acquisition of Carve Sports, Price is leaning into the longboard market. "We've added a complement of longboard designs, aesthetics and brand identities that cover the full breadth of the market. Whether it be traditional single-fin longboards with amazing color work and a polished finish that cater to the lifestyle enthusiasts … or the high-performance, highly technical construction … we've got that customer covered."
On a phone interview between catching some waves, retired competitive surfer Rob Machado — one of Firewire's sponsored athletes — said Firewire's push into the longboard market was a unique move in the surfboard industry. "It's not overly common to see a company offer a wide variety of both short- and longboards," Machado said. "Some guys dabble, but it seems to me that companies will pick one lane, and their main focus will be shortboards or longboards."
Price sees 2019 as a transitional year, focusing on placing the product in the right stores and gauging the larger market appetite for the new, more eco-friendly longboards. In 2020, he estimates that Firewire will sell 5,000 longboards. His five-year projection estimates that longboards will soon become 30% of Firewire's business. For now, the new, marginally more eco-friendly Carve longboards will trickle in to select retailers starting this June and July.
Firewire's expansion into longboards is an exciting development for the surf industry, suggesting not only that longboard surfing is on the rise, but that surfboard production can, and should, be done sustainably.
"We're in an era of surfboard innovation like we've never seen before," said Smith. "The health of our ocean environment matters to everyone in the surf industry because we rely on it for the health of our businesses. And that's why we're confident that we will continue to see great advances in eco-friendly surfboards while maintaining credibility in performance and quality."
---