Wearable fitness devices to track goals: Moov, Basis Peak, Misfit Shine
Misfit Wearables created the Misfit Shine, a wireless physical activity tracker that looks nice too. Just place it on an iPhone and it syncs, even in airplane mode. No buttons, no cables, no Bluetooth pairing and no recharging.
(Misfit Wearables)
The Misfit Shine is an elegant all-metal disk with a halo of lights. It can also be worn as a necklace.
(Misfit Wearables)
The Misfit Shine comes in different colors too. There's a less-expensive version made of plastic.
(Misfit Wearables)
Moov can be work on a wrist or ankle and gives voice commands and offers motivation for workouts besides gathering data.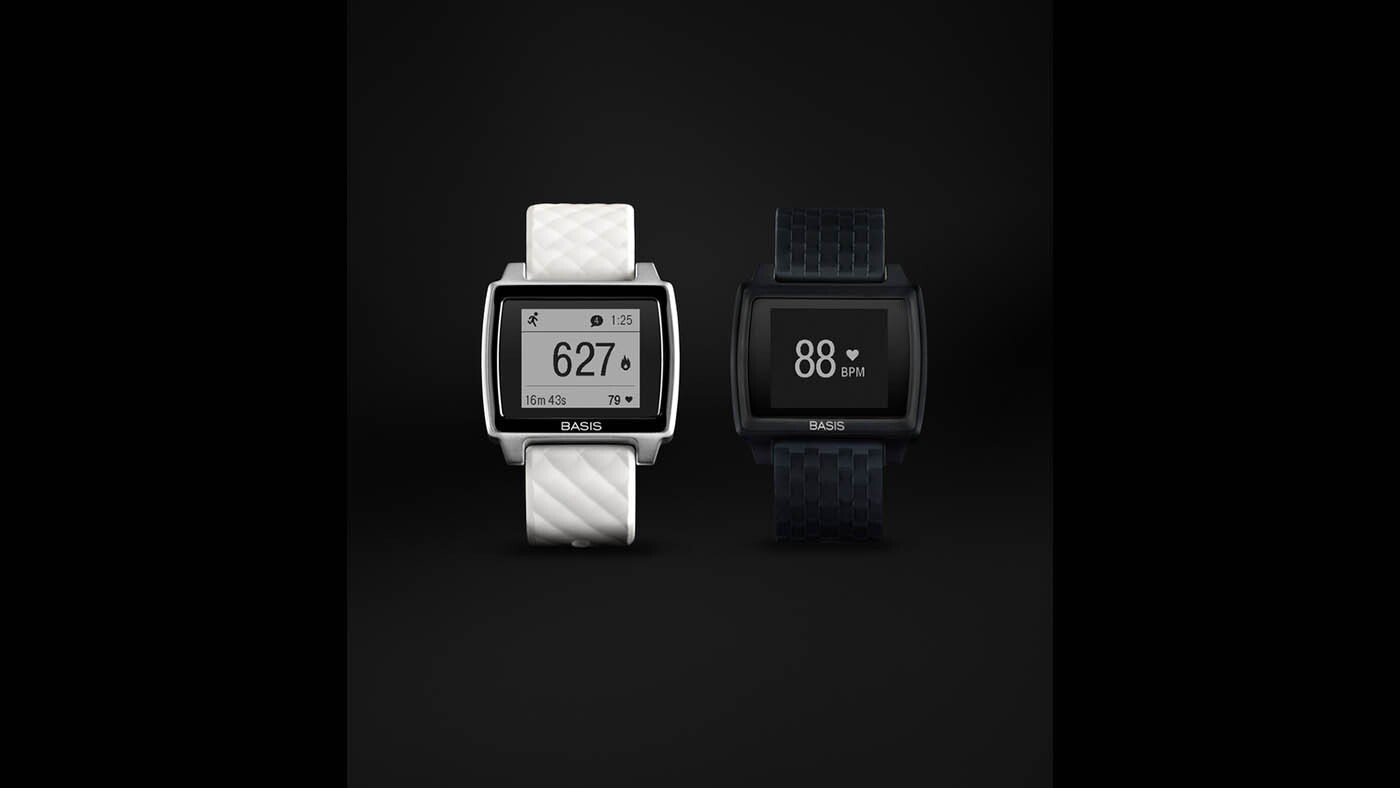 The Basis Peak fitness and sleep tracker is updated with a sleek touchscreen design and improved sensor technology.
( Basis)
Wearable tech is all the rage, and you would be hard-pressed to find a limb out there unoccupied by some kind of device to count steps, track sleep, monitor heart rate or tell you how many calories you've burned. One has to wonder how we got by before there were so many cool devices to help us get in shape and stay fit. Here are a few of note.
Moov
Hailed by its creators as your very own virtual coach, Moov taps into the latest in artificial intelligence technology to guide you through your workout. Instead of just counting steps and spewing out data, Moov tells you what to do and how to do it via real-time audio commands. Best of all, Moov keeps you in check and won't let you cheat.
------------
FOR THE RECORD
An earlier version of this post indicated that there had been a previous version of the Basis Peak. It was another model from Basis, not a Peak.
------------
Moov's design is simple, a sleek watch-like, waterproof disk. It clips into a long silicone strap and is worn either on your wrist or ankle, depending on the activity. Three sensors live inside Moov, an accelerometer, gyroscope and magnetometer that work together to form a nine-axis motion sensor to recognize human movement. This makes Moov a champ at accurately measuring how you really move in terms of speed, cadence and force across different sports and activities. Moov currently has two apps on the market, Moov Run & Walk, and Cardio Punch, a cardio boxing app. Apps for cycling, swimming and weight training are in the works.
Since there's no display on the Moov face, it needs first to be paired to your iOS or Android smartphone via Bluetooth. Say you want to get in a workout but want more than the same old jog around the block. Pair the Moov to the Moov Coach Run & Walk app on your mobile device, strap the device to your ankle and you're good to go. From your app you choose your workout, from brisk walking to sprint intervals to speed endurance, as well as difficulty level. Moov is so comfortable that you almost forget it's there until the Siri-esque voice pipes through the headphones (more voices and different personas are planned). Immediately she starts you off with a brief warm-up. There's no lollygagging here — Moov is all business, telling you to get moving if it senses you're standing around or slacking. "We need to walk faster to get a workout," or "visualize walking on a hot ground to increase your stride frequency." .
Moov can be nice too: Workouts are parsed out in intervals of a few minutes, and at the end of each one, Moov congratulates you, saying things like "Nice work. You beat the target for Difficulty 10 by a ton." You decide how much and how hard to make the workout by swiping the screen between intervals. You can still rock out to your favorite beats during your workout, but be prepared for plenty of interruptions. Moov also checks your form. There are live screens that will tell you your goal, cadence and time remaining. Unfortunately, Moov lacks voice command interactivity.
Once you are finished, Moov issues a post-activity report on how you did and some suggestions. Scroll down for charts and graphs detailing things like steps walked, calories burned, cadence, elevation and range of motion — more things than you will care to know. But precise and thorough feedback is what you get with the intelligent Moov, especially if you're a running geek who is into impact analytics or how heavy your step was measured in g-force.
Moov, $120 at moov.cc
Basis Peak
Getting and staying in shape just got a whole lot easier with the Basis Peak fitness and sleep tracker from Intel. Usurping its predecessor, the Basis Carbon Steel, the Peak has new and improved features, some of them the result of user feedback. A glance under the hood of this watch-style tracker reveals a smart device that uses BodyIQ technology that automatically detects whether you're walking, running, sitting, sleeping or cycling. Jump on your bike and, within seconds, the cycling icon shows up on the LCD, letting you know that your ride is being tracked. Beneath the watch is a set of sensors that hug your wrist along with a set of pulsating green lights that measure physiological markers, including heart rate, skin temperature, perspiration and blood flow. This means that, from the moment you sit down with your boss to go over your annual performance review, the Peak knows exactly how much you are sweating the encounter, all without a chest strap.
One beef I had with a previous Basis tracker was that its looks leaned toward clunky Casio timepiece from the '80s. The new Peak has had some work done. Sleek and comfortable enough to wear all day, the new module features a brushed aluminum casing housing a touch screen made of Gorilla Glass that's also waterproof for swimming. Swappable bands make it easy to change your style.
Swipe the Peak's touch screen to see heart rate, calories burned and steps, then sync via Bluetooth to your smartphone to see a whole lot more. The Basis mobile app analyzes your numbers and inspires you to meet your goals in the form of "earned habits" and badges with an impressive array of graphs and analytics. The earned habits concept allows you to set goals in smaller increments.
In the sack is where the Peak really shines. Again, no need to let the device know when you are hitting the hay. The Peak automatically knows you're sleeping. Using multiple sensor signals and sleep algorithms, the device boasts some of the most advanced sleep analytics of fitness trackers. Basis Science consulted with research institutions and clinics in the Bay Area to help substantiate their methodology. Basis knows when users are in light, deep and REM phases, duration of sleep, and how many tosses and turns and interruptions transpired.
Basis, which as a battery life of four days, plans to release a smart-watch notification feature, letting you interface with your smartphone for texts, calls and calendar alerts. If you're serious about losing weight or getting better sleep, the Basis Peak is a great motivator.
$199 at mybasis.com
Misfit Shine
Of all the activity trackers on the market, the Misfit Shine takes the prize for the most interesting design. Resembling two quarters neatly stacked together, the minimalist Shine is an elegant little disk constructed of smooth aircraft-grade aluminum, and, depending on your activity, it can be clipped onto a shirt or shoe, or worn like a watch or necklace. The Shine, which also comes in hues with names like Sea Glass and Wine, resembles a piece of jewelry that tries hard not to look like a fitness tracker.
But the waterproof Shine is more than just a pretty pedometer. It capably keeps track of walking, running, biking and even swim strokes. Shine requires the user to tap the device three times to designate a specific activity and depending on the activity, needs to be placed accordingly on the body. If you're going for a bike ride it would need to be attached to the shoe to record each pedal stroke.
There is no need to charge the device every few days. Pop the coin cell battery into the Shine and you're good for four months. Twelve pinhead-sized LED lights are positioned around the edge of the circle and, with a tap, tell you how close you are to your daily activity goal. If you want more, sync the Shine with your iOS or Android smartphone by placing it flat on the screen of the Misfit app and let Bluetooth do the rest. In keeping with the theme of simple is more, insights and data on the Misfit app are rather basic, but steps, calories and distance are all displayed.
For those wanting a simple and stylish way to get into the fitness game without screaming from the mountaintops, the Misfit Shine sparkles. (The Misfit Flash, a budget version of the Shine, does basically the same things as Shine but is made of plastic.)
Misfit Shine: $99 and Misfit Flash, $49 at misfit.com
---