The West Coast fitness gurus you need to follow on Instagram
Instagram can be so much more than selfies and scenery. Follow the right mix of trainers, yogis and nutritionists in California's #FitFam, and you'll find it easier to stay motivated and on track with your goals. These California Instagrammers can help you find workouts, inspiration and those fitness memes you didn't know you needed.
Whom do you follow?
Cheeky and sculpted
@massy.arias — Massy Arias, a Dominican-born, L.A.-based trainer has gained a massive global following in recent years, both for her cheeky attitude, sculpted physique and amazing feats of strength and agility. She rallies her "queens" to move daily, and posts tough strength workouts set to hip-hop. Followers: 2 million. Massyarias.com
60 dips in 60 seconds?
@tonyshorton — P90X creator and master trainer Tony Horton makes (almost) 60 look fabulous, and his exercise demos will get you off the couch — though few mere mortals are up to his 60 dips in 60 seconds. Followers: 138,000. Tonyhortonlife.com
Rock-solid workouts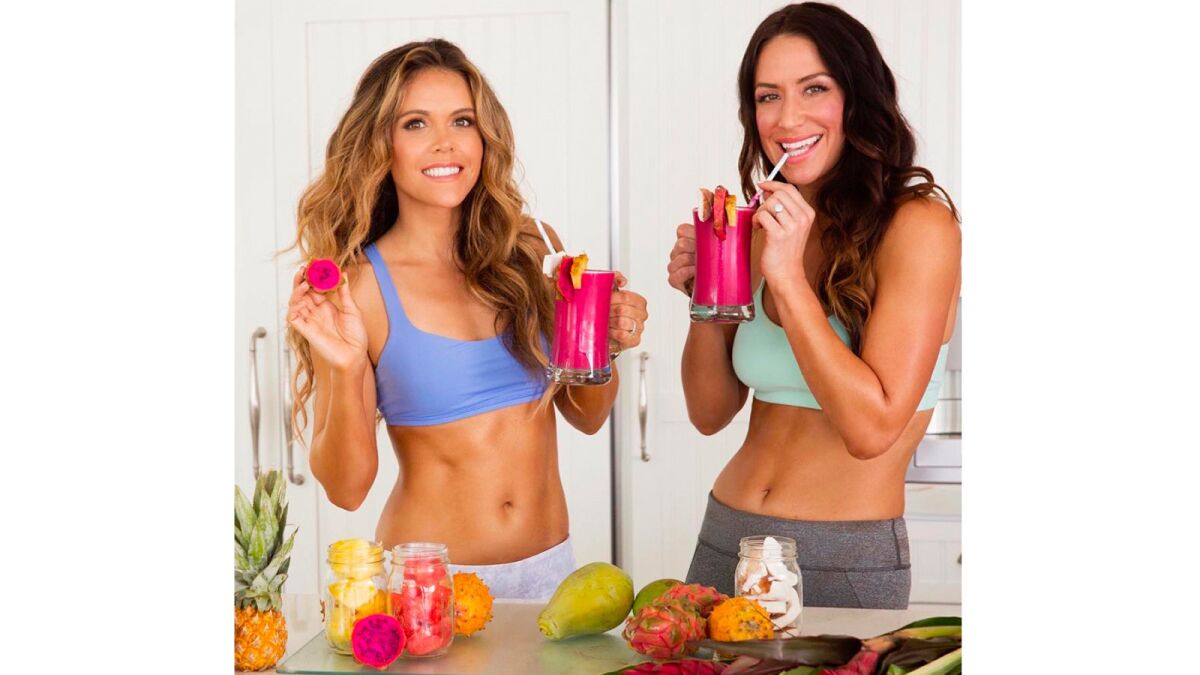 @toneitup — Some might be put off by Karena Dawn and Katrina Scott's "bikini body" challenges and all those before-and-after pics. But to many, this #fitspo is motivating, and the free workouts from these YouTube stars and BFFs are rock-solid. Followers: 706,000. Toneitup.com
Run, Forrest, Run
@unitedla — They say no one walks in L.A., but a lot of people run. Ditch the solitary runs and find your sneaker tribe on this feed that posts group runs and events across the Southland as well as community service such as trail cleanups. Followers: 1,527. unitedla.la
The comeback kid
@nataliejillfit — Natalie Jill's story of losing it all at age 40 and finding her way back through fitness is more than inspiring. And her daily workouts and recipes will keep you double-tapping. Her mantra, "Excuses or solutions — you decide," helps her followers get off the couch and to the gym. Followers: 508,000. Nataliejillfitness.com
Tough it out
@bodybyjennla — If you turn to social media for your workouts, check out celebrity trainer Jenn Glysson's feed with tough circuits and pointers on form to help keep you injury free. Followers: 36,000. bodybyjennla.com
He's human too
@mikedfitness — Trainer Mike Donavanik has challenging weekly HIIT and strength workouts to keep you at the top of your game. His funny posts let you know the struggle is real even when you're incredibly fit. And his videos, which show him being less than perfect, are challenging yet relatable. Followers: 3,414. Mikedfitness.com
Motivational meals
@Blogilates — Cassey Ho is an Instagram megastar with good reason. Her bubbly personality, Pop Pilates workout videos and calendar, and healthy recipes will keep you on track and motivated. Followers: 1.3 million. Blogilates.com
Pretzels, anyone?
@hunterfitness — Hunter Cook, a muscle-bound Long Beach trainer and mobility expert, strikes some pretty amazing human pretzel poses in the gym and on his rooftop patio, proving size and strength are so much more impressive when accompanied by flexibility. Followers: 52,100.
True star power
@msjeanettejenkins — The Hollywood Trainer has been sculpting the bodies of Hollywood for years. Jeanette Jenkins serves up her short exercise circuits, pics with celebs and motivational memes with the right amount of sass. Followers: 338,000. TheHollywoodTrainer.com
Heavy lifting
@negharfonooni — Neghar Fonooni, a former U.S. Air Force linguist turned personal trainer and lifestyle coach, empowers women to lift heavy, find the fun in movement and feel comfortable in their own skin. Followers: 27,200. negharfonooni.com
Strong but supple
@shauna_harrison — Shauna Harrison is a Bay Area hip-hop jock and yogi, who started the #sweataday challenge to get people posting their workouts. She is a big believer in fusing strength and fluidity and sees no shame in using TRX bands when you're doing crow pose. Followers: 78,300. Shaunaharrison.com
Wise words
@bretthoebel — A former trainer on NBC's "The Biggest Loser," YogaBrazil founder and a motivational quote lover, Brett Hoebel's capoeira moves are epic. Followers: 13,400. bretthoebel.com
READ ON!
Why midnight snacking is the worst
7 reasons why you can't lose the weight
Actress Sofia Vergara's secret? Lifting weights