It's time to rock your goals, find your bliss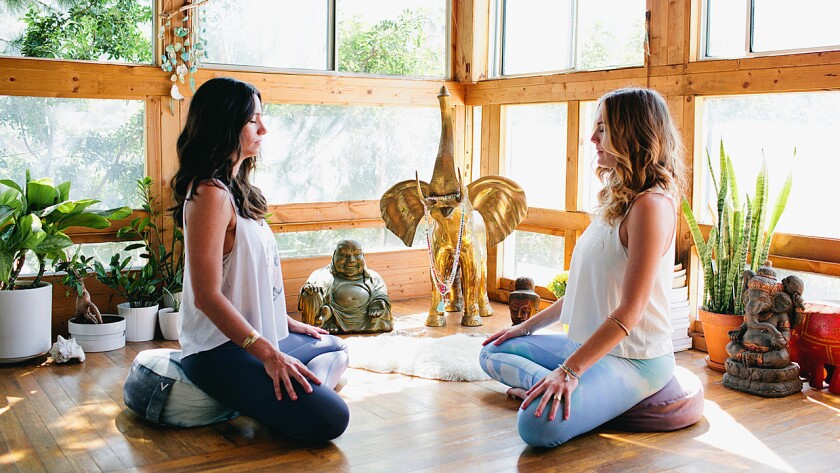 A beachy 5K, a most unusual meditation setting, rocking your bliss and honoring songstress (and yogini!) Alanis Morissette … here are a few wellness events you need to know about:
Healthy weekend kickoff in Hermosa
Healthful Hermosa Beach dining spot the Source Cafe is the meeting point for a Sept. 9 5K marathon led by marathon runner and Athleta ambassador Becky LaChance. Show up a few minutes early for a pre-run nutritional boost before a sprint through the South Bay. After, the cafe's chef, Amber Caudle, will fix all participants a regenerating post-workout smoothie and will be around to offer tips on healthy eating and demonstrate food prep.
Info: 9 a.m. Sept. 9, the Source Cafe, 509 Pier Ave., Hermosa Beach. $25. Sign up at TheSourceCafeHB.com.
'Live Till You Die' meditation — at a cemetery
A graveyard might appear to be an odd spot for a wellness gathering. But there's a reason that the Hollywood Forever Cemetery is the venue for the Sept. 10 "Live Till You Die" meditation event.
"This can be a powerful incentive to be mindful and live it up," said Trudy Goodman, a teacher of the Vipassana method of meditation who will be leading the evening event. "We realize that our time here is not forever."
The two-hour free event is organized by InsightLA, of which Goodman is a founding teacher and which runs mindfulness events around the city. Nestled among the tombstones, attendees will be led into a meditation and a reflection on life and death.
Info: 5 p.m. Sept. 10, Douglas Fairbanks Lawn, Hollywood Forever Cemetery, 6000 Santa Monica Blvd. Free/by donation. Register at Insightla.org.
Rock your goals, find your bliss
Gear up for the inevitable stresses of the holiday season with a seven-week session jointly run by Los Angeles yoga instructor Mary Beth LaRue and Denver goal coach Jacki Carr. The "Rock Your Bliss" program, which starts Sept. 11, will use a combination of conference calls, online yoga classes and journaling to help those who sign up acquire "a new set of tools and perspectives," said LaRue. Topics include how to set aside time for healthful rituals, be that meditation or "a weekly hike sans cellphone, to make your values a priority and be mindful about language going forward. It's a combination of yoga philosophy and self-development."
Info: 5 p.m. Sept 11. $269 if booked before Sept 10. RockYourBlissmovement.com
Not ironic: Honoring Alanis Morissette
A late September Santa Monica event brings together music, yoga, celebrity and philanthropy. "Ironic" singer Alanis Morissette, a long-time proponent of yoga, will be receiving the 2017 Namaste Award from the charity group Yoga Gives Back. Some 200 members of the local yoga community typically attend the event, which includes a cocktail reception and seated dinner. Proceeds go to programs in India benefiting women and children.
Info: 5 p.m. Sept. 24 at YogaGlo, 1740 Stanford St., Santa Monica. Tickets: $275, available through yogagivesback.org.
Please consider subscribing today to support stories like this one. Already a subscriber? Your support makes our work possible. Thank you. Get full access to our signature journalism for just 99 cents for the first four weeks.
---