Federal panel says everyone 15 to 65 should have HIV test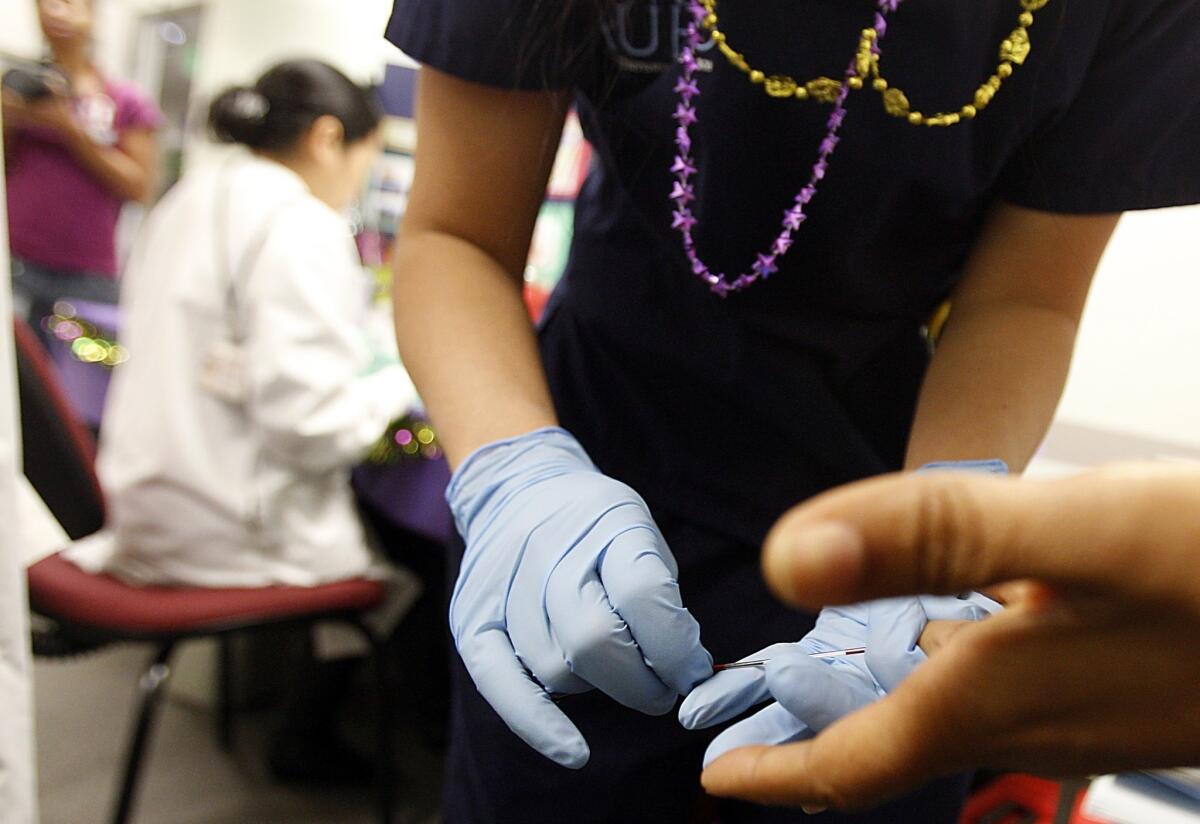 Citing recent evidence that HIV infections are best managed when treated early, an influential panel of medical experts has finalized its recommendation that all people ages 15 to 65 be screened for the virus that causes AIDS.
The recommendation from the U.S. Preventive Services Task Force seeks to address one of the key challenges in the fight against HIV/AIDS: The window during which patients respond best to treatment is also the time when symptoms of the disease are least noticeable.
"HIV is a critical public health problem, and there are still 50,000 new infections per year," said Dr. Doug Owens, a task force member and professor of medicine at Stanford University. "There's very good evidence that treatment is effective when given earlier, at a time when people are often asymptomatic. So the only way they would know that they had HIV, or that they needed treatment, is to be screened."
The guideline is being released after a number of well-publicized cases in which early treatment with a combination of powerful antiretroviral drugs has greatly improved patient survival rates. In one of those instances, doctors reported in March that an infant in Mississippi who began aggressive drug treatment immediately after birth had been "functionally cured" of HIV.
The new statement, published online Monday on the task force's website and by the Annals of Internal Medicine, is a departure from the more cautious recommendation the task force made in 2005. It brings the advisory panel into alignment with other prominent medical groups that recommend routine, voluntary HIV screening of adolescents and adults. Those organizations include the U.S. Centers for Disease Control and Prevention, the American College of Physicians, the Infectious Disease Society of America and the American Congress of Obstetricians and Gynecologists.
"We hope that now, with all groups recommending really similar things, the message will get out," Owens said.
HIV is a retrovirus that attacks the cells that work to protect the body from disease, and it can take years or even decades for serious symptoms to appear. The virus is most commonly transmitted through blood and semen; intravenous drug users and men who have sex with men are considered to be at highest risk of infection. Other risk groups include people who have unprotected vaginal or anal intercourse and those who have sex with a partner who is either HIV-positive, bisexual, an injection drug user or who exchanges sex for drugs or money.
Until now, the task force had recommended HIV screening only for people in these risk groups and for pregnant women. When formulating their earlier guidance, task force members expressed concern that widespread testing might result in false-positive results or cause depression and social stigma among those who learned they were infected. Panel members also said that long-term treatment could result in harmful side effects, such as cardiovascular disease.
Based on a review of more recent data — including evidence that as many as 25% of people who carry HIV in the U.S. have no idea they are infected — task force members concluded that early detection would "result in substantial public health benefits" that outweighed any risks of widespread screening.
The task force "found convincing evidence that conventional and rapid HIV antibody tests are highly accurate in diagnosing HIV infection," wrote Dr. Virginia Moyer, a pediatrician and task force chairwoman. "Although long-term use of certain antiretroviral drugs may be associated with increased risk for cardiovascular and other adverse events, the magnitude of risk seems to be small."
This latest recommendation urges that everyone 15 to 65 undergo a one-time screening. Individuals in risk groups who are older or younger should undergo screening as well.
Also, women should be tested during each pregnancy, the task force says.
The task force recommended annual screenings — at the very least — for people in known risk groups.
"The question is, 'Do you have ongoing risk, like new sexual partners?'" Owens said. "If you do, then it makes sense to screen periodically."
Patients should also be offered the opportunity to ask questions and to decline testing, the panel wrote.
Since the first cases of AIDS were reported in 1981, more than 1.1 million people have been diagnosed and more than 595,000 have died from the condition.
In an editorial that accompanied the recommendation, UC San Francisco AIDS experts Dr. Moupali Das and Dr. Paul Volberding wrote that the new task force guidelines were of "critical significance" and that diagnosing those who have HIV but don't realize it would have a far-reaching effect.
"Ending the epidemic will be very difficult, and only effective screening can make it remotely possible," they wrote. "Informing all infected persons of their status may well reduce ongoing transmission risk behavior in [and] of itself, and if antiretroviral therapy is also accepted and successful, further spread will be substantially reduced and perhaps even eliminated."