A home is transformed through vibrant patterns and colors — and a little trust
Los Angeles designer Karen Frid-Madden and her client Karl Thurmond sit in the living room of his Westwood home in front of one of two wallpaper patterns that Frid-Madden juxtaposed. The bold wallpaper took a little convincing.
(Genaro Molina / Los Angeles Times)
The Tudor-like facade of Karl Thurmond's home in Westwood contrasts with the colorful interiors.
(Genaro Molina / Los Angeles Times)
The entryway includes another Murano glass lighting fixture as well as a wood door with glass placed at intervals created by an Israeli artist. "There are only two doors like this, supposedly," Thurmond says. The mail chute is custom-made of old rosewood, and it happens to perfectly complement the front door.
(Genaro Molina / Los Angeles Times)
Thurmond stands in his living room, which includes two contrasting yet compatible wallpaper designs along with swivel chairs from the Century Design Showroom at the L.A. Mart downtown. The room gets his guests talking. "People have a reaction to the house," he says proudly. "To this day it's still interesting to me today as it was when we first started."
(Genaro Molina / Los Angeles Times)
A side table by Jonathan Adler stands in Thurmond's living room, which he likes to keep uncluttered to accommodate gatherings.
(Genaro Molina / Los Angeles Times)
Thurmond's den features hunter green walls, patterned wallpaper and a sofa. "I wanted it to be relaxing. This is where I spend a lot of my time," he says. "I wanted it to be more comfortable and inviting" for either quiet reading, as well as for conversation. "I wanted each room to be its own place to be self-contained," he says about the house overall.
(Genaro Molina / Los Angeles Times)
The den is where Thurmond spends much of his personal time reading on the comfortable sofa.
(Genaro Molina / Los Angeles Times)
The office located upstairs features a restored antique chaise lounge originally from Cuba, and a custom made coffee table with blue leather, another example of both the homeowner's and designer's affinity for that color. Frid-Madden designed the bookcases to fit the quirks of the space. Other elements are a mix of vintage, new and custom.
(Genaro Molina / Los Angeles Times)
"I call these 'Mexican yellow chairs,'" Thurmond explains. He showed Frid-Madden the color, which she used as a jumping-off point for the rest of the room. "She was right" about the wallpaper, Thurmond says. He had to see the entire room completed in the pattern and in combination with the color, "Otherwise I would have freaked out," Thurmond jokes.
(Genaro Molina / Los Angeles Times)
Karl Thurmond asked interior designer Karen Frid-Madden to source Murano glass light fixtures for his home. As a result, the dining room chandelier and the foyer ceiling-mounted fixture are from LAMF on La Brea Avenue.
(Genaro Molina / Los Angeles Times)
Frid-Madden in the home's dining room.
(Genaro Molina / Los Angeles Times)
A vase stands in a corner of the dining room, where Thurmond initially resisted Frid-Madden's bold geometric wallpaper selection. His only and first requirement was that Frid incorporate the bright yellow shade into the room.
(Genaro Molina / Los Angeles Times)
A Jonathan Adler bird-shaped brass bowl in the dining rom.
(Genaro Molina / Los Angeles Times)
The custom-made pocket door between the dining room and the kitchen echoes the dining room wallpaper pattern.
(Genaro Molina / Los Angeles Times)
The downstairs powder room features a glass basin sink, which emits a soft glow thanks to internal lighting, and tiles in an earthy palette.
(Genaro Molina / Los Angeles Times)
Frid-Madden selected Thibaut's Alexander pattern in silver to add some dimension to the house's stairwell.
(Genaro Molina / Los Angeles Times)
The upstairs bedroom gave Frid-Madden and Thurmond an opportunity to further explore blue and white. Frid covered select surfaces with Designers Guild wallpaper in Castellani Indigo. The chairs are antiques that Frid had repaired and reupholstered, the console table is from HD Buttercup and lamps are by Jonathan Adler.
(Genaro Molina / Los Angeles Times)
Upstairs, Frid-Madden designed a bathroom with elegant retro touches in various shades of white.
(Genaro Molina / Los Angeles Times)
The downstairs bedroom features a custom-made bed and pillows along with patterned wall paper.
(Genaro Molina / Los Angeles Times)
It started with the wallpaper almost every time.
Los Angeles designer Karen Frid-Madden proposed installing two contrasting yet complementary white and royal blue wallpaper patterns in her client Karl Thurmond's Westwood living room. Needless to say, it took a little convincing.
Then came the dining room, and her recommendation to put up a different wallpaper — a bold geometric pattern.
"We fought over this the day it was going up," Thurmond recalls, laughing. "As the guy is putting up the wallpaper, I'm sitting there saying, 'No, no, no.'"
The designer promised she'd cover the cost of removing and replacing, if the choice still didn't sit right with Thurmond.
"This is my favorite," he says now, happy to concede the victory.
A similar friendly disagreement happened again in the upstairs bedroom, but by that point, Thurmond had learned to trust. Here's how they did it:
Edgy elegance
"I've always been someone who didn't want an Ethan Allen house, or every room to look the same," Thurmond explains. When he was ready to renovate more of his home following a kitchen remodel in 2012, "a mutual friend suggested that I talk to Karen because I wanted someone who would push the envelope a little, but do it in a tasteful way."
The Westwood house built in 1947 was designed in an eclectic quasi-English cottage revival style, with very few right angles and situated on a slope. The somewhat traditional exterior "does not dictate the interior," Thurmond observes.
Learning to trust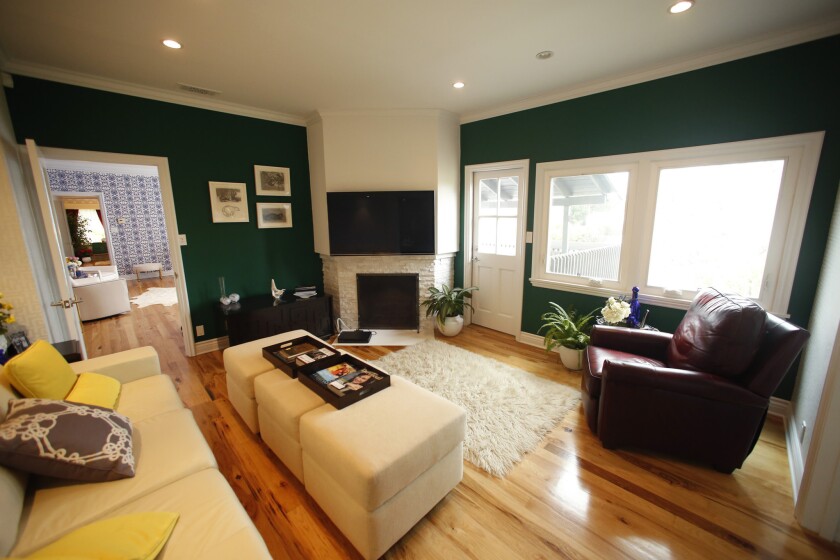 With a demanding legal career, many community volunteer commitments and a high school-aged daughter, he hadn't had the time to give much thought to the house's aesthetics. But Thurmond knew he wanted to do something with the place, especially since he regularly hosts parties and salon-like gatherings. It took some time.
"She really got to know me, so I felt like I could trust her, and trust the process," Thurmond says of Frid-Madden, a Mexico City native and self-taught interior designer who has a background in anthropology and Latin American studies.
Colorful response
"When I met Karl I told him, 'I like color,'" Frid-Madden says. "He went to my house and said, 'I like color, but not this [intensity]!'"
Her own Santa Monica home is an impossible-to-miss display of paints she personally brought over the border from Mexico in order to get the bright and deeply saturated Ricardo Legorreta- and Luis Barragán-inspired pink, yellow and blue shades she couldn't find in the U.S. Her house was also a collaboration with her father and brother, both architects who live in Mexico City and Tel Aviv, respectively.
"You have to get into people's brain. What is color for you? What is elegance for you?" Frid-Madden explains.
Going all in
In response, Thurmond says, "that's why I was comfortable giving Karen carte blanche, and I knew it would be interesting." What was only going to be a project downstairs wound up being extended to a bedroom, office and bathroom upstairs.
Over four-plus years, Frid-Madden got to understand Thurmond's needs and tastes.
A 'no sofa' living room
In some regards, "I'm a minimalist," Thurmond says, but he also insisted on a home that would be both conducive to conversation and a conversation piece. He didn't want a sofa in the living room, for instance, because the space is "more interactive" and flexible without one, Frid-Madden notes.
"I preferred this sitting arrangement because more people can sit around and talk to each other. This is a fun place to entertain," he says, pointing to the two leather swivel chairs and the white baby grand piano, which his daughter plays. The adjacent intimate den with its hunter green accent and again, patterned wallpaper, is another inviting room for socializing, but is actually where Thurmond spends most of his down time reading on the comfortable sofa. Most of the furniture is custom.
Risks paid off
"People have a reaction to the house," Thurmond says, pointing to the aforementioned wallpaper juxtapositions, and details such as the yellow dining room chairs and Murano glass chandelier. He finds deep red a restful chromatic theme for his bedroom, hardly an orthodox choice.
In the end, Thurmond proved game to taking decor risks, and he and Frid-Madden regularly found middle ground.
He sometimes would pick one detail, such as a color in a book, or a tufted ottoman, and ask Frid-Madden to design around that element. He loves blue, so that particular color is dominant in the living room and upstairs. Otherwise, his overt direction to the designer was minimal.
Before Frid-Madden left her unconventional imprint, "it was just a place to come home and crash. Now it's a place where I feel at home," Thurmond says.
"I just love hanging out here and bringing people over."
For an easy way to follow the L.A. scene, bookmark L.A. at Home and join us on our Facebook page for home design, Twitter and Pinterest.
ALSO:
They found a real estate unicorn: A house with great 'bones,' ready for decorating
Designer's duplex connects him to clients, community in West Hollywood
More Southern California home tours
---