Rocker's place has a good vibe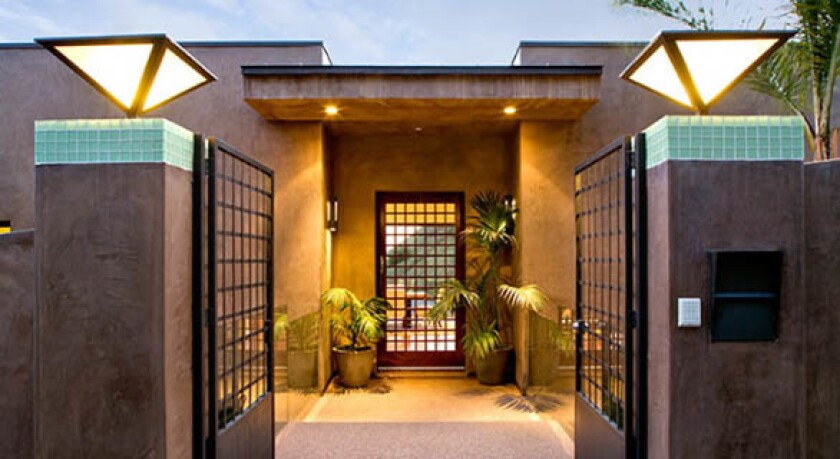 Los Angeles Times Staff Writer
Frontman Perry Farrell of the band Jane's Addiction has listed his longtime Venice home, and it's a real lollapalooza.
Priced at $1.6 million, it was designed for the musician by local architect Steven Ehrlich, who replaced most of the original bungalow on the site with a modern, Asian-influenced house with three bedrooms, two bathrooms and 2,203 square feet of living space.
A two-story barrel-vault ceiling runs the length of the building, which has an open living-dining-media room space, a loft and a rooftop terrace. The ceiling, covered in maple veneer, provides good acoustics, Ehrlich said. "Sound reverberates."
The main goal of the design, however, was to create an environment for relaxation when Farrell wasn't performing or on tour.
"He was a bachelor at the time, and it was a place to center himself," Ehrlich said.
A glass wall slides into a pocket to remove the barrier between indoor and outdoor spaces. A built-in Korean barbecue sits in the center of a raised Japanese table.
"This is California multicultural bouillabaisse," Ehrlich said of the design elements in the house, which was a product of much back and forth between the architect and the owner. Ehrlich came up with the use of the barrel-vault form so the house wouldn't look overbuilt for the neighborhood. It was Farrell's idea to stain the facade black.
There is a lap pool and a three-car garage that can double as space for a studio.
Farrell, 51, also has led alt-rock groups including Porno for Pyros in the 1990s and Satellite Party after that. He co-created the Lollapalooza festival tour in 1991. Jane's Addiction recently concluded a tour in Australia.
Now he is looking for a bigger place to raise his family.
The listing agent is Allyson Carter of Rodeo Realty, Sherman Oaks.
Actor-producer Matt Battaglia and his real estate agent wife, Tina, have put their Hollywood Hills home on the market at $4,595,000.
The contemporary home, designed for entertaining by Hector Baylon of L.A.-based Randall/Baylon Architects and built in 2007, has a media room, an office, four bedrooms and 3 3/4 bathrooms in 4,200 square feet. The couple used dark and distressed African mahogany wood floors throughout to give the house a "warm feel," Matt Battaglia said. A swimming pool and spa were added this year.
"I wanted to build my dream house with jetliner views from downtown to the ocean," said Battaglia, who bought the land in 2004 for $250,000.
After several hillside builders told him it would take 24 months to complete the home, he decided to hire a neighbor who was a contractor and move the project along himself.
The house was completed in 12 months for about $600,000 less than what other contractors bid, he said. "Just shows what kind of mark-ups some contractors have and how some of them drag out the process to earn higher fees."
The Battaglias are selling to move to an area closer to the beach with bigger yards.
Battaglia, 44, has acted in films and television shows and just completed work on "Thor" (2011). He has guest starred on "Big Love" (2007), "24" (2006 and 2007) and "Friends" (1997) and was a co-producer on the Golden Globe-nominated "Brothers" (2009).
"Building this house is what led me into producing," Battaglia said. "It's all about attaching the right elements and having experts in their fields handle their items — with everyone working together in collaboration for the finished product."
He said he realized if he could build a house, he "surely can make a movie."
"The key is in finding the right project that everyone wants," he said.
Thinking along those lines, Battaglia has optioned three bestselling books and is in development or negotiations to produce several films and TV shows. In February, Fox Television Studios closed a deal with Battaglia to executive produce a series based on the novel "Bad Monkeys" by Matt Ruff.
Tina Battaglia has the house listing at Teles Properties, Beverly Hills.
Singer-songwriter Paul Anka has bought a unit at the Carlyle Residences, a newly built 24-story building along the Wilshire corridor.
The condominium that Anka bought has two bedrooms in 2,800 square feet. The sales price was not available, but the unit had been listed at $3.6 million. Condos with the same floor plan are priced from $2.7 million to $5.3 million.
The tower has 78 units with 2,700 to 5,000 square feet of living space. All have private elevator entrances and access to amenities, including concierge service, fitness facilities and a dining room.
Anka, 68, became a teen idol in the late '50s with the No. 1 smash "Diana." He started working in movies in the '60s. "Lonely Boy," another of his top hits, became the title for a 1962 documentary about his career. He appeared in Season 3 of "American Idol" singing a tongue-in-cheek version of "My Way" that satirized the show. Anka wrote the lyrics for the Frank Sinatra classic.
Valerie Fitzgerald of Coldwell Banker, Beverly Hills, was the sales agent.
Update: Former Los Angeles Police Department Chief William Bratton and his wife, Rikki Klieman, have sold their Los Feliz house for $1.4 million.
They put the house on the market in July at $1,875,000, about a month before Bratton, 62, announced that he was leaving the LAPD to run a private security firm on the East Coast.
Walled and gated, the midcentury one-story has a courtyard entry, vaulted ceilings, four bedrooms, three bathrooms and 2,716 square feet of living space. There are outdoor entertainment areas with city views, a swimming pool and a spa.
The couple purchased the property in early 2003 for $1,244,000.
Bennett Carr of Sotheby's International Realty's Beverly Hills office and John David Olsen of Sotheby's Sunset Strip office had the listing. Lance Friedman of Prudential California's Studio City office represented the buyer.
---