L.A. Affairs: How I found out she was only using me for free dinners and drinks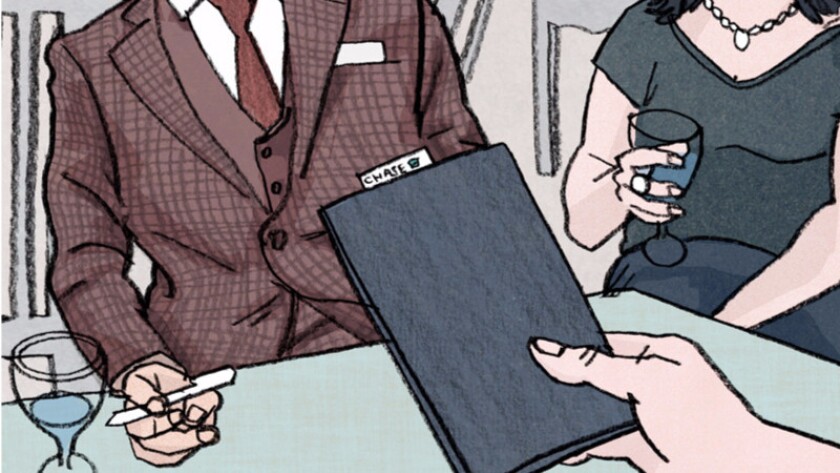 If you're a man who's tried (or considered trying) online dating, chances are you've worried you might meet a woman looking to use you for a free expensive dinner. It seems trivial in comparison to what women have to worry about when they filter through men on dating sites, but it's still a concern, and it still happens to the best of us.
I'm a high school teacher and a freelance writer, but I'm also the son of a Michelin-awarded restaurateur. My online dating profile doesn't mention my dad's accomplishments, but in moments of insecurity, I've been known to name-drop in order to keep the woman interested. It's never gone well, and it's never attracted the right women. The women who see me as "Giorgio the teacher" or "Giorgio the writer" have never tried to use me for a free dinner. In fact, many of them seemed to feel guilty when I took them to expensive restaurants too early in the dating process. But the women who saw me as "Giorgio the restaurateur's son" had no such reservations, and even that was fine, as long as we were having fun.
See more of our top stories on Facebook >>
Last December, I met someone who finally crossed the boundaries. She made the initial move by "liking" my profile, so I "liked" her back. Her profile was laced with the razor-sharp wit that I look for in a romantic partner, and one of her stated life goals was to try all 101 of Jonathan Gold's top restaurant picks. Without promising anything, I noted that I too was a fan of Mr. Gold and was also hoping to one day frequent all 101 of his restaurant choices. We had the same dry humor and were equally excited about the then-new Star Wars movie, so I thought those would be our primary points of connection. It wasn't until I asked her out for a drink that I suspected something was off.
"I'm not huge into drinking but maybe we can grab dinner sometime," she replied, followed by a smiley face emoticon.
Nobody has to be "huge into drinking" to join you for a cocktail on a first date; this was a push that men who've dated in Los Angeles know all too well. The woman was setting the expectations high from the beginning, letting me know that her evenings were in high demand and that if I wanted one I was going to have to cough up more than $15 for a cocktail.
I told her my Tuesday night was open, and she wrote back, "I'm booked for Tuesday. Let's do Saturday instead." I was starting to find her pushy, but I thought maybe it was just in my head. I was lucky this girl wanted to offer her Saturday night to me, wasn't I?
Are you a veteran of L.A.'s current dating scene? We want to publish your story
I suggested we try a new Italian restaurant in Silver Lake where an old friend of mine works. I wasn't looking for a free dinner, but I was hoping to surprise him, and I was hoping that once this girl saw my restaurant connections, she'd be impressed enough to take me seriously as a romantic partner. The stakes were high for a first date. I felt like I was being pressured to overplay my hand, but I wanted to try this restaurant anyway, and going there with a pretty girl felt better than going there alone.
When we sat down for dinner, she suggested we order a bottle of wine. So much for "not huge into drinking." Then she started suggesting items to share, which slowly crept into the $80 range. I declined on the bottle of wine but was too tempted by the various entrees to let her starve. We ordered four dishes to share, and I didn't have to fight her for the privilege of paying the whole $130 check myself.
Our conversation was mostly superficial. I found myself retelling her key information that I'd mentioned in my profile, as though she'd never read it; she kept talking up her past accomplishments and future ambitions, even though for the time being she was living with her parents.
She kept mentioning that she had a high standard when it came to Italian restaurants, and eventually I reached a point where it seemed appropriate to name-drop my father. She had never heard of him, nor had she heard of his restaurant.
When the waiter brought us our check, he gave us a spiel about how their establishment is unique because customers have the "privilege" of being "allowed" to tip the kitchen as well as the servers. I asked my date how much I should tip. That's always a bad sign: when you're so desperate to impress your date that you have to ask her how much to tip, even though she has no intention of even attempting to pay.
She told me to tip 20%, so I did.
As we left, she told me without hesitation that she would love to see me again. I loved the reassurance. I hate spending the next few days after a date staring at my phone, waiting for a follow-up text message that never comes. I hugged her goodbye and watched her step into an Uber, hoping it would all lead to something as we got to know each other better.
Two days later, I received a text from her, excitedly informing me that she had made a reservation at my dad's restaurant. She was going there on a Saturday night, company unspecified. Could it be that another poor sucker had been roped into sating this girl's fine-dining craze? No, why would she text me to tell me about it? That would be shameless.
Even so, it made me uncomfortable. This girl hardly knew me. We had been out one time, and we hadn't even kissed yet. Imagine if a man had gone to a woman's father's workplace after a first date. That would be creepy, right? What was the difference? Was she testing me to see how I'd react?
I told her, "Wow, you're going to meet my dad. Weird…"
"Oh, yeah, I guess I am. Well, I'll put in a good word for you!"
Her creepiness had officially killed any charm she'd once had on me.
I didn't pursue her after that, but about a week later she contacted me again. She told me the person who was taking her to my dad's restaurant had flaked on her and suggested, as though it was no big deal, that we go there together instead. This was too weird for me. I took a screenshot of the text, sent it to my best friend and asked what I should do.
"I say bail," he advised.
I composed our parting text: "I'm going to have to say no. To be honest, it makes me really uncomfortable that you would make a reservation at my dad's restaurant when we've only been out one time. I think you're a great girl, though, and I wish you the best."
She promptly came back at me with three consecutive texts:
"I'm sorry. I didn't mean to make you uncomfortable."
"I really don't take this stuff too seriously."
"Good luck to you."
I had so many questions for her, like why she expected expensive dinners and bottles of wine if she "didn't take it seriously," but I thought asking would be in poor taste. So instead I just wished her good luck too, and in the end I didn't even get to do that because my number had already been blocked.
Some men, frustrated after not getting a second date or not getting any action on the first, will wrongly accuse women of "just dating for the free meals." I'm not that man. If a woman doesn't want a second date, it's not my business why, and I don't know her well enough to hurl those kinds of accusations. I also don't really mind if women are out there using men for free meals, because there are plenty of men out there using women for other things, and in the end our job is to learn from our experiences and spot the red flags so we aren't the one getting used.
The author is a Los Angeles-based freelance writer, whose website is GiorgioSelvaggio.com. And if you must know, his father is Piero Selvaggio, owner of the famed Valentino restaurant in Santa Monica.
L.A. Affairs chronicles the current dating scene in and around Los Angeles. We pay $300 a column. If you have comments or a true story to tell, email us at LAAffairs@latimes.com.
MORE FROM L.A. AFFAIRS
I wonder who I'll be kissing when L.A.'s 6th Street Bridge reopens...
I was sure I was flirt-texting with The One. Until he saw me on Instagram
Who needs Tinder? How a random meeting at an L.A. jazz club changed my life
---