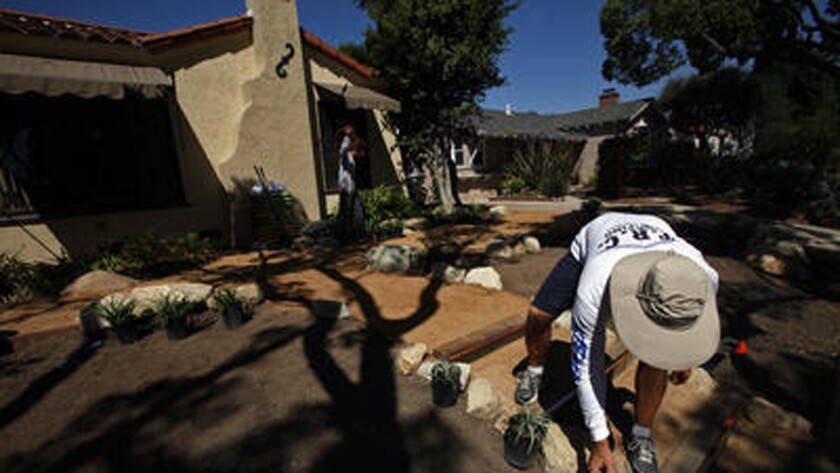 Even without the financial incentive of turf removal rebates, California's fifth year of drought has prompted unprecedented numbers of homeowners to kill off their lawns in favor of a water-sipping landscape.
If you are interested in removing your lawn, this summer's heat could provide ideal conditions: The hot weather expedites the "cooking" process typically used to eliminate your thirsty grass.
"The basic advice is to kill your lawn very very well, very very dead now and plan to plant no sooner than October," said Lucinda McDade, executive director of Rancho Santa Ana Botanic Garden in Claremont. That should give you plenty of time to consider what you'd like your new drought-tolerant landscape to look like, and plan accordingly.
Digging up your lawn is always an option, but it is also back-breaking work.
Tree of Life Nursery in San Juan Capistrano, which holds regular "Replace Your Lawn" workshops, also suggests choosing an option based upon your existing grass.
Here are three methods that work best in summer months:
SOLARIZATION
Solarization is a chemical-free method in which the lawn is covered with clear plastic sheeting and left to "bake" for several months during the summer. The best months for solarization are June through August with July as the most reliable month to kill your lawn. Rancho Santa Ana Botanic Garden in Claremont lists a step-by-step guide to solarization here.
SHEET MULCHING
Another toxic-free way to kill your lawn is to cover it with a layer of cardboard or several layers of newspaper. After covering the paper with mulch and water, the cardboard and paper will break down and become part of the soil. Get a hands-on tutorial when Crescent Farm at the Los Angeles County Arboretum and Botanic Garden hosts a sheet mulching workshop on July 30.
HERBICIDES
If you're not worried about using chemicals, the UC Guide to Healthy Lawns advises using glyphosate-based herbicides such as Roundup as the most effective way to kill your lawn. Depending on the temperature, it can take up to two weeks for the entire lawn to die. This is not a good option in windy conditions.
ALSO:
Photos: 11 Inspiring water-wise landscapes
The Dry Garden: Best ways to kill your lawn
This drought-friendly yard is a tropical oasis — in the middle of Burbank
Will L.A. become the land of front-yard veggie gardens? This couple is leading the way
How one L.A. couple ripped out the grass -- and created a drought-tolerant dreamscape
---